State of the Art Natural Language Understanding
John Snow Labs' NLP is an open source text processing library for Python, Java & Scala. It provides production-grade versions of the latest research in natural language processing – raising the bar on accuracy, speed, and scalability.
Spark NLP was 80x faster than spaCy to train locally on 2.6MB of data.
Scale to a Spark cluster with zero code changes.
State of the art accuracy
First production-grade versions of novel deep learning NLP research.
Tune or reuse pre-trained models.
Most widely used in the enterprise
Widely deployed production-grade codebase.
New releases every 2 weeks since 2017.
Growing community.
Most Widely Used AI Frameworks and Tools
"Kaiser Permanente uses Spark NLP to integrate domain-specific NLP as part of a scalable, performant, measurable, and reproducible ML pipeline and improve the accuracy of forecasting the demand for hospital beds.

Executive Director, Analytics Foundation at Kaiser Permanente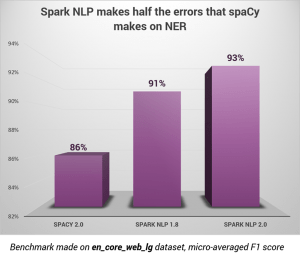 Accuracy
Spark NLP 2.0 obtained the best performing academic peer-reviewed results.
Speed
Spark-NLP is 1-2 orders of magnitude faster than spaCy to train NLP models locally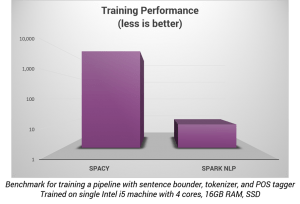 Scalability
Zero code changes are needed to scale a pipeline to any Spark cluster.
"Spark NLP augments the SelectData data science platform to accurately extract structured facts from home health patient records.

Chief information officer at SelectData
Out Of The Box Functionality


"Roche applies Spark NLP for healthcare to extract clinical facts from pathology and radiology reports and simplify training, optimization, and inference of such domain-specific models at scale.

Director of Engineering for Diagnostic Information Solutions at Roche
Trainable to understand your language
Spark NLP is optimized for training domain-specific NLP models, so you can adapt it to learn the nuances of jargon and documents you must support.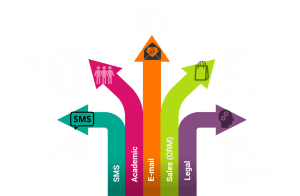 We all speak many languages…
"Spark NLP is the world's most widely used NLP library in the enterprise.

O'Reilly, Feb. 2019
Want to see Spark NLP in action?