Ready to save More Than 4,000 Hours In Data Preparation Each Month?
"Updating the Master Provider Index is a ten-minute process with John Snow Labs. We've dramatically accelerated a process that used to be two days of work."
Claudiu Branzan, Principal Software Engineer at Atigeo 
Read the case study
Read the case study
Challenges
Data scientists spend the bulk of their time on their least favorite task:
data cleaning and preparing data for analysis.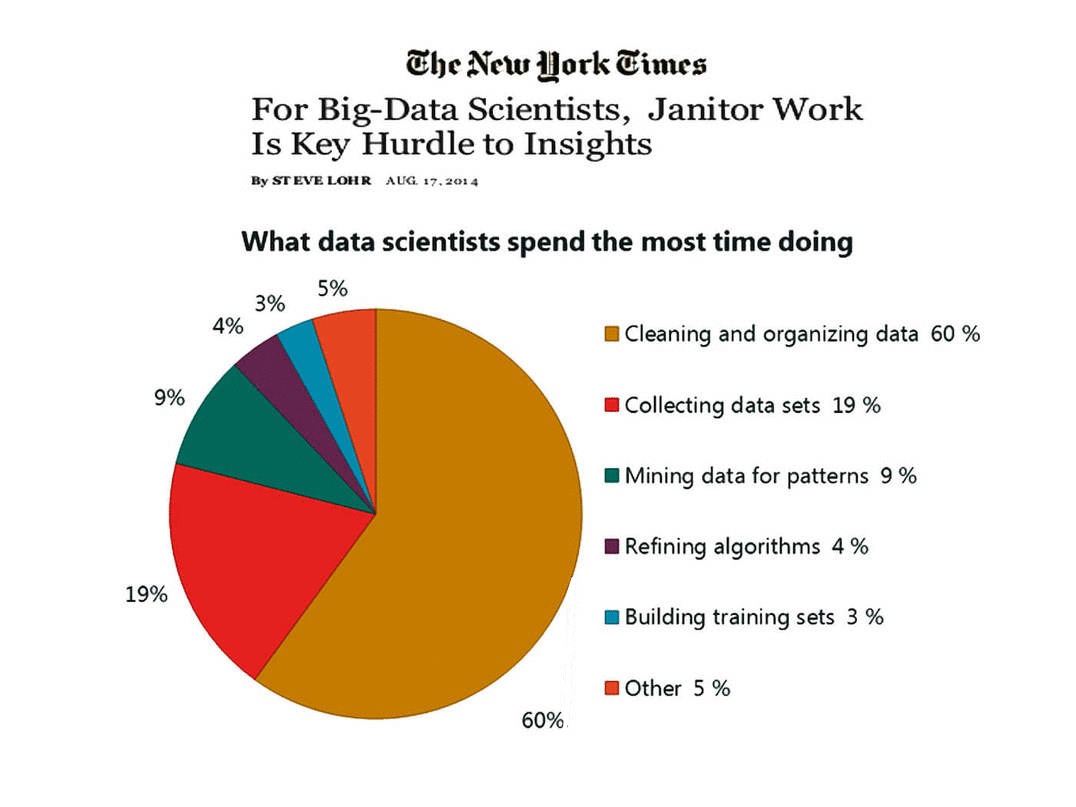 Domain Expertise
Public & proprietary datasets are spread across many catalogs, not all online, so finding the right dataset is time-consuming
Data Engineering
Formatting, optimizing and loading data into your big data or data science platform of choice requires substantial effort
Data Evolution
Datasets are updated on different schedules, creating an operational burden to keep them up to date
Privacy & Compliance
Datasets have different owners, so complying with multiple licenses, attribution & reporting terms is an ongoing burden
Data Quality
Each dataset has different errors, missing values, outliers, gaps, flurries, biases, typos – requiring substantial manual effort to clean
Data Integration
Datasets from different sources give different meaning & assumptions to similarly named concepts, making joins semantically wrong
Benefits
We give you turnkey data for analysis already tested, optimized and customized in a ready to use format for your big data, data science or visualization platform.
Curated By Experts
Every dataset is selected, cleaned, enriched & documented by a domain expert
Big Data Optimized
Out of the box optimized data formats for R, Python, SAS, Hadoop, Spark, SQL & BI tools.
Always Up To Date
Daily updates. Get automatic, versioned, clean & tested updates as they happen
Compliance Piece Of Mind
All data is under one license with royalty free, commercial redistribution rights
Rigorous Quality
Datasets are triple checked – automatically and manually, to make sure that they are error-free and ready for production use
Clean & Interoperable
Unified and standards based data model – including numbers, dates, units, currency, null values, identifiers & references
Healthcare
Flip to learn more
Healthcare Library
Billing, Census, Cost, Payments, Population Health, Providers, Outcomes, Guidelines, Measures, Terminology, Hospitals, Physicians
Life Sciences
Flip to learn more
Life Sciences Library
Drug Ingredients, Drug Pricing, Drug Safety, Medical Devices, Food, Genomics, Research
Threat intelligence
Flip to learn more
Cyber & Threat Intelligence Library
Anonymous Proxy, DNS, Spam, Dynamic DNS, Malware, Phishing, SSL, TOR, GEO2IP
I want to predict patients at risk for chronic kidney disease
I want to auto-recommend diets that match patients' treatment plan
I want to automatically generate ICD-10 codes from clinical notes
I want to monitor and alert on shifts in drug pricing & shortages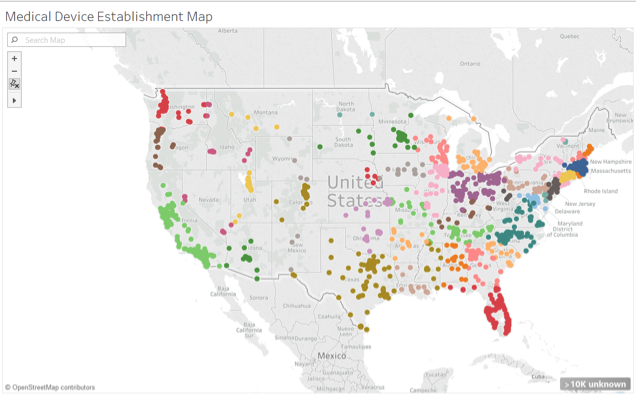 Data Visualisation Map created with
our dataset Medical Devices Establishments. Read more
Accelerating Data Driven Progress
Taking on Data Operations so Data Science Heroes can do Science
"The datasets were really clean, easy to access and easy to use. It was a joy to be able to use the data provided."
Eric Rothman, Co-Founder Threat Sync
"Many people told me the datasets were great and very easy to use. We would love to continue partnering with you for future events!"
Jason Yim, HopHacks Organizer
Datasets are licensed as an annual subscription that comes with unlimited updates and expert support. Here are some of popular features of our business friendly license.
Full Download
Load the full datasets into your database or analytics platform
Keep It Forever
Ending a subscription? Keep the data and rights you already have
Royalty Free
Deploy the data as part of your commercial product
Schedule a consultation
Let's talk data and how we can help you.