The Free Virtual Conference Program Highlights Leading Experts in the Global AI Community to Share Knowledge, Best Practices, and Advances in Natural Language Processing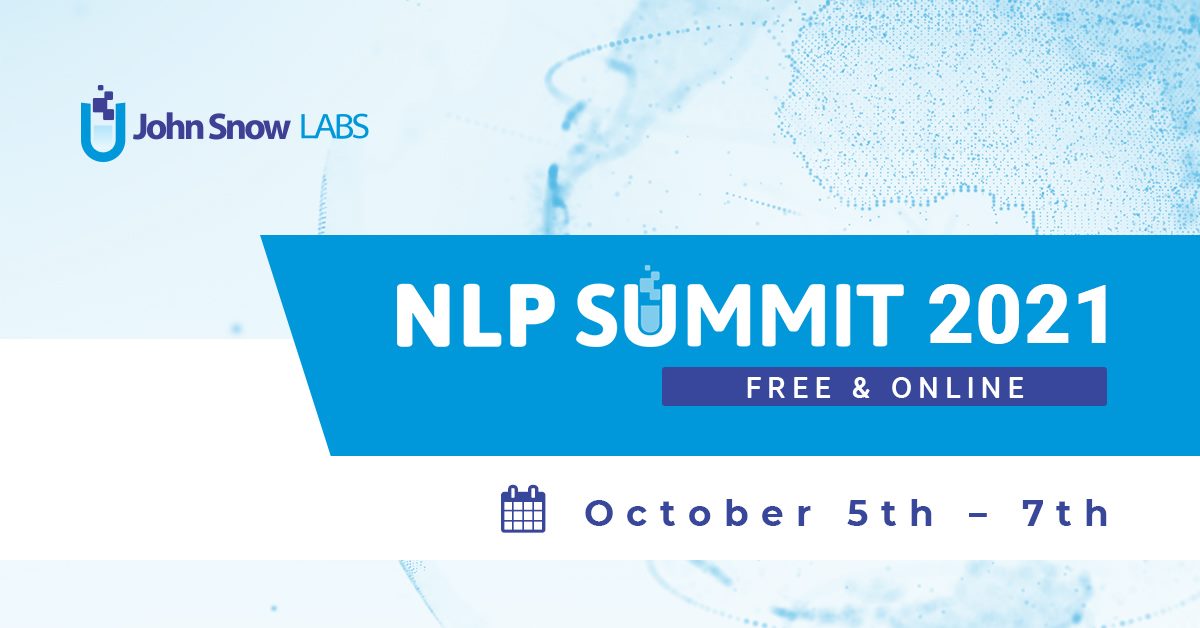 John Snow Labs, the Healthcare AI and NLP company and developer of the NLP Library, today announced the speaker lineup for the second annual NLP Summit, being held virtually from October 5-7. The free, online event will showcase NLP best practices, real-world case studies, and the latest technology in production today.  
The summit's program  includes over 50 technical sessions over the course of three days – focused on open-source libraries, NLP in Healthcare, and NLP in Finance respectively. The keynotes & sessions will be followed by four days of training. Technical sessions will be delivered by experts from leading organizations including NASA, PayPal, Google, Merck, Databricks, Kaiser Permanente, Amazon, Hitachi, Walmart Labs, Booz Allen Hamilton, Roku, Salesforce, Bank of America, Zillow, and many others. 
Topics covered will include applied transfer learning, large language models, ethical NLP, dialog systems, de-identification, multilingual text understanding, clinical natural language understanding, among other topics pertinent to industry practitioners. 
Keynote speakers include technical leaders from John Snow Labs, Microsoft, Hugging Face, John Hopkins University, Stanford University, Roche, Novartis, Providence St. Joseph Health, Morgan Stanley, and Carnegie Mellon University.
Free registration is required to secure your access to the keynotes, breakout sessions, Q&A with speakers, coffee chats, and more.
Additionally, the findings of the annual NLP Industry Survey, conducted by Gradient Flow, will be presented at the show in a keynote presentation titled, "Industry Survey Analysis: Natural language use cases in the industry in 2021". The forthcoming report seeks to understand how companies use NLP technologies including the tools, applications, trends, and barriers to adoption that exist. You can read last year's survey report here. 
"NLP is becoming a foundational AI technology, and as its adoption and applications grow, it's important to stay on top of practical uses, future possibilities, implementation challenges, and ethical considerations of the technology," said David Talby, CTO, John Snow Labs. "By bringing together the brightest minds in the global AI community, the NLP Summit is the perfect venue to facilitate these important conversations, share knowledge and best practices, and help move the industry forward."