Others titles
New DDD Code 2022
New ATC Update and Alterations
New DDD Updates and Alterations
Keywords
ATC Classification
ATC/DDD
ATC Alterations
DDD Alterations
New ATC
New DDD
Anatomical Therapeutic Chemical Codes 2018 to 2023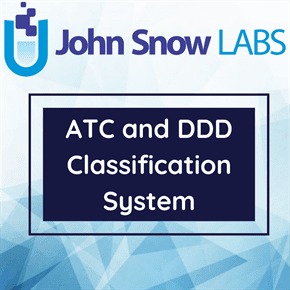 This dataset contains the Anatomical Therapeutic Chemical (ATC) classification system. In ATC the active substances are divided into different groups according to the organ or system on which they act and their therapeutic, pharmacological and chemical properties.
Log in to download
Complexity
Get The Data
For getting access to data download links please read and accept the end-user license agreement.
Your Data License
Research

Non-Commercial, Share-Alike, Attribution

Free Forever

Commercial

Commercial Use, Remix & Adapt, White Label Log in to download
Description
Drugs are classified in groups at five different levels. The drugs are divided into fourteen main groups (1st level), with pharmacological/therapeutic subgroups (2nd level). The 3rd and 4th levels are chemical/pharmacological/therapeutic subgroups and the 5th level is the chemical substance. The 2nd, 3rd and 4th levels are often used to identify pharmacological subgroups when that is considered more appropriate than therapeutic or chemical subgroups.
The complete classification of metformin illustrates the structure of the code:
– A : Alimentary tract and metabolism (1st level, anatomical main group)
– A10: Drugs used in diabetes (2nd level, therapeutic subgroup)
– A10B: Blood glucose lowering drugs, excl. insulins (3rd level, pharmacological subgroup)
– A10BA: Biguanides (4th level, chemical subgroup)
– A10BA02: metformin (5th level, chemical substance)
Thus, in the ATC system all plain metformin preparations are given the code A10BA02.
Inclusion and exclusion criteria:
The WHO Collaborating Centre in Oslo establishes new entries in the ATC classification on requests from the users of the system. These include manufacturers, regulatory agencies and researchers. The coverage of the system is not comprehensive. A major reason why a substance is not included is that no request has been received.
Active ingredients which fulfill one of the following criteria will normally be included in the ATC system.
– they are new chemical entities (active ingredients) or biologicals proposed for licensing in a range of countries. A new chemical entity is normally not included in the ATC system before an application for marketing authorization is submitted in at least one country.
– they are existing well defined chemical entities used in a variety of countries. An INN should preferably be established for the active ingredient. Alternatively other official names, e.g. USAN or BAN names should be available.
– they are herbal medicinal products assessed and approved by regulatory authorities based on dossiers including efficacy, safety, and quality data (e.g. the well-established use procedure in EU).
Other medicinal products are considered on a case by case basis. Complementary, homeopathic and herbal traditional medicinal products are in general not included in the ATC system.
General principles for classification:
Medicinal products are classified according to the main therapeutic use of the main active ingredient, on the basic principle of only one ATC code for each route of administration (i.e. pharmaceutical forms with similar ingredients and strength will have the same ATC code).
Immediate and slow release tablets will normally have the same ATC code.
A medicinal product can be given more than one ATC code if it is available in two or more strengths or routes of administration with clearly different therapeutic uses. Two examples of this are as follows:
– Sex hormones in certain dosage forms or strengths are only used in the treatment of cancer and are thus classified under L02 – Endocrine therapy. Remaining dosage forms/strengths are classified under G03 – Sex hormones and modulators of the genital system.
– Clonidine is available in two different strengths. One strength, which is used mainly in the treatment of hypertension, is classified under C02 – Antihypertensives. Another strength is mainly used in the treatment of migraine and is classified under N02C – Antimigraine preparations.
About this Dataset
Data Info
| | |
| --- | --- |
| Date Created | 2017 |
| Last Modified | 2021-11-25 |
| Version | 2021-11-25 |
| Update Frequency | Semiannual |
| Temporal Coverage | 2018-2023 |
| Spatial Coverage | United States |
| Source | John Snow Labs; WHO Collaborating Centre for Drug Statistics Methodology; |
| Source License URL | |
| Source License Requirements | N/A |
| Source Citation | N/A |
| Keywords | ATC Classification, ATC/DDD, ATC Alterations, DDD Alterations, New ATC, New DDD |
| Other Titles | New DDD Code 2022, New ATC Update and Alterations, New DDD Updates and Alterations |
Data Fields
| Name | Description | Type | Constraints |
| --- | --- | --- | --- |
| ATC_Code | A Unique Alpha Numeric Anatomical Therapeutic Chemical Code | string | - |
| ATC_Level_Name | Anatomical Therapeutic Chemical Code Level Name | string | - |
| Year | Year of Implementation | date | - |
Data Preview
| | | |
| --- | --- | --- |
| ATC Code | ATC Level Name | Year |
| A02BD16 | omeprazole, amoxicillin and rifabutin | 2022 |
| A16AB21 | atidarsagene autotemcel | 2022 |
| A16AB22 | avalglucosidase alfa | 2022 |
| C03DA05 | finerenone | 2022 |
| C10BA12 | pravastatin, ezetimibe and fenofibrate | 2022 |
| D11AX27 | oxymetazoline | 2022 |
| H01AC08 | somatrogon | 2022 |
| H01CC04 | linzagolix | 2022 |
| J05AB17 | brincidofovir | 2022 |
| J05AP12 | coblopasvir | 2022 |