Others titles
FDA Humanitarian Device Exemptions
FDA Center for Devices and Radiological Health
Keywords
Humanitarian Device
CDRH
CDRH Device Exemptions
FDA Devices
Humanitarian Devices
Humanitarian Use Devices
HUD Regulations
Medical Device
Center for Devices and Radiological Health Device Exemptions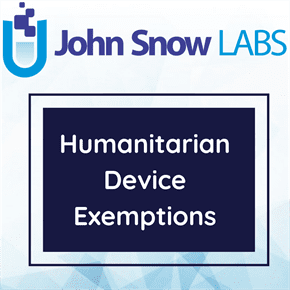 The Center for Devices and Radiological Health (CDRH) Humanitarian Device Exemptions dataset includes the list of Humanitarian Device Exemptions delivered by the Food and Drug Administration (FDA). A Humanitarian Use Device (HUD) is a device that is intended to benefit patients by treating or diagnosing a disease or condition that affects or is manifested in fewer than 4,000 individuals in the United States per year.
Log in to download
Complexity
Get The Data
For getting access to data download links please read and accept the end-user license agreement.
Your Data License
Research

Non-Commercial, Share-Alike, Attribution

Free Forever

Commercial

Commercial Use, Remix & Adapt, White Label Log in to download
Description
The Humanitarian Use Device (HUD) provision of the regulation provides an incentive for the development of devices for use in the treatment or diagnosis of diseases affecting these populations. The regulation provides for the submission of a humanitarian device exemption (HDE) application, which is similar in both form and content to a premarket approval (PMA) application but is exempt from the effectiveness requirements of a PMA.
A HUD application is not required to contain the results of scientifically valid clinical investigations demonstrating that the device is effective for its intended purpose. The application, however, must contain sufficient information for FDA to determine that the device does not pose an unreasonable or significant risk of illness or injury, and that the probable benefit to health outweighs the risk of injury or illness from its use, taking into account the probable risks and benefits of currently available devices or alternative forms of treatment. Additionally, the applicant must demonstrate that no comparable devices are available to treat or diagnose the disease or condition and that they could not otherwise bring the device to market.
About this Dataset
Data Info
| | |
| --- | --- |
| Date Created | 2011 |
| Last Modified | 2021-04-18 |
| Version | 2021-02-18 |
| Update Frequency | Irregular |
| Temporal Coverage | 1997-02 to 2021-02 |
| Spatial Coverage | United States |
| Source | John Snow Labs; U.S. Food and Drug Administration (FDA); |
| Source License URL | |
| Source License Requirements | N/A |
| Source Citation | N/A |
| Keywords | Humanitarian Device, CDRH, CDRH Device Exemptions, FDA Devices, Humanitarian Devices, Humanitarian Use Devices, HUD Regulations, Medical Device |
| Other Titles | FDA Humanitarian Device Exemptions, FDA Center for Devices and Radiological Health |
Data Fields
| Name | Description | Type | Constraints |
| --- | --- | --- | --- |
| HDE_Number_Approval | Humanitarian Device Exemptions Number Approval | string | required : 1 |
| Approval_Date | Humanitarian Device Exemptions Approval Date | date | required : 1 |
| Docket_Number | Device Docket Number | string | - |
| Device_Name | Humanitarian Device Name | string | required : 1 |
| Company_Name | Company name | string | required : 1 |
| Office_Location | Company address | string | - |
| Device_Description_and_Device_Indications | Device Description and/or Device Indications | string | required : 1 |
Data Preview
| | | | | | | |
| --- | --- | --- | --- | --- | --- | --- |
| HDE Number Approval | Approval Date | Docket Number | Device Name | Company Name | Office Location | Device Description and Device Indications |
| H200001 | 2021-02-17 | | Patient Specific Talus Spacer | Additive Orthopaedics, LLC. | Philadelphia, PA 19103 | Approval for the patient specific talus spacer. This device is indicated for avascular necrosis of the ankle joint. The anatomical landmarks necessary for the design and creation of the additive orthopaedics patient specific talus spacer must be present and identifiable on computed tomography (ct) scan. |
| H190001 | 2020-12-01 | | Plasma Delipidation System (PDS-2TM System) | HDL Therapeutics, Inc. | Philadelhia, PA 19103 | Approval for the plasma delipidation system (pds-2™). This device is indicated to reduce coronary artery atheroma in adult patients with homozygous familial hypercholesterolemia (hofh) who are either inadequately responsive to or intolerant of maximal therapy for hofh, including the latest medications and other device therapies approved by the fda. |
| H190003 | 2020-11-27 | | Sonalleve MR- HIFU | Profound Medical, Inc. | Mississauga, Ontario CANADA | The sonalleve mr-hifu is intended to be used for the treatment of osteoid osteomas in the extremities. |
| H170001 | 2019-08-23 | | Minimally Invasive Deformity Correction (MID-C) System | ApiFix, Ltd. | | Approval for the Minimally Invasive Deformity Correction (MID-C) System. This device is indicated for use in patients with adolescent idiopathic scoliosis (AIS) for treatment of single curves classified as Lenke 1 (thoracic major curve) or Lenke 5 (thoracolumbar/lumbar major curve), having a Cobb angle of 45 to 60 degrees which reduces to less than or equal to 30 degrees on lateral side-bending radiographs, and thoracic kyphosis less than 55 degrees as measured from T5 to T12. |
| H190005 | 2019-08-16 | | The Tether™ - Vertebral Body Tethering System | Zimmer Biomet Spine, Inc. | | Approval for The Tether™ - Vertebral Body Tethering System. This device is indicated for skeletally immature patients that require surgical treatment to obtain and maintain correction of progressive idiopathic scoliosis, with a major Cobb angle of 30 to 65 degrees whose osseous structure is dimensionally adequate to accommodate screw fixation, as determined by radiographic imaging. Patients should have failed bracing and/or be intolerant to brace wear. |
| H180002 | 2019-05-23 | | NovoTTF™-100L System | Novocure, Ltd. | Portsmouth, NH 03801 | Approval for the NovoTTF™-100L System. This device is indicated for the treatment of adult patients with unresectable, locally advanced or metastatic, malignant pleural mesothelioma (MPM) to be used concurrently with pemetrexed and platinum-based chemotherapy. |
| H170004 | 2018-09-14 | | PK Papyrus Covered Coronary Stent System | Biotronik, Inc | | Approval for the PK Papyrus Covered Coronary Stent System. This device is indicated for the treatment of acute perforations of native coronary arteries and coronary bypass grafts in vessels 2.5 to 5.0 mm in diameter. |
| H170002 | 2018-03-20 | 75-Day | LIPOSORBER® LA-15 System | Kaneka Pharma America LLC | Vienna, VA22180 | Approval for the LIPOSORBER® LA-15 System to expand the indication to include adult patients with nephrotic syndrome. The LIPOSORBER® LA-15 is indicated for use in the treatment of adult and pediatric patients with nephrotic syndrome associated with primary focal segmental glomerulosclerosis, when standard treatment options, including corticosteroid and/or calcineurin inhibitors treatments, are unsuccessful or not well tolerated and the patient has a GFR 60 ml/min/1.73m2 or the patient is post renal transplantation. |
| H160002 | 2017-06-19 | | PulseRider Aneurysm Neck Reconstruction Device | Pulsar Vascular, Inc | Los Gatos, CA 95032 | Approval for the PulseRider Aneurysm Neck Reconstruction Device. This device is indicated for use with neurovascular embolic coils in patients 18 years of age for the treatment of unruptured wide-necked intracranial aneurysms with neck widths 4 mm or dome to neck ratio < 2 originating on or near a vessel bifurcation of the basilar tip or carotid terminus with at least a portion of the aneurysm neck overlapping the lumen of the parent artery. The inflow vessels should have diameters from 2.7 mm to 4.5 mm. |
| H150003 | 2017-05-12 | 75-Day | Pediatric Esophageal Atresia Device | Wilson-Cook Medical Inc | Winston-Salem, NC 27105 | Approval for the Pediatric Esophageal Atresia Device. The Flourish Pediatric Esophageal Atresia Device is indicated for use in lengthening atretic esophageal ends and creating an anastomosis with a non-surgical procedure in pediatric patients, up to one year of age with esophageal atresia without a tracheoesophageal fistula (TEF) or in pediatric patients up to one year of age for whom a concurrent TEF has been closed as a result of a prior procedure. This device is indicated for atretic segments 4cm apart. |