Others titles
Child Mortality Estimates by Country 1990-2011
Keywords
Infant Mortality
Neonatal Mortality
Under 5 Mortality
Infant Deaths
Neonatal Deaths
Under 5 Deaths
Child Mortality Rate
Child Mortality
Child Mortality Estimates by Country 1990 to 2011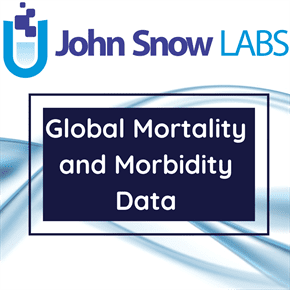 This dataset provides estimates of neonatal, postneonatal, childhood, and under-5 mortality between 1990 and 2011.
Log in to download
Complexity
Get The Data
For getting access to data download links please read and accept the end-user license agreement.
Your Data License
Research

Non-Commercial, Share-Alike, Attribution

Free Forever

Commercial

Commercial Use, Remix & Adapt, White Label Log in to download
Description
This dataset was from the global analysis of child mortality for years 1990 to 2011 published online in The Lancet in September 2011. This came from the study, Progress towards Millennium Development Goals 4 and 5 on maternal and child mortality: an updated systematic analysis, that provides global and country level estimates of child mortality rates, the number of child deaths, and the annualized rate of decline in child mortality.
About this Dataset
Data Info
| | |
| --- | --- |
| Date Created | 2011-12-31 |
| Last Modified | 2017-09-06 |
| Version | 2017-09-06 |
| Update Frequency | Never |
| Temporal Coverage | 1990-01 to 2011-12 |
| Spatial Coverage | World |
| Source | John Snow Labs; Institute for Health Metrics and Evaluation (IHME), Global Health Data Exchange; |
| Source License URL | |
| Source License Requirements | N/A |
| Source Citation | N/A |
| Keywords | Infant Mortality, Neonatal Mortality, Under 5 Mortality, Infant Deaths, Neonatal Deaths, Under 5 Deaths, Child Mortality Rate, Child Mortality |
| Other Titles | Child Mortality Estimates by Country 1990-2011 |
Data Fields
| Name | Description | Type | Constraints |
| --- | --- | --- | --- |
| Global_and_Country | Global and name of country where neonatal, postneonatal, childhood, and under-5 mortality were estimated between 1990 to 2011 | string | - |
| Country_Code | Country code or the current officially assigned ISO 3166-1 alpha-3 codes, using the English short country names where neonatal, postneonatal, childhood, and under-5 mortality for 187 countries were estimated between 1990 and 2011 | string | - |
| GBD_Region | Global Burden of Disease (GBD) regional classification system used for WHO-CHOICE Analyses | string | - |
| Year | Coverage year where neonatal, postneonatal, childhood, and under-5 mortality were estimated between 1970 and 2010 | date | - |
| Early_Neonatal_Mortality | Early neonatal mortality recorded between 1990 and 2011 | number | level : Ratio |
| Early_Neonatal_Mortality_Lower_Bound | Lower confidence interval of early neonatal mortality recorded for between 1990 and 2011 | number | level : Ratio |
| Early_Neonatal_Mortality_Upper_Bound | Upper confidence interval of early neonatal mortality recorded for between 1990 and 2011 | number | level : Ratio |
| Late_Neonatal_Mortality | Late neonatal mortality recorded between 1990 and 2011 | number | level : Ratio |
| Late_Neonatal_Mortality_Lower_Bound | Lower confidence interval of late neonatal mortality recorded between 1990 and 2011 | number | level : Ratio |
| Late_Neonatal_Mortality_Upper_Bound | Upper confidence interval of late neonatal mortality recorded between 1990 and 2011 | number | level : Ratio |
| Post_Neonatal_Mortality | Post neonatal mortality recorded between 1990 and 2011 | number | level : Ratio |
| Post_Neonatal_Mortality_Lower_Bound | Lower bound of post neonatal mortality recorded between 1990 and 2011 | number | level : Ratio |
| Post_Neonatal_Mortality_Upper_Bound | Upper bound of post neonatal mortality recorded between 1990 and 2011 | number | level : Ratio |
| Child_Mortality | Child neonatal mortality recorded between 1990 and 2011 | number | level : Ratio |
| Child_Mortality_Lower_Bound | Lower confidence interval child neonatal mortality recorded between 1990 and 2011 | number | level : Ratio |
| Child_Mortality_Upper_Bound | Upper confidence interval child neonatal mortality recorded between 1990 and 2011 | number | level : Ratio |
| Under_5_Mortality | Under 5 mortality recorded between 1990 and 2011 | number | level : Ratio |
| Under_5_Mortality_Lower_Bound | Lower confidence interval of under 5 mortality recorded between 1990 and 2011 | number | level : Ratio |
| Under_5_Mortality_Upper_Bound | Upper confidence interval of under 5 mortality recorded between 1990 and 2011 | number | level : Ratio |
| Early_Neonatal_Deaths | Early neonatal deaths recorded between 1990 and 2011 | number | level : Ratio |
| Early_Neonatal_Deaths_Lower_Bound | Lower confidence interval of early neonatal deaths recorded between 1990 and 2011 | number | level : Ratio |
| Early_Neonatal_Deaths_Upper_Bound | Upper confidence interval of early neonatal deaths recorded between 1990 and 2011 | number | level : Ratio |
| Late_Neonatal_Deaths | Late neonatal deaths recorded between 1990 and 2011 | number | level : Ratio |
| Late_Neonatal_Deaths_Lower_Bound | Lower confidence interval of late neonatal deaths recorded between 1990 and 2011 | number | level : Ratio |
| Late_Neonatal_Deaths_Upper_Bound | Upper confidence interval of late neonatal deaths recorded between 1990 and 2011 | number | level : Ratio |
| Post_Neonatal_Deaths | Post neonatal deaths recorded between 1990 and 2011 | number | level : Ratio |
| Post_Neonatal_Deaths_Lower_Bound | Lower confidence interval of post neonatal deaths recorded between 1990 and 2011 | number | level : Ratio |
| Post_Neonatal_Deaths_Upper_Bound | Upper confidence interval of post neonatal deaths recorded between 1990 and 2011 | number | level : Ratio |
| Child_Deaths | Child deaths of ages 1 to 4 years recorded between 1990 and 2011 | number | level : Ratio |
| Child_Deaths_Lower_Bound | Lower confidence interval of child deaths of ages 1 to 4 years recorded between 1990 and 2011 | number | level : Ratio |
| Child_Deaths_Upper_Bound | Upper confidence interval of child deaths of ages 1 to 4 years recorded between 1990 and 2011 | number | level : Ratio |
| Under_5_Deaths | Under 5 deaths ages 0 to 4 years recorded between 1990 and 2011 | number | level : Ratio |
| Under_5_Deaths_Lower_Bound | Lower confidence interval of under 5 deaths ages 0 to 4 years recorded between 1990 and 2011 | number | level : Ratio |
| Under_5_Deaths_Upper_Bound | Upper confidence interval of under 5 deaths ages 0 to 4 years recorded between 1990 and 2011 | number | level : Ratio |
| Under_5_Annualized_Rate_of_Decline_1990_to_2000 | Under 5 annualized rate of decline between 1990 to 2000 | number | level : Ratio |
| Under_5_Annualized_Rate_of_Decline_1990_to_2000_Lower_Bound | Lower confidence interval of under 5 annualized rate of decline between 1990 to 2000 | number | level : Ratio |
| Under_5_Annualized_Rate_of_Decline_1990_to_2000_Upper_Bound | Upper confidence interval of under 5 annualized rate of decline between 1990 to 2000 | number | level : Ratio |
| Under_5_Annualized_Rate_of_Decline_2000_to_2011 | Under 5 annualized rate of decline between 2000 to 2011 | number | level : Ratio |
| Under_5_Annualized_Rate_of_Decline_2000_to_2011_Lower_Bound | Lower confidence interval of under 5 annualized rate of decline between 2000 to 2011 | number | level : Ratio |
| Under_5_Annualized_Rate_of_Decline_2000_to_2011_Upper_Bound | Upper confidence interval of under 5 annualized rate of decline between 2000 to 2011 | number | level : Ratio |
| Under_5_Annualized_Rate_of_Decline_1990_to_2011 | Under 5 annualized rate of decline between 1990 to 2011 | number | level : Ratio |
| Under_5_Annualized_Rate_of_Decline_1990_to_2011_Lower_Bound | Lower confidence interval of under 5 annualized rate of decline between 1990 to 2011 | number | level : Ratio |
| Under_5_Annualized_Rate_of_Decline_1990_to_2011_Upper_Bound | Upper confidence interval of under 5 annualized rate of decline between 1990 to 2011 | number | level : Ratio |
Data Preview
| | | | | | | | | | | | | | | | | | | | | | | | | | | | | | | | | | | | | | | | | | | |
| --- | --- | --- | --- | --- | --- | --- | --- | --- | --- | --- | --- | --- | --- | --- | --- | --- | --- | --- | --- | --- | --- | --- | --- | --- | --- | --- | --- | --- | --- | --- | --- | --- | --- | --- | --- | --- | --- | --- | --- | --- | --- | --- |
| Global and Country | Country Code | GBD Region | Year | Early Neonatal Mortality | Early Neonatal Mortality Lower Bound | Early Neonatal Mortality Upper Bound | Late Neonatal Mortality | Late Neonatal Mortality Lower Bound | Late Neonatal Mortality Upper Bound | Post Neonatal Mortality | Post Neonatal Mortality Lower Bound | Post Neonatal Mortality Upper Bound | Child Mortality | Child Mortality Lower Bound | Child Mortality Upper Bound | Under 5 Mortality | Under 5 Mortality Lower Bound | Under 5 Mortality Upper Bound | Early Neonatal Deaths | Early Neonatal Deaths Lower Bound | Early Neonatal Deaths Upper Bound | Late Neonatal Deaths | Late Neonatal Deaths Lower Bound | Late Neonatal Deaths Upper Bound | Post Neonatal Deaths | Post Neonatal Deaths Lower Bound | Post Neonatal Deaths Upper Bound | Child Deaths | Child Deaths Lower Bound | Child Deaths Upper Bound | Under 5 Deaths | Under 5 Deaths Lower Bound | Under 5 Deaths Upper Bound | Under 5 Annualized Rate of Decline 1990 to 2000 | Under 5 Annualized Rate of Decline 1990 to 2000 Lower Bound | Under 5 Annualized Rate of Decline 1990 to 2000 Upper Bound | Under 5 Annualized Rate of Decline 2000 to 2011 | Under 5 Annualized Rate of Decline 2000 to 2011 Lower Bound | Under 5 Annualized Rate of Decline 2000 to 2011 Upper Bound | Under 5 Annualized Rate of Decline 1990 to 2011 | Under 5 Annualized Rate of Decline 1990 to 2011 Lower Bound | Under 5 Annualized Rate of Decline 1990 to 2011 Upper Bound |
| GLOBAL | GLOBAL | | 1990 | 22.8 | 22.1 | 23.5 | 9.3 | 9.1 | 9.6 | 27.2 | 25.8 | 28.5 | 27.5 | 25.8 | 29.3 | 84.1 | 80.4 | 87.9 | 3135.7 | 3028.0 | 3231.0 | 1248.5 | 1217.2 | 1279.6 | 3618.4 | 3440.1 | 3782.3 | 3641.5 | 3408.2 | 3890.1 | 11600.0 | 11500.0 | 11900.0 | 1.9 | 1.6 | 2.1 | 2.6 | 1.7 | 3.3 | 2.2 | 1.8 | 2.6 |
| GLOBAL | GLOBAL | | 1991 | 22.6 | 21.9 | 23.3 | 9.2 | 8.9 | 9.4 | 26.8 | 25.4 | 28.1 | 27.0 | 25.4 | 28.8 | 83.0 | 79.3 | 86.8 | 3097.9 | 2997.1 | 3197.2 | 1222.0 | 1190.8 | 1252.8 | 3555.9 | 3374.4 | 3718.0 | 3599.8 | 3361.9 | 3842.0 | 11500.0 | 11300.0 | 11700.0 | 1.9 | 1.6 | 2.1 | 2.6 | 1.7 | 3.3 | 2.2 | 1.8 | 2.6 |
| GLOBAL | GLOBAL | | 1992 | 22.4 | 21.7 | 23.1 | 9.0 | 8.7 | 9.2 | 26.4 | 25.0 | 27.6 | 26.6 | 25.1 | 28.3 | 81.9 | 78.2 | 85.5 | 3054.8 | 2952.9 | 3156.6 | 1193.1 | 1161.4 | 1225.2 | 3488.5 | 3308.2 | 3649.9 | 3550.2 | 3315.3 | 3780.8 | 11300.0 | 11100.0 | 11500.0 | 1.9 | 1.6 | 2.1 | 2.6 | 1.7 | 3.3 | 2.2 | 1.8 | 2.6 |
| GLOBAL | GLOBAL | | 1993 | 22.3 | 21.5 | 23.0 | 8.8 | 8.6 | 9.1 | 26.0 | 24.7 | 27.3 | 26.3 | 24.7 | 27.9 | 80.9 | 77.2 | 84.5 | 3012.5 | 2914.3 | 3112.4 | 1165.4 | 1134.0 | 1196.3 | 3421.4 | 3250.1 | 3582.7 | 3498.0 | 3266.6 | 3714.3 | 11100.0 | 10900.0 | 11300.0 | 1.9 | 1.6 | 2.1 | 2.6 | 1.7 | 3.3 | 2.2 | 1.8 | 2.6 |
| GLOBAL | GLOBAL | | 1994 | 22.1 | 21.4 | 22.7 | 8.7 | 8.4 | 8.9 | 25.6 | 24.3 | 26.8 | 26.0 | 24.5 | 27.6 | 80.0 | 76.4 | 83.5 | 2971.9 | 2875.9 | 3065.0 | 1139.0 | 1106.5 | 1168.9 | 3357.1 | 3190.6 | 3511.1 | 3456.4 | 3237.7 | 3658.1 | 10900.0 | 10700.0 | 11100.0 | 1.9 | 1.6 | 2.1 | 2.6 | 1.7 | 3.3 | 2.2 | 1.8 | 2.6 |
| GLOBAL | GLOBAL | | 1995 | 21.8 | 21.1 | 22.5 | 8.5 | 8.2 | 8.7 | 25.2 | 23.9 | 26.3 | 25.5 | 24.0 | 27.1 | 78.6 | 75.2 | 82.0 | 2924.7 | 2833.9 | 3015.3 | 1108.3 | 1077.6 | 1137.0 | 3280.7 | 3117.0 | 3429.6 | 3375.5 | 3165.6 | 3586.6 | 10700.0 | 10500.0 | 10900.0 | 1.9 | 1.6 | 2.1 | 2.6 | 1.7 | 3.3 | 2.2 | 1.8 | 2.6 |
| GLOBAL | GLOBAL | | 1996 | 21.5 | 20.9 | 22.2 | 8.2 | 8.0 | 8.5 | 24.6 | 23.4 | 25.7 | 25.0 | 23.5 | 26.6 | 77.1 | 73.7 | 80.4 | 2873.2 | 2787.2 | 2959.6 | 1074.9 | 1045.8 | 1104.0 | 3190.9 | 3030.6 | 3331.7 | 3292.7 | 3093.5 | 3512.1 | 10400.0 | 10300.0 | 10600.0 | 1.9 | 1.6 | 2.1 | 2.6 | 1.7 | 3.3 | 2.2 | 1.8 | 2.6 |
| GLOBAL | GLOBAL | | 1997 | 21.2 | 20.5 | 21.8 | 8.0 | 7.8 | 8.2 | 23.9 | 22.7 | 25.0 | 24.4 | 22.9 | 26.0 | 75.4 | 72.0 | 78.7 | 2817.9 | 2735.7 | 2901.5 | 1040.4 | 1012.6 | 1068.2 | 3099.7 | 2944.2 | 3240.0 | 3206.1 | 3015.2 | 3421.3 | 10200.0 | 10000.0 | 10300.0 | 1.9 | 1.6 | 2.1 | 2.6 | 1.7 | 3.3 | 2.2 | 1.8 | 2.6 |
| GLOBAL | GLOBAL | | 1998 | 20.8 | 20.2 | 21.4 | 7.8 | 7.5 | 8.0 | 23.3 | 22.1 | 24.3 | 23.8 | 22.4 | 25.4 | 73.6 | 70.4 | 76.8 | 2762.5 | 2679.8 | 2841.9 | 1005.7 | 979.1 | 1031.5 | 3006.3 | 2864.0 | 3146.5 | 3115.2 | 2926.6 | 3323.7 | 9889.7 | 9737.9 | 10100.0 | 1.9 | 1.6 | 2.1 | 2.6 | 1.7 | 3.3 | 2.2 | 1.8 | 2.6 |
| GLOBAL | GLOBAL | | 1999 | 20.5 | 19.8 | 21.0 | 7.5 | 7.3 | 7.7 | 22.6 | 21.5 | 23.6 | 23.2 | 21.8 | 24.7 | 71.8 | 68.6 | 74.9 | 2705.8 | 2626.8 | 2783.9 | 971.2 | 944.7 | 997.8 | 2911.8 | 2776.4 | 3051.4 | 3021.5 | 2832.4 | 3220.0 | 9610.3 | 9460.0 | 9780.9 | 1.9 | 1.6 | 2.1 | 2.6 | 1.7 | 3.3 | 2.2 | 1.8 | 2.6 |