Others titles
Convergent Medical Terminology Cardiology Subset
CMT Cardiology Problem List Subset Mapping to ICD-9-CM
CMT Cardiology Problem List Subset Mapping to ICD-10-CM
Kaiser Permanente Convergent Medical Terminology Cardiology Subset
CMT US Edition Map Set
Keywords
CMT Cardiology
Kaiser Permanente
IHTSDO
SNOMED CT Subsets
CMT Problem Lists
SNOMED Subsets
ICD-10-CM Mapping
US Edition Map Set
CMT US Edition Map Set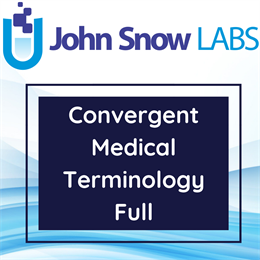 This dataset includes descriptions that are used as display names for Clinicians in Kaiser Permanente's electronic medical record, corresponding patient display names that the members see in their Personal Health Record (PHR) portal and mappings to other terminologies.
Log in to download
Complexity
Get The Data
For getting access to data download links please read and accept the end-user license agreement.
Your Data License
Research

Non-Commercial, Share-Alike, Attribution

Free Forever

Commercial

Commercial Use, Remix & Adapt, White Label Log in to download
Description
This diagnosis list set consists of KP concepts used in the EHR that are mapped to the US Edition of SNOMED CT. There are 25,971 concepts in this file. This file also includes mappings to ICD-10-CM. SNOMED CT concepts are based on the March 2022 US Edition, which includes the January 2022 International Release.
Convergent Medical Terminology (CMT) is a set of clinician- and patient-friendly terminology, linked to the US and international interoperability standards, and related vocabulary development tools and utilities. Developed by Kaiser Permanente over many years for use within its health-IT systems, CMT now includes more than 75,000 concepts.
CMT can be incorporated in the underlying architecture of health-IT systems to support data flow between health care providers, as it is in Kaiser Permanente today. It provides uniform concept definitions so that systems used for labs, vaccines, observations, and other medical data can communicate with each other in a common language, making data transferable between systems and among care teams.
In September 2010 Kaiser Permanente, the International Health Terminology Standards Development Organisation (IHTSDO) and the US Department of Health and Human Services jointly announced Kaiser Permanente's donation of their CMT content and related tooling to the IHTSDO. The donation consists of terminology content already developed, a set of tools to help create and manage terminology and processes to control the quality of terminology that is developed. Convergent Medical Terminology (CMT) also includes mappings to classifications and standard vocabularies including SNOMED CT.
About this Dataset
Data Info
| | |
| --- | --- |
| Date Created | 2011-07-01 |
| Last Modified | 2022-03-01 |
| Version | 2022-03-01 |
| Update Frequency | Annual |
| Temporal Coverage | N/A |
| Spatial Coverage | United States |
| Source | John Snow Labs; Kaiser Permanente, International Health Terminology Standards Development Organization (IHTSDO), U.S. National Library of Medicine (NLM); |
| Source License URL | |
| Source License Requirements | N/A |
| Source Citation | N/A |
| Keywords | CMT Cardiology, Kaiser Permanente, IHTSDO, SNOMED CT Subsets, CMT Problem Lists, SNOMED Subsets, ICD-10-CM Mapping, US Edition Map Set |
| Other Titles | Convergent Medical Terminology Cardiology Subset, CMT Cardiology Problem List Subset Mapping to ICD-9-CM, CMT Cardiology Problem List Subset Mapping to ICD-10-CM, Kaiser Permanente Convergent Medical Terminology Cardiology Subset, CMT US Edition Map Set |
Data Fields
| Name | Description | Type | Constraints |
| --- | --- | --- | --- |
| Clinician_Friendly_Name | The Kaiser Permanente clinician display name of the concept used in KP's electronic medical record. | string | - |
| Patient_Friendly_Name | The Kaiser Permanente patient display name of the concept. | string | - |
| ICD_10_CM | The ICD10-CM mapping of the concept. | string | - |
| SCTID | The SCTID of the SNOMED concept. A unique integer identifier applied to each SNOMED CT component | integer | level : Nominal |
| Fully_Specified_Name | The fully specified name of the SNOMED concept. | string | - |
| Module | Concepts that are part of the SNOMED International release are designated as "SNOMED CT Core" and concepts that are managed by the US are designated as "US National Library of Medicine maintained module". | string | - |
Data Preview
| | | | | | |
| --- | --- | --- | --- | --- | --- |
| Clinician Friendly Name | Patient Friendly Name | ICD 10 CM | SCTID | Fully Specified Name | Module |
| 1Q21.1 microdeletion syndrome | 1Q21.1 microdeletion syndrome | Q93.88 | 699305004 | 1q21.1 microdeletion syndrome (disorder) | SNOMED CT core |
| 1st trimester screen positive for Down syndrome | 1st trimester screen positive for Down syndrome | O28.5 | 94821000119104 | First trimester Down screening blood test abnormal (finding) | SNOMED CT core |
| 21-hydroxylase deficiency, simple virilizing | Adrenal hyperplasia, congenital, simple virilizing | E25.0 | 52604008 | Steroid 21-monooxygenase deficiency, simple virilizing type (disorder) | SNOMED CT core |
| 21-hydroxylase deficiency, virilizing, salt losing | Congenital adrenal hyperplasia | E25.0 | 250591000119109 | Salt-losing congenital adrenal hyperplasia with virilism (disorder) | SNOMED CT core |
| 3 beta-hydroxysteroid dehydrogenase deficiency | Undervirilized XY, 3-beta hydroxysteroid deficiency | E25.0 | 54470008 | 3 beta-Hydroxysteroid dehydrogenase deficiency (disorder) | SNOMED CT core |
| 3-methylcrotonyl glycinuria | Glycinuria, 3 methylcrotonyl | E72.09 | 13144005 | Methylcrotonyl-coenzyme A carboxylase deficiency (disorder) | SNOMED CT core |
| 3-methylglutaconic aciduria | Aciduria, 3 methylgluaconic | E71.111 | 237950009 | 3-Methylglutaconic aciduria (disorder) | SNOMED CT core |
| 46, XX true hermaphrodite | 46, XX true hermaphrodite | Q99.1 | 205719003 | 46, XX true hermaphrodite (disorder) | SNOMED CT core |
| AA amyloidosis | AA amyloidosis | E85.89 | 274945004 | Amyloid A amyloidosis (disorder) | SNOMED CT core |
| Abdomen injury | Abdomen injury | S39.91XA | 128069005 | Injury of abdomen (disorder) | SNOMED CT core |