Others titles
Model Organisms in Aging as Human Homologs
Organism Samples in Aging as Human Homologs
Genetic Model Organisms in Aging as Human Homologs
Genome Database of Aging In Model Organisms
Gene Database of Aging In Human Homologs
Genetic Association in Longevity or Aging In Human Homologs
Keywords
Model Organism
Organism Examples
Genetic Model
Genome Database
Gene Database
Genomics
Gene
Genetic Association
Aging
Longevity
Common Model Organisms in Aging as Human Homologs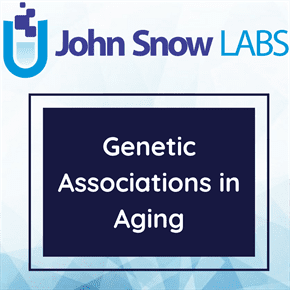 This dataset of Common Model Organisms in Aging as Human Homologs is essentially a list of genes with a common ancestral DNA sequence with humans. It also includes a brief description of the species, symbol and model organism among others. For a gene to be featured, its association with aging and/or longevity must be unambiguous, and hence most genes were selected based on genetic manipulations and not mere correlations.
Log in to download
Complexity
Get The Data
For getting access to data download links please read and accept the end-user license agreement.
Your Data License
Research

Non-Commercial, Share-Alike, Attribution

Free Forever

Commercial

Commercial Use, Remix & Adapt, White Label Log in to download
Description
This dataset is a list of genes related to a second gene by descent from humans that has a common ancestral DNA sequence, which is termed as homolog.
This dataset comes from the GenAge (Genetic Aging) section of the Human Ageing Genomic Resources (HAGR) which is a repository containing information about the genetics of human aging. Information is obtained from modern approaches such as functional genomics, network analyses, systems biology and evolutionary analyses.
The human dataset in GenAge is a curated database of genes that may regulate human aging or that at least might be considerably associated with the human aging phenotype. It is a functional genomics database designed to provide up-to-date information in the context of aging and molecular genetics. Because the focus is on the fundamental aging process, what some authors call senescence, and not just age-related pathologies, the human dataset features primarily genes related to biological aging rather than genes that only affect longevity by having an impact on overall health.
This is an important point because longevity can be influenced by factors unrelated to aging, and the distinction is crucial, albeit often difficult. (For those interested in genes associated with human longevity, please refer to the LongevityMap). Likewise, a gene is differentially expressed during aging is not by itself proof that this gene is causally involved in the aging process. Nonetheless, for researchers studying transcriptional changes with age, also available is a separate dataset of genes commonly differentially expressed during mammalian aging which were identified by performing a meta-analysis of aging microarray data.
Each gene in the human homolog dataset was selected after an extensive review of the literature. They were identified genes associated with aging in model organisms as well as those that may directly modulate aging in mammals, including humans. Each gene was selected or excluded based on its association with aging in the different model systems, with priority being given to organisms biologically and evolutionary more closely related to humans. Because the focus is on the genetic basis of human aging, there was no in-depth description of aging in model systems but was rather incorporated in the information gathered from multiple models to gather clues about the genetics of human aging.
In each human gene entry, the main reason for inclusion in the database is given. The following criteria are used:
1. Evidence directly linking the gene product to aging in humans (human)
2. Evidence directly linking the gene product to aging in a mammalian model organism (mammal)
3. Evidence directly linking the gene product to aging in a non-mammalian model organism (model)
4. Evidence directly linking the gene product to aging in a cellular model system (cell)
5. Evidence linking the gene or its product to human longevity and/or multiple age-related phenotypes (human link)
6. Evidence directly linking the gene product to the regulation or control of genes previously linked to aging (upstream)
7. Evidence linking the gene product to a pathway or mechanism linked to aging (functional)
8. Evidence showing the gene product to act downstream of a pathway, mechanism, or other gene product linked to aging (downstream)
9. Indirect or inconclusive evidence linking the gene product to aging (putative)
GenAge has its limits but the aim is to include the most relevant information, but not all the data are available. The human dataset in GenAge can be helpful in more classical genetic studies of aging and longevity. For example, if a given chromosomal region is identified, it is possible to look up which genes are present in that region. Although GenAge is not a bibliographic database, the bibliographic references in the human dataset can be a useful resource.
About this Dataset
Data Info
| | |
| --- | --- |
| Date Created | 2013 |
| Last Modified | 2020-02-09 |
| Version | 2020-02-09 |
| Update Frequency | Irregular |
| Temporal Coverage | N/A |
| Spatial Coverage | N/A |
| Source | John Snow Labs; Human Ageing Genomic Resources; |
| Source License URL | |
| Source License Requirements | N/A |
| Source Citation | N/A |
| Keywords | Model Organism, Organism Examples, Genetic Model, Genome Database, Gene Database, Genomics, Gene, Genetic Association, Aging, Longevity |
| Other Titles | Model Organisms in Aging as Human Homologs, Organism Samples in Aging as Human Homologs, Genetic Model Organisms in Aging as Human Homologs, Genome Database of Aging In Model Organisms, Gene Database of Aging In Human Homologs, Genetic Association in Longevity or Aging In Human Homologs |
Data Fields
| Name | Description | Type | Constraints |
| --- | --- | --- | --- |
| Type_of_Species | Type of the model organism species. | string | required : 1 |
| Symbol | Symbol assigned to the model organism species | string | required : 1 |
| Entrez_Id | Entrez ID is a unique identifier that is assigned to a gene record in Entrez Gene. Entry number with individual genes starting with single integer digits. | integer | level : Nominal |
| Model_Organism | Type of model organism where the human homolog was taken. | string | required : 1 |
| Model_Organism_Symbol | Symbol assigned to the model organism | string | required : 1 |
| Model_Organism_Entrez_ID | A gene ID for a model organism is a unique identifier that is assigned to a gene record in Entrez Gene. Entry number with individual genes starting with single integer digits. | integer | level : Nominalrequired : 1 |
Data Preview
| | | | | | |
| --- | --- | --- | --- | --- | --- |
| Type of Species | Symbol | Entrez Id | Model Organism | Model Organism Symbol | Model Organism Entrez ID |
| Homo sapiens | PRKAA2 | 5563 | Caenorhabditis elegans | aak-2 | 181727 |
| Homo sapiens | PRKAA1 | 5562 | Caenorhabditis elegans | aak-2 | 181727 |
| Homo sapiens | AGPAT5 | 55326 | Caenorhabditis elegans | acl-11 | 185044 |
| Homo sapiens | ACO2 | 50 | Caenorhabditis elegans | aco-2 | 176121 |
| Homo sapiens | ADCY5 | 111 | Mus musculus | Adcy5 | 224129 |
| Homo sapiens | PIK3CA | 5290 | Caenorhabditis elegans | age-1 | 174762 |
| Homo sapiens | PIK3CB | 5291 | Caenorhabditis elegans | age-1 | 174762 |
| Homo sapiens | PIK3CD | 5293 | Caenorhabditis elegans | age-1 | 174762 |
| Homo sapiens | PIK3CG | 5294 | Caenorhabditis elegans | age-1 | 174762 |
| Homo sapiens | SLC7A14 | 57709 | Saccharomyces cerevisiae | AGP1 | 850333 |