Others titles
Edición de Estados Unidos de SNOMED CT
Última Versión de SNOMED CT
Modelo Conceptual Legible por Máquina de SNOMED CT
Keywords
Terminología Clínica
SNOMED CT
IHTSDO
Nomenclatura Sistematizada de Términos Clínicos de Medicina
Terminología Sanitaria
Historia Clínica Electrónica
Modelo Conceptual Legible por Máquina
Conjunto de Referencia de Descriptor de Refset Completo de SNOMED CT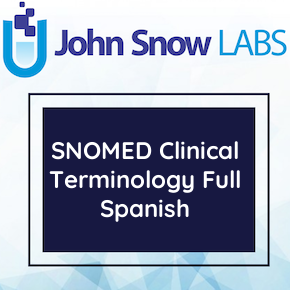 Este conjunto de datos describe la estructura del archivo de lanzamiento de SNOMED CT, denominado Formato de lanzamiento 2 (RF2). La edición estadounidense de SNOMED CT es la fuente oficial de SNOMED CT para su uso en los sistemas sanitarios de EE. UU. La edición de EE. UU. Es una versión independiente que combina el contenido de la extensión de EE. UU. Y la versión internacional de SNOMED CT.
Refset Descriptor Reference Set especifica la estructura de los conjuntos de referencia.
Log in to download
Complexity
Get The Data
For getting access to data download links please read and accept the end-user license agreement.
Your Data License
Research

Non-Commercial, Share-Alike, Attribution

Free Forever

Commercial

Commercial Use, Remix & Adapt, White Label Log in to download
Description
SNOMED CT (Terminología clínica de SNOMED) proporciona un lenguaje común que ayuda con el intercambio electrónico de información de salud clínica. Permite una forma coherente de indexar, almacenar, recuperar y agregar datos clínicos a través de especialidades y lugares de atención. SNOMED CT Se puede asignar a otros sistemas de codificación, como ICD-10, lo que ayuda a facilitar la interoperabilidad semántica.
Una versión completa contiene todas las versiones de todos los componentes que se han lanzado antes o en la edición especificada. Esta versión proporciona un registro histórico completo y se puede utilizar para obtener vistas del estado de cualquier componente en cualquier momento desde su primera versión.
El lanzamiento de la edición de SNOMED CT para Estados Unidos (EE. UU.) De septiembre de 2019 incluye una referencia de mapeo de SNOMED CT a ICD-10-CM actualizada con más de 123.000 conceptos de fuente de SNOMED CT mapeados a objetivos de ICD-10-CM. Tenga en cuenta que en esta versión no se agregaron nuevos conceptos específicos de EE. UU.
About this Dataset
Data Info
| | |
| --- | --- |
| Date Created | 2020-08-14 |
| Last Modified | 2023-10-09 |
| Version | 2023-04-30 |
| Update Frequency | Semestral |
| Temporal Coverage | N / A |
| Spatial Coverage | United States |
| Source | John Snow Labs; Organización Internacional de Desarrollo de Estándares de Terminología Sanitaria (IHTSDO), Biblioteca Nacional de Medicina de EE. UU. (NLM); |
| Source License URL | |
| Source License Requirements | Requisitos de Informes |
| Source Citation | Requisitos de Informes |
| Keywords | Terminología Clínica, SNOMED CT, IHTSDO, Nomenclatura Sistematizada de Términos Clínicos de Medicina, Terminología Sanitaria, Historia Clínica Electrónica, Modelo Conceptual Legible por Máquina |
| Other Titles | Edición de Estados Unidos de SNOMED CT, Última Versión de SNOMED CT, Modelo Conceptual Legible por Máquina de SNOMED CT |
Data Fields
| Name | Description | Type | Constraints |
| --- | --- | --- | --- |
| Referencia_Conjunto_Miembro_Id | Un campo que identifica de forma exclusiva a este miembro del conjunto de referencia. Las diferentes versiones de un miembro del conjunto de referencia comparten la misma identificación pero tienen una Fecha de efecto diferente. Esto permite que un miembro del conjunto de referencia se modifique o quede inactivo (es decir, eliminado del conjunto activo) en un momento específico. | string | required : 1 |
| Efectiva_Fecha | La fecha inclusiva en la que esta versión del miembro del conjunto de referencia identificado se convirtió en la versión actual. | date | required : 1 |
| Es_Activo | El estado del miembro del conjunto de referencia identificado como en el Effective_Date especificado. Si es "verdadero", el miembro del conjunto de referencia es parte de la versión actual del conjunto, si es "falso", el miembro del conjunto de referencia no es parte de la versión actual del conjunto. | boolean | required : 1 |
| Módulo_Id | Identifica el módulo SNOMED CT que contiene este miembro del conjunto de referencia como en el efectiva fecha especificado. | integer | level : Nominalrequired : 1 |
| Referenciado_Conjunto_ID | Identifica el conjunto de referencia al que pertenece este miembro del conjunto de referencia. | integer | level : Nominalrequired : 1 |
| Referenciado_Componente_Id | Una referencia al componente SNOMED CT que se incluirá en el conjunto de referencias de idiomas. | integer | level : Nominalrequired : 1 |
| Atributo_Descripción | Especifica el tipo de datos de este atributo en el conjunto de referencia al que se aplica este descriptor. | integer | level : Nominalrequired : 1 |
| Atributo_Tipo | Especifica el tipo de datos de este atributo en el conjunto de referencia al que se aplica este descriptor. | integer | level : Nominalrequired : 1 |
| Atributo_Orden | Especifica la posición de este atributo en el conjunto de referencias al que se aplica este descriptor. Un valor cero identifica el Referenced_Component_Id dentro del conjunto de referencia. Otros valores especifican atributos adicionales por su posición relativa a Referenced_Component_Id. Dentro de un descriptor particular, los valores de attributeOrder para un Referenced_Component_Id particular deben ser contiguos. Un entero sin signo que proporciona un orden para los atributos adicionales que amplían el conjunto de referencia. | integer | level : Nominalrequired : 1 |
Data Preview
| | | | | | | | | |
| --- | --- | --- | --- | --- | --- | --- | --- | --- |
| Referencia Conjunto Miembro Id | Efectiva Fecha | Es Activo | Módulo Id | Referenciado Conjunto ID | Referenciado Componente Id | Atributo Descripción | Atributo Tipo | Atributo Orden |
| 0faf78f7-1cfd-43ed-bea4-bbea868e28f4 | 2003-10-31 | True | 450829007 | 900000000000456007 | 450828004 | 900000000000510002 | 900000000000462002 | 0 |
| 45f5491a-df0a-b7e1-53cc-f71e93c12ba5 | 2022-04-30 | True | 450829007 | 900000000000456007 | 900000000000509007 | 900000000000511003 | 900000000000461009 | 1 |
| 55291b07-5048-392c-c5e2-f019d1d22ee5 | 2022-04-30 | True | 450829007 | 900000000000456007 | 900000000000509007 | 900000000000510002 | 900000000000462002 | 0 |
| 7be6b32f-7ac6-4dd2-adef-3c05f95e0ffe | 2003-10-31 | True | 450829007 | 900000000000456007 | 450828004 | 900000000000511003 | 900000000000461009 | 1 |