Others titles
Medical Device 510k Submissions
510k Device Submissions
Keywords
510k Device Clearances
Medical Devices
Medical Device Reviews
Medical Device Submissions
FDA Medical Device 510k Clearances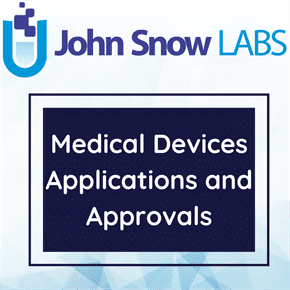 The Food and Drug Administration (FDA) Medical Device 510k Clearances dataset lists all (510(k)) submissions for medical devices. These are reviewed by FDA's Center for Devices and Radiological Health (CDRH), specifically, by the Office of Device Evaluation (ODE) and the Office of In Vitro Diagnostics and Radiological Health (OIR). 510(k) submissions are reviewed by ODE and OIR staff, including biomedical engineers, physicians, microbiologists, chemists, and other scientific professionals.
Log in to download
Complexity
Get The Data
For getting access to data download links please read and accept the end-user license agreement.
Your Data License
Research

Non-Commercial, Share-Alike, Attribution

Free Forever

Commercial

Commercial Use, Remix & Adapt, White Label Log in to download
Description
A 510(k) is required when:
– Introducing a device into commercial distribution (marketing) for the first time. After May 28, 1976 (effective date of the Medical Device Amendments to the Act), anyone who wants to sell a device in the U.S. is required to make a 510(k) submission at least 90 days prior to offering the device for sale, even though it may have been under development or clinical investigation before that date. If your device was not marketed by your firm before May 28, 1976, a 510(k) is required.
– You propose a different intended use for a device which you already have in commercial distribution. The 510(k) regulation (21 CFR 807) specifically requires a 510(k) submission for a major change or modification in intended use. Most, if not all changes in intended use will require a 510(k). Please note that prescription use to over the counter use is a major change in intended use and requires the submission of a new 510(k).
– There is a change or modification of a legally marketed device and that change could significantly affect its safety or effectiveness. The burden is on the 510(k) holder to decide whether or not a modification could significantly affect safety or effectiveness of the device. Any modifications must be made in accordance with the Quality System regulation, 21 CFR 820, and recorded in the device master record and change control records. It is recommended that the justification for submitting or not submitting a new 510(k) be recorded in the change control records.
The Expedited Review in this dataset is 'Y' for some of the records which indicates that the 510(k) was granted expedited review status for those records.
About this Dataset
Data Info
| | |
| --- | --- |
| Date Created | 2011 |
| Last Modified | 2022-05-30 |
| Version | 2022-05-30 |
| Update Frequency | Quarterly |
| Temporal Coverage | N/A |
| Spatial Coverage | United States |
| Source | John Snow Labs; U.S. Food and Drug Administration (FDA); |
| Source License URL | |
| Source License Requirements | N/A |
| Source Citation | N/A |
| Keywords | 510k Device Clearances, Medical Devices, Medical Device Reviews, Medical Device Submissions |
| Other Titles | Medical Device 510k Submissions, 510k Device Submissions |
Data Fields
| Name | Description | Type | Constraints |
| --- | --- | --- | --- |
| KNumber | Medical device 510(K) submission number | string | required : 1 |
| Applicant | Applicant name | string | required : 1 |
| Contact | Applicant contact name | string | - |
| Address_Line1 | The first line of the address of applicant | string | - |
| Address_Line2 | The second line of the address of applicant | string | - |
| City | City of Applicant | string | - |
| State_Abbreviation | Two-letter state of the applicant | string | - |
| Country_Code | Country of Applicant | string | required : 1 |
| Zip_Code | Zip of Applicant | string | - |
| Postal_Code | Postal code of Applicant | string | - |
| Date_Received | Date of submission reception | date | required : 1 |
| Decision_Date | FDA decision date | date | required : 1 |
| Decision | FDA decision | string | required : 1 |
| Advisory_Committee | The Advisory committee | string | required : 1 |
| Product_Code | Medical device code | string | - |
| Statement_Or_Summary | STATEMENT indicates that safety and effectiveness information may be obtained from the 510(k) applicant | string | - |
| Advisory_Committee_Code | Advisory committee code | string | - |
| Type | Denotes the type of 510(k) submission: Traditional, Special, Abbreviated, Evaluation of Automatic Class III Designation | string | required : 1 |
| Is_Third_Party | Indicates if the 510(k) was reviewed by a Third Party | boolean | required : 1 |
| Device_Name | Device name | string | - |
Data Preview
| | | | | | | | | | | | | | | | | | | | |
| --- | --- | --- | --- | --- | --- | --- | --- | --- | --- | --- | --- | --- | --- | --- | --- | --- | --- | --- | --- |
| KNumber | Applicant | Contact | Address Line1 | Address Line2 | City | State Abbreviation | Country Code | Zip Code | POSTAL CODE | Date Received | Decision Date | Decision | Advisory Committee | Product Code | Statement Or Summary | Advisory Committee Code | Type | Is Third Party | Device Name |
| DEN000001 | OHMEDA MEDICAL | DANIEL KOSEDNAR | P.O. BOX 7550 | | MADISON | WI | US | 53707-7550 | 53707-7550 | 2000-01-07 | 2000-01-11 | DENG | AN | MRN | | AN | Post-NSE | False | OHMEDA INOVENT DELIVERY SYSTEM |
| K000001 | BOSTON SCIENTIFIC SCIMED, INC. | RON BENNETT | 5905 NATHAN LN. | | MINNEAPOLIS | MN | US | 55442 | 55442 | 2000-01-03 | 2000-06-05 | SESE | SU | JCT | Summary | SU | Traditional | False | WALLGRAFT TRACHEOBRONCHIAL ENDOPROSTHESIS AND UNISTEP DELIVERY SYSTEM |
| DEN000002 | UROSURGE, INC. | STEVEN J PREISS | 2660 CROSSPARK RD. | | CORALVILLE | IA | US | 52241 | 52241 | 2000-01-27 | 2000-02-09 | DENG | GU | NAM | | GU | Post-NSE | False | UROSURGE PERCUTANEOUS SANS (STOLLER AFFERENT NERVE STIMULATOR) DEVICE |
| K000002 | USA INSTRUMENTS, INC. | RONY THOMAS | 1515 DANNER DR. | | AURORA | OH | US | 44202 | 44202 | 2000-01-03 | 2000-02-23 | SESE | RA | MOS | Summary | RA | Traditional | False | MAGNA 5000 PHASED ARRAY CTL SPINE COIL |
| K000003 | TORNIER | DAVID W SCHLERF | 200 GREGORY LN. | SUITE C-100 | PLEASANT HILL | CA | US | 94523-3389 | 94523-3389 | 2000-01-03 | 2000-10-02 | SESE | OR | JDC | Summary | OR | Traditional | False | TORNIER TOTAL ELBOW PROSTHESIS |
| DEN000004 | MAET INDUSTRIES, INC. | WAYNE WITBECK | 4215 RENOAK COURT | | MISSISSAUGA, ONTARIO | | CA | L5C 4K3 | L5C 4K3 | 2000-01-28 | 2000-02-29 | DENG | AN | MZT | | AN | Post-NSE | False | QUICKAIR CHOKE RELIEVER, MODEL 59-001A |
| K000004 | DAIG CORP. | PAUL CORNELISON | 14901 DEVEAU PLACE | | MINNETONKA | MN | US | 55345-2126 | 55345-2126 | 2000-01-03 | 2000-11-29 | SESE | CV | DYB | Summary | CV | Traditional | False | ALLIANCE LEFT HEART DELIVERY SYSTEM INTRODUCER, MODEL #407509 |
| K000005 | DIAGNOSTIC PRODUCTS CORP. | EDWARD M LEVINE | 5700 WEST 96TH ST. | | LOS ANGELES | CA | US | 90045-5597 | 90045-5597 | 2000-01-03 | 2000-03-03 | SESE | TX | LEG | Summary | TX | Traditional | False | IMMULITE VALPROIC ACID, IMMULITE 2000 VALPROIC ACID, CATALOG # LKVA1, LKVA5 & L2KVA2, L2KVA6 |
| DEN000006 | UROMETRICS, INC. | PHILIP A MESSINA | 445 ETNA ST., SUITE 56 | | ST. PAUL | MN | US | 55106 | 55106 | 2000-04-27 | 2000-04-28 | DENG | OB | NBV | | OB | Post-NSE | False | EROS-CLITORAL THERAPY DEVICE (CTD) |
| K000006 | DIAGNOSTIC PRODUCTS CORP. | EDWARD M LEVINE | 5700 WEST 96TH ST. | | LOS ANGELES | CA | US | 90045-5597 | 90045-5597 | 2000-01-03 | 2000-02-28 | SESE | TX | DIP | Summary | TX | Traditional | False | IMMULITE PHENYTOIN, IMMULITE 2000 PHENYTOIN, CATALOG # LKPN1, LKPN5 & L2KPN2, L2KPN6 |