Others titles
General Practioner (GP) Practices by NHS Choices
List of General Practitioner Branches in England
Provider Information Management System (PIMS) for GP Practices
Keywords
General Practitioner (GP)
GP Practices
Healthcare Professionals
General Practitioner Branches
Organization Data Service (ODS)
National Health Service (NHS)
Health and Social Care Information Centre (HSCIC)
National Administrative Codes Service (NACS)
Provider Information Management System (PIMS)
General Practitioner Branches in England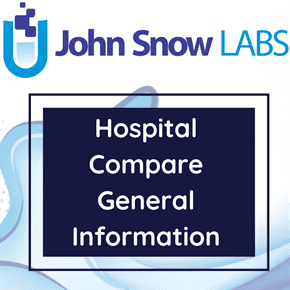 This dataset contains a list of active General Practioner (GP) branches. The data is aligned with the Organization Data Service (ODS) GP data. It includes information about organization and postcodes, telephone number and email address for several GP branches in England.
Log in to download
Complexity
Get The Data
For getting access to data download links please read and accept the end-user license agreement.
Your Data License
Research

Non-Commercial, Share-Alike, Attribution

Free Forever

Commercial

Commercial Use, Remix & Adapt, White Label Log in to download
Description
The Organization Data Service (ODS) is provided by the Health and Social Care Information Centre (HSCIC). It is responsible for the publication of all organization and practitioner codes and national policy and standards with regard to the majority of organization codes, and encompasses the functionality and services previously provided by the National Administrative Codes Service (NACS).
Data contained in this dataset is obtained from various sources. National Health Service (NHS) Choices has provided the functionality that allows General Practioner (GP) practices to access their profiles using the Provider Information Management System (PIMS) to update the information about them. GP practices that have taken up this privilege are able to update their profiles. In some instances, some parent organizations inform when changes occur. ODS reports are regularly used to update data. ODS code format is used to identify the GP branches. The Organization Status used for this dataset is 'visible'.
The role of a GP can vary greatly between (or even within) countries. In urban areas of developed countries their roles tend to be narrower and focused on the care of chronic health problems, the treatment of acute non-life-threatening diseases, the early detection and referral to specialized care of patients with serious diseases, and preventive care including health education and immunization. Meanwhile, in rural areas of developed countries or in developing countries a GP may be routinely involved in pre-hospital emergency care, the delivery of babies, community hospital care and performing low-complexity surgical procedures. In some healthcare systems, GPs work in primary care centers where they play a central role in the healthcare team, while in other models of care GPs can work as single-handed practitioners.
About this Dataset
Data Info
| | |
| --- | --- |
| Date Created | 2015-03-24 |
| Last Modified | 2016-01-14 |
| Version | 2016-01-14 |
| Update Frequency | Irregular |
| Temporal Coverage | N/A |
| Spatial Coverage | United Kingdom |
| Source | John Snow Labs; Data.Gov.UK (National Health Service, England NHS Choices); |
| Source License URL | |
| Source License Requirements | N/A |
| Source Citation | N/A |
| Keywords | General Practitioner (GP), GP Practices, Healthcare Professionals, General Practitioner Branches, Organization Data Service (ODS), National Health Service (NHS), Health and Social Care Information Centre (HSCIC), National Administrative Codes Service (NACS), Provider Information Management System (PIMS) |
| Other Titles | General Practioner (GP) Practices by NHS Choices, List of General Practitioner Branches in England, Provider Information Management System (PIMS) for GP Practices |
Data Fields
| Name | Description | Type | Constraints |
| --- | --- | --- | --- |
| Organization_ID | Refers to the internal unique identification. | integer | level : Nominal |
| Organization_Code | Refers to the unique organization code. | string | - |
| Is_PIMS_Managed | Refers to instances where the GP branch is responsible for updating its information on the NHS Choices website using the Provider Information Management System (PIMS). | boolean | - |
| Is_EPS_Enabled | Indicates whether an electronic prescription service is available at the branch. | boolean | - |
| Organization_Name | Identifies the name of the organization. | string | - |
| Address_Line1 | Main address of the General Practitioner branch. | string | - |
| Address_Line2 | Secondary address of the General Practitioner branch. | string | - |
| Address_Line3 | Remaining part of the address where the organization is located. | string | - |
| City | Indicates the name of the city where the organization is located. | string | - |
| County | Indicates the name of the county where the organization is located. | string | - |
| Post_Code | The postal code of the organization. | string | - |
| Latitude | Identifies the geographical location Latitude. | number | - |
| Longitude | Identifies the geographical location Longitude. | number | - |
| Parent_ODS_Code | Indicates the parent ODS code for General Practitioner (GP) branches in England. | string | - |
| Parent_Name | Indicates the parent name of the organization. | string | - |
| Telephone_Number | The telephone number to contact the organization in England. | string | - |
| Email | The Email address of the organization in England. | string | - |
| Website | Indicates the Website address of the organization in England. | string | - |
| Fax | Indicates the Fax number of the organization in England. | string | - |
Data Preview
| | | | | | | | | | | | | | | | | | | |
| --- | --- | --- | --- | --- | --- | --- | --- | --- | --- | --- | --- | --- | --- | --- | --- | --- | --- | --- |
| Organization ID | Organization Code | Is PIMS Managed | Is EPS Enabled | Organization Name | Address Line1 | Address Line2 | Address Line3 | City | County | Post Code | Latitude | Longitude | Parent ODS Code | Parent Name | Telephone Number | Email | Website | Fax |
| 2915 | Y02622 | True | True | Blackfriars Medical Practice | 138 Chapel Street | Salford | | Manchester | Greater Manchester | M3 6AF | 53.48413849 | -2.254229546 | 01G | NHS Salford CCG | 1618194790 | | | 0161 819 4791 |
| 3028 | A81001 | True | True | The Densham Surgery | Health Centre | Lawson Street | | Stockton On Tees | Cleveland | TS18 1HU | 54.56162643 | -1.318970323 | 00K | NHS Hartlepool And Stockton-On-Tees CCG | 1642606490 | | http://www.williamsoliver.me.uk | 01642 618112 |
| 3029 | A81002 | True | True | Queens Park Medical Centre | Farrer Street | | | Stockton On Tees | Cleveland | TS18 2AW | 54.56916428 | -1.31386435 | 00K | NHS Hartlepool And Stockton-On-Tees CCG | 1642679681 | | http://www.qpmc.org.uk | 01642 677124 |
| 3031 | A81004 | True | True | Bluebell Medical Centre | Bluebell Medical Centre | Trimdon Avenue | Acklam | Middlesbrough | Cleveland | TS5 8SB | 54.53813553 | -1.262113929 | 00M | NHS South Tees CCG | 1642827697 | stccg.bluebellmedicalcentre@nhs.net | https://bluebellmedicalcentre.co.uk | 01642 529049 |
| 3033 | A81005 | True | True | Springwood Surgery | Rectory Lane | | | Guisborough | Cleveland | TS14 7DJ | 54.53260039999999 | -1.055428386 | 00M | NHS South Tees CCG | 1287619611 | rc-pct.springwood@nhs.net | http://www.springwoodsurgery.co.uk/ | 01287 619613 |
| 3034 | A81006 | True | True | Tennant Street Medical Practice | Tennant Street | | | Stockton On Tees | Cleveland | TS18 2AT | 54.56860733 | -1.313564301 | 00K | NHS Hartlepool And Stockton-On-Tees CCG | 1642613331 | | http://www.tsmp.gpsurgery.net | 01642 675612 |
| 3035 | A81007 | True | True | Bankhouse Surgery | One Life Hartlepool | Park Road | | Hartlepool | Cleveland | TS24 7PW | 54.682334899999994 | -1.214133978 | 00K | NHS Hartlepool And Stockton-On-Tees CCG | 1429274800 | | www.bankhousesurgery.co.uk | 01429 860811 |
| 3037 | A81009 | True | True | Village Medical Centre | 400-404 Linthorpe Road | | | Middlesbrough | Cleveland | TS5 6HF | 54.56230164 | -1.241712809 | 00M | NHS South Tees CCG | 1642851122 | | | 01642 820 821 |
| 3038 | A81011 | True | True | Chadwick Practice | One Life Hartlepool | Park Road | | Hartlepool | Cleveland | TS24 7PW | 54.682334899999994 | -1.214133978 | 00K | NHS Hartlepool And Stockton-On-Tees CCG | 1429234646 | | www.chadwickpractice.co.uk | 01429 861559 |
| 3039 | A81012 | True | True | Westbourne Medical Centre | North Ormesby Health Village | 7 Trinity Mews | North Ormesby | Middlesbrough | Cleveland | TS3 6AL | 54.57172012 | -1.216386437 | 00M | NHS South Tees CCG | 1642277000 | | | 01642 281000 |