Others titles
Home Health Agency Utilization and Payment Data 2013
Medicare Home Health Agency Utilization and Payment Data 2013
Medicare Home Health Agency Charges and Amounts 2013
Keywords
Home Health Agency
Utilization and Payment
Home Health Charges
Home Health Agency Utilization and Payment Data 2013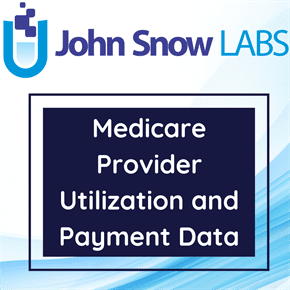 The Home Health Agency Utilization and Payment data 2013 presents information on services provided to Medicare beneficiaries by home health agencies. The Home Health Agency PUF includes data for providers that had a valid identification number and submitted a Medicare Part A institutional claim during the 2013 calendar year. To protect the privacy of Medicare beneficiaries, any aggregated records which are derived from 10 or fewer beneficiaries are excluded.
Log in to download
Complexity
Get The Data
For getting access to data download links please read and accept the end-user license agreement.
Your Data License
Research

Non-Commercial, Share-Alike, Attribution

Free Forever

Commercial

Commercial Use, Remix & Adapt, White Label Log in to download
Description
The dataset contains information on utilization, payment (Medicare payment and standardized payment), submitted charges, and demographic and chronic condition indicators organized by CMS Certification Number (6-digit provider identification number), Home Health Resource Group (HHRG), and state of service. This PUF is based on information from CMS's Chronic Conditions Data Warehouse (CCW) data files. The data in the Home Health Agency PUF covers calendar years 2013 and contains 100 percent final-action (i.e., all claim adjustments have been resolved) home health agency institutional claims for the Medicare fee-for-service (FFS) population.
Allowed amounts are not included in these files, since home health services do not have any deductibles or coinsurance and therefore allowed amounts will always equal Medicare payments. In addition, provider charges may sometimes be lower Medicare payments for non-low utilization payment adjustments (non-LUPA) episodes episodes. This is due to the nature of the home health prospective payment system. For home health, payment is determined for each 60-day episode based on an assessment of the patient. Medicare will pay the full payment for this episode, even if charges in the 60-day period are less than the payment.
The prospective payment system works to save Medicare money for a whole group of services over a fiscal year, not by getting savings from an individual provider or home health agency, or in the case of each patient. Therefore, home health agencies will have some episodes for which their charges may be less than Medicare's payment, but they may also have some episodes in which their charges are greater than Medicare's payment. Such payment gives the home health agency an incentive to be efficient in their delivery of services, and saves Medicare money by keeping all payments– with very few exceptions– within the previously set episode rates. The Home Health Agency PUF does not have any information on patients who are not covered by Medicare, such as those with coverage from other federal programs (like the Federal Employees Health Benefits Program or Tricare), those with private health insurance (such as an individual policy or employer-sponsored coverage), or those who are uninsured. Even within Medicare, the Home Health Agency PUF does not include information for patients who are enrolled in any form of Medicare Advantage plan.
About this Dataset
Data Info
| | |
| --- | --- |
| Date Created | 2015_12-09 |
| Last Modified | 2018_04-05 |
| Version | 2018_04-05 |
| Update Frequency | Annual |
| Temporal Coverage | 2013 |
| Spatial Coverage | United States |
| Source | John Snow Labs; Centers For Medicare and Medicaid Services; |
| Source License URL | |
| Source License Requirements | N/A |
| Source Citation | N/A |
| Keywords | Home Health Agency, Utilization and Payment, Home Health Charges |
| Other Titles | Home Health Agency Utilization and Payment Data 2013, Medicare Home Health Agency Utilization and Payment Data 2013, Medicare Home Health Agency Charges and Amounts 2013 |
Data Fields
| Name | Description | Type | Constraints |
| --- | --- | --- | --- |
| Provider_ID | The 6-digit identification number for the home health agency on the claim | integer | level : Nominal |
| Agency_Name | Name of home health agency as reported in the Provider of services (POS) file | string | - |
| Address | The home health agency address, as reported in the POS file | string | - |
| City | The city where the home health agency is located, as reported in the POS file | string | - |
| State_Abbreviation | The state where the home health agency is located, as reported in POS file. The fifty U.S. states and the District of Columbia are reported by the state postal abbreviation. | string | - |
| Zip_Code | Zipcode of the agency as reported in POS file | integer | level : Nominal |
| Total_Episodes_Non_LUPA | Total count of non-LUPA episodes provided by a specific home health agency or in a unique HHRG category in the calendar year. | integer | level : Ratio |
| Distinct_Beneficiaries_Non_LUPA | Number of distinct Medicare beneficiaries receiving at least one non-LUPA home health episode in the calendar year. Beneficiaries may receive multiple home health episodes per year but are only counted once in this field | integer | level : Ratio |
| Average_Number_of_Total_Visits_Per_Episode_Non_LUPA | Average number of total visits provided by the HHA during a non-LUPA episode | number | level : Ratio |
| Average_Number_of_Skilled_Nursing_Visits_Per_Episode_Non_LUPA | Average number of skilled nursing visits provided by the HHA during a non-LUPA episode | number | level : Ratio |
| Average_Number_of_PT_Visits_Per_Episode_Non_LUPA | Average number of physical therapy visits provided by the HHA during a non-LUPA episode | number | level : Ratio |
| Average_Number_of_OT_Visits_Per_Episode_Non_LUPA | Average number of occupational therapy visits provided by the HHA during a non-LUPA episode | number | level : Ratio |
| Average_Number_of_ST_Visits_Per_Episode_Non_LUPA | Average number of speech therapy visits provided by the HHA during a non-LUPA episode | number | level : Ratio |
| Average_Number_of_Home_Health_Aide_Visits_Per_Episode_Non_LUPA | Average number of home health aide visits provided by the HHA during a non-LUPA episode | number | level : Ratio |
| Average_Number_of_Medical_Social_Visits_Per_Episode_Non_LUPA | Average number of medical-social visits provided by the HHA during a non-LUPA episode | number | level : Ratio |
| Total_HHA_Charge_Amount_Non_LUPA | Total charges that the home health agency submitted for non-LUPA episodes | integer | level : Ratio |
| Total_HHA_Medicare_Payment_Amount_Non_LUPA | Total amount that Medicare paid for non-LUPA episodes. Home health services do not have any cost-sharing requirements and the Medicare payment amount will equal the allowed amount | number | - |
| Total_HHA_Medicare_Standard_Payment_Amount_Non_LUPA | Total amount that Medicare paid for non-LUPA episodes adjusted for geographic differences in payment rates | number | - |
| Outlier_Payments_Percent_of_Medicare_Payment_Amount_Non_LUPA | The percent of total Medicare payments for non-LUPA episodes paid to an HHA for outlier episodes | number | - |
| Total_Episodes_LUPA | Total count of low utilization payment amount episodes provided by a specific HHA in the calendar year | number | - |
| Total_HHA_Medicare_Payment_Amount_for_LUPAs | Total amount that Medicare paid for LUPA episodes provided by a specific HHA in the calendar year | number | - |
| Average_Age | Average age of beneficiaries. Beneficiary age is calculated at the end of the calendar year or at the time of death | integer | level : Ratio |
| Male_Beneficiaries | Number of male beneficiaries | integer | level : Ratio |
| Female_Beneficiaries | Number of female beneficiaries | integer | level : Ratio |
| Nondual_Beneficiaries | Number of Medicare beneficiaries qualified to receive Medicare only benefits. Beneficiaries are classified as Medicare only entitlement if they received zero months of any Medicaid benefits (full or partial) in the given calendar year | integer | level : Ratio |
| Dual_Beneficiaries | Number of Medicare beneficiaries qualified to receive Medicare and Medicaid benefits. Beneficiaries are classified as Medicare and Medicaid entitlement if in any month in the given calendar year they were receiving full or partial Medicaid benefits | integer | level : Ratio |
| White_Beneficiaries | Number of non-Hispanic white beneficiaries | integer | level : Ratio |
| Black_Beneficiaries | Number of non-Hispanic black or African Amercian beneficiaries | integer | level : Ratio |
| Asian_Pacific_Islander_Beneficiaries | Number of Asian Pacific Islander beneficiaries | integer | level : Ratio |
| Hispanic_Beneficiaries | Number of Hispanic beneficiaries | integer | level : Ratio |
| American_Indian_Or_Alaska_Native_Beneficiaries | Number of American Indian or Alaskan native beneficiaries | integer | level : Ratio |
| Other_Or_Unknown_Beneficiaries | Number of beneficiaries with race not elsewhere classified | integer | level : Ratio |
| Average_HCC_Score | Average Hierarchical Condition Category (HCC) risk score of beneficiaries | number | level : Ratio |
| Percent_of_Beneficiaries_with_Atrial_Fibrillation | Percent of beneficiaries meeting the CCW chronic condition algorithm for Atrial Fibrillation | integer | level : Ratio |
| Percent_of_Beneficiaries_with_Alzheimers | Percent of beneficiaries meeting the CCW chronic condition algorithm for Alzhemers | integer | level : Ratio |
| Percent_of_Beneficiaries_with_Asthma | Percent of beneficiaries meeting the CCW chronic condition algorithm for Asthma | integer | level : Ratio |
| Percent_of_Beneficiaries_with_Cancer | Percent of beneficiaries meeting the CCW chronic condition algorithm for cancer | integer | level : Ratio |
| Percent_of_Beneficiaries_with_CHF | Percent of beneficiaries meeting the CCW chronic condition algorithm for CHF | integer | level : Ratio |
| Percent_of_Beneficiaries_with_Chronic_Kidney_Disease | Percent of beneficiaries meeting the CCW chronic condition algorithm for chronic kidney disease | integer | level : Ratio |
| Percent_of_Beneficiaries_with_COPD | Percent of beneficiaries meeting the CCW chronic condition algorithm for COPD | integer | level : Ratio |
| Percent_of_Beneficiaries_with_Depression | Percent of beneficiaries meeting the CCW chronic condition algorithm for depression | integer | level : Ratio |
| Percent_of_Beneficiaries_with_Diabetes | Percent of beneficiaries meeting the CCW chronic condition algorithm for diabetes | integer | level : Ratio |
| Percent_of_Beneficiaries_with_Hyperlipidemia | Percent of beneficiaries meeting the CCW chronic condition algorithm for Atrial Fibrillation | integer | level : Ratio |
| Percent_of_Beneficiaries_with_Hypertension | Percent of beneficiaries meeting the CCW chronic condition algorithm for Hypertension | integer | level : Ratio |
| Percent_of_Beneficiaries_with_IHD | Percent of beneficiaries meeting the CCW chronic condition algorithm for ischemaic heart disease (IHD) | integer | level : Ratio |
| Percent_of_Beneficiaries_with_Osteoporosis | Percent of beneficiaries meeting the CCW chronic condition algorithm for Osteoporosis | integer | level : Ratio |
| Percent_of_Beneficiaries_with_Rheumatic_Arthritis_Osteoarthritis | Percent of beneficiaries meeting the CCW chronic condition algorithm for Rheumatic arthritis osteoarthritis | integer | level : Ratio |
| Percent_of_Beneficiaries_with_Schizophrenia | Percent of beneficiaries meeting the CCW chronic condition algorithm for schizophrenia | integer | level : Ratio |
| Percent_of_Beneficiaries_with_Stroke | Percent of beneficiaries meeting the CCW chronic condition algorithm for stroke | integer | level : Ratio |
Data Preview
| | | | | | | | | | | | | | | | | | | | | | | | | | | | | | | | | | | | | | | | | | | | | | | | | |
| --- | --- | --- | --- | --- | --- | --- | --- | --- | --- | --- | --- | --- | --- | --- | --- | --- | --- | --- | --- | --- | --- | --- | --- | --- | --- | --- | --- | --- | --- | --- | --- | --- | --- | --- | --- | --- | --- | --- | --- | --- | --- | --- | --- | --- | --- | --- | --- | --- |
| Provider ID | Agency Name | Address | City | State Abbreviation | Zip Code | Total Episodes Non LUPA | Distinct Beneficiaries Non LUPA | Average Number of Total Visits Per Episode Non LUPA | Average Number of Skilled Nursing Visits Per Episode Non LUPA | Average Number of PT Visits Per Episode Non LUPA | Average Number of OT Visits Per Episode Non LUPA | Average Number of ST Visits Per Episode Non LUPA | Average Number of Home Health Aide Visits Per Episode Non LUPA | Average Number of Medical Social Visits Per Episode Non LUPA | Total HHA Charge Amount Non LUPA | Total HHA Medicare Payment Amount Non LUPA | Total HHA Medicare Standard Payment Amount Non LUPA | Outlier Payments Percent of Medicare Payment Amount Non LUPA | Total Episodes LUPA | Total HHA Medicare Payment Amount for LUPAs | Average Age | Male Beneficiaries | Female Beneficiaries | Nondual Beneficiaries | Dual Beneficiaries | White Beneficiaries | Black Beneficiaries | Asian Pacific Islander Beneficiaries | Hispanic Beneficiaries | American Indian Or Alaska Native Beneficiaries | Other Or Unknown Beneficiaries | Average HCC Score | Percent of Beneficiaries with Atrial Fibrillation | Percent of Beneficiaries with Alzheimers | Percent of Beneficiaries with Asthma | Percent of Beneficiaries with Cancer | Percent of Beneficiaries with CHF | Percent of Beneficiaries with Chronic Kidney Disease | Percent of Beneficiaries with COPD | Percent of Beneficiaries with Depression | Percent of Beneficiaries with Diabetes | Percent of Beneficiaries with Hyperlipidemia | Percent of Beneficiaries with Hypertension | Percent of Beneficiaries with IHD | Percent of Beneficiaries with Osteoporosis | Percent of Beneficiaries with Rheumatic Arthritis Osteoarthritis | Percent of Beneficiaries with Schizophrenia | Percent of Beneficiaries with Stroke |
| 17008 | JEFFERSON COUNTY HOME CARE | 2201 ARLINGTON AVENUE | BESSEMER | AL | 35020 | 235 | 100 | 10.6 | 6.8 | 2.9 | | | 0.8 | 0.1 | 538759 | 507297 | 581788 | 0.0 | 24 | 5540 | 68 | 34 | 66 | 24 | 76 | 19 | 80.0 | | | | | 1.7 | 11 | 23 | 16 | 4 | 34 | 43 | 22 | 35 | 53 | 45 | | 38 | 7 | 50 | 23 | 11 |
| 17009 | ALACARE HOME HEALTH & HOSPICE | 2970 LORNA ROAD | BIRMINGHAM | AL | 35216 | 12012 | 6154 | 17.9 | 8.6 | 4.0 | 1.0 | 0.3 | 3.9 | 0.1 | 30054339 | 28678306 | 34815538 | 0.1 | 1123 | 315270 | 76 | 2225 | 3929 | 4718 | 1436 | 5199 | 884.0 | | 29.0 | | 21.0 | 2.14 | 19 | 33 | 13 | 14 | 46 | 44 | 36 | 38 | 45 | 62 | | 57 | 15 | 59 | 9 | 14 |
| 17013 | GENTIVA HEALTH SERVICES | 557 GLOVER STREET, SUITE 5 | ENTERPRISE | AL | 36330 | 809 | 459 | 20.5 | 8.0 | 6.3 | 2.8 | 0.1 | 3.3 | | 2811738 | 2224491 | 2860262 | 0.2 | 53 | 13118 | 76 | 142 | 317 | 335 | 124 | 402 | 50.0 | | | | | 1.89 | 16 | 33 | 13 | 12 | 33 | 32 | 35 | 30 | 47 | 64 | | 51 | 17 | 68 | 9 | 11 |
| 17014 | AMEDISYS HOME HEALTH OF BLOUNTSVILLE | 1106 2ND AVENUE E, SUITE E | ONEONTA | AL | 35121 | 460 | 320 | 18.1 | 8.3 | 4.6 | 2.8 | 0.6 | 1.7 | 0.2 | 1384551 | 1184541 | 1458731 | 0.2 | 59 | 17068 | 74 | 121 | 199 | 234 | 86 | 313 | | | | | | 1.86 | 17 | 33 | 6 | 11 | 43 | 34 | 37 | 37 | 44 | 58 | | 54 | 12 | 67 | 11 | 11 |
| 17016 | SOUTHEAST ALABAMA HOMECARE | 804 GLOVER AVENUE | ENTERPRISE | AL | 36330 | 959 | 500 | 14.0 | 8.4 | 3.4 | 1.7 | 0.2 | 0.3 | 0.1 | 2831182 | 2172594 | 2747201 | 0.1 | 107 | 29145 | 74 | 196 | 304 | 323 | 177 | 363 | 120.0 | | | | | 1.86 | 18 | 29 | 15 | 10 | 39 | 38 | 37 | 28 | 51 | 61 | | 55 | 11 | 59 | 8 | 11 |
| 17017 | SOUTHERN RURAL HEALTH CARE | 508 ST CLAIR STREET SE | RUSSELLVILLE | AL | 35653 | 109 | 84 | 18.4 | 6.2 | 4.3 | 0.2 | 0.1 | 7.6 | | 203260 | 215280 | 272915 | 0.0 | 19 | 5030 | 79 | 24 | 60 | 54 | 30 | 78 | | | | | | 2.06 | 14 | 39 | 7 | 15 | 44 | 36 | 44 | 35 | 42 | 58 | | 54 | 11 | 64 | 6 | 7 |
| 17018 | GENTIVA HEALTH SERVICES | 3225 RAINBOW STREET, SUITE 256 | RAINBOW CITY | AL | 35906 | 2642 | 1223 | 19.1 | 8.6 | 6.3 | 1.3 | 0.7 | 2.1 | 0.1 | 8865381 | 6890110 | 8666253 | 0.1 | 170 | 42859 | 75 | 444 | 779 | 843 | 380 | 1141 | 72.0 | | | | | 2.06 | 17 | 39 | 11 | 10 | 49 | 38 | 44 | 37 | 46 | 58 | | 58 | 12 | 62 | 13 | 13 |
| 17020 | AMEDISYS HOME HEALTH CARE | 273 AZALEA ROAD, SUITE 104, BLDG 2 | MOBILE | AL | 36609 | 1025 | 639 | 18.3 | 8.4 | 4.3 | 2.6 | 0.6 | 2.3 | 0.1 | 3026383 | 2506461 | 3178792 | 0.2 | 126 | 35139 | 76 | 230 | 409 | 502 | 137 | 495 | 132.0 | | | | | 1.99 | 23 | 39 | 11 | 12 | 43 | 36 | 31 | 28 | 43 | 60 | | 58 | 12 | 56 | 11 | 15 |
| 17024 | SOUTHEAST ALABAMA HOMECARE | 810 HEDSTROM DRIVE, SUITE ONE | DOTHAN | AL | 36301 | 2164 | 1084 | 14.2 | 7.7 | 3.7 | 1.6 | 0.5 | 0.7 | 0.1 | 6523622 | 4825742 | 6118054 | 0.1 | 354 | 98275 | 75 | 423 | 661 | 653 | 431 | 734 | 336.0 | | | | | 2.09 | 21 | 31 | 15 | 14 | 41 | 49 | 32 | 26 | 53 | 68 | | 59 | 16 | 61 | 8 | 13 |
| 17025 | SAAD HEALTHCARE | 1515 UNIVERSITY BLVD, SOUTH | MOBILE | AL | 36609 | 2307 | 1137 | 18.5 | 9.3 | 4.8 | 1.9 | 0.7 | 1.8 | 0.1 | 7119417 | 5837391 | 7334445 | 0.1 | 202 | 53539 | 76 | 398 | 739 | 886 | 251 | 782 | 337.0 | | | | | 2.19 | 20 | 38 | 14 | 13 | 40 | 38 | 28 | 29 | 45 | 58 | | 56 | 13 | 54 | 7 | 15 |