Others titles
MedDRA Acronyms and Abbreviations
MedDRA Lowest Level Terms abbreviations
Keywords
Medical Dictionary
Medical Terms
Medical Terminology Dictionary
MeDRA Abbreviations
MeDRA Acronyms
List of Medical Abbreviations
Common Medical Terms
List of Abbreviations and Acronyms for Medical Regulatory Activities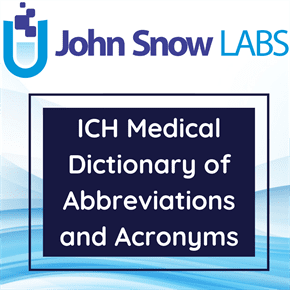 This dataset displays the abbreviations and acronyms for the Lowest Level Terms (LLT) in the hierarchy of the Medical Dictionary for Regulatory Activities (MedDRA) Terminology. LLTs have the highest specificity in describing medical and health related terms within the MedDRA, these play various roles in the terminology and facilitate the consistency in the transfer of information through time.
Log in to download
Complexity
Get The Data
For getting access to data download links please read and accept the end-user license agreement.
Your Data License
Research

Non-Commercial, Share-Alike, Attribution

Free Forever

Commercial

Commercial Use, Remix & Adapt, White Label Log in to download
Description
The Medical Dictionary for Regulatory Activities (MedDRA) was developed through the International Conference on Harmonisation (ICH) of Technical Requirements for Registration of Pharmaceuticals for Human use with the purpose of creating an "internationally accepted terminology for biopharmaceutical regulatory purposes" (1) and to make easier the management of the information required for product registration and data cross-reference. Its first official version (2.0) was released in July 1997.
"The MedDRA terminology applies to all phases of development of medical products for human use, excluding animal toxicology. The scope of MedDRA encompasses medical, health-related and regulatory concepts pertaining to such products. The terminology also addresses the health effects and malfunction of devices."
The building of the terminology is based in a hierarchical structure that includes (from lowest to highest):
– **Lowest Level Term (LLT)**: Each one of these terms is linked to only one Preferred Term (PT) and it could function as a synonym, as a lexical variant, as a quasi-synonym, and as a sub-element of their parent PT, in some cases an LLT is identical to its PT for data entry purposes. "There is no limit to the number of LLTs that can be linked to a Preferred Term."
– **Preferred Term**: Is a single medical concept for specific symptoms, signs, diseases, diagnoses, therapeutic indications, etc. "A PT must have at least one LLT linked to it."
– **High Level Term (HLT)**: Are categories containing the PTs by anatomy, pathology, physiology, etiology or function.
– **High Level Group (HLG)**: Are descriptors for HLTs related by anatomy, pathology, physiology, etiology or function.
– **System Organ Class (SOC)**: Is the highest level and groups by etiology, manifestation site and purpose.
LLTs "may accommodate to colloquial or culturally unique terms" , facilitate the transfer of historical data, data entry, consistency and auto-encoding. They are more specific than PTs. LLTs that carry a "non-current" flag status are very vague, ambiguous, truncated, abbreviated, out-dated or misspelled (this dataset does not indicates LLTs flags).
The abbreviations in MedDRA are for LLT level, except when the full term surpasses the 100 characters and when the term has a well-established abbreviation. These exceptions include:
– CDC: Centers for Disease Control (USA)
– CNS: Central Nervous System
– CSF: Cerebrospinal fluid
– ECG: Electrocardiogram
Other exceptions to the norm are:
– NEC: Not Elsewhere Classified. It is limited to HLT and HLGT levels.
– NOS: not other specified. Limited to the LLT level.
The majority of abbreviated virus such as LLT HAV, LLT HBV and LLT Hepatitis B virus, are non-current.
"Chemical elements are represented in MedDRA with their official chemical symbols."
About this Dataset
Data Info
| | |
| --- | --- |
| Date Created | 2010-03 |
| Last Modified | 2022-09-01 |
| Version | 25.1 |
| Update Frequency | Semiannual |
| Temporal Coverage | 2016-11 to 2021-09 |
| Spatial Coverage | World |
| Source | John Snow Labs; ICH Steering Committee Medical Dictionary for Regulatory Activities Maintenance and Support Services Organization; |
| Source License URL | |
| Source License Requirements | Notices |
| Source Citation | Notices |
| Keywords | Medical Dictionary, Medical Terms, Medical Terminology Dictionary, MeDRA Abbreviations, MeDRA Acronyms, List of Medical Abbreviations, Common Medical Terms |
| Other Titles | MedDRA Acronyms and Abbreviations, MedDRA Lowest Level Terms abbreviations |
Data Fields
| Name | Description | Type | Constraints |
| --- | --- | --- | --- |
| Acronym | Abbreviation or Acronym | string | - |
| Lowest_Level_Terms | Corresponding LLT name | string | - |
| Meaning | LLT description | string | - |
Data Preview
| | | |
| --- | --- | --- |
| Acronym | Lowest Level Terms | Meaning |
| 22q11.2 | 22q11.2 deletion syndrome | Deletion of a small piece of chromosome 22 |
| 1p36 | 1p36 deletion syndrome | A specific chromosomal band |
| 2019-nCoV | 2019-nCoV infection | 2019 novel coronavirus infection |
| 3D | 3D conformal radiation therapy | Three dimensional |
| 3M | 3M syndrome | Miller, McKusick, Malvaux (names of the discoverers of this syndrome) |
| 4Ts | 4Ts score | Clinical scoring system - 4Ts stand for thrombocytopenia, timing, thrombosis and other cause for thrombocytopenia. |
| ABO | ABO isoimmunization | Landsteiner's blood grouping system |
| ABSSSI | ABSSSI | Acute bacterial skin and skin structure infection |
| ACAD9 | ACAD9 deficiency | Acyl-CoA dehydrogenase 9 |
| ACBT | ACBT | Active cycle of breathing technique |