Others titles
FHIR Marketing Status Resource
Electronic Health Records Exchange Through FHIR
Keywords
FHIR
HL7
Medical Terminology
Processes Data
Processes Information
Processes Documentation
Health Information Exchange
Electronic Health Records
FHIR Smart
Smart on FHIR
Marketing Status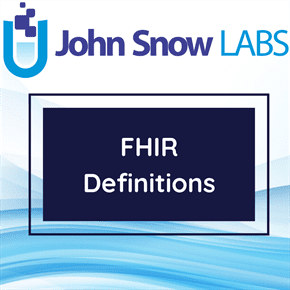 The marketing status describes the date when a medicinal product is actually put on the market or the date as of which it is no longer available.
Log in to download
Complexity
Get The Data
The data in CSV format

DOWNLOAD

Metadata in Human Readable format (PDF)

DOWNLOAD

Metadata in Machine Readable format (JSON)

DOWNLOAD
Your Data License
Research

Non-Commercial, Share-Alike, Attribution

Free Forever

Commercial

Commercial Use, Remix & Adapt, White Label Buy Subscription
Description
Fast Healthcare Interoperability Resources (FHIR) is a draft standard describing data formats and elements and an application programming interface for exchanging electronic health records. The standard was created by the Health Level Seven International health-care standards organization. HL7 FHIR supports a range of clinical and administrative healthcare interoperability scenarios ranging from simple RESTful mobile solutions to clinical documents to complex messaging-based EHR infrastructures.
About this Dataset
Data Info
| | |
| --- | --- |
| Date Created | 2018-09-20 |
| Last Modified | 2019-11-01 |
| Version | 4.0.1 |
| Update Frequency | Annual |
| Temporal Coverage | N/A |
| Spatial Coverage | United States |
| Source | John Snow Labs; Health Level Seven International; |
| Source License URL | |
| Source License Requirements | N/A |
| Source Citation | N/A |
| Keywords | FHIR, HL7, Medical Terminology, Processes Data, Processes Information, Processes Documentation, Health Information Exchange, Electronic Health Records, FHIR Smart, Smart on FHIR |
| Other Titles | FHIR Marketing Status Resource, Electronic Health Records Exchange Through FHIR |
Data Fields
| Name | Description | Type | Constraints |
| --- | --- | --- | --- |
| Concept_Name | Name of the concept in the FHIR structure | string | required : 1 |
| Computer_Ready_Name | A Computer-ready name (e.g. a token) that identifies the structure - suitable for code generation. Note that this name (and other names relevant for code generation, including element & slice names, codes etc) may collide with reserved words in the relevant target language, and code generators will need to handle this. | string | - |
| Type | The type the structure describes. | string | - |
| Dollar_Ref | The "$ref" string value contains a Uniform Resource Identifier (URI) which identifies the location of the JSON value being referenced. | string | - |
| Description | A free text natural language description of the structure and its use | string | - |
| Items | The value of the keyword should be an object or an array of objects. If the keyword value is an object, then for the data array to be valid each item of the array should be valid according to the schema in this value. | string | - |
| Required | The value of the keyword should be an array of unique strings. The data object tobe valid should contain all properties with names equal to the elements in the keyword value. | string | - |
Data Preview
| | | | | | | |
| --- | --- | --- | --- | --- | --- | --- |
| Concept Name | Computer Ready Name | Type | Dollar Ref | Description | Items | Required |
| MarketingStatus | id | | #/definitions/string | Unique id for the element within a resource (for internal references). This may be any string value that does not contain spaces. | | |
| MarketingStatus | extension | array | | May be used to represent additional information that is not part of the basic definition of the element. To make the use of extensions safe and manageable there is a strict set of governance applied to the definition and use of extensions. Though any implementer can define an extension there is a set of requirements that SHALL be met as part of the definition of the extension. | {'$ref': '#/definitions/Extension'} | |
| MarketingStatus | modifierExtension | array | | May be used to represent additional information that is not part of the basic definition of the element and that modifies the understanding of the element in which it is contained and/or the understanding of the containing element's descendants. Usually modifier elements provide negation or qualification. To make the use of extensions safe and manageable there is a strict set of governance applied to the definition and use of extensions. Though any implementer can define an extension there is a set of requirements that SHALL be met as part of the definition of the extension. Applications processing a resource are required to check for modifier extensions. Modifier extensions SHALL NOT change the meaning of any elements on Resource or DomainResource (including cannot change the meaning of modifierExtension itself). | {'$ref': '#/definitions/Extension'} | |
| MarketingStatus | country | | #/definitions/CodeableConcept | The country in which the marketing authorisation has been granted shall be specified It should be specified using the ISO 3166 ‑ 1 alpha-2 code elements. | | |
| MarketingStatus | jurisdiction | | #/definitions/CodeableConcept | Where a Medicines Regulatory Agency has granted a marketing authorisation for which specific provisions within a jurisdiction apply the jurisdiction can be specified using an appropriate controlled terminology The controlled term and the controlled term identifier shall be specified. | | |
| MarketingStatus | status | | #/definitions/CodeableConcept | This attribute provides information on the status of the marketing of the medicinal product See ISO/TS 20443 for more information and examples. | | |
| MarketingStatus | dateRange | | #/definitions/Period | The date when the Medicinal Product is placed on the market by the Marketing Authorisation Holder (or where applicable the manufacturer/distributor) in a country and/or jurisdiction shall be provided A complete date consisting of day month and year shall be specified using the ISO 8601 date format NOTE "Placed on the market" refers to the release of the Medicinal Product into the distribution chain. | | |
| MarketingStatus | restoreDate | | #/definitions/dateTime | The date when the Medicinal Product is placed on the market by the Marketing Authorisation Holder (or where applicable the manufacturer/distributor) in a country and/or jurisdiction shall be provided A complete date consisting of day month and year shall be specified using the ISO 8601 date format NOTE "Placed on the market" refers to the release of the Medicinal Product into the distribution chain. | | |
| MarketingStatus | _restoreDate | | #/definitions/Element | Extensions for restoreDate | | |
| MarketingStatus | | | | | | ['status'] |