Others titles
Medical Device Non-Registered Importers
MD Non-Registered Importers
MD Non-Registered Importers Identified by Manufacturers
Keywords
Non-Registered Importers
Medical Device Importers
Medical Device Non-Registered Importers
Medical Device Manufacturers
Medical Device Non-Registered Importers Identified by Manufacturers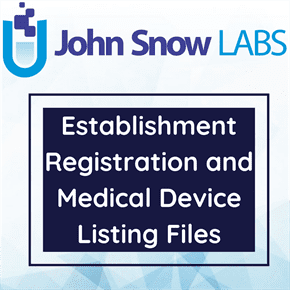 This dataset shows establishments that are required to register with the Food and Drug Administration (FDA) that are also required to list the devices that are made there and the activities that are performed on those devices.
Log in to download
Complexity
Get The Data
For getting access to data download links please read and accept the end-user license agreement.
Your Data License
Research

Non-Commercial, Share-Alike, Attribution

Free Forever

Commercial

Commercial Use, Remix & Adapt, White Label Log in to download
Description
Medical Device Non-Registered Importers Identified by Manufacturers dataset contains details of Non-Registered Importers of medical devices including full address and phone numbers. The Safe Medical Devices Act (SMDA) requires FDA to issue regulations requiring distributors to report device-related deaths, serious injuries and reportable malfunctions. On September 1, 1993, FDA published a final MDR reporting regulation for distributors, including provisions for importers that became effective on October 1, 1993. In addition, the SMDA requires distributors and manufacturers to certify to FDA the number of MDR reports filed or that no reports have been filed.
About this Dataset
Data Info
| | |
| --- | --- |
| Date Created | 2013 |
| Last Modified | 2022-07-18 |
| Version | 2022-07-18 |
| Update Frequency | Weekly |
| Temporal Coverage | N/A |
| Spatial Coverage | USA |
| Source | John Snow Labs; U.S. Food and Drug Administration (FDA); |
| Source License URL | |
| Source License Requirements | Open for commercial use |
| Source Citation | Open for commercial use |
| Keywords | Non-Registered Importers, Medical Device Importers, Medical Device Non-Registered Importers, Medical Device Manufacturers |
| Other Titles | Medical Device Non-Registered Importers, MD Non-Registered Importers, MD Non-Registered Importers Identified by Manufacturers |
Data Fields
| Name | Description | Type | Constraints |
| --- | --- | --- | --- |
| Registration_Key | Establishment Registration Key | integer | level : Nominal |
| Registration_Key_Value | The Establishment Registration Key Value | integer | level : Nominal |
| Importer_Address_Id | Medical device importer address Id | integer | level : Nominal |
| Duns_Number | Duns Number | integer | level : Nominal |
| Business_Name | Business Name | string | - |
| Address_Line_1 | Requried | string | - |
| Address_Line_2 | 2nd line of the Address of the importer, | string | - |
| City | City of the importer | string | - |
| State_Abbreviation | State Id | string | - |
| Zip_Code | Zip Code of the importer | string | - |
| Country | Country Name of the importer | string | - |
| Email_Address | Email Address of the importer | string | - |
| Phone_Area_Code | Bus Phone Area Code | integer | level : Nominal |
| Phone_Number | Bus Phone Num | integer | level : Nominal |
| Phone_Extension | Bus Phone Extn | integer | level : Nominal |
| Fax_Area_Code | Fax Area Code | integer | level : Nominal |
| Fax_Number | Fax Num | integer | level : Nominal |
| Importer_Type | Importer Type | string | - |
| Subdivision_Code | Subdivision Code | string | - |
| Postal_Code | Postal Code | string | - |
| Phone_Country_Code | Bus Phone Country Code | integer | level : Nominal |
| Fax_Country_Code | Fax Country Code | integer | level : Nominal |
Data Preview
| | | | | | | | | | | | | | | | | | | | | | | | |
| --- | --- | --- | --- | --- | --- | --- | --- | --- | --- | --- | --- | --- | --- | --- | --- | --- | --- | --- | --- | --- | --- | --- | --- |
| Registration Key | Registration Key Value | Importer Address Id | Duns Number | Business Name | Address Line 1 | Address Line 2 | City | State Abbreviation | Zip Code | Country | Email Address | Phone Area Code | Phone Number | Phone Extension | Fax Area Code | Fax Number | Importer Type | Subdivision Code | Postal Code | Phone Country Code | Fax Country Code | Unnamed: 22 | Unnamed: 23 |
| 1167 | 1590717818 | 1840 | | Fedex Trade Networks | 480 McClellan Hwy. | | Boston | MA | 2128 | UNITED STATES | | | | | | | Broker | | | 1 | 1 | | |
| 1167 | 1352837897 | 1840 | | Fedex Trade Networks | 480 McClellan Hwy. | | Boston | MA | 2128 | UNITED STATES | | | | | | | Broker | | | 1 | 1 | | |
| 1167 | 1713639829 | 1840 | | Fedex Trade Networks | 480 McClellan Hwy. | | Boston | MA | 2128 | UNITED STATES | | | | | | | Broker | | | 1 | 1 | | |
| 1167 | 1795472862 | 1840 | | Fedex Trade Networks | 480 McClellan Hwy. | | Boston | MA | 2128 | UNITED STATES | | | | | | | Broker | | | 1 | 1 | | |
| 1167 | 1689998872 | 1840 | | Fedex Trade Networks | 480 McClellan Hwy. | | Boston | MA | 2128 | UNITED STATES | | | | | | | Broker | | | 1 | 1 | | |
| 1167 | 1407880360 | 1840 | | Fedex Trade Networks | 480 McClellan Hwy. | | Boston | MA | 2128 | UNITED STATES | | | | | | | Broker | | | 1 | 1 | | |
| 1167 | 1495245060 | 1840 | | Fedex Trade Networks | 480 McClellan Hwy. | | Boston | MA | 2128 | UNITED STATES | | | | | | | Broker | | | 1 | 1 | | |
| 1167 | 1721577959 | 1840 | | Fedex Trade Networks | 480 McClellan Hwy. | | Boston | MA | 2128 | UNITED STATES | | | | | | | Broker | | | 1 | 1 | | |
| 1167 | 1333907169 | 1840 | | Fedex Trade Networks | 480 McClellan Hwy. | | Boston | MA | 2128 | UNITED STATES | | | | | | | Broker | | | 1 | 1 | | |
| 1231 | 1552597052 | 671 | | DHL Express | 1210 Pine Island Rd | | Plantation | FL | 33324 | UNITED STATES | | | | | | | Agent | | | 1 | 1 | | |