Others titles
Alpha Numeric HCPCS File
Procedure Codes and Modifiers
Eligible Risk Management Codes
Keywords
Billing Code
HCPCS Code
Risk Management
Common Procedure Coding System
CPT Codes
Alphanumeric HCPCS Procedure and Modifier Codes
HCPCS Procedure Codes
HCPCS Modifier Codes
Durable Medical Equipment
Medicare Coverage and Payment Policies
Medicare Risk Adjustment Eligible CPT and HCPCS Codes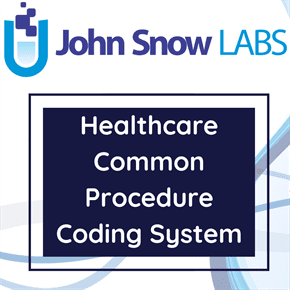 This dataset shows List of eligible medicare risk adjustment Current Procedural Terminology (CPT)/Healthcare Common Procedure Coding System (HCPCS) codes used for filtering diagnoses from encounter data records for each service year 2021, 2022 and 2023.
Log in to download
Complexity
Get The Data
For getting access to data download links please read and accept the end-user license agreement.
Your Data License
Research

Non-Commercial, Share-Alike, Attribution

Free Forever

Commercial

Commercial Use, Remix & Adapt, White Label Log in to download
Description
This dataset shows list of eligible Current Procedural Terminology (CPT)/ Healthcare Common Procedure Coding System (HCPCS) codes used for filtering diagnoses from encounter data records for 2021 and 2022. Medicare Risk Adjustment (MRA) is a methodology used by the Centers for Medicare and Medicaid Services (CMS) to pay Medicare Advantage Organizations (MAOs) more accurately for the projected healthcare expenditures of their members by adjusting reimbursement based on demographic information as well as the health status of those members. Using the CMS Hierarchical Condition Category (CMS-HCC) risk adjustment model, reimbursement to MAOs is higher for members with greater disease burden and lower for healthier members to more aptly align with projected costs of care.
Most medical coders are familiar with the fee-for-service (FFS) payment methodology in which insurers pay providers based on the procedures or services performed for a patient, risk adjustment is instead how insurance companies participating in specific programs get payment for managing the healthcare needs of members based on their diagnoses. Risk adjustment is critical to ensuring adequate compensation to health insurance plans, so they maintain coverage and access to care for beneficiaries likely to incur higher than average costs. Because risk adjustment programs are developed and managed by government agencies created to serve all eligible members of the public, a health insurance company cannot discriminate or purposely insure only a certain demographic of members with a limited range of expected healthcare costs. The case mix of both healthy and sicker patients, and the cost-sharing of expenses spread across all members, is designed to provide access to quality healthcare regardless of health status and history.
Copyright Notice :
CPT codes, descriptions and other data only are copyright 2021 American Medical Association. All Rights Reserved. Applicable FARS/HHSARS apply.
Disclaimer Fee schedules, relative value units, conversion factors and/or related components are not assigned by the AMA, are not part of CPT, and the AMA is not recommending their use. The AMA does not directly or indirectly practice medicine or dispense medical services. The AMA assumes no liability for data contained or not contained herein.
About this Dataset
Data Info
| | |
| --- | --- |
| Date Created | 2014 |
| Last Modified | 2023-04-26 |
| Version | 2023-04-26 |
| Update Frequency | Annual |
| Temporal Coverage | 2021-10-01 to 2023-04-01 |
| Spatial Coverage | United States |
| Source | John Snow Labs; Centers for Medicare & Medicaid Services; |
| Source License URL | |
| Source License Requirements | Copyright 2021 American Medical Association |
| Source Citation | Copyright 2021 American Medical Association |
| Keywords | Billing Code, HCPCS Code, Risk Management, Common Procedure Coding System, CPT Codes, Alphanumeric HCPCS Procedure and Modifier Codes, HCPCS Procedure Codes, HCPCS Modifier Codes, Durable Medical Equipment, Medicare Coverage and Payment Policies |
| Other Titles | Alpha Numeric HCPCS File, Procedure Codes and Modifiers, Eligible Risk Management Codes |
Data Fields
| Name | Description | Type | Constraints |
| --- | --- | --- | --- |
| Year | Medicare Risk Adjustment Model CPT/HCPCS Filtering codes for Year (CY) 2021 and 2022. | date | - |
| HCPCS_Code | List of Eligible Risk Management Current Procedural Terminology (CPT)/Healthcare Common Procedure Coding System (HCPCS) Codes | string | - |
| Short_Description | Description of CPT/HCPCS Code | string | - |
| Is_Included_List | Included in 2021 and 2022 list. | boolean | - |
Data Preview
| | | | |
| --- | --- | --- | --- |
| Year | HCPCS Code | Short Description | Is Included List |
| 2023 | C1062 | Intravertebral fx aug impl | True |
| 2023 | C1832 | Auto cell process sys | True |
| 2023 | C5271 | Low cost skin substitute app | True |
| 2023 | C5273 | Low cost skin substitute app | True |
| 2023 | C5275 | Low cost skin substitute app | True |
| 2023 | C5277 | Low cost skin substitute app | True |
| 2023 | C7500 | Deb bone 20 cm2 w/drug dev | True |
| 2023 | C7503 | Open exc cerv node(s) w/ id | True |
| 2023 | C7504 | Perq cvt&ls inj vert bodies | True |
| 2023 | C7505 | Perq ls&cvt inj vert bodies | True |