Others titles
Physician Procedures Actual CMS Medicare Costs in Dollars.
Medicare Doctors Procedures Actual Medicare Costs in Dollars
Physician Procedures Actual Medicare Costs and Hospital Reimbursement in Dollars
Keywords
CMS Medicare
Medicare Doctors
Hospital Reimbursement
Medicare Actual Medicare Costs
Physician Procedures
CMS Medicare
Medicare Doctors
Hospital Reimbursement
Physician Procedures Actual Medicare Costs in Dollars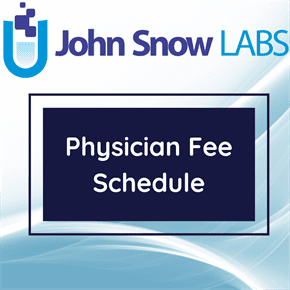 This dataset shows the indicator information about Actual procedures costs of Medicare fee-for-service beneficiaries. CMS (Centers for Medicare and Medicaid Services) collects and synthesizes Medicare enrollment, spending, and claims data to monitor and evaluate access to and quality of care, trends in utilization, changes in payment policy, and other program-related issues.
Log in to download
Complexity
Get The Data
For getting access to data download links please read and accept the end-user license agreement.
Your Data License
Research

Non-Commercial, Share-Alike, Attribution

Free Forever

Commercial

Commercial Use, Remix & Adapt, White Label Log in to download
Description
The Chronic Condition Data Warehouse (CCW) is a research database designed to
(1) identify areas for improving the quality of care provided to chronically ill Medicare beneficiaries;
(2) identify ways to reduce program spending; and
(3) make current Medicare data more readily available to researchers studying chronic illness in the Medicare population.
The CCW contains fee-for-service institutional and non-institutional claims, enrollment/eligibility, and assessment data from 1999 forward for a random 5% sample of Medicare beneficiaries (100% for 2005 forward). The data are linked by a unique, unidentifiable beneficiary key, which allows researchers to analyze information across the continuum of care.
Medicare FFS beneficiaries limited to those who (a) have no months of HMO enrollment and (b) have both Part A and Part B for whatever portion of the year that they are covered by FFS Medicare (i.e., they have no months of A-only or B-only coverage).
Beneficiary age group (< 65 and 65+ ) was determined using the age of the individual at the end of the reference year or the individual's age at the time of death.
About this Dataset
Data Info
| | |
| --- | --- |
| Date Created | 2007 |
| Last Modified | 2013 |
| Version | 2013 |
| Update Frequency | Annual |
| Temporal Coverage | 2013 |
| Spatial Coverage | United States |
| Source | John Snow Labs; Health Indicators Warehouse (HIW); |
| Source License URL | |
| Source License Requirements | N/A |
| Source Citation | N/A |
| Keywords | CMS Medicare, Medicare Doctors, Hospital Reimbursement, Medicare Actual Medicare Costs, Physician Procedures, CMS Medicare, Medicare Doctors, Hospital Reimbursement |
| Other Titles | Physician Procedures Actual CMS Medicare Costs in Dollars., Medicare Doctors Procedures Actual Medicare Costs in Dollars, Physician Procedures Actual Medicare Costs and Hospital Reimbursement in Dollars |
Data Fields
| Name | Description | Type | Constraints |
| --- | --- | --- | --- |
| Indicator_ID | Unique ID assigned to sampling statistic. A health indicator is a measure of the health of people in a community, such as infant mortality rates, rates of obesity, or incidence of diabetes. | integer | level : Nominalrequired : 1 |
| Dimension_List | Dimension covers Age limit and Total. | string | - |
| Time_Frame | Time frame corresponds to the data years; 2007-2013 in this case. | date | - |
| Numeric_Value_in_USD | Value of cost in US Dollars. | number | level : Ratio |
| Missing_Value_Flag | Missing value flag, alternatively DSU (Data statistically unreliable) indicates that data do not meet the criteria for statistical reliability, data quality, or confidentiality and therefore data are suppressed. | string | - |
| Locale_ID | ID assigned to a Locality of the sample population | integer | level : Nominalrequired : 1 |
| Locale | Locality of the sample population | string | required : 1 |
| Locale_Level | Locality level of the sample population | string | required : 1 |
| Locale_State_FIPS_Code | Federal Information Processing Standard state code. Federal Information Processing Series codes (FIPS codes) are a standardized set of numeric or alphabetic codes issued by the National Institute of Standards and Technology (NIST) to ensure uniform identification of geographic entities through all federal government agencies | integer | level : Nominal |
| Locale_County_FIPS_Code | Federal Information Processing Standard County code. Federal Information Processing Series codes (FIPS codes) are a standardized set of numeric or alphabetic codes issued by the National Institute of Standards and Technology (NIST) to ensure uniform identification of geographic entities through all federal government agencies. | integer | level : Nominal |
| Locale_HRR_Code | Hospital Referral Region Code. Hospital referral regions are defined by the Dartmouth Atlas Group by documenting where patients were referred for major cardiovascular surgical procedures and for neurosurgery. | integer | level : Nominal |
| Age | Age of the beneficiary | string | - |
Data Preview
| | | | | | | | | | | | |
| --- | --- | --- | --- | --- | --- | --- | --- | --- | --- | --- | --- |
| Indicator ID | Dimension List | Time Frame | Numeric Value in USD | Missing Value Flag | Locale ID | Locale | Locale Level | Locale State FIPS Code | Locale County FIPS Code | Locale HRR Code | Age |
| 416309937 | Total | 2013 | 20754600000.0 | | 0 | National | National | | 0 | | |
| 416309938 | Aged less than 65 years | 2013 | 3262556304.0 | | 0 | National | National | | 0 | | Aged less than 65 years |
| 416309939 | Aged 65 years and over | 2013 | 17492000000.0 | | 0 | National | National | | 0 | | Aged 65 years and over |
| 416309940 | Total | 2013 | 382023504.0 | | 1 | Alabama | State | 1.0 | 1 | | |
| 416309941 | Aged less than 65 years | 2013 | 76458755.4 | | 1 | Alabama | State | 1.0 | 1 | | Aged less than 65 years |
| 416309942 | Aged 65 years and over | 2013 | 305564749.0 | | 1 | Alabama | State | 1.0 | 1 | | Aged 65 years and over |
| 416310099 | Total | 2013 | 3036629.2 | | 101 | Alabama - Autauga | County | 1.0 | 1001 | | |
| 416310100 | Total | 2013 | 19192998.7 | | 102 | Alabama - Baldwin | County | 1.0 | 1003 | | |
| 416310101 | Total | 2013 | 2223131.35 | | 103 | Alabama - Barbour | County | 1.0 | 1005 | | |
| 416310102 | Total | 2013 | 1492489.51 | | 104 | Alabama - Bibb | County | 1.0 | 1007 | | |