Others titles
Acute Hospital Care Performance Measure Setting For NHS Scotland
Information Services Division By Procedures Performed For Children
Number of Procedures Performed For Children In An Acute Setting For NHS Scotland
Keywords
Acute Hospitals For Children
Acute Hospital Specialties
Clinical Coding
Health Intelligence
Hospital Episodes
Non-Obstetric Hospitals
Non-Psychiatric Hospitals
Information Services Division
Surgical Operations And Procedures
Acute Care Hospital Services
Patient Based Analysis
Procedures Performed For Children In An Acute Setting For NHS Scotland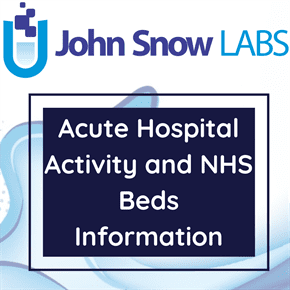 This dataset provides information about procedures performed for children in an acute setting across Scotland. It includes admission type, operations group and episodes for operation group information for acute care hospital services.
Log in to download
Complexity
Get The Data
For getting access to data download links please read and accept the end-user license agreement.
Your Data License
Research

Non-Commercial, Share-Alike, Attribution

Free Forever

Commercial

Commercial Use, Remix & Adapt, White Label Log in to download
Description
Scotland has some of the best health service data in the world. Few other countries have information which combines high quality data, consistency, national coverage and the ability to link data to allow patient based analysis and follow up. The Information Services Division (ISD) is a division of National Services Scotland, part of National Health Service (NHS) Scotland. ISD provides health information, health intelligence, statistical services and advice that support the NHS in progressing quality improvement in health and care and facilitates robust planning and decision making.
This dataset provides statistics which are derived from data collected on discharges from non-obstetric and non-psychiatric hospitals (SMR01) in Scotland. Only patients treated as inpatients or day cases are included. The specialty of geriatric long stay is excluded. A certain level of underestimation may occur in the results shown for the following reasons. These figures relate to the main procedure only even though up to four procedures may be recorded per hospital episode. All information relates to patients treated as inpatients or day cases only. Information on procedures performed in other settings (e.g. outpatient clinics) is excluded.
Hospital episodes are recorded using the Office for Population Censuses and Surveys Classification of Surgical Operations and Procedures (OPCS). A list of OPCS codes that make up the presented groupings can be found in the 'Clinical coding' worksheet. The rates shown are crude rates per 100,000 population and are based on the mid-year population estimates i.e. financial year 2011-2012 will use 2011 mid-year estimate.
Data completeness of SMR01 returns is approximately 97% complete in NHS Scotland for financial year 2015/16. However, completeness varies across health boards. NHS Lothian was 90% complete and NHS Highland was 89% complete for the same time period.
About this Dataset
Data Info
| | |
| --- | --- |
| Date Created | 2016-10-25 |
| Last Modified | 2016-10-25 |
| Version | 2016-10-25 |
| Update Frequency | Annual |
| Temporal Coverage | 2011-2016 |
| Spatial Coverage | Scotland |
| Source | John Snow Labs; Information Services Division (ISD), NHS National Services Scotland; |
| Source License URL | |
| Source License Requirements | N/A |
| Source Citation | N/A |
| Keywords | Acute Hospitals For Children, Acute Hospital Specialties, Clinical Coding, Health Intelligence, Hospital Episodes, Non-Obstetric Hospitals, Non-Psychiatric Hospitals, Information Services Division, Surgical Operations And Procedures, Acute Care Hospital Services, Patient Based Analysis |
| Other Titles | Acute Hospital Care Performance Measure Setting For NHS Scotland, Information Services Division By Procedures Performed For Children, Number of Procedures Performed For Children In An Acute Setting For NHS Scotland |
Data Fields
| Name | Description | Type | Constraints |
| --- | --- | --- | --- |
| Discharge_Financial_Start_Year | Indicates the start of discharge financial year for which the data was recorded. | date | - |
| Discharge_Financial_End_Year | Indicates the end of discharge financial year for which the data was recorded. | date | - |
| Health_Board_Residence | Indicates the health board residence. | string | - |
| Admission_Type | Indicates the admission type of the procedure. | string | - |
| Age_Band | Indicates the age band of different age groups. | string | - |
| Operations_Group_Main_Code | Indicates the main operations group code for different procedures. For example, the Nervous System procedure has two codes against it 'A' and '99'. 'A' indicates the operations group main code. 'A' indicates the operations group main code while '99' is the operations group second code. Joining them two becomes 'A99' which is the Office for Population Censuses and Surveys Classification of Surgical Operations and Procedures (OPCS) code for 'Nervous System' procedure. | string | - |
| Operations_Group_Code2 | Indicates the second part of operations group code for different procedures. For example, the Nervous System procedure has two codes against it 'A' and '99'. 'A' indicates the operations group main code while '99' is the operations group second code. Joining them two becomes 'A99' which is the Office for Population Censuses and Surveys Classification of Surgical Operations and Procedures (OPCS) code for 'Nervous System' procedure. | string | - |
| Procedure_Name | The relative name of the procedure of operation for different codes. | string | - |
| Episodes_For_Operation_Group | Indicates the number of episodes for operations group of an acute hospital. | integer | level : Ratio |
| Population | Indicates the mid year population estimated of the procedure. | integer | level : Ratio |
| Rate | Indicates the number of procedures and rates of population for children. | number | level : Ratio |
Data Preview
| | | | | | | | | | | |
| --- | --- | --- | --- | --- | --- | --- | --- | --- | --- | --- |
| Discharge Financial Start Year | Discharge Financial End Year | Health Board Residence | Admission Type | Age Band | Operations Group Main Code | Operations Group Code2 | Procedure Name | Episodes For Operation Group | Population | Rate |
| 2011 | 2012 | NHS Ayrshire & Arran | All Admission Types | 00 to 04 | A | 99 | Nervous System | 47 | 19746 | 238.02 |
| 2011 | 2012 | NHS Ayrshire & Arran | All Admission Types | 00 to 04 | C | 99 | Eye | 45 | 19746 | 227.89 |
| 2011 | 2012 | NHS Ayrshire & Arran | All Admission Types | 00 to 04 | D | 99 | Ear | 68 | 19746 | 344.37 |
| 2011 | 2012 | NHS Ayrshire & Arran | All Admission Types | 00 to 04 | F | 99 | Mouth | 324 | 19746 | 1640.84 |
| 2011 | 2012 | NHS Ayrshire & Arran | All Admission Types | 00 to 04 | G | 99 | Upper Digestive Tract | 59 | 19746 | 298.79 |
| 2011 | 2012 | NHS Ayrshire & Arran | All Admission Types | 00 to 04 | H | 99 | Lower Digestive Tract | 18 | 19746 | 91.16 |
| 2011 | 2012 | NHS Ayrshire & Arran | All Admission Types | 00 to 04 | K | 99 | Heart | 13 | 19746 | 65.84 |
| 2011 | 2012 | NHS Ayrshire & Arran | All Admission Types | 00 to 04 | M | 99 | Urinary | 34 | 19746 | 172.19 |
| 2011 | 2012 | NHS Ayrshire & Arran | All Admission Types | 00 to 04 | N | 99 | Male Genital Organs | 81 | 19746 | 410.21 |
| 2011 | 2012 | NHS Ayrshire & Arran | All Admission Types | 00 to 04 | T | 99 | Soft Tissue | 69 | 19746 | 349.44 |