Others titles
Proven Drug Targets Human SwissProt Accessions
Drug Targets ChEMBL HGNC
ChEMBL HGNC Drug Targets Database
Keywords
List of Proteins
Drug Definition
Drug Information
Medication Information
Protein Database
Free Database
Proven Drug Targets Converted to Human SwissProt Accessions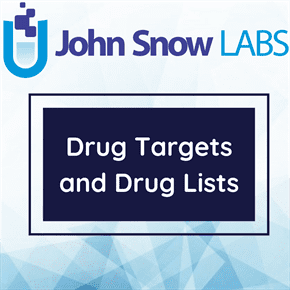 This dataset is a supplementary data from "Novelty in the target landscape of the pharmaceutical industry" (2013). The listing of proven drug targets is converted to 248 human Swiss-Prot accessions.
Log in to download
Complexity
Get The Data
For getting access to data download links please read and accept the end-user license agreement.
Your Data License
Research

Non-Commercial, Share-Alike, Attribution

Free Forever

Commercial

Commercial Use, Remix & Adapt, White Label Log in to download
Description
This dataset is a selection of proven drug target lists extracted from the literature, Novelty in the target landscape of the pharmaceutical industry; as a supplementary data. The criteria for inclusion are drug target coverage for the human proteins.
There are utilities that can be explored in this dataset including the two: a) following the database links and b) comparing them for intersects (protein IDs in common) and differentials (protein IDs unique to particular lists or subsets). This can be extended to comparisons with lists that may be generated in the course of studying other published work (e.g. expression data or disease association gene candidates).
The metadata descriptions are minimal since context is provided either in the references and/or the download descriptions for the appropriate databases. The lists are Excel sheets of UniProtKB, HGNC and ChEMBL live links. These entry points should be able to get to the most from other sources.
Lists that are not UniProtKB Accessions are normalized to these (e.g. mappings of Human Gene Nomenclature Committee (HGNC) Symbols or Entrez Gene IDs (EGID) to UniProtKB). They are then filtered to human and Swiss-Prot (i.e. any TrEMBL entries are removed) and to approved drug targets if this is an option in the original list. In such cases, lists that are hosted thus become transformations, rather than direct facsimiles, of the primary sources. Given such ID cross-mappings are not perfect; absolute correctness cannot be guaranteed. Versions, however, are supplied in good faith and the originals are available in every case.
About this Dataset
Data Info
| | |
| --- | --- |
| Date Created | 2013-08-12 |
| Last Modified | 2017-01-27 |
| Version | 2017-01-27 |
| Update Frequency | Irregular |
| Temporal Coverage | N/A |
| Spatial Coverage | N/A |
| Source | John Snow Labs; International Union of Basic and Clinical Pharmacology (IUPHAR) and the British Pharmacological Society (BPS) Guide to PHARMACOLOGY; |
| Source License URL | |
| Source License Requirements | The Guide to PHARMACOLOGY database is licensed under the Open Data Commons Open Database License (ODbL). Its contents are licensed under the Creative Commons Attribution-ShareAlike 3.0 Unported license. |
| Source Citation | The Guide to PHARMACOLOGY database is licensed under the Open Data Commons Open Database License (ODbL). Its contents are licensed under the Creative Commons Attribution-ShareAlike 3.0 Unported license. |
| Keywords | List of Proteins, Drug Definition, Drug Information, Medication Information, Protein Database, Free Database |
| Other Titles | Proven Drug Targets Human SwissProt Accessions, Drug Targets ChEMBL HGNC, ChEMBL HGNC Drug Targets Database |
Data Fields
| Name | Description | Type | Constraints |
| --- | --- | --- | --- |
| Entry_Report | This subsection of the 'Entry information' section provides a mnemonic identifier for a UniProtKB entry, but it is not a stable identifier. Each reviewed entry is assigned a unique entry name upon integration into UniProtKB/Swiss-Prot. | string | required : 1unique : 1 |
| Protein_Names | This subsection of the Protein Names on 'Names and Taxonomy' section provides a list of names of the human protein, from commonly used to obsolete, to allow unambiguous identification of a protein. This subsection may also include information on the activity of the protein, such as a precise description of the catalytic mechanism of enzymes, or information about individual protein chains or functional domains contained within it, if pertinent. | string | required : 1 |
| Cross_Reference_HGNC_Id | HGNC ID for each protein name. | string | required : 1 |
| Cross_Reference_HGNC_URL | Links to the HGNC databases cross-referenced in UniProtKB Swiss-Prot > HGNC | string | required : 1 |
| Cross_Reference_CHEMBL_Id | ChEMBL ID for each protein name. | string | - |
| Cross_Reference_CHEMBL_URL | Links to the ChEMBL databases cross-referenced in UniProtKB Swiss-Prot > CHeMBL | string | - |
Data Preview
| | | | | | |
| --- | --- | --- | --- | --- | --- |
| Entry Report | Protein Names | Cross Reference HGNC Id | Cross Reference HGNC URL | Cross Reference CHEMBL Id | Cross Reference CHEMBL URL |
| P08908 | 5-hydroxytryptamine receptor 1A | HGNC:5286, HTR1A | http://www.genenames.org/data/hgnc_data.php?hgnc_id=5286 | CHEMBL2096904 | https://www.ebi.ac.uk/chembldb/target/inspect/CHEMBL2096904 |
| P28221 | 5-hydroxytryptamine receptor 1D | HGNC:5289, HTR1D | http://www.genenames.org/data/hgnc_data.php?hgnc_id=5289 | CHEMBL1983 | https://www.ebi.ac.uk/chembldb/target/inspect/CHEMBL1983 |
| P28223 | 5-hydroxytryptamine receptor 2A | HGNC:5293, HTR2A | http://www.genenames.org/data/hgnc_data.php?hgnc_id=5293 | CHEMBL2095200 | https://www.ebi.ac.uk/chembldb/target/inspect/CHEMBL2095200 |
| P46098 | 5-hydroxytryptamine receptor 3A | HGNC:5297, HTR3A | http://www.genenames.org/data/hgnc_data.php?hgnc_id=5297 | CHEMBL1899 | https://www.ebi.ac.uk/chembldb/target/inspect/CHEMBL1899 |
| Q13639 | 5-hydroxytryptamine receptor 4 | HGNC:5299, HTR4 | http://www.genenames.org/data/hgnc_data.php?hgnc_id=5299 | CHEMBL1875 | https://www.ebi.ac.uk/chembldb/target/inspect/CHEMBL1875 |
| P01009 | Alpha-1-antitrypsin | HGNC:8941, SERPINA1 | http://www.genenames.org/data/hgnc_data.php?hgnc_id=8941 | | |
| P05067 | Amyloid beta A4 protein | HGNC:620, APP | http://www.genenames.org/data/hgnc_data.php?hgnc_id=620 | CHEMBL2487 | https://www.ebi.ac.uk/chembldb/target/inspect/CHEMBL2487 |
| P30542 | Adenosine receptor A1 | HGNC:262, ADORA1 | http://www.genenames.org/data/hgnc_data.php?hgnc_id=262 | CHEMBL2096908 | https://www.ebi.ac.uk/chembldb/target/inspect/CHEMBL2096908 |
| P29274 | Adenosine receptor A2a | HGNC:263, ADORA2A | http://www.genenames.org/data/hgnc_data.php?hgnc_id=263 | CHEMBL2096982 | https://www.ebi.ac.uk/chembldb/target/inspect/CHEMBL2096982 |
| P22303 | Acetylcholinesterase | HGNC:108, ACHE | http://www.genenames.org/data/hgnc_data.php?hgnc_id=108 | CHEMBL2095233 | https://www.ebi.ac.uk/chembldb/target/inspect/CHEMBL2095233 |