Others titles
Clinical Classification Software for ICD-9-CM
International Classification of Diseases, Clinical Modification, 9th Edition, CM
Single Level CCS Diagnosis Codes and Procedures
Keywords
Clinical Classification Software
Single Level CCS Diagnosis Codes
ICD-9 Diagnosis Codes Description
ICD Code
ICD 9 Data
Healthcare Costs
Diagnosis Codes
Single Level Clinical Classification Software ICD-9 Diagnosis Codes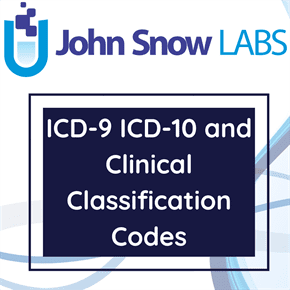 Clinical Classifications Software for ICD-9 Diagnosis Codes provides a way to classify diagnosis and procedures into a limited number of categories by aggregating individual ICD-9-CM codes into broad diagnosis and procedure groups to facilitate statistical analysis and reporting.
Log in to download
Complexity
Get The Data
For getting access to data download links please read and accept the end-user license agreement.
Your Data License
Research

Non-Commercial, Share-Alike, Attribution

Free Forever

Commercial

Commercial Use, Remix & Adapt, White Label Log in to download
Description
Developed by the Agency for Healthcare Research and Quality (AHRQ), the Clinical Classifications Software (CCS) is a tool for clustering patient diagnoses and procedures into a manageable number of clinically meaningful categories. CCS offers researchers the ability to group conditions and procedures without having to sort through thousands of codes. This "clinical grouper" makes it easier to quickly understand patterns of diagnoses and procedures so that health plans, policy makers, and researchers can analyze costs, utilization, and outcomes associated with particular illnesses and procedures.
CCS collapses diagnosis and procedure codes from the International Classification of Diseases, 9th Revision, Clinical Modification (ICD-9-CM), which contains more than 14,000 diagnosis codes and 3,900 procedure codes. Without the CCS tool, the large number of ICD-9-CM codes makes statistical analysis and reporting difficult and time-consuming.
CCS consists of two related classification systems, single-level and multi-level, which are designed to meet different needs. Single-level CCS is most useful for ranking of diagnoses and procedures and for direct integration into risk adjustment and other software. Multi-level CCS is ideal for evaluating larger aggregations of conditions and procedures or exploring these groupings in greater detail.
About this Dataset
Data Info
| | |
| --- | --- |
| Date Created | 2015-06-01 |
| Last Modified | 2017-01-30 |
| Version | 2017-01-30 |
| Update Frequency | Never |
| Temporal Coverage | 1980-01-01 to 2015-09-30 |
| Spatial Coverage | United States |
| Source | John Snow Labs; Centers for Medicare & Medicaid Services; |
| Source License URL | |
| Source License Requirements | N/A |
| Source Citation | N/A |
| Keywords | Clinical Classification Software, Single Level CCS Diagnosis Codes, ICD-9 Diagnosis Codes Description, ICD Code, ICD 9 Data, Healthcare Costs, Diagnosis Codes |
| Other Titles | Clinical Classification Software for ICD-9-CM, International Classification of Diseases, Clinical Modification, 9th Edition, CM, Single Level CCS Diagnosis Codes and Procedures |
Data Fields
| Name | Description | Type | Constraints |
| --- | --- | --- | --- |
| ICD9CM_CODE | 4 or 5 digit ICD-9-CM code that uniquely identifies an illness | string | - |
| CCS_CATEGORY | Identifies the category by aggregating individual ICD-9-CM codes into broad diagnosis groups. | integer | level : Nominal |
| CCS_CATEGORY_DESCRIPTION | Description of the CCS category/Group. | string | - |
| ICD9CM_CODE_DESCRIPTION | Shortened, fixed-length description of the code. | string | - |
| OPTIONAL_CCS_CATEGORY | Identifies the groups for self-inflicted injuries | integer | level : Nominal |
| OPTIONAL_CCS_CATEGORY_DESCRIPTION | Description of the Optional CCS category/Group | string | - |
Data Preview
| | | | | | |
| --- | --- | --- | --- | --- | --- |
| ICD9CM CODE | CCS CATEGORY | CCS CATEGORY DESCRIPTION | ICD9CM CODE DESCRIPTION | OPTIONAL CCS CATEGORY | OPTIONAL CCS CATEGORY DESCRIPTION |
| | 0 | No DX | INVALID CODES IN USER DATA | | |
| 1000.0 | 1 | Tuberculosis | PRIM TB COMPLEX-UNSPEC | | |
| 1001.0 | 1 | Tuberculosis | PRIM TB COMPLEX-NO EXAM | | |
| 1002.0 | 1 | Tuberculosis | PRIM TB COMPLEX-EXM UNKN | | |
| 1003.0 | 1 | Tuberculosis | PRIM TB COMPLEX-MICRO DX | | |
| 1004.0 | 1 | Tuberculosis | PRIM TB COMPLEX-CULT DX | | |
| 1005.0 | 1 | Tuberculosis | PRIM TB COMPLEX-HISTO DX | | |
| 1006.0 | 1 | Tuberculosis | PRIM TB COMPLEX-OTH TEST | | |
| 1010.0 | 1 | Tuberculosis | PRIM TB PLEURISY-UNSPEC | | |
| 1011.0 | 1 | Tuberculosis | PRIM TB PLEURISY-NO EXAM | | |