Others titles
DailyMed Drugs Labeling
FDA Approved Drugs Labeling
Keywords
Structured Product Labeling
FDA Drug Labeling Information
Product Labeling
SPL
DailyMed
Structured Product Labeling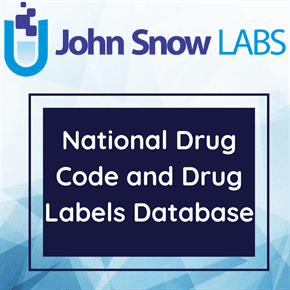 The Structured Product Labeling dataset contains the most recent drug labeling information submitted to the Food and Drug Administration (FDA) and currently in use.
All labels information are published by DailyMed the official provider of FDA label information.
Log in to download
Complexity
Get The Data
For getting access to data download links please read and accept the end-user license agreement.
Your Data License
Research

Non-Commercial, Share-Alike, Attribution

Free Forever

Commercial

Commercial Use, Remix & Adapt, White Label Log in to download
Description
The Structured Product Labeling dataset includes current drug labeling information like Product Name, Ingredients, Route of Administration, Package description and Indications approved by FDA for marketed products.
The regulations require that the content of labeling be submitted in a form that FDA can process, review, and archive.
Since 1999, FDA has been receiving the electronic content of labeling in Portable Document Format (PDF), and this format has allowed FDA to process, review
and archive the content of labeling.
FDA, working with other parties in HL7 (experts from HL7, industry, and technology solution providers), has adapted CDA for labeling in an HL7 standard called Structured Product Labeling (SPL). When compared with PDF, SPL exhibits the following advantages.
– SPL allows the exchange of information between computer systems in a way that cannot be accomplished with PDF. For example, the information in SPL can be used to support health information technology initiatives for improving patient care.
– The exchange of labeling changes with SPL can be easier and more efficient for both FDA and manufacturers when compared with PDF. For example, with SPL, only those sections or data elements of the labeling that are changed would need to be checked rather than the entire labeling.
– SPL allows automation of comparison of text by section and comparison of specific drug information data elements.
– SPL can also be used to exchange information needed for other submissions, such as drug listing, thus eliminating redundant data collection and improving efficiency.
About this Dataset
Data Info
| | |
| --- | --- |
| Date Created | 2006-01 |
| Last Modified | 2022-03-18 |
| Version | 2022-03 |
| Update Frequency | Monthly |
| Temporal Coverage | N/A |
| Spatial Coverage | United States |
| Source | John Snow Labs; DailyMed, National Library of Medicine (NLM); |
| Source License URL | |
| Source License Requirements | N/A |
| Source Citation | N/A |
| Keywords | Structured Product Labeling, FDA Drug Labeling Information, Product Labeling, SPL, DailyMed |
| Other Titles | DailyMed Drugs Labeling, FDA Approved Drugs Labeling |
Data Fields
| Name | Description | Type | Constraints |
| --- | --- | --- | --- |
| Product_Name | The Name of the product | string | - |
| Product_Type | Product type (Human/Animal, OTC/Prescription...) | string | - |
| Ingredients | List of the ingredients of the product | string | - |
| Route_Of_Administration | Route of Administration of the product | string | - |
| Appearance_Shape | Shape of the product (unit) | string | - |
| Appearance_Size | Size of the product (unit) | string | - |
| Appearance_Score | Product Characteristics: score | string | - |
| Package_Description | Package Description of the product | string | - |
| Dosage_Form | Dosage Form of the Product | string | - |
| Indications | Indications and Usage of the product | string | - |
| Contraindications | Contraindications of the product | string | - |
| Controlled_Substance_Code | Controlled Substance Code in the product if included | string | - |
Data Preview
| | | | | | | | | | | | |
| --- | --- | --- | --- | --- | --- | --- | --- | --- | --- | --- | --- |
| Product Name | Product Type | Ingredients | Route Of Administration | Appearance Shape | Appearance Size | Appearance Score | Package Description | Dosage Form | Indications | Contraindications | Controlled Substance Code |
| Influenza A (H1N1) 2009 Monovalent Vaccine | VACCINE | INFLUENZAAVIRUSA/CALIFORNIA/7/2009(H1N1)-LIKEHEMAGGLUTININANTIGEN(PROPIOLACTONEINACTIVATED)15ug | INTRAMUSCULAR | | | | 0.5 mL in 1 SYRINGE, GLASS;5 mL in 1 VIAL, MULTI-DOSE;10 in 1 CARTON;1 in 1 CARTON | Influenza A (H1N1) 2009 Monovalent Vaccine is supplied as a 0.5-mL prefilled single dose syringe, package of 10 syringes per carton. NDC 66521-200-02 Influenza A (H1N1) 2009 Monovalent Vaccine is supplied as a 5-mL multidose vial, individually packaged in a carton. NDC 66521-200-10 Store Influenza A (H1N1) 2009 Monovalent Vaccine refrigerated between 2º and 8ºC (36º and 46ºF). Do not freeze. Discard if the vaccine has been frozen. Store in the original package to protect from light. Do not use after the expiration date. Between uses, return the multidose vial to the recommended storage conditions. | Influenza A (H1N1) 2009 Monovalent Vaccine is an inactivated influenza virus vaccine indicated for immunization of persons 4 years of age and older against influenza disease caused by pandemic (H1N1) 2009 virus. | Influenza A (H1N1) 2009 Monovalent Vaccine should not be administered to anyone with known systemic hypersensitivity reactions to egg proteins (eggs or egg products), or to any component of Influenza A (H1N1) 2009 Monovalent Vaccine, or who has had a life-threatening reaction to previous influenza vaccinations [see DESCRIPTION (11)]. | |
| Tetanus and Diphtheria Toxoids Adsorbed | VACCINE | CLOSTRIDIUMTETANI2.01,CORYNEBACTERIUMDIPHTHERIAE2.01,ALUMINUMPHOSPHATE,Formaldehyde | INTRAMUSCULAR | | | | 0.5 mL in 1 VIAL, SINGLE-DOSE | The stopper of the vial is latex free.MassBiologics' Td is supplied in single-dose (0.5 ml) vials.NDC No. 14362-0111-3 - Package of 10 single dose vials. | MassBiologics' Td is a vaccine indicated for active immunization for the prevention of tetanus and diphtheria. This vaccine is approved for use in persons 7 years of age and older. | A severe allergic reaction (e.g., anaphylaxis) occurring after a previous dose of this vaccine, or any other tetanus or diphtheria toxoid-containing vaccine, or any component of this vaccine is a contraindication to administration of MassBiologics' Td vaccine. (See DESCRIPTION). Because of the uncertainty as to which component of the vaccine might be responsible, no further vaccination with diphtheria or tetanus components should be carried out. Alternatively, such individuals may be referred to an allergist for evaluation if further immunizations are to be considered. | |
| Clease and Treat | NON-STANDARDIZED ALLERGENIC | BENZOYLPEROXIDE0.8g,SELENIUMSULFIDE0.5g,AMMONIUMLAURYLSULFATE,CARBOMER934,GLYCERIN,METHYLPARABEN,PROPYLENEGLYCOL,PROPYLPARABEN,WATER,SODIUMCHLORIDE,SODIUMHYDROXIDE,AMMONIUMLAURYLSULFATE,POWDEREDCELLULOSE,GLYCERYLRICINOLEATE,TRISODIUMCITRATEDIHYDRATE | TOPICAL | | | | 5 g in 1 POUCH | Each Cleanse & Treat packette consists of one 0.8 g. 5% benzoyl peroxide pad and one 0.5 g. 2% salicylic acid pad, with each pad separated from one another by filmstock and both pads enclosed together in an individual heat-sealed foil pack bearing the NDC Number 23710-052-02. Store at 15°-25° C (59°-77° F) | Cleanse & Treat is indicated for the topical treatment of acne vulgaris. | Cleanse & Treat is contraindicated in patients with a history of hypersensitivity to any of its ingredients. | |
| Weatherproof First Aid Kit | MEDICAL DEVICE | | TOPICAL,TOPICAL,TOPICAL | | | | 1 in 1 PACKAGE, COMBINATION | Weatherproof First Aid Kit 50 Person / Contains over 172 pieces CLEANSE Antiseptics 25 Antiseptic Towelettes TREAT Injury Treatment 1 Instant cold pack1 Triangular Bandage Ointments 10 Burn cream packets6 Triple Antibiotic Ointment PROTECT Adhesive Bandages 100 Adhesive plastic bandages, 3/4" x 3"16 Adhesive plastic bandages, 1" x 3" Non-Adhesive Bandages 1 Eye Pad 1 - 5/8" x 2 - 5/8"4 Gauze pads 2" x 2"6 Gauze pads 3" x 3'1 Elastic bandage Dressings 1 Absorbent pad 5" x 9" Tape 1 First aid tape roll, 1/2" x 5 yds Gloves 2 Medical grade gloves Other 1 First aid handbook1 Registration card Implements 1 Scissors1 Tweezers, plastic | | | |
| Office First Aid Kit | MEDICAL DEVICE | | TOPICAL,TOPICAL,TOPICAL | | | | 1 in 1 PACKAGE, COMBINATION | Office First Aid Kit 25 Person / Contains over 131 pieces CLEANSE Antiseptics 50 Alcohol Pads TREAT Injury Treatment 1 Instant cold pack Ointments 2 Antibiotic packets2 Burn cream packets PROTECT Adhesive Bandages 50 Adhesive plastic bandages, 3/4" x 3" Non-Adhesive Bandages 4 Gauze pads 2" x 2"6 Gauze pads 3" x 3'1 Elastic bandage Tape 1 First aid tape roll, 1/2" x 5 yds Gloves 10 Medical grade gloves Other 1 First aid handbook1 Registration card Implements 1 Scissors1 Tweezers, plastic | | | |
| Triage First Aid Station | MEDICAL DEVICE | | TOPICAL,TOPICAL | | | | 1 in 1 PACKAGE, COMBINATION | Physicians Care CUTS AND SCRAPES 2 2" x 2" Gauze Pads 15 3/4" x 3" Adhesive Bandages 10 3/8" x 1 1/4" Adhesive Bandages 2 Antiseptic Wipes Physicians Care®is a Registered Trademark ofACME UNITED Corporation 60 Round Tree Hill Road, Fairfield CT 06824 Designed in the USA | Made in China Physicians Care BUMPS Contains 2 Cold Packs Physicians Care®is a Registered Trademark ofACME UNITED Corporation 60 Round Tree Hill Road, Fairfield CT 06824 Designed in the USA | Made in China Physicians Care BURNS 5 Burn Ointment Packets 5 3" Cotton Tip Applicators 4 2" x 2" Gauze Pads 2 1/2" x 5yd Tape Physicians Care®is a Registered Trademark ofACME UNITED Corporation 60 Round Tree Hill Road, Fairfield CT 06824 Designed in the USA | Made in China | | | |
| Ready Care Kit | MEDICAL DEVICE | | TOPICAL,TOPICAL,TOPICAL,TOPICAL | | | | 1 in 1 PACKAGE, COMBINATION | Physicians Care CLEANSE Antiseptics 14 Antiseptic Wipes16 Alcohol Pads TREAT 6 Antibiotic Ointment Packets 6 Burn Ointment Packets10 3" Cotton Tip Applicator PROTECT 16 3/8" x 1 1/2" Bandages16 1" x 3" Bandages80 3/4" x 3" Bandages1 1/2" Tape1 Triangular Bandage4 3" x 3" Sterile Gauze Pads1 Abdominal Compress Other Medical Exam Latex Gloves (2 Pair)1 Tweezers1 Cold Pack1 First Aid Guide10 Finger Splints Acme United Corporation60 Round Hill RoadFairfield CT 06824 www.acmeunited.com Designed in the USA | Made in China CAUTION: This product may contain natural rubber latex which may cause allergic reactions.This kit contains products that have expiration dates. Please check before use. | | | |
| Ready Care XL Kit | MEDICAL DEVICE | | TOPICAL,TOPICAL,TOPICAL,TOPICAL,ORAL,ORAL,ORAL | ROUND,ROUND,ROUND | 10 mm,10 mm,12 mm | 1,1,1 | 1 in 1 PACKAGE, COMBINATION | Physicians Care CLEANSE 20 Antiseptic Wipes20 Alcohol Pads TREAT 6 Antibiotic Ointment Packets 6 Burn Ointment Packets10 3" Cotton Tip Applicators PROTECT 3 Knuckle Bandages3 Fingertip Bandages35 3/8" x 1 1/2" Bandages16 1" x 3" Bandages200 3/4" x 3" Bandages1 1/2" Tape1 Triangular Bandage4 3" x 3" Sterile Gauze Pads1 Abdominal Compress Medicine 3 Acetaminophen Packets (packet of 2)3 Aspirin Packets (packets of 2)3 Antacid Packets (packets of 2) Other Gloves (2 Pair)1 Cold Pack1 First Aid Guide10 Finger Splints5 Disposable Thermometers1 Tweezer Acme United Corporation60 Round Hill RoadFairfield CT 06824 www.acmeunited.com Designed in the USA | Made in China CAUTION: This product may contain natural rubber latex which may cause allergic reactions.This kit contains products that have expiration dates. Please check before use. | | | |
| TERSI | NON-STANDARDIZED ALLERGENIC | SELENIUMSULFIDE1.44g,POVIDONEK29/32,STEARICACID,PROPYLENEGLYCOL,GLYCERIN,DIMETHICONE,POLYSORBATE20,ETHYLPARABEN,PROPYLPARABEN,PHENOXYETHANOL,METHYLPARABEN,WATER,TROLAMINE | TOPICAL | | | | 70 g in 1 CANISTER;10 g in 1 CANISTER | TERSI is supplied in a 70 gram or 2.5 ounce aerosolized canister bearing the NDC Number 23710-225-70 and a 10 gram or 0.36 ounce aerosolized canister bearing the NDC Number 23710-025-01. The 10 gram canister is physician dispensed sample product. Store at controlled room temperature 15º - 25ºC (59º - 77ºF). Contains flammable materials. Contents under pressure. Do not puncture or incinerate. Do not expose to temperatures over 120ºF [48ºC] even when empty. Keep out of reach of children. | For the treatment of seborrheic dermatitis and tinea versicolor of the skin. | Known hypersensitivity to any of the listed ingredients. | |
| A3736-22 | MEDICAL DEVICE | | INFILTRATION,TOPICAL | | | | 1 in 1 PACKAGE, COMBINATION;10 in 1 CASE | HOW SUPPLIEDLidocaine Hydrochloride Injection, USP is supplied as follows: Single-dose products are preservative-free. Store at 20 to 25°C (68 to 77°F). [See USP Controlled Room Temperature.] Lidocaine Hydrochloride Injection, USP solutions packaged in ampuls and glass teartop vials may be autoclaved one time only. Autoclave at 15 pounds pressure, 121°C (250°F) for 15 minutes. DO NOT AUTOCLAVE PRODUCT IN PLASTIC VIALS. Revised: February, 2010 Printed in USA EN-2421 Hospira, Inc., Lake Forest, IL 60045 USA | INDICATIONS AND USAGELidocaine Hydrochloride Injection, USP is indicated for production of local or regional anesthesia by infiltration techniques such as percutaneous injection and intravenous regional anesthesia by peripheral nerve block techniques such as brachial plexus and intercostal and by central neural techniques such as lumbar and caudal epidural blocks, when the accepted procedures for these techniques as described in standard textbooks are observed. | CONTRAINDICATIONSLidocaine is contraindicated in patients with a known history of hypersensitivity to local anesthetics of the amide type. | |