Others titles
Substance Registration System
UNII Records and Identifications
Keywords
FDA Product Code
UNII
SRS
FDA Registration System
FDA Database
Ingredient Search Results
Unique Ingredient Identifier Names
Unique Ingredient Identifier Records
UNII Descriptive Information
Drug Name Dictionary
Unique Ingredient Identifier Records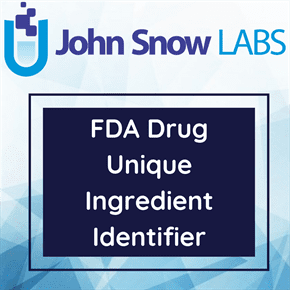 This dataset contains the details of substances in drugs, biologics, foods and devices registered with a Unique Ingredient Identifier (UNII) through the joint FDA/USP Substance Registration System (SRS).
Log in to download
Complexity
Get The Data
For getting access to data download links please read and accept the end-user license agreement.
Your Data License
Research

Non-Commercial, Share-Alike, Attribution

Free Forever

Commercial

Commercial Use, Remix & Adapt, White Label Log in to download
Description
The overall purpose of the joint FDA/USP (Food and Drug Administration/United States Pharmacopeia) Substance Registration System (SRS) is to support health information technology initiatives by generating UNIIs for substances in drugs, biologics, foods, and devices. The UNII (Unique Ingredient Identifier) is a non- proprietary, free, unique, unambiguous, non semantic, alphanumeric identifier based on a substance's molecular structure and/or descriptive information. The procedures and management of the SRS are provided by the SRS Board. The SRS Board includes experts from both FDA and USP. The SRS operating procedures defined by the SRS Board are detailed in the SRS Manual.
The UNII is a core component of the US Federal Medication Terminology, it is used for product labeling, to assist in the generation of RxNorm, as an identifier for drug ingredients and allergens and in the future will be a component of the Environmental Protection Agency's Substance Registry System. The UII is useful for understanding data contained in NLM's (National Library of Medicine) Unified Medical Language System, National Cancer Institutes Enterprise Vocabulary Service, FDA Data Standards Council website, VA National Drug File Reference Terminology, FDA Inactive Ingredient Query Application and, proximately, USP Dictionary of USAN and International Drug Names.
About this Dataset
Data Info
| | |
| --- | --- |
| Date Created | 2007-03-20 |
| Last Modified | 2022-05-09 |
| Version | 2022-05-09 |
| Update Frequency | Irregular |
| Temporal Coverage | N/A |
| Spatial Coverage | United States |
| Source | John Snow Labs; U.S. Food and Drug Administration (FDA), United States National Library of Medicine (NLM); |
| Source License URL | |
| Source License Requirements | N/A |
| Source Citation | N/A |
| Keywords | FDA Product Code, UNII, SRS, FDA Registration System, FDA Database, Ingredient Search Results, Unique Ingredient Identifier Names, Unique Ingredient Identifier Records, UNII Descriptive Information, Drug Name Dictionary |
| Other Titles | Substance Registration System, UNII Records and Identifications |
Data Fields
| Name | Description | Type | Constraints |
| --- | --- | --- | --- |
| Unique_Ingredient_Identifier | UNII (Unique Ingredient Identifier) | string | required : 1unique : 1 |
| Preferred_Term | Preferred Term - Preferred Substance Name - display name | string | required : 1 |
| Registry_Number | Registry Number used by many public chemical information systems | string | - |
| European_Chemicals_Number | European Chemicals Agencies registry number (formerly known EINECS) | string | - |
| NCI_Thesaurus_Code | NCI Thesaurus Concept Code | string | - |
| RXNORM_Ingredient_Code | RXNORM Ingredient Concept Code | integer | level : Nominal |
| PubChem_Compound_Id | PubChem is a database of chemical molecules and their activities against biological assays. | integer | level : Nominal |
| ITIS_Id | Integrated Taxonomic Information System Taxonomic Serial Number (ITIS TSN) | integer | level : Nominal |
| NCBI_Id | NCBI taxonomy organism ID | integer | level : Nominal |
| USDA_Plants_Id | USDA PLANTS organism ID | string | - |
| GRIN_Id | USDA Agricultural Research Service Germplasm Resources Information Network (GRIN) nomen ID | integer | level : Nominal |
| MPNS_Id | Kew Gardens Medicinal Plants Name Service Record ID (includes source database prefix) | string | - |
| INN_Id | Sequential number assigned by World Health Organization's International Nonproprietary Name (INN) Programme | integer | level : Nominal |
| USAN_ID | Alphanumeric code used by American Medical Association's United States Adopted Names (USAN) | string | - |
| Molecular_Formula | Molecular Formula - total atoms represented as a molecular structure in a UNII description | string | - |
| INCHI_Key | A fixed-length string created from the IUPAC International Chemical Identifier (InChI) | string | - |
| SMILES | Simplified Molecular-Input Line-Entry System | string | - |
| UNII_TYPE | UNII grouping based on intended role. Ionic Moiety UNIIs should not be used in the Ingredient Substance role because they are not charge-balanced, Molecular Fragment UNIIs should not be used in any listing role because they have unspecified atom attachments, Unspecified Ingredient UNIIs are imprecise. More precise Ingredient Substance or Specified Substance (ISO 11238) should be used instead. | string | required : 1 |
| UU_ID | The Food and Drug Administration Substance Registration System record ID | string | - |
| Substance_Type | The ISO 11238 substance type used for the primary substance identity | string | - |
Data Preview
| | | | | | | | | | | | | | | | | | | | |
| --- | --- | --- | --- | --- | --- | --- | --- | --- | --- | --- | --- | --- | --- | --- | --- | --- | --- | --- | --- |
| Unique Ingredient Identifier | Preferred Term | Registry Number | European Chemicals Number | NCI Thesaurus Code | RXNORM Ingredient Code | PubChem Compound Id | ITIS Id | NCBI Id | USDA Plants Id | GRIN Id | MPNS Id | INN Id | USAN ID | Molecular Formula | INCHI Key | SMILES | UNII TYPE | UU ID | Substance Type |
| 17462400.0 | CHF-6333 CATION | 1613620-10-2 | | | | 76285164.0 | | | | | | | | C27H28F3N6O3 | IHTRPSMRGYWUIM-HSZRJFAPSA-O | COC(=O)C1=C(C)N(C2=NNC(=O)N2[C@@H]1C3=CC=C(C=C3CC[N+](C)(C)C)C#N)C4=CC=CC(=C4)C(F)(F)F | IONIC MOIETY | 4fdbca12-714b-4e79-a04f-459ba758813f | chemical |
| 129526470.0 | 5,8-DIMETHOXY(1,2,4)TRIAZOLO(1,5-C)PYRIMIDIN-2-AMINE | 219715-62-5 | | | | 11446888.0 | | | | | | | | C7H9N5O2 | DBJPBHJHAPAUQU-UHFFFAOYSA-N | COC1=CN=C(OC)N2N=C(N)N=C12 | INGREDIENT SUBSTANCE | b1664dac-82e6-4b45-8321-7983531ccb46 | chemical |
| 258808825.0 | MACROPIPER EXCELSUM LEAF | | | | | | | 130373.0 | | | | | | | | | INGREDIENT SUBSTANCE | dfa0d3a4-00ab-4ce2-8ae3-9ab11462759e | structurallyDiverse |
| 377415922.0 | N-DESMETHYLVENLAFAXINE, (S)- | 392332-59-1 | | | | 9860056.0 | | | | | | | | C16H25NO2 | MKAFOJAJJMUXLW-OAHLLOKOSA-N | CNC[C@H](C1=CC=C(OC)C=C1)C2(O)CCCCC2 | INGREDIENT SUBSTANCE | 1d47fe01-93d8-4009-8575-a75b05c586d5 | chemical |
| 457970679.0 | VERRUCARIN | 54018-05-2 | | | | | | | | | | | | | | | INGREDIENT SUBSTANCE | f60b3999-bccc-418c-92bc-07c486aecc4e | mixture |
| 480546720.0 | HOMOCYCLOLEUCINE HYDROCHLORIDE | 39692-17-6 | 254-594-3 | | | 2724466.0 | | | | | | | | C7H13NO2.ClH | GTKXSYHXQSKWNP-UHFFFAOYSA-N | Cl.NC1(CCCCC1)C(O)=O | INGREDIENT SUBSTANCE | bbf6e55f-f1cf-4cba-be17-4b7b5aa4085c | chemical |
| 503177591.0 | SUCCINALDEHYDE | 638-37-9 | 211-333-8 | | | 12524.0 | | | | | | | | C4H6O2 | PCSMJKASWLYICJ-UHFFFAOYSA-N | O=CCCC=O | INGREDIENT SUBSTANCE | 038d7ac4-9ac6-4189-921f-9a4e68e938e8 | chemical |
| 909840846.0 | ALLIUM STRACHEYI WHOLE | | | | | | | 980680.0 | | 459419.0 | WCS-296682 | | | | | | INGREDIENT SUBSTANCE | 2df5fddf-a897-4bd9-adce-bb40a4a3f1cb | structurallyDiverse |
| 979361098.0 | OXALIS CORNICULATA LEAF | | | | | | 29067.0 | 212256.0 | OXCO | 26196.0 | WCSCMP-394644 | | | | | | INGREDIENT SUBSTANCE | dc80fbbd-11a8-4510-ada8-85953273c4b6 | structurallyDiverse |
| 1521994599.0 | AURASPERONE D | 67924-64-5 | | | | 155008.0 | | | | | | | | C31H24O10 | DVSATZLPJVYIRI-UHFFFAOYSA-N | COC1=CC(O)=C2C(O)=C3C(=O)C=C(C)OC3=C(C2=C1)C4=C(OC)C=C5C=C6OC(C)=CC(=O)C6=C(O)C5=C4OC | INGREDIENT SUBSTANCE | 842f1aec-e75b-4c47-8d23-f8f7d435facf | chemical |