Others titles
Tuberculosis in the United States
Tuberculosis Geographic Distribution
Tuberculosis National Statistics
Keywords
Tuberculosis Prevention
Tuberculosis Programs
Tuberculosis Surveillance
Tuberculosis Cases
Tuberculosis
Communicable Diseases
Infectious Disease
US State Level Tuberculosis Cases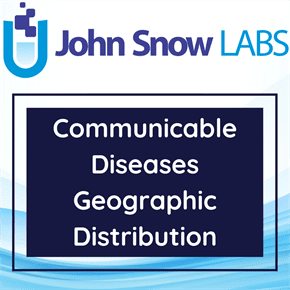 This dataset contains the analysis of surveillance data on tuberculosis for all states in the US. The data was collected from the CDC Division of Sexually transmitted diseases (STDs) Prevention program from reporting forms and electronic data of the National Electronic Telecommunications System for Surveillance (NETSS). This dataset combines age, sex and races.
Log in to download
Complexity
Get The Data
For getting access to data download links please read and accept the end-user license agreement.
Your Data License
Research

Non-Commercial, Share-Alike, Attribution

Free Forever

Commercial

Commercial Use, Remix & Adapt, White Label Log in to download
Description
The Centers for Disease Control and Prevention collects, analyzes, and disseminates surveillance data on newly reported cases of tuberculosis (TB) disease in the United States. The Atlas presents TB case report data submitted from all 50 states, District of Columbia, American Samoa, Guam, the Northern Mariana Islands, Puerto Rico, and the U.S. Virgin Islands for the years 2000 to 2014. TB data are presented by year of diagnosis, reporting area (state/territory or county), age group, race/ethnicity, and sex
Surveillance of TB
Nationally notifiable TB surveillance data are collected and compiled from reports sent to CDC' Division of TB Elimination by the TB control programs and health departments in all 50 states, the District of Columbia, U.S. dependencies and possessions, and independent nations in free association with the United States
Reporting Formats
Reports of verified cases of tuberculosis (RVCT) are submitted to the Division of Tuberculosis Elimination (DTBE), Centers for Disease Control and Prevention (CDC). First released in 1993, the RVCT was expanded in 2009 to collect additional information for each reported TB case in order to better monitor trends in TB and TB control. Reporting areas submit data to CDC via Public Health Information Network (PHIN)/National Electronic Disease Surveillance System (NEDSS).
Cases
A case of TB is described as a chronic bacterial infection caused by Mycobacterium tuberculosis, usually characterized pathologically by the formation of granulomas. The most common site of infection is the lung, but other organs may be involved
The clinical case definition for TB is a case that meets all of the following criteria:
A positive tuberculin skin test result or positive interferon gamma release assay for M. tuberculosis Other signs and symptoms compatible with tuberculosis (TB) (e.g., abnormal chest radiograph, abnormal chest computerized tomography scan or other chest imaging study, or clinical evidence of current disease) Treatment with two or more anti-TB medications A completed diagnostic evaluation.
However, not all cases of TB will meet the clinical case definition. For patients who do not meet all the above criteria but still have a high suspicion of TB, it is up to the provider to decide if the person has TB disease.
The laboratory criteria for diagnosis of TB are:
Isolation of M. tuberculosis complex from a clinical specimen, or Demonstration of M. tuberculosis complex from a clinical specimen by nucleic acid amplification test, or Demonstration of acid-fast bacilli in a clinical specimen when a culture has not been or cannot be obtained or is falsely negative or contaminated.
A case should not be counted twice within any consecutive 12-month period. However, a case occurring in a patient who had previously had verified TB disease should be reported and counted again if more than 12 months have elapsed since the patient completed therapy. A case should also be reported and counted again if the patient was lost to supervision for greater than 12 months and TB disease can be verified again. Mycobacterial diseases other than those caused by M. tuberculosis complex should not be counted in tuberculosis morbidity statistics unless there is concurrent tuberculosis.
Cell suppression:
Data are not suppressed at the state level. At the state level, TB provides aggregate data and one-way stratification (i.e., by age group, sex, or race/ethnicity). At the county-level, TB provides aggregate data for cases and rates and also provides cases by country of birth (U.S.-born or foreign-born). At the county level, cells are suppressed where aggregate or demographic populations have less than 5 total cases.
Rates:
Rates are expressed as the number of cases reported each calendar year per 100,000 population. Population denominators used in calculating TB rates were based on the US Census population estimates for 2000' 2014. The exception is those rates provided for state by race/ethnicity and county by age 13+ and age 15+; this population data was not available from the U.S. Census Bureau, so instead was obtained from the National Vital Statistics System (published by the National Center for Health Statistics). Each rate was calculated by dividing the number of cases for the calendar year by the population for that calendar year and then multiplying the number by 100,000.
Foreign-born persons are defined as those born outside the United States, American Samoa, the Federated States of Micronesia, Guam, the Republic of the Marshall Islands, Midway Island, the Commonwealth of the Northern Mariana Islands, Puerto Rico, the Republic of Palau, the U.S. Virgin Islands, and U.S. minor and outlying Pacific islands.
About this Dataset
Data Info
| | |
| --- | --- |
| Date Created | 2014 |
| Last Modified | 2022-11-03 |
| Version | 2022-11-03 |
| Update Frequency | Biennial |
| Temporal Coverage | 2017-2019 |
| Spatial Coverage | United States of America |
| Source | John Snow Labs; Centers for Disease Control and Prevention; |
| Source License URL | |
| Source License Requirements | N/A |
| Source Citation | N/A |
| Keywords | Tuberculosis Prevention, Tuberculosis Programs, Tuberculosis Surveillance, Tuberculosis Cases, Tuberculosis, Communicable Diseases, Infectious Disease |
| Other Titles | Tuberculosis in the United States, Tuberculosis Geographic Distribution, Tuberculosis National Statistics |
Data Fields
| Name | Description | Type | Constraints |
| --- | --- | --- | --- |
| Year | Year the data was collected. | string | - |
| State | State | string | - |
| Rate | Estimated total number of tuberculosis cases multiplied by the population by 100,000. | number | level : Ratio |
| Cases | Number of cases of Tuberculosis | number | level : Ratio |
Data Preview
| | | | |
| --- | --- | --- | --- |
| Year | State | Rate | Cases |
| 2020 (COVID-19 Pandemic) | Alabama | 1.5 | 73 |
| 2019 | Alabama | 1.8 | 87 |
| 2018 | Alabama | 1.9 | 91 |
| 2017 | Alabama | 2.5 | 120 |
| 2016 | Alabama | 2.3 | 112 |
| 2015 | Alabama | 2.5 | 119 |
| 2014 | Alabama | 2.7 | 133 |
| 2013 | Alabama | 2.2 | 108 |
| 2012 | Alabama | 2.8 | 134 |
| 2011 | Alabama | 3.4 | 161 |