Others titles
VAERS Identification 2017
Vaccine Adverse Events 2017
Vaccine Adverse Event Reporting System VAERS Data 2017
Keywords
Vaccine Adverse Event Reporting System VAERS Data
VAERS Data
VAERS Data 2017
Vaccination Reporting System 2017
FDA Vaccine Reports
CDC Vaccine Reports
Vaccine Side Effects
Vaccine Adverse Event Reporting System 2017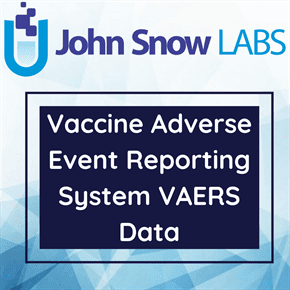 The Vaccine Adverse Event Reporting System (VAERS) 2017 was created by the Food and Drug Administration (FDA) and Centers for Disease Control and Prevention (CDC) to receive reports about adverse events that may be associated with vaccines. No prescription drug or biological product, such as a vaccine, is completely free from side effects.
Log in to download
Complexity
Get The Data
For getting access to data download links please read and accept the end-user license agreement.
Your Data License
Research

Non-Commercial, Share-Alike, Attribution

Free Forever

Commercial

Commercial Use, Remix & Adapt, White Label Log in to download
Description
Vaccine Adverse Event Reporting System (VAERS) is a passive reporting system, meaning that reports about adverse events are not automatically collected, but require a report to be filed to VAERS. VAERS reports can be submitted voluntarily by anyone, including healthcare providers, patients, or family members. Reports vary in quality and completeness. They often lack details and sometimes can have information that contains errors. About 85-90% of vaccine adverse event reports concern relatively minor events, such as fevers or redness and swelling at the injection site. The remaining reports (less than 15%) describe serious events, such as hospitalizations, life-threatening illnesses, or deaths. The reports of serious events are of greatest concern and receive the most careful scrutiny by VAERS staff. VAERS researchers apply procedures and methods of analysis to help them closely monitor the safety of vaccines. When a concern arises, action is taken. The hope is that this brief explanation of the factors associated with vaccines and adverse events will assist users in understanding the data they are viewing.
Vaccines protect many people from dangerous illnesses, but vaccines, like drugs, can cause side effects, a small percentage of which may be serious. VAERS is used to continually monitor reports to determine whether any vaccine or vaccine lot has a higher than expected rate of events.
About this Dataset
Data Info
| | |
| --- | --- |
| Date Created | 2017 |
| Last Modified | 2017-10-01 |
| Version | 2017-10-01 |
| Update Frequency | Annual |
| Temporal Coverage | 2017 |
| Spatial Coverage | United States |
| Source | John Snow Labs; Department of Health and Human Services; |
| Source License URL | |
| Source License Requirements | N/A |
| Source Citation | N/A |
| Keywords | Vaccine Adverse Event Reporting System VAERS Data, VAERS Data, VAERS Data 2017, Vaccination Reporting System 2017, FDA Vaccine Reports, CDC Vaccine Reports, Vaccine Side Effects |
| Other Titles | VAERS Identification 2017, Vaccine Adverse Events 2017, Vaccine Adverse Event Reporting System VAERS Data 2017 |
Data Fields
| Name | Description | Type | Constraints |
| --- | --- | --- | --- |
| VAERS_Identification_Number | Unique Vaccine Adverse Event Reporting System Identification Number | integer | level : Nominal |
| Received_Date | Date report was received | date | - |
| State_Abbreviation | State Abbreviation | string | - |
| Age_Of_Patient_In_Years | Age of patient in years calculated by (vax_datebirthdate) | number | level : Ratio |
| Age_Of_Patient_In_Months | Age of patient in months calculated by (vax_datebirthdate). The values for this variable range from 0 to <1 | number | level : Ratio |
| Sex | Gender | string | - |
| Date_Form_Completed | Date Form Completed | date | - |
| Reported_Symptom | Detail description for Reported symptom | string | - |
| Is_Died | Died ('Y' = true) | boolean | - |
| Date_Of_Death | Date of Death | date | - |
| Is_Life_Threatening_Illness | Life-Threatening Illness ('Y' - true) | boolean | - |
| Is_Emergency_Room_Or_Doctor_Visit | Emergency Room or Doctor Visit ('Y' - true) | boolean | - |
| Is_Hospitalized | Hospitalized ('Y' - true) | boolean | - |
| Number_Of_Days_Hospitalized | Number of days Hospitalized | integer | level : Ratio |
| Is_Prolonged_Hospitalization | Prolonged Hospitalization ('Y' - true) | boolean | - |
| Is_Disability | Disability ('Y' - true) | boolean | - |
| Is_Recovered | Recovered ('Y' - true, 'N' - false) | boolean | - |
| Vaccination_Date | Vaccination Date | date | - |
| Adverse_Event_Onset_Date | Adverse Event Onset Date | date | - |
| Number_Of_Days | Number of days (Onset date - Vax. Date) | integer | level : Ratio |
| Diagnostic_Laboratory_Data | Diagnostic laboratory data | string | - |
| Vaccines_Administered | Vaccines Administered at (PUB=Public, PVT=Private,OTH=Other, MIL=Military, PHM=Pharmacy or drug store, SCH=School/student health clinic, SEN=Nursing home or senior living facility, WRK=Workplace clinic, UNK=Unknown) | string | - |
| Vaccines_Purchased | Vaccines purchased with (PUB=Public,PVT=Private, OTH=Other, MIL=Military) funds | string | - |
| Other_Medications | Other Medications | string | - |
| Current_Illnesses | Current Illnesses | string | - |
| Pre_Existing_Physician_Diagnosed_Allergies | Pre-existing physician diagnosed allergies, birth defects, medical conditions | string | - |
| Prior_Vaccination_Event_Information | Prior Vaccination Event information | string | - |
| Manufacturer_Number | Manufacturer Number | string | - |
Data Preview
| | | | | | | | | | | | | | | | | | | | | | | | | | | | |
| --- | --- | --- | --- | --- | --- | --- | --- | --- | --- | --- | --- | --- | --- | --- | --- | --- | --- | --- | --- | --- | --- | --- | --- | --- | --- | --- | --- |
| VAERS Identification Number | Received Date | State Abbreviation | Age Of Patient In Years | Age Of Patient In Months | Sex | Date Form Completed | Reported Symptom | Is Died | Date Of Death | Is Life Threatening Illness | Is Emergency Room Or Doctor Visit | Is Hospitalized | Number Of Days Hospitalized | Is Prolonged Hospitalization | Is Disability | Is Recovered | Vaccination Date | Adverse Event Onset Date | Number Of Days | Diagnostic Laboratory Data | Vaccines Administered | Vaccines Purchased | Other Medications | Current Illnesses | Pre Existing Physician Diagnosed Allergies | Prior Vaccination Event Information | Manufacturer Number |
| 676017 | 2017-01-01 | GA | 1.5 | 0.6 | Male | 2017-01-01 | After getting Hep A vaccination on 12/20, went home and son took a nap, he woke up and would not walk. After 48 hours of him not walking at all and then I noticed swelling in his left knee (same leg as vaccine) went back to Dr's office, Dr took blood work and x-rays. Dr spoke to Ortho Nurse Practitioner and they advised to give Motrin thru the holiday weekend. My son began to walk, with a bad limp on Fri 12/23. On Tues 12/27, went to see the Ortho Nurse Practitioner (b/c Dr was on vac), she did more blood work. On Wed received a call from my Ped. & she advised me to go to hospital. They did more blood work, ultrasound, and x-rays. Then drew fluid from knee. After that test came back they admitted us due to a bacterial infection in the knee. My son had surgery the next day to flush out the knee. Son is doing much better, still walking with a limp. They were unable to determine what kind of bacteria caused the problem. | | | | True | True | 3.0 | | | | 2016-12-20 | 2016-12-20 | 0.0 | Blood work to check CRP and SEDS, X-rays, Ultrasound, drained fluid from knee, tested bacteria | Unknown | Private | | No | | | |
| 676018 | 2017-01-01 | VA | 69.0 | | Male | 2017-01-01 | EDEMA ERYTHEMA PAIN TENDERNESS. | | | | | | | | | | 2016-12-30 | 2016-12-30 | 0.0 | | Other | Private | MVI; FISH OIL; VIT D3 | NO | NO | | |
| 676019 | 2017-01-01 | OH | 53.0 | | Female | 2017-01-01 | Patient stated she had "normal" stiffness in left deltoid muscle day after vaccine, but on 12/31 (3 full weeks after the vaccine), stated still having tightness in arm and throbbing when she lays down, intermittently. | | | | | | | | | | 2016-12-10 | 2016-12-11 | 1.0 | | Other | Other | Potassium Chloride, triamterene-HCTZ, atorvastatin, lisinopril, metformin, calcium + vitamin D | None | Diabetes, Hyperlipidemia, Hypertension, Acid Reflux | | |
| 676020 | 2017-01-01 | GA | 69.0 | | Male | 2017-01-01 | Rash and pain in vaccinated arm only. Continuing pain even until today. | | | | | | | | | | 2016-12-08 | | | | Unknown | Unknown | | none | none | | |
| 676021 | 2017-01-01 | TX | 58.0 | | Male | 2017-01-01 | SEVERE ITCHING (WITH NO RASH) ALL OVER BODY. | | | | True | | | | | False | 2016-11-25 | 2016-11-27 | 2.0 | | Other | Private | NONE REPORTED | NONE REPORTED | NONE REPORTED | | |
| 676022 | 2017-01-01 | OK | 35.0 | | Female | 2017-01-01 | Tingling in feet. | | | True | | True | 5.0 | | | | 2016-11-10 | 2016-11-28 | 18.0 | Needed nerve conduction study | Private | Other | None | None | None | | |
| 676023 | 2017-01-01 | UT | 65.0 | | Female | 2017-01-01 | (I am the patient's husband). My wife had an office visit at the Hospital and Clinic facility on 28 December 2016. During that visit she was given a vaccine called Pneumococcal Conj Vaccine 13 Valent IM. Later, around 4PM, (28 December) she experienced chills and feverish feeling, and pain at the vaccine location (left arm). Later, we noticed her face was flushed. Around 10PM on 28 December, we noticed a rash developing on the front of her thighs. At this time we went to the Emergency Department. The diagnosis included vaccination reaction and cellulitis. She was prescribed Clindamycin for the cellulitis. We noticed the rash getting worse on 31 Dec, and went to the Urgent Care at the same facility. She was prescribed prednisone and instructed to report to the emergency room if conditions worsened. We are currently watching her rash condition. | | | | True | | | | | False | 2016-12-28 | 2016-12-28 | 0.0 | Blood tests and urine tests were done | Unknown | Other | ULORIC; Simvastatin; ACTONEL | None | Gout, High Cholesterol, High A1C; Medicine allergies include: Allopurinol, DARVON, Levofloxacin, Meloxicam, Omeprazole, Penicillins, Penicillamine, PHENERGAN | | |
| 676024 | 2017-01-01 | NY | 1.58 | 0.6 | Female | 2017-01-01 | Brought her to Dr's office for respiratory illness, given albuterol nebs, cough & breathing worsened throughout the day, brought to ED, admitted to PICU with 50% oxygen & not responding to albuterol, had respiratory & cardiac failure 4/25 in the PICU, was administered CPR, breathing & feeding tubes, and put into medically induced coma for a week, stayed in PICU for 3 weeks, all tests for viruses returned negative, medical staff uncertain what caused this reaction, diagnosed with Reactive Airway Disease. | | | True | True | True | 21.0 | | | True | 2015-04-21 | 2015-04-24 | 3.0 | The hospital did many tests, including MRI, CT scans, bronchoscopy, tests for viruses, blood tests. Nothing showed a conclusive cause for her respiratory failure. | Unknown | Private | Elecare Jr. formula | None | Food Allergies: Milk, Eggs, Peanut, Tree Nuts, Soy, Wheat, Peas, Chick Peas (prescribed Epi-pen & Benadryl) Used Albuterol & Saline Nebulizers for all respiratory illnesses, had previous hospitalizations for difficulty breathing during respiratory illnesses | Hospitalization, respiratory difficulty~Pneumo (no brand name)~4~1.08~Patient|Haemophilus Influenza Type B~Vaccine not specified | |
| 676025 | 2017-01-01 | KY | 0.33 | 0.4 | Female | 2017-01-01 | Arms flinging out, no more smiles no more eye contact not thriving anymore. | | | True | True | True | 44.0 | | True | False | 2016-03-31 | 2016-03-31 | 0.0 | Infantile spasms, complex partial seizures, focal/generalized seizures, severe developmental delays, hyptonia. Too young for any other diagnosis at this time. | Unknown | Other | | No | No | Spasms~DT+IPV+Hib+HepB (no brand name)~UN~0.25~Patient | |
| 676026 | 2017-01-01 | KY | 62.0 | | Male | 2017-01-01 | Fever, redness of arm, swelling (patient applied cool compress and started taking tylenol and benadryl). | | | | | | | | | | 2016-12-30 | 2016-12-31 | 1.0 | | Other | Private | | none | none | | |