Others titles
Vaccines CVX And VIS Mapping table
Administered CVX And VIS Mapping
Keywords
US Vaccine
FDA Vaccine
Vaccine CVX
Vaccine VIS
Vaccines CVX And VIS Mapping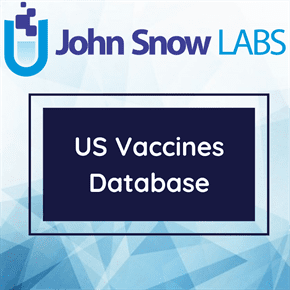 The Vaccines CVX And Vaccines Information Statement (VIS) Mapping dataset show the relationship between the vaccine's CVX codes and the VIS codes.
Log in to download
Complexity
Get The Data
For getting access to data download links please read and accept the end-user license agreement.
Your Data License
Research

Non-Commercial, Share-Alike, Attribution

Free Forever

Commercial

Commercial Use, Remix & Adapt, White Label Log in to download
Description
The Centers for Disease Control and Prevention CDC develops and maintains CVX codes, generic codes for vaccines, and codes for Vaccine Information Statements (VIS). This CVX-VIS mapping dataset shows the relationship between the vaccine's CVX codes and the VIS codes.
This table is intended as a guide; the decision of which VIS to give for a vaccine is determined by the immunization provider.
CVX codes are codes that indicate the product used in a vaccination.
CDC has added two-dimensional (2D) "data matrix" barcodes to Vaccine Information Statements (VIS). This technology is designed primarily to help immunization providers record information about the VIS as is required by the National Childhood Vaccine Injury Act (NCVIA).
The 2D barcoded VIS allows providers to scan the name and edition date of a VIS into an electronic medical record (EMR), IIS, or other electronic database.
Note: A new vaccine for Hepatitis B Vaccine (Recombinant), Adjuvanted (CVX 189) recently entered the vaccine supply chain. CVX 189 is now mapped to the existing Hepatitis B Vaccine VIS (edition date – 7/20/2016). Please note that in this dataset, the CVX Vaccine Description is "HepB-CpG," while in the Vaccines CVX And MVX Mapping dataset, the CVX Short Description is currently "Hep B, adjuvanted". The change to "HepB-CpG" reflects the standard notation used by the ACIP (LOOK FOR THE MEANING OF THIS ABBREVIATION). The Short Description in the CVX dataset will be changed to "HepB-CpG" in late June 2018.
About this Dataset
Data Info
| | |
| --- | --- |
| Date Created | 2015-06 |
| Last Modified | 2023-10-18 |
| Version | 2023-10-18 |
| Update Frequency | Irregular |
| Temporal Coverage | N/A |
| Spatial Coverage | United States |
| Source | John Snow Labs; National Center for Immunization and Respiratory Diseases; |
| Source License URL | |
| Source License Requirements | N/A |
| Source Citation | N/A |
| Keywords | US Vaccine, FDA Vaccine, Vaccine CVX, Vaccine VIS |
| Other Titles | Vaccines CVX And VIS Mapping table, Administered CVX And VIS Mapping |
Data Fields
| Name | Description | Type | Constraints |
| --- | --- | --- | --- |
| CVX_Code | CVX for unit of sale NOTE that for some vaccines that have separate vaccine components, the CVX will map to the combined vaccine. | string | - |
| CVX_Vaccine_Description | Short description of CVX | string | required : 1 |
| VIS_Document_Name | The vaccine information statements document name | string | required : 1 |
| VIS_Fully_Encoded_Text_String | The code for the entire barcode numerical sequence. This code contains both data items, including the AI 253. | integer | level : Nominalrequired : 1 |
| VIS_Edition_Date | VIS edition date | date | required : 1 |
| VIS_Edition_Status | Indicates whether the VIS represented by each row is the current, or a past, edition. When a VIS is updated, a new barcode must be generated to reflect the new edition date. Both current and historical codes will be maintained in the VIS Lookup Table. While edition dates will change over time, the VIS GDTI document code will remain the same. | string | enum : Array ( [0] => Historic [1] => Current ) required : 1 |
Data Preview
| | | | | | |
| --- | --- | --- | --- | --- | --- |
| CVX Code | CVX Vaccine Description | VIS Document Name | VIS Fully Encoded Text String | VIS Edition Date | VIS Edition Status |
| 143 | Adenovirus types 4 and 7 | Adenovirus VIS | 253088698300001111110714 | 2011-07-14 | Historic |
| 143 | Adenovirus types 4 and 7 | Adenovirus VIS | 253088698300001111140611 | 2014-06-11 | Historic |
| 143 | Adenovirus types 4 and 7 | Adenovirus Vaccine VIS | 253088698300001111200108 | 2020-01-08 | Current |
| 24 | anthrax | Anthrax VIS | 253088698300002811100310 | 2010-03-10 | Historic |
| 24 | anthrax | Anthrax Vaccine VIS | 253088698300002811180321 | 2018-03-21 | Historic |
| 24 | anthrax | Anthrax Vaccine VIS | 253088698300002811200108 | 2020-01-08 | Current |
| 120 | DTaP-Hib-IPV | Diphtheria/Tetanus/Pertussis (DTaP) VIS | 253088698300003511070517 | 2007-05-17 | Historic |
| 146 | DTaP,IPV,Hib,HepB | Diphtheria/Tetanus/Pertussis (DTaP) VIS | 253088698300003511070517 | 2007-05-17 | Historic |
| 20 | DTaP | Diphtheria/Tetanus/Pertussis (DTaP) VIS | 253088698300003511070517 | 2007-05-17 | Historic |
| 130 | DTaP-IPV | Diphtheria/Tetanus/Pertussis (DTaP) VIS | 253088698300003511070517 | 2007-05-17 | Historic |