Others titles
US Vaccines National Drug Codes Unit Of Sale
Vaccines NDC Codes Unit Of Sale
Keywords
US Vaccine
FDA Vaccine
Vaccine NDC
Vaccines National Drug Codes Unit Of Sale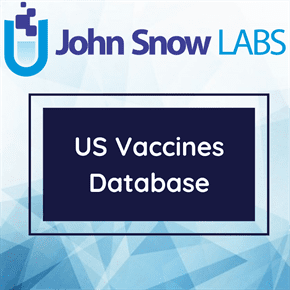 The Vaccines National Drug Codes Unit Of Use database facilitate the use of NDC to identify vaccines.
The purpose of the NDC unit of sale dataset is to show the relationships of vaccine secondary packaging NDCs and provide related information for use as reference data for solutions that leverage NDCs.
Log in to download
Complexity
Get The Data
For getting access to data download links please read and accept the end-user license agreement.
Your Data License
Research

Non-Commercial, Share-Alike, Attribution

Free Forever

Commercial

Commercial Use, Remix & Adapt, White Label Log in to download
Description
NDCs are assigned by the Federal Drug Administration (FDA) and serve as universal product identifiers for human drugs. These codes indicate the product (FDA Product Code), the manufacturer or packager (FDA Labeler Code), and the packaging (e.g. 5 dose vial).
The format of these codes varies within each component (4-4-2, 5-3-2, or 5-4-1). The combinations of these components have 10 numbers.
In many uses, these 3 components are normalized to a consistent pattern (5-4-2) with dashes between components. A component is left-padded with zero (0) to adjust the size. These more familiar codes are labeled NDC11 in these pages.
In most cases, there are separate NDCs for the Unit of Use (primary) and Unit of Sale (secondary) packaging of a vaccine. That is, the syringe that contains the vaccine has one NDC and the carton of 10 syringes has a different NDC.
Secondary package: The container or packaging that holds the primary packaging. For example, a carton of 5 syringes. This is generally referred to as Unit of Sale or a saleable unit.
Some vaccines (primary package) contain multiple components (e.g. lyophilized agent and diluent agent). The individual components of a multi-component vaccine are each assigned a unique NDC. The NDCs of the individual components differ from the NDC of the secondary packaging.
Each of these component packages (unit of use) will be linked to the unit of sale package.
About this Dataset
Data Info
| | |
| --- | --- |
| Date Created | 2015-06 |
| Last Modified | 2023-07-27 |
| Version | 2023-07-27 |
| Update Frequency | Irregular |
| Temporal Coverage | N/A |
| Spatial Coverage | United States |
| Source | John Snow Labs; National Center for Immunization and Respiratory Diseases; |
| Source License URL | |
| Source License Requirements | N/A |
| Source Citation | N/A |
| Keywords | US Vaccine, FDA Vaccine, Vaccine NDC |
| Other Titles | US Vaccines National Drug Codes Unit Of Sale, Vaccines NDC Codes Unit Of Sale |
Data Fields
| Name | Description | Type | Constraints |
| --- | --- | --- | --- |
| NDC_Outer_ID | ID of outer NDC | integer | level : Nominalrequired : 1 |
| Outer_Labeler | The Labeler code for the unit of sale | string | required : 1 |
| Outer_Product | The product code for the unit of sale | string | required : 1 |
| Outer_Package | The package code for the unit of sale | string | required : 1 |
| Outer_Prop_Name | | string | required : 1 |
| Outer_Generic_Name | The generic name for the unit of sale vaccine | string | - |
| Outer_Labeler_Name | The labeler name for the unit of sale | string | required : 1 |
| Outer_Start_Date | Marketing start date of the unit of sale | date | - |
| Outer_End_Date | End marketing date for the unit of sale | date | - |
| Outer_Pack_Form | The packaging form of the unit of sale | string | - |
| Outer_Route | Route of administration | string | - |
| Last_Updated_Date | The date this record was last updated | date | - |
| CVX_Code | CVX for unit of sale NOTE that for some vaccines that have separate vaccine components, the CVX will map to the combined vaccine. | integer | level : Nominal |
| CVX_Short_Description | Short description of CVX | string | - |
| NDC | NDC normalized to 11 characters with dashes between components. | string | required : 1 |
| GTIN | GTIN (barcode) for Unit of use | string | - |
Data Preview
| | | | | | | | | | | | | | | | |
| --- | --- | --- | --- | --- | --- | --- | --- | --- | --- | --- | --- | --- | --- | --- | --- |
| NDC Outer ID | Outer Labeler | Outer Product | Outer Package | Outer Prop Name | Outer Generic Name | Outer Labeler Name | Outer Start Date | Outer End Date | Outer Pack Form | Outer Route | Last Updated Date | CVX Code | CVX Short Description | NDC | GTIN |
| 1048 | 62195 | 51 | 10 | Ixiaro | JAPANESE ENCEPHALITIS VACCINE, INACTIVATED, ADSORBED | Vetter Pharma Fertigung GmbH & Co. KG | 2009-03-30 | 2020-11-23 | CARTON | INTRAMUSCULAR | 2020-12-29 | 134 | Japanese Encephalitis IM | 62195-0051-10 | |
| 2077 | 59676 | 580 | 15 | Janssen COVID-19 Vaccine | SARS-COV-2 (COVID-19) vaccine, vector non-replicating, recombinant spike protein-Ad26, preservative free, 0.5 mL | Janssen Products, LP | 2021-02-01 | 2023-06-20 | CARTON, 10 MULTI-DOSE VIALS | INTRAMUSCULAR | 2023-07-11 | 212 | COVID-19 vaccine, vector-nr, rS-Ad26, PF, 0.5 mL | 59676-0580-15 | |
| 3024 | 50632 | 1 | 2 | JYNNEOS | Vaccinia, smallpox and monkeypox vaccine, live, non-replicating | Bavarian Nordic A/S | 2021-03-17 | | CARTON, 20 VIAL | SUBCUTANEOUS | 2022-05-20 | 206 | Vaccinia, smallpox Mpox vaccine live, PF, SQ or ID injection | 50632-0001-02 | |
| 3058 | 50632 | 1 | 3 | JYNNEOS | Vaccinia, smallpox and monkeypox vaccine, live, non-replicating | Bavarian Nordic A/S | 2021-03-17 | | CARTON, 10 VIAL | SUBCUTANEOUS | 2023-04-24 | 206 | Vaccinia, smallpox Mpox vaccine live, PF, SQ or ID injection | 50632-0001-03 | |
| 532 | 58160 | 812 | 52 | KINRIX | DIPHTHERIA AND TETANUS TOXOIDS AND ACELLULAR PERTUSSIS ADSORBED AND INACTIVATED POLIOVIRUS VACCINE | GlaxoSmithKline Biologicals SA | 2008-07-09 | | CARTON | INTRAMUSCULAR | 2022-01-31 | 130 | DTaP-IPV | 58160-0812-52 | 358160812521.0 |
| 533 | 58160 | 812 | 11 | KINRIX | DIPHTHERIA AND TETANUS TOXOIDS AND ACELLULAR PERTUSSIS ADSORBED AND INACTIVATED POLIOVIRUS VACCINE | GlaxoSmithKline Biologicals SA | 2008-07-09 | 2022-06-10 | CARTON | INTRAMUSCULAR | 2022-06-15 | 130 | DTaP-IPV | 58160-0812-11 | 358160812118.0 |
| 642 | 76420 | 483 | 1 | Medical Provider Single Use EZ Flu Shot 2013-2014 | INFLUENZA A VIRUS A/CHRISTCHURCH/16/2010 NIB-74 (H1N1) ANTIGEN (PROPIOLACTONE INACTIVATED), INFLUENZ | MedChem Manufacturing Inc. dba Enovachem | 2013-05-30 | 2014-06-30 | CARTON | INTRAMUSCULAR | 2018-07-13 | 150 | influenza, injectable, quadrivalent, preservative free | 76420-0483-01 | |
| 643 | 76420 | 482 | 1 | Medical Provider Single Use EZ Flu Shot 2013-2014 | INFLUENZA A VIRUS A/CHRISTCHURCH/16/2010 NIB-74 (H1N1) ANTIGEN (PROPIOLACTONE INACTIVATED), INFLUENZ | MedChem Manufacturing Inc. dba Enovachem | 2013-05-30 | 2014-06-30 | CARTON | INTRAMUSCULAR | 2018-07-13 | 150 | influenza, injectable, quadrivalent, preservative free | 76420-0482-01 | |
| 746 | 49281 | 589 | 5 | Menactra | NEISSERIA MENINGITIDIS GROUP A CAPSULAR POLYSACCHARIDE DIPHTHERIA TOXOID CONJUGATE ANTIGEN, NEISSERIA MENINGITIDIS GROUP C CAPSULAR POLYSACCHARIDE DIPHTHERIA TOXOID CONJUGATE ANTIGEN, NEISSERIA MENINGITIDIS GROUP Y CAPSULAR POLYSACCHARIDE DIPHTHERIA TOXOI | Sanofi Pasteur Inc. | 2005-01-14 | | PACKAGE | INTRAMUSCULAR | 2023-02-02 | 114 | meningococcal MCV4P | 49281-0589-05 | 349281589058.0 |
| 536 | 58160 | 801 | 11 | Menhibrix | MENINGOCOCCAL GROUPS C AND Y AND HAEMOPHILUS B TETANUS TOXOID CONJUGATE VACCINE | GlaxoSmithKline Biologicals SA | 2013-09-03 | 2017-09-17 | CARTON | INTRAMUSCULAR | 2018-05-30 | 148 | Meningococcal C/Y-HIB PRP | 58160-0801-11 | 358160801112.0 |