Others titles
Urban and Rural Poverty Gap
Poverty Rates at National Poverty Lines
Poverty Rates at International Poverty Lines
Global Distribution of Income or Consumption
Keywords
World Poverty Statistics
Indicators of Human Development
World Bank Poverty Definition
Income Poverty
Global Poverty
Poverty Index
Global Income Distribution
Global Income Consumption
Population Below Poverty
Poverty Gap
World Development Indicators on Poverty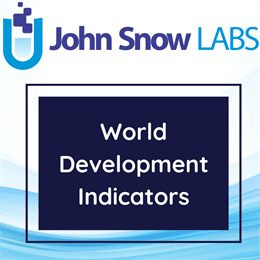 This dataset contains data from the World Development Indicators on Poverty and Shared Prosperity presenting indicators that measure progress toward the World Bank Group's twin goals of ending extreme poverty by 2030 and promoting shared prosperity in every country in a sustainable manner.
Log in to download
Complexity
Get The Data
For getting access to data download links please read and accept the end-user license agreement.
Your Data License
Research

Non-Commercial, Share-Alike, Attribution

Free Forever

Commercial

Commercial Use, Remix & Adapt, White Label Log in to download
Description
This dataset contains indicators closely linked to key themes of the Sustainable Development Goals: Goal 1 seeks to end poverty in all its forms everywhere, and Goal 10 focuses on reducing inequality within and across countries. The dataset provides information on (i) global poverty or people worldwide living below the international poverty line (currently $1.90 a day per person in 2011 purchasing power parity terms) and (ii) income consumption and distribution of the poorest 40 percent of the population in each county or the bottom 40 percent.
The basis for measuring both the World Bank and Sustainable Development Goal targets is the same: estimates of household consumption and income derived from more than 1,000 household surveys in 159 countries, available in PovcalNet, the World Bank's online tool for monitoring global poverty. To ensure comparability across countries, indicators are measured using purchasing power parity exchange rates from the International Comparison Program, which adjust for price differences across countries.
The international poverty line provides a useful global benchmark, but many national governments use poverty measures that are more relevant to their national contexts. Countries define monetary poverty lines using either consumption or income, and national poverty lines typically reflect a threshold below which a person's minimum nutrition, clothing, and shelter needs cannot be met, consistent with the country's economic and social circumstances.
Alongside the incidence of poverty measured by national thresholds, countries may also focus on complementary measures that capture the depth and severity of poverty. Similarly, the consumption or income share of the bottom 40 percent is one of the many measures of the distribution of income within a country. Other inequality measures, such as the Gini index or the distribution of consumption or income by quintile, capture different aspects of the income distribution. The indicators in the World Development Indicators database and online tables present several such indicators related to poverty and inequality.
About this Dataset
Data Info
| | |
| --- | --- |
| Date Created | 2017-01-01 |
| Last Modified | 2021-07-28 |
| Version | 2021-06-21 |
| Update Frequency | Annual |
| Temporal Coverage | 2019 |
| Spatial Coverage | World |
| Source | John Snow Labs; World Bank Data Catalog; |
| Source License URL | |
| Source License Requirements | N/A |
| Source Citation | N/A |
| Keywords | World Poverty Statistics, Indicators of Human Development, World Bank Poverty Definition, Income Poverty, Global Poverty, Poverty Index, Global Income Distribution, Global Income Consumption, Population Below Poverty, Poverty Gap |
| Other Titles | Urban and Rural Poverty Gap, Poverty Rates at National Poverty Lines, Poverty Rates at International Poverty Lines, Global Distribution of Income or Consumption |
Data Fields
| Name | Description | Type | Constraints |
| --- | --- | --- | --- |
| Country | Country with data on world development indicators on poverty and shared prosperity | string | - |
| Population_Below_Poverty_National_Year | Year when national poverty headcount ratio was estimated | date | - |
| Population_Below_Poverty_National | National poverty headcount ratio is the percentage of the population living below the national poverty lines. National estimates are based on population-weighted subgroup estimates from household surveys. | number | level : Ratio |
| Population_Below_Poverty_Rural | Rural poverty headcount ratio is the percentage of the rural population living below the national poverty lines. | number | level : Ratio |
| Population_Below_Poverty_Urban | Urban poverty headcount ratio is the percentage of the urban population living below the national poverty lines. | number | level : Ratio |
| Poverty_Gap_Year | Year when poverty gap at national poverty lines was estimated | date | - |
| Reference_Year | | date | - |
| World_Bank_Estimate | Gini index measures the extent to which the distribution of income (or, in some cases, consumption expenditure) among individuals or households within an economy deviates from a perfectly equal distribution. | number | level : Ratio |
| Income_Lowest_10 | Percentage share of income or consumption is the share that accrues to subgroups of population indicated by deciles or quintiles. | number | level : Ratio |
| Income_Lowest_20 | Percentage share of income or consumption is the share that accrues to subgroups of population indicated by deciles or quintiles. | number | level : Ratio |
| Income_Second_20 | Percentage share of income or consumption is the share that accrues to subgroups of population indicated by deciles or quintiles. | number | level : Ratio |
| Income_Third_20 | Percentage share of income or consumption is the share that accrues to subgroups of population indicated by deciles or quintiles. | number | level : Ratio |
| Income_Fourth_20 | Percentage share of income or consumption is the share that accrues to subgroups of population indicated by deciles or quintiles. | number | level : Ratio |
| Income_Highest_20 | Percentage share of income or consumption is the share that accrues to subgroups of population indicated by deciles or quintiles. | number | level : Ratio |
| Income_Highest_10 | Percentage share of income or consumption is the share that accrues to subgroups of population indicated by deciles or quintiles. | number | level : Ratio |
| Baseline_Year | The initial year refers to the nearest survey collected 5 years before the most recent survey available, only surveys collected between 3 and 7 years before the most recent survey are considered. | date | - |
| Recent_Year | The final year refers to the most recent survey available between 2011 and 2015. Growth rates for Iraq are based on survey means of 2005 PPP$. | date | - |
| Annualized_Growth_Bottom_40 | The growth rate in the welfare aggregate of the bottom 40% is computed as the annualized average growth rate in per capita real consumption or income of the bottom 40% of the population in the income distribution in a country from household surveys over a roughly 5-year period. | number | level : Ratio |
| Annualized_Growth_Total_Population | The growth rate in the welfare aggregate of the bottom 40% is computed as the annualized average growth rate in per capita real consumption or income of the bottom 40% of the population in the income distribution in a country from household surveys over a roughly 5-year period. | number | level : Ratio |
| Mean_Consumption_Bottom_40_Baseline | Baseline mean consumption of the bottom 40% or income per capita (2011 PPP $ per day) used in calculating the growth rate in the welfare aggregate of total population. | number | level : Ratio |
| Mean_Consumption_Bottom_40_Most_Recent | Most recent mean consumption of the bottom 40% or income per capita (2011 PPP $ per day) used in calculating the growth rate in the welfare aggregate of total population. | number | level : Ratio |
| Mean_Consumption_Total_Population_Baseline | Baseline mean consumption of the total population or income per capita (2011 PPP $ per day) used in calculating the growth rate in the welfare aggregate of total population. | number | level : Ratio |
| Mean_Consumption_Total_Population_Most_Recent | Most recent mean consumption of the total population or income per capita (2011 PPP $ per day) used in calculating the growth rate in the welfare aggregate of total population. | number | level : Ratio |
Data Preview
| | | | | | | | | | | | | | | | | | | | | | | |
| --- | --- | --- | --- | --- | --- | --- | --- | --- | --- | --- | --- | --- | --- | --- | --- | --- | --- | --- | --- | --- | --- | --- |
| Country | Population Below Poverty National Year | Population Below Poverty National | Population Below Poverty Rural | Population Below Poverty Urban | Poverty Gap Year | Reference Year | World Bank Estimate | Income Lowest 10 | Income Lowest 20 | Income Second 20 | Income Third 20 | Income Fourth 20 | Income Highest 20 | Income Highest 10 | Baseline Year | Recent Year | Annualized Growth Bottom 40 | Annualized Growth Total Population | Mean Consumption Bottom 40 Baseline | Mean Consumption Bottom 40 Most Recent | Mean Consumption Total Population Baseline | Mean Consumption Total Population Most Recent |
| Eritrea | 1993 | 69.0 | 0.3 | 0.5 | 2017.0 | | | | | | | | | | | | | | | | | |
| Equatorial Guinea | 2006 | 76.8 | | | | 2018.0 | 38.6 | 2.4 | 6.2 | 10.9 | 15.5 | 22.1 | 45.3 | 29.4 | 2013.0 | 2018.0 | 4.0 | 1.8 | 3.8 | 4.7 | 10.0 | 10.9 |
| Kiribati | 2006 | 21.8 | 0.2 | 0.5 | 2012.0 | 2012.0 | 31.6 | 2.6 | 7.3 | 13.0 | 17.5 | 23.2 | 39.0 | 23.8 | | | | | | | | |
| Palau | 2006 | 24.9 | 1.4 | 5.8 | 2018.0 | 2018.0 | 42.8 | 1.8 | 4.9 | 9.9 | 14.8 | 22.0 | 48.3 | 32.1 | 2013.0 | 2018.0 | 1.6 | 0.3 | 5.6 | 6.0 | 17.2 | 17.5 |
| Syrian Arab Republic | 2007 | 35.2 | 4.1 | 17.8 | 2015.0 | 2018.0 | 36.4 | 3.0 | 7.2 | 11.1 | 15.5 | 22.2 | 44.0 | 28.2 | | | | | | | | |
| Central African Republic | 2008 | 62.0 | 38.1 | 66.3 | 2011.0 | 2011.0 | 43.3 | 1.8 | 4.9 | 9.7 | 14.8 | 21.8 | 48.8 | 32.4 | | | | | | | | |
| Botswana | 2009 | 19.3 | 14.5 | 36.5 | 2015.0 | 2015.0 | 53.3 | 1.5 | 3.9 | 7.0 | 11.1 | 19.5 | 58.5 | 41.5 | 2009.0 | 2015.0 | 0.4 | -3.3 | 2.1 | 2.2 | 9.9 | 8.0 |
| Papua New Guinea | 2009 | 39.9 | 6.0 | 25.8 | 2015.0 | 2017.0 | 29.7 | 3.2 | 8.3 | 13.4 | 17.5 | 22.6 | 38.2 | 23.5 | 2012.0 | 2015.0 | 5.1 | 2.6 | 2.4 | 2.8 | 7.0 | 7.5 |
| Sudan | 2009 | 46.5 | 0.2 | 0.3 | 2017.0 | 2017.0 | 32.7 | 3.1 | 7.7 | 12.5 | 16.7 | 22.4 | 40.6 | 25.5 | 2012.0 | 2017.0 | 1.4 | 2.0 | 28.2 | 30.2 | 50.0 | 55.1 |
| Tonga | 2009 | 22.5 | 3.2 | 12.5 | 1992.0 | 2018.0 | 41.9 | 2.2 | 5.8 | 10.1 | 14.5 | 21.1 | 48.5 | 32.6 | | | | | | | | |