Others titles
World Bank Population and Development Indicators
Sustainable Development Goals Agenda
Keywords
World Development Indicators
World View
World Bank GDP
World Bank Data
Global Goals
Women and Development
Population Data
Population Density
Gross National Income (GNI)
Sustainable Development Goals
World Indicators on Sustainable Development Goals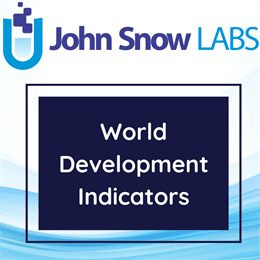 This dataset presents indicators on education, health, jobs, social protection, and gender accounting for a large part of the Sustainable Development Goals (SDG) agenda – in particular, on poverty eradication, on health, on education opportunities, on gender equality, on water and sanitation, and decent work and economic growth.
Log in to download
Complexity
Get The Data
For getting access to data download links please read and accept the end-user license agreement.
Your Data License
Research

Non-Commercial, Share-Alike, Attribution

Free Forever

Commercial

Commercial Use, Remix & Adapt, White Label Log in to download
Description
Data for SDG indicators are collected and compiled by national authorities and by international development agencies, including the World Bank. The collaboration of thematic and statistical experts across these organizations helps ensure that the data are robust, reliable, and timely. For example, in response to concerns about different data sources and methodologies making global monitoring of child mortality difficult, the United Nations Inter-agency Group for Child Mortality Estimation began compiling all available data, assessing data quality, and generating modeled estimates, which has enhanced the reliability, transparency, and comparability of neonatal, infant, and under-five mortality rates. Similar initiatives have improved estimates of maternal mortality.
People includes several new indicators, added primarily to improve coverage of the Sustainable Development Goals. New health indicators help measure targets: incidence of malaria and incidence of HIV (target 3.3), mortality from noncommunicable diseases and suicide mortality rate (target 3.4), and alcohol consumption (target 3.5). Indicators for access to water and sanitation, which measure progress toward targets 6.1 and 6.2, are now disaggregated by wealth quintile. A new indicator on education attainment of people ages 25 and older provides information on the skills and qualifications of a country's adult population (target 4.4). Two new indicators—proportion of women subject to physical or sexual violence and women's participation in decisionmaking—shed light on gender equality and are also included (targets 5.2 and 5.5).
National averages can mask differences among subgroups of a population, and the Sustainable Development Goals call for disaggregation of many indicators. Many indicators in People are disaggregated by sex, age, wealth quintile, and urban or rural location. Estimates of malnutrition, poverty, and population over time at the subnational level are now available online. The World Bank is also leading collaborative efforts to compile gender-disaggregated data on financial inclusion, employment law, and business regulations.
The volume of world trade rose 2.7 percent in 2015, roughly in line with GDP growth, but the sharp drop in oil and other commodity prices and exchange rate volatility caused the value of global merchandise trade to fall 14 percent, to $16 trillion. Demand for imports slowed in Asia and resource-based economies but strengthened in the United States and the European Union. Low- and middle-income countries' share of merchandise exports continued to rise, to 42 percent in 2015, up from 33 percent in 2005.International financial flows to low- and middle-income countries recorded an outflow ($184 billion) for the first time since the 2008 global financial crisis—driven primarily by a contraction in short-term debt, which swung from a net inflow of $130 billion in 2014 to a 2015 outflow of $398 billion. Long-term debt flows fell by half, to $214 billion. Despite reduced bond issuance, bonds still constituted more than half of long-term debt flows in 2015.
Global foreign direct investment inflows rebounded, with an increase of 20 percent in 2015—due primarily to a 35 percent increase in flows to high-income economies. A large part of this growth was from corporate reconfigurations, whose transactions often involve large movements in the balance of payments but little change in actual operations. High-income countries were the destination for 70 percent of global foreign direct investment ($1.5 trillion) in 2015. China, Brazil, and India together account for over half of all foreign direct investment inflows to low- and middle-income countries, which overall declined 4 percent in 2015, reflecting a contraction in intercompany lending.
Growth in international remittances, in the form of personal transfers and compensation of employees, slowed sharply in 2015. They rose only 0.4 percent, to $552 billion, due to weak economic growth in Europe, the deterioration of the Russian economy, and the depreciation of the euro and ruble. Over three-quarters of global remittances ($421 billion) went to low- and middle-income countries in 2015, where they play an important role in financing the economy. The number of international migrants continued to grow, exceeding 250 million in 2015.
About this Dataset
Data Info
| | |
| --- | --- |
| Date Created | 2017-01-01 |
| Last Modified | 2021-07-28 |
| Version | 2021-07-21 |
| Update Frequency | Annual |
| Temporal Coverage | 1990 to 2020 |
| Spatial Coverage | World |
| Source | John Snow Labs; World Bank Data Catalog; |
| Source License URL | |
| Source License Requirements | N/A |
| Source Citation | N/A |
| Keywords | World Development Indicators, World View, World Bank GDP, World Bank Data, Global Goals, Women and Development, Population Data, Population Density, Gross National Income (GNI), Sustainable Development Goals |
| Other Titles | World Bank Population and Development Indicators, Sustainable Development Goals Agenda |
Data Fields
| Name | Description | Type | Constraints |
| --- | --- | --- | --- |
| Country | Country where indicators on sustainable development goals were collected | string | - |
| Population_2000 | Total population (in millions) is based on the de facto definition of population, which counts all residents regardless of legal status or citizenship. The values shown are midyear estimates for 2000 | number | level : Ratio |
| Population_2019 | Total population (in millions) is based on the de facto definition of population, which counts all residents regardless of legal status or citizenship. The values shown are midyear estimates for 2019 | number | level : Ratio |
| Annual_Growth_2000_2019 | Average annual population growth from 2000 to 2019 | number | level : Ratio |
| Ages_0_to_14_2019 | Population between the ages 0 to 14 as a percentage of the total population. Population is based on the de facto definition of population. | number | level : Ratio |
| Ages_15_to_64_2019 | Total population between the ages 15 to 64 as a percentage of the total population. | number | level : Ratio |
| Ages_65_Up_2019 | Population ages 65 and above as a percentage of the total population. | number | level : Ratio |
| Dependency_Ratio_Young_2019 | Age dependency ratio, young, is the ratio of younger dependents--people younger than 15--to the working-age population--those ages 15-64. Data are shown as the proportion of dependents per 100 working-age population. | number | level : Ratio |
| Dependency_Ratio_Old_2019 | Age dependency ratio, old, is the ratio of older dependents--people older than 64--to the working-age population--those ages 15-64. Data are shown as the proportion of dependents per 100 working-age population. | number | level : Ratio |
| Crude_Death_Rate_2019 | Crude death rate indicates the number of deaths occurring during the year, per 1,000 population estimated at midyear. Subtracting the crude death rate from the crude birth rate provides the rate of natural increase, which is equal to the rate of population change in the absence of migration. | number | level : Ratio |
| Crude_Birth_Rate_2019 | Crude birth rate indicates the number of live births occurring during the year, per 1,000 population estimated at midyear. Subtracting the crude death rate from the crude birth rate provides the rate of natural increase, which is equal to the rate of population change in the absence of migration. | number | level : Ratio |
| Labor_Force_Participation_Male_2000 | Labor force participation rate is the proportion of the population ages 15 and older that is economically active: all people who supply labor for the production of goods and services in 2000 | number | level : Ratio |
| Labor_Force_Participation_Male_2018 | Labor force participation rate is the proportion of the population ages 15 and older that is economically active: all people who supply labor for the production of goods and services in 2018 | number | level : Ratio |
| Labor_Force_Participation_Female_2000 | Labor force participation rate is the proportion of the population ages 15 and older that is economically active: all people who supply labor for the production of goods and services in 2000 | number | level : Ratio |
| Labor_Force_Participation_Female_2018 | Labor force participation rate is the proportion of the population ages 15 and older that is economically active: all people who supply labor for the production of goods and services in 2018 | number | level : Ratio |
| Labor_Force_Total_2000 | Labor force comprises people ages 15 and older who supply labor for the production of goods and services in 2000 | number | level : Ratio |
| Labor_Force_Total_2018 | Labor force comprises people ages 15 and older who supply labor for the production of goods and services in 2018 | number | level : Ratio |
| Labor_Force_Female_2000 | Female labor force as a percentage of the total show the extent to which women are active in the labor force in 2000 | number | level : Ratio |
| Labor_Force_Female_2018 | Female labor force as a percentage of the total show the extent to which women are active in the labor force in 2018 | number | level : Ratio |
| Labor_Force_Growth_2008_2018 | Labor force growth from 2008 to 2018 | number | level : Ratio |
| Agriculture_Male_2000 | Male employment in the agriculture sector which consists of activities in agriculture, hunting, forestry and fishing in 2000 | number | level : Ratio |
| Agriculture_Male_2018 | Male employment in the agriculture sector which consists of activities in agriculture, hunting, forestry and fishing in 2018 | number | level : Ratio |
| Agriculture_Female_2000 | Female employment in the agriculture sector which consists of activities in agriculture, hunting, forestry and fishing in 2000 | number | level : Ratio |
| Agriculture_Female_2018 | Female employment in the agriculture sector which consists of activities in agriculture, hunting, forestry and fishing in 2018 | number | level : Ratio |
| Industry_Male_2000 | Male employment in the industry sector which consists of mining and quarrying, manufacturing, construction, and public utilities (electricity, gas, and water) in 2000 | number | level : Ratio |
| Industry_Male_2018 | Male employment in the industry sector which consists of mining and quarrying, manufacturing, construction, and public utilities (electricity, gas, and water) in 2018 | number | level : Ratio |
| Industry_Female_2000 | Female employment in the industry sector which consists of mining and quarrying, manufacturing, construction, and public utilities (electricity, gas, and water) in 2000 | number | level : Ratio |
| Industry_Female_2018 | Female employment in the industry sector which consists of mining and quarrying, manufacturing, construction, and public utilities (electricity, gas, and water) in 2018 | number | level : Ratio |
| Services_Male_2000 | Male employment in the services sector consists of wholesale and retail trade and restaurants and hotels; transport, storage, and communications; financing, insurance, real estate, and business services; and community, social, and personal services in 2000 | number | level : Ratio |
| Services_Male_2018 | Male employment in the services sector consists of wholesale and retail trade and restaurants and hotels; transport, storage, and communications; financing, insurance, real estate, and business services; and community, social, and personal services in 2018 | number | level : Ratio |
| Services_Female_2000 | Female employment in the services sector consists of wholesale and retail trade and restaurants and hotels; transport, storage, and communications; financing, insurance, real estate, and business services; and community, social, and personal services in 2000 | number | level : Ratio |
| Services_Female_2018 | Female employment in the services sector consists of wholesale and retail trade and restaurants and hotels; transport, storage, and communications; financing, insurance, real estate, and business services; and community, social, and personal services in 2018 | number | level : Ratio |
| Employment_Population_Ratio_Total_2000 | Employment to population ratio is the proportion of a country's population that is employed among ages 15 and older in 2000 | number | level : Ratio |
| Employment_Population_Ratio_Total_2018 | Employment to population ratio is the proportion of a country's population that is employed among ages 15 and older in 2018 | number | level : Ratio |
| Employment_Population_Ratio_Youth_2000 | Employment to population ratio is the proportion of a country's population that is employed among ages 15 to 24 in 2000 | number | level : Ratio |
| Employment_Population_Ratio_Youth_2018 | Employment to population ratio is the proportion of a country's population that is employed among ages 15 to 24 in 2018 | number | level : Ratio |
| Vulnerable_Employment_Male_2000 | Vulnerable employment among male in 2000. Vulnerable employment is contributing family workers and own-account workers as a percentage of total employment. | number | level : Ratio |
| Vulnerable_Employment_Male_2018 | Vulnerable employment among male in 2018. Vulnerable employment is contributing family workers and own-account workers as a percentage of total employment. | number | level : Ratio |
| Vulnerable_Employment_Female_2000 | Vulnerable employment among female in 2000. Vulnerable employment is contributing family workers and own-account workers as a percentage of total employment. | number | level : Ratio |
| Vulnerable_Employment_Female_2018 | Vulnerable employment among female in 2018. Vulnerable employment is contributing family workers and own-account workers as a percentage of total employment. | number | level : Ratio |
| Labor_Productivity_2000_2002 | Labor productivity from 2000 to 2002. GDP per person employed is gross domestic product (GDP) divided by total employment in the economy. | number | level : Ratio |
| Labor_Productivity_2015_2018 | Labor productivity from 2015 to 2018. GDP per person employed is gross domestic product (GDP) divided by total employment in the economy. | number | level : Ratio |
| Unemployment_Male_2000 | Male unemployment in 2000. Unemployment refers to the share of the labor force that is without work but available for and seeking employment. | number | level : Ratio |
| Unemployment_Male_2018 | Male unemployment in 2018. Unemployment refers to the share of the labor force that is without work but available for and seeking employment. | number | level : Ratio |
| Unemployment_Female_2000 | Female unemployment in 2000. Unemployment refers to the share of the labor force that is without work but available for and seeking employment. | number | level : Ratio |
| Unemployment_Female_2018 | Female unemployment in 2018. Unemployment refers to the share of the labor force that is without work but available for and seeking employment. | number | level : Ratio |
| Unemployment_Male_Youth_2000 | Male youth unemployment in 2000. Youth unemployment refers to the share of the labor force ages 15-24 without work but available for and seeking employment. | number | level : Ratio |
| Unemployment_Male_Youth_2018 | Male youth unemployment in 2018. Youth unemployment refers to the share of the labor force ages 15-24 without work but available for and seeking employment. | number | level : Ratio |
| Unemployment_Female_Youth_2000 | Female youth unemployment in 2000. Youth unemployment refers to the share of the labor force ages 15-24 without work but available for and seeking employment. | number | level : Ratio |
| Unemployment_Female_Youth_2018 | Female youth unemployment in 2018. Youth unemployment refers to the share of the labor force ages 15-24 without work but available for and seeking employment. | number | level : Ratio |
| Unemployment_Basic_Education_2015_2018 | The percentage of the labor force with a basic level of education who are unemployed. Basic education comprises primary education or lower secondary education according to the International Standard Classification of Education 2011 (ISCED 2011). | number | level : Ratio |
| Unemployment_Intermediate_Education_2015_2018 | The percentage of the labor force with an intermediate level of education who are unemployed. Intermediate education comprises upper secondary or post-secondary non tertiary education according to the International Standard Classification of Education 2011 (ISCED 2011). | number | level : Ratio |
| Unemployment_Advanced_Education_2015_2018 | The percentage of the labor force with an advanced level of education who are unemployed. Advanced education comprises short-cycle tertiary education, a bachelor's degree or equivalent education level, a master's degree or equivalent education level, or doctoral degree or equivalent education level according to the International Standard Classification of Education 2011 (ISCED 2011). | number | level : Ratio |
| Child_Employment_Survey_Year | Survey year when data on children at work was collected | date | - |
| Employed_Children_Total | Total children ages 7-14 employed. Children in employment refer to children involved in economic activity for at least one hour in the reference week of the survey. | number | level : Ratio |
| Employed_Children_Male | Total male children ages 7-14 employed. Children in employment refer to children involved in economic activity for at least one hour in the reference week of the survey. | number | level : Ratio |
| Employed_Children_Female | Total female children ages 7-14 employed. Children in employment refer to children involved in economic activity for at least one hour in the reference week of the survey. | number | level : Ratio |
| Children_Work_Only | Children at work where Work only refers to children involved in economic activity and not attending school. | number | level : Ratio |
| Children_Study_and_Work | Children in study and at work where study and work refer to children attending school in combination with economic activity. | number | level : Ratio |
| Employment_Agriculture | Children employed in the agriculture sector. Employment by economic activity refers to the distribution of economically active children by the major industrial categories of the International Standard Industrial Classification (ISIC). Agriculture corresponds to division 1 (ISIC revision 2), categories A and B (ISIC revision 3), or category A (ISIC revision 4) and includes hunting, forestry, and fishing. Economically active children refer to children involved in economic activity for at least one hour in the reference week of the survey. | number | level : Ratio |
| Employment_Manufacturing | Children employed in the manufacturing sector. Employment by economic activity refers to the distribution of economically active children by the major industrial categories of the International Standard Industrial Classification (ISIC). Manufacturing corresponds to division 3 (ISIC revision 2), category D (ISIC revision 3), or category C (ISIC revision 4). Economically active children refer to children involved in economic activity for at least one hour in the reference week of the survey. | number | level : Ratio |
| Employment_Services | Children employed in the services sector. Employment by economic activity refers to the distribution of economically active children by the major industrial categories of the International Standard Industrial Classification (ISIC). Services correspond to divisions 6-9 (ISIC revision 2), categories G-P (ISIC revision 3), or categories G-U (ISIC revision 4). | number | level : Ratio |
| Status_Self_Employed | Self-employed workers are people whose remuneration depends directly on the profits derived from the goods and services they produce, with or without other employees, and include employers, own-account workers, and members of producers cooperatives. | number | level : Ratio |
| Status_Wage | Wage workers (also known as employees) are people who hold explicit (written or oral) or implicit employment contracts that provide basic remuneration that does not depend directly on the revenue of the unit for which they work. | number | level : Ratio |
| Status_Unpaid | Unpaid family workers are people who work without pay in a market-oriented establishment operated by a related person living in the same household. | number | level : Ratio |
| GDP_Primary_1999 | Government expenditure per student is the average general government expenditure (current, capital, and transfers) per student in primary education, expressed as a percentage of GDP per capita, in 1999. | number | level : Ratio |
| Government_Expenditure_Primary_2018 | Government expenditure per student is the average general government expenditure (current, capital, and transfers) per student in primary education, expressed as a percentage of GDP per capita, in 2018. | number | level : Ratio |
| Government_Expenditure_Secondary_1999 | Government expenditure per student is the average general government expenditure (current, capital, and transfers) per student in secondary education, expressed as a percentage of GDP per capita, in 1999. | number | level : Ratio |
| Government_Expenditure_Secondary_2018 | Government expenditure per student is the average general government expenditure (current, capital, and transfers) per student in secondary education, expressed as a percentage of GDP per capita, in 2018. | number | level : Ratio |
| Government_Expenditure_Tertiary_1999 | Government expenditure per student is the average general government expenditure (current, capital, and transfers) per student in tertiary education, expressed as a percentage of GDP per capita, in 1999. | number | level : Ratio |
| Government_Expenditure_Tertiary_2018 | Government expenditure per student is the average general government expenditure (current, capital, and transfers) per student in tertiary education, expressed as a percentage of GDP per capita, in 2018. | number | level : Ratio |
| Government_Expenditure_Per_Capita_2018 | General government expenditure on education (current, capital, and transfers) is expressed as a percentage of GDP. It includes expenditure funded by transfers from international sources to government. General government usually refers to local, regional and central governments. | number | level : Ratio |
| Government_Expenditure_Education_2018 | General government expenditure on education (current, capital, and transfers) is expressed as a percentage of total general government expenditure on all sectors (including health, education, social services, etc.). It includes expenditure funded by transfers from international sources to government. General government usually refers to local, regional and central governments. | number | level : Ratio |
| Trained_Teachers_Primary_2018 | Trained teachers in primary education are the percentage of primary school teachers who have received the minimum organized teacher training (pre-service or in-service) required for teaching in a given country, in 2018. | number | level : Ratio |
| Trained_Teachers_Secondary_2018 | Trained teachers in secondary education are the percentage of secondary school teachers who have received the minimum organized teacher training (pre-service or in-service) required for teaching in a given country, in 2018. | number | level : Ratio |
| Pupil_Teacher_Ratio_Primary_2018 | Primary school pupil-teacher ratio is the average number of pupils per teacher in primary school. | number | level : Ratio |
| Pupil_Teacher_Ratio_Secondary_2018 | Secondary school pupil-teacher ratio is the average number of pupils per teacher in secondary school. | number | level : Ratio |
| Gross_Enrollment_Ratio_Preprimary_2018 | Gross enrollment ratio is the ratio of total enrollment, regardless of age, to the population of the age group that officially corresponds to the level of education shown. Preprimary education refers to programs at the initial stage of organized instruction, designed primarily to introduce very young children to a school-type environment and to provide a bridge between home and school. | number | level : Ratio |
| Gross_Enrollment_Ratio_Primary_2019 | Gross enrollment ratio is the ratio of total enrollment, regardless of age, to the population of the age group that officially corresponds to the level of education shown. Primary education provides children with basic reading, writing, and mathematics skills along with an elementary understanding of such subjects as history, geography, natural science, social science, art, and music. | number | level : Ratio |
| Gross_Enrollment_Ratio_Secondary_2018 | Gross enrollment ratio is the ratio of total enrollment, regardless of age, to the population of the age group that officially corresponds to the level of education shown. Secondary education completes the provision of basic education that began at the primary level, and aims at laying the foundations for lifelong learning and human development, by offering more subject- or skill-oriented instruction using more specialized teachers. | number | level : Ratio |
| Gross_Enrollment_Ratio_Tertiary_2018 | Gross enrollment ratio is the ratio of total enrollment, regardless of age, to the population of the age group that officially corresponds to the level of education shown. Tertiary education, whether or not to an advanced research qualification, normally requires, as a minimum condition of admission, the successful completion of education at the secondary level. | number | level : Ratio |
| Net_Enrollment_Rater_Primary_1999 | Net primary enrollment rate in 1999. Net enrollment rate is the ratio of children of official school age who are enrolled in school to the population of the corresponding official school age. Primary education provides children with basic reading, writing, and mathematics skills along with an elementary understanding of such subjects as history, geography, natural science, social science, art, and music. | number | level : Ratio |
| Net_Enrollment_Rater_Primary_2018 | Net primary enrollment rate in 2017. Net enrollment rate is the ratio of children of official school age who are enrolled in school to the population of the corresponding official school age. Primary education provides children with basic reading, writing, and mathematics skills along with an elementary understanding of such subjects as history, geography, natural science, social science, art, and music. | number | level : Ratio |
| Net_Enrollment_Rater_Secondary_1999 | Net secondary employment rate in 1999. Net enrollment rate is the ratio of children of official school age who are enrolled in school to the population of the corresponding official school age. Secondary education completes the provision of basic education that began at the primary level, and aims at laying the foundations for lifelong learning and human development, by offering more subject- or skill-oriented instruction using more specialized teachers. | number | level : Ratio |
| Net_Enrollment_Rater_Secondary_2018 | Net secondary employment rate in 2017. Net enrollment rate is the ratio of children of official school age who are enrolled in school to the population of the corresponding official school age. Secondary education completes the provision of basic education that began at the primary level, and aims at laying the foundations for lifelong learning and human development, by offering more subject- or skill-oriented instruction using more specialized teachers. | number | level : Ratio |
| Adjusted_Net_Enrollment_Rate_Primary_Male_2018 | Adjusted net enrollment rate among males in 2017. Adjusted net enrollment is the number of pupils of the school-age group for primary education, enrolled either in primary or secondary education, expressed as a percentage of the total population in that age group. | number | level : Ratio |
| Adjusted_Net_Enrollment_Rate_Primary_Female_2018 | Adjusted net enrollment rate among females in 2017. Adjusted net enrollment is the number of pupils of the school-age group for primary education, enrolled either in primary or secondary education, expressed as a percentage of the total population in that age group. | number | level : Ratio |
| Children_Out_Of_Primary_School_Male_2018 | Out of school children among males. Children out of school are the number of primary-school-age children not enrolled in primary or secondary school in 2018. | number | level : Ratio |
| Children_Out_Of_Primary_School_Female_2018 | Out of school children among females. Children out of school are the number of primary-school-age children not enrolled in primary or secondary school. | number | level : Ratio |
| Gross_Intake_Ratio_Grade_1_Male_2018 | Gross intake ratio in first grade of primary education is the number of new entrants in the first grade of primary education among males in 2017, expressed as a percentage of the population of the official primary entrance age. | number | level : Ratio |
| Gross_Intake_Ratio_Grade_1_Female_2018 | Gross intake ratio in first grade of primary education is the number of new entrants in the first grade of primary education among females in 2017, expressed as a percentage of the population of the official primary entrance age. | number | level : Ratio |
| Reaching_Grade_5_Male_1999 | Persistence to grade 5 (percentage of cohort reaching grade 5) is the share of male children enrolled in the first grade of primary school who eventually reach grade 5 in 1999. The estimate is based on the reconstructed cohort method. | number | level : Ratio |
| Reaching_Grade_5_Male_2017 | Persistence to grade 5 (percentage of cohort reaching grade 5) is the share of male children enrolled in the first grade of primary school who eventually reach grade 5 in 2017. The estimate is based on the reconstructed cohort method. | number | level : Ratio |
| Reaching_Grade_5_Female_1999 | Persistence to grade 5 (percentage of cohort reaching grade 5) is the share of female children enrolled in the first grade of primary school who eventually reach grade 5 in 1999. The estimate is based on the reconstructed cohort method. | number | level : Ratio |
| Reaching_Grade_5_Female_2017 | Persistence to grade 5 (percentage of cohort reaching grade 5) is the share of female children enrolled in the first grade of primary school who eventually reach grade 5 in 2017. The estimate is based on the reconstructed cohort method. | number | level : Ratio |
| Reaching_Last_Grade_Male_2017 | Persistence to last grade of primary is the percentage of male children enrolled in the first grade of primary school who eventually reach the last grade of primary education in 2017. The estimate is based on the reconstructed cohort method. | number | level : Ratio |
| Reaching_Last_Grade_Female_2017 | Persistence to last grade of primary is the percentage of female children enrolled in the first grade of primary school who eventually reach the last grade of primary education in 2017. The estimate is based on the reconstructed cohort method. | number | level : Ratio |
| Repeaters_Primary_Male_2018 | Repeaters in primary school are the number of male students enrolled in the same grade as in the previous year, as a percentage of all students enrolled in primary school in 2018. | number | level : Ratio |
| Repeaters_Primary_Female_2018 | Repeaters in primary school are the number of female students enrolled in the same grade as in the previous year, as a percentage of all students enrolled in primary school in 2018. | number | level : Ratio |
| Transition_Rate_Secondary_Male_2017 | Progression to secondary school refers to the number of new entrants to the first grade of secondary school in a given year as a percentage of the number of students enrolled in the final grade of primary school in the previous year (minus the number of repeaters from the last grade of primary education in the given year) among males in 2017. | number | level : Ratio |
| Transition_Rate_Secondary_Female_2017 | Progression to secondary school refers to the number of new entrants to the first grade of secondary school in a given year as a percentage of the number of students enrolled in the final grade of primary school in the previous year (minus the number of repeaters from the last grade of primary education in the given year) among females in 2017. | number | level : Ratio |
| Primary_Completion_Rate_Male_2018 | Primary completion rate, or gross intake ratio to the last grade of primary education, is the number of new entrants (enrollments minus repeaters) in the last grade of primary education, among males in 2018, divided by the population at the entrance age for the last grade of primary education. Data limitations preclude adjusting for students who drop out during the final year of primary education. | number | level : Ratio |
| Primary_Completion_Rate_Female_2018 | Primary completion rate, or gross intake ratio to the last grade of primary education, is the number of new entrants (enrollments minus repeaters) in the last grade of primary education, among females in 2018, divided by the population at the entrance age for the last grade of primary education. Data limitations preclude adjusting for students who drop out during the final year of primary education. | number | level : Ratio |
| Lower_Secondary_Completion_Rate_Male_2018 | Lower secondary education completion rate is measured as the gross intake ratio to the last grade of lower secondary education (general and pre-vocational). It is calculated as the number of new entrants in the last grade of lower secondary education, among males in 2018, divided by the population at the entrance age for the last grade of lower secondary education. | number | level : Ratio |
| Lower_Secondary_Completion_Rate_Female_2018 | Lower secondary education completion rate is measured as the gross intake ratio to the last grade of lower secondary education (general and pre-vocational). It is calculated as the number of new entrants in the last grade of lower secondary education, among females in 2018, divided by the population at the entrance age for the last grade of lower secondary education. | number | level : Ratio |
| Youth_Literacy_Rate_Male_2010_2019 | Male youth literacy rate is the percentage of people ages 15-24 who can both read and write with understanding a short simple statement about their everyday life in 2019. | number | level : Ratio |
| Youth_Literacy_Rate_Female_2010_2019 | Female youth literacy rate is the percentage of people ages 15-24 who can both read and write with understanding a short simple statement about their everyday life in 2019. | number | level : Ratio |
| Adult_Literacy_Rate_Male_2010_2019 | Male adult literacy rate is the percentage of people ages 15 and above who can both read and write with understanding a short simple statement about their everyday life in 2019. | number | level : Ratio |
| Adult_Literacy_Rate_Female_2010_2019 | Female adult literacy rate is the percentage of people ages 15 and above who can both read and write with understanding a short simple statement about their everyday life in 2019. | number | level : Ratio |
| Proficiency_Mathematics_2018 | Percentage of 15-year-old students below the lowest proficiency level (scoring 358 or below) on the PISA mathematics scale. Students below Level 1 may be able to perform very direct and straightforward mathematical tasks, such as reading a single value from a well-labeled chart or table where the labels on the chart match the words in the stimulus and question, so that the selection criteria are clear and the relationship between the chart and the aspects of the context depicted are evident, and performing arithmetic calculations with whole numbers by following clear and well-defined instructions. | number | level : Ratio |
| Proficiency_Reading_2018 | Percentage of 15-year-old students scoring students below the lowest proficiency level (1B) on the PISA reading scale. Students with scores below Level 1b (less or equal to 262 points) usually do not succeed at the most basic reading tasks that PISA measures. This does not necessarily mean that they are illiterate, but that there is insufficient information on which to base a description of their reading proficiency. | number | level : Ratio |
| Primary_Completion_Rate_Poorest_2008_2017 | Primary completion rate among the poorest in the population. Quintile 1 (lowest) is the total number of quintile 1 students of any age in the last grade of primary school, minus the number of quintile 1 repeaters in that grade, divided by the number of quintile 1 children of official graduation age. | number | level : Ration |
| Primary_Completion_Rate_Richest_2008_2017 | Primary completion rate among the richest in the population. Quintile 5 (highest) is the total number of quintile 5 students of any age in the last grade of primary school, minus the number of quintile 5 repeaters in that grade, divided by the number of quintile 5 children of official graduation age. | number | level : Ratio |
| Primary_Completion_Rate_Male_2008_2017 | Primary completion rate among male students. Male is the total number of male students of any age in the last grade of primary school, minus the number of male repeaters in that grade, divided by the number of male children of official graduation age. | number | level : Ration |
| Primary_Completion_Rate_Female_2008_2017 | Primary completion rate among female students. Female is the total number of female students of any age in the last grade of primary school, minus the number of female repeaters in that grade, divided by the number of female children of official graduation age. | number | level : Ratio |
| Primary_Completion_Rate_Urban_2008_2017 | Primary completion rate among urban students. Urban is the total number of urban students of any age in the last grade of primary school, minus the number of urban repeaters in that grade, divided by the number of urban children of official graduation age | number | level : Ratio |
| Primary_Completion_Rate_Rural_2008_2017 | Primary completion rate among rural students. Rural is the total number of rural students of any age in the last grade of primary school, minus the number of rural repeaters in that grade, divided by the number of rural children of official graduation age. | number | level : Ratio |
| Average_Years_Schooling_Poorest_2008_2017 | Average years of schooling by age group among the poorest in the population. Age 15-19. Quintile 1 (lowest) is the number of years of formal schooling received, on average, by the quintile 1 population of the given age group. | number | level : Ratio |
| Average_Years_Schooling_Richest_2008_2017 | Average years of schooling by age group among the richest in the population. Age 15-19. Quintile 5 (highest) is the number of years of formal schooling received, on average, by the quintile 5 population of the given age group. | integer | level : Ratio |
| Children_Out_of_School_Poorest_2008_2017 | Proportion of out-of-school children in primary school among the poorest in the population. Quintile 1 (lowest) is the number of quintile 1 children in the official primary school age range who are not attending primary or secondary education, expressed as a percentage of quintile 1 children of the official primary school age range. By definition, children in the official primary-age range, who are attending pre-primary education, are considered out-of-school. | number | level : Ratio |
| Children_Out_of_School_Richest_2008_2017 | Proportion of out-of-school children in primary school among the richest in the population. Quintile 5 (highest) is the number of quintile 5 children in the official primary school age range who are not attending primary or secondary education, expressed as a percentage of quintile 5 children of the official primary school age range. By definition, children in the official primary-age range, who are attending pre-primary education, are considered out-of-school. | number | level : Ratio |
| Current_Health_Expenditure_2018 | | number | level : Ratio |
| Public_Health_Expenditure_2017 | Share of current health expenditures funded from domestic public sources for health. Domestic public sources include domestic revenue as internal transfers and grants, transfers, subsidies to voluntary health insurance beneficiaries, non-profit institutions serving households (NPISH) or enterprise financing schemes as well as compulsory prepayment and social health insurance contributions. They do not include external resources spent by governments on health. | number | level : Ratio |
| Out_of_Pocket_Health_Expenditure_2017 | Share of out-of-pocket payments of total current health expenditures. Out-of-pocket payments are spending on health directly out-of-pocket by households. | number | level : Ratio |
| Health_Expenditure_per_Capita_2017 | Current expenditures on health per capita in current US dollars. Estimates of current health expenditures include healthcare goods and services consumed during each year. | number | level : Ratio |
| Health_Expenditure_Current_PPP_2017 | Current expenditures on health per capita in current US dollars. Estimates of current health expenditures include healthcare goods and services consumed during each year. | number | level : Ratio |
| External_Health_Expenditure_2017 | Share of current health expenditures funded from external sources. External sources compose of direct foreign transfers and foreign transfers distributed by government encompassing all financial inflows into the national health system from outside the country. External sources either flow through the government scheme or are channeled through non-governmental organizations or other schemes. | number | level : Ratio |
| Physicians_2013_2018 | Number of physicians including generalist and specialist medical practitioners. | number | level : Ratio |
| Nurses_and_Midwives_2012_2018 | Number of nurses and midwives including professional nurses, professional midwives, auxiliary nurses, auxiliary midwives, enrolled nurses, enrolled midwives and other associated personnel, such as dental nurses and primary care nurses. | number | level : Ratio |
| Specialist_Surgical_Workforce_2013_2018 | Number of specialist surgical workforce which is the number of specialist surgical, anaesthetic, and obstetric (SAO) providers who are working in each country per 100,000 population. | number | level : Ratio |
| Completeness_Birth_Registration_2013_2018 | Completeness of birth registration is the percentage of children under age 5 whose births were registered at the time of the survey. The numerator of completeness of birth registration includes children whose birth certificate was seen by the interviewer or whose mother or caretaker says the birth has been registered. | number | level : Ratio |
| Completeness_Death_Registration_2008_2016 | Completeness of death registration is the estimated percentage of deaths that are registered with their cause of death information in the vital registration system of a country. | number | level : Ratio |
| Total_Fertility_Rate_1990 | Total fertility rate represents the number of children that would be born to a woman if she were to live to the end of her childbearing years and bear children in accordance with age-specific fertility rates in 1990. | number | level : Ratio |
| Total_Fertility_Rate_2018 | Total fertility rate represents the number of children that would be born to a woman if she were to live to the end of her childbearing years and bear children in accordance with age-specific fertility rates in 2018. | number | level : Ratio |
| Adolescent_Fertility_Rate_2018 | Adolescent fertility rate is the number of births per 1,000 women ages 15-19. | number | level : Ratio |
| Family_Planning_Demand_2013_2018 | Demand for family planning satisfied by modern methods refers to the percentage of married women ages 15-49 years whose need for family planning is satisfied with modern methods. | number | level : Ratio |
| Contraceptive_Prevalence_2013_2018 | Contraceptive prevalence rate is the percentage of women who are practicing, or whose sexual partners are practicing, at least one modern method of contraception. It is usually measured for women ages 15-49 who are married or in union. Modern methods of contraception include female and male sterilization, oral hormonal pills, the intra-uterine device (IUD), the male condom, injectables, the implant (including Norplant), vaginal barrier methods, the female condom and emergency contraception. | number | level : Ratio |
| Prenatal_Care_2013_2018 | Pregnant women receiving prenatal care are the percentage of women attended at least once during pregnancy by skilled health personnel for reasons related to pregnancy. | number | level : Ratio |
| Births_Attended_2013_2018 | Births attended by skilled health staff are the percentage of deliveries attended by personnel trained to give the necessary supervision, care, and advice to women during pregnancy, labor, and the postpartum period; to conduct deliveries on their own; and to care for newborns. | number | level : Ratio |
| Maternal_Mortality_Ratio_National_Estimate_2008_2016 | Maternal mortality ratio is the number of women who die from pregnancy-related causes while pregnant or within 42 days of pregnancy termination per 100,000 live births. | number | level : Ratio |
| Maternal_Mortality_Ratio_Modeled_Estimate_1990 | Maternal mortality ratio is the number of women who die from pregnancy-related causes while pregnant or within 42 days of pregnancy termination per 100,000 live birth in 1990. The data are estimated with a regression model using information on the proportion of maternal deaths among non-AIDS deaths in women ages 15-49, fertility, birth attendants, and GDP measured using purchasing power parities (PPPs). | number | level : Ratio |
| Prevalence_Undernourishment_2001 | Population below minimum level of dietary energy consumption (also referred to as prevalence of undernourishment) shows the percentage of the population whose food intake is insufficient to meet dietary energy requirements continuously in 2000. Data showing as 5 may signify a prevalence of undernourishment below 5%. | number | level : Ratio |
| Prevalence_Undernourishment_2018 | Population below minimum level of dietary energy consumption (also referred to as prevalence of undernourishment) shows the percentage of the population whose food intake is insufficient to meet dietary energy requirements continuously in 2016. Data showing as 5 may signify a prevalence of undernourishment below 5%. | number | level : Ratio |
| Prevalence_Underweight_Male_2011_2019 | Prevalence of underweight, male, is the percentage of boys under age 5 whose weight for age is more than two standard deviations below the median for the international reference population ages 0-59 months. The data are based on the WHO's new child growth standards released in 2006. | number | level : Ratio |
| Prevalence_Underweight_Female_2011_2019 | Prevalence of underweight, female, is the percentage of girls under age 5 whose weight for age is more than two standard deviations below the median for the international reference population ages 0-59 months. The data are based on the WHO's new child growth standards released in 2006. | number | level : Ratio |
| Prevalence_Stunting_Male_2011_2019 | Prevalence of stunting, male, is the percentage of boys under age 5 whose height for age is more than two standard deviations below the median for the international reference population ages 0-59 months. For children up to two years old height is measured by recumbent length. For older children height is measured by stature while standing. The data are based on the WHO's new child growth standards released in 2006. | number | level : Ratio |
| Prevalence_Stunting_Female_2011_2019 | Prevalence of stunting, female, is the percentage of girls under age 5 whose height for age is more than two standard deviations below the median for the international reference population ages 0-59 months. For children up to two years old height is measured by recumbent length. For older children height is measured by stature while standing. The data are based on the WHO's new child growth standards released in 2006. | number | level : Ratio |
| Wasting_Male_2008_2016 | Prevalence of wasting, male,is the proportion of boys under age 5 whose weight for height is more than two standard deviations below the median for the international reference population ages 0-59. | number | level : Ratio |
| Wasting_Female_2008_2016 | Prevalence of wasting, female, is the proportion of girls under age 5 whose weight for height is more than two standard deviations below the median for the international reference population ages 0-59. | number | level : Ratio |
| Severe_Wasting_Male_2011_2019 | Prevalence of severe wasting, male, is the proportion of boys under age 5 whose weight for height is more than three standard deviations below the median for the international reference population ages 0-59. | number | level : Ratio |
| Severe_Wasting_Female_2011_2019 | Prevalence of severe wasting, female, is the proportion of girls under age 5 whose weight for height is more than three standard deviations below the median for the international reference population ages 0-59. | number | level : Ratio |
| Overweight_Male_2011_2019 | Prevalence of overweight, male, is the percentage of boys under age 5 whose weight for height is more than two standard deviations above the median for the international reference population of the corresponding age as established by the WHO's new child growth standards released in 2006. | number | level : Ratio |
| Overweight_Female_2011_2019 | Prevalence of overweight, female, is the percentage of girls under age 5 whose weight for height is more than two standard deviations above the median for the international reference population of the corresponding age as established by the WHO's new child growth standards released in 2006. | number | level : Ratio |
| Low_Birthweight_Babies_2015 | Low-birthweight babies are newborns weighing less than 2,500 grams, with the measurement taken within the first hours of life, before significant postnatal weight loss has occurred. | number | level : Ratio |
| Exclusive_Breastfeeding_2013_2018 | Exclusive breastfeeding refers to the percentage of children less than six months old who are fed breast milk alone (no other liquids) in the past 24 hours. | number | level : Ratio |
| Iodized_Salt_Consumption_2013_2018 | Consumption of iodized salt refers to the percentage of households that use edible salt fortified with iodine from 2007 to 2013. | number | level : Ratio |
| Vitamin_A_Supplementation_2017 | Vitamin A supplementation refers to the percentage of children ages 6-59 months old who received at least two doses of vitamin A in the previous year. | number | level : Ratio |
| Prevalence_Anemia_Under_5_2016 | Prevalence of anemia, children under age 5, is the percentage of children under age 5 whose hemoglobin level is less than 110 grams per liter at sea level. | number | level : Ratio |
| Prevalance_Pregnant_2016 | Prevalence of anemia, pregnant women, is the percentage of pregnant women whose hemoglobin level is less than 110 grams per liter at sea level. | number | level : Ratio |
| Prevalence_Nonpregnant_2016 | Prevalence of anemia, non-pregnant women, is the percentage of non-pregnant women whose hemoglobin level is less than 120 grams per liter at sea level. | number | level : Ratio |
| Prevalence_Smoking_Male_2016 | Prevalence of smoking, male is the percentage of men ages 15 and over who currently smoke any tobacco product on a daily or non-daily basis. It excludes smokeless tobacco use. The rates are age-standardized. | number | level : Ratio |
| Prevalence_Smoking_Female_2016 | Prevalence of smoking, female is the percentage of women ages 15 and over who currently smoke any tobacco product on a daily or non-daily basis. It excludes smokeless tobacco use. The rates are age-standardized. | number | level : Ratio |
| Incidence_Tuberculosis_2018 | Incidence of tuberculosis is the estimated number of new and relapse tuberculosis cases arising in a given year, expressed as the rate per 100,000 population. All forms of TB are included, including cases in people living with HIV. Estimates for all years are recalculated as new information becomes available and techniques are refined, so they may differ from those published previously. | number | level : Ratio |
| Prevalence_Diabetes_2019 | Diabetes prevalence refers to the percentage of people ages 20-79 who have type 1 or type 2 diabetes. | number | level : Ratio |
| Incidence_HIV_2019 | Number of new HIV infections among uninfected populations ages 15-49 expressed per 100 uninfected population in the year before the period. | number | level : Ratio |
| Total_Prevalence_Incidence_2019 | Prevalence of HIV refers to the percentage of people ages 15-49 who are infected with HIV. | number | level : Ratio |
| Prevalence_HIV_Female_15_Up_2019 | Prevalence of HIV is the percentage of people who are infected with HIV. Female rate is as a percentage of the total population ages 15+ who are living with HIV. | number | level : Ratio |
| Prevalence_HIV_Youth_Male_2019 | Prevalence of HIV, male is the percentage of males who are infected with HIV. Youth rates are as a percentage of the relevant age group. | number | level : Ratio |
| Prevalence_HIV_Youth_Female_2019 | Prevalence of HIV, female is the percentage of females who are infected with HIV. Youth rates are as a percentage of the relevant age group. | number | level : Ratio |
| Antiretroviral_Therapy_Coverage_2019 | Antiretroviral therapy coverage indicates the percentage of all people living with HIV who are receiving antiretroviral therapy. | number | level : Ratio |
| Death_Cause_Communicable_2016 | Cause of death refers to the share of all deaths for all ages by underlying causes. Communicable diseases and maternal, prenatal and nutrition conditions include infectious and parasitic diseases, respiratory infections, and nutritional deficiencies such as underweight and stunting. | number | level : Ratio |
| Death_Cause_Noncommunicable_2016 | Cause of death refers to the share of all deaths for all ages by underlying causes. Non-communicable diseases include cancer, diabetes mellitus, cardiovascular diseases, digestive diseases, skin diseases, musculoskeletal diseases, and congenital anomalies. | number | level : Ratio |
| Death_Cause_Injuries_2016 | Cause of death refers to the share of all deaths for all ages by underlying causes. Injuries include unintentional and intentional injuries. | number | level : Ratio |
| Life_Expectancy_At_Birth_1990 | Life expectancy at birth in 1990. Life expectancy at birth indicates the number of years a newborn infant would live if prevailing patterns of mortality at the time of its birth were to stay the same throughout its life. | number | level : Ratio |
| Life_Expectancy_At_Birth_2018 | Life expectancy at birth in 2017. Life expectancy at birth indicates the number of years a newborn infant would live if prevailing patterns of mortality at the time of its birth were to stay the same throughout its life. | number | level : Ratio |
| Neonatal_Mortality_Rate_1990 | Neonatal mortality rate in 1990. Neonatal mortality rate is the number of neonates dying before reaching 28 days of age, per 1,000 live births in a given year. | number | level : Ratio |
| Neonatal_Mortality_Rate_2019 | Neonatal mortality rate in 2019. Neonatal mortality rate is the number of neonates dying before reaching 28 days of age, per 1,000 live births in a given year. | number | level : Ratio |
| Infant_Mortality_Rate_1990 | Infant mortality rate in 1990. Infant mortality rate is the number of infants dying before reaching one year of age, per 1,000 live births in a given year. | number | level : Ratio |
| Infant_Mortality_Rate_2019 | Infant mortality rate in 2019. Infant mortality rate is the number of infants dying before reaching one year of age, per 1,000 live births in a given year. | number | level : Ratio |
| Under_5_Mortality_Rate_1990 | Under-five mortality rate is the probability per 1,000 that a newborn male baby will die before reaching age five, if subject to male age-specific mortality rates in 1990. | number | level : Ratio |
| Under_5_Mortality_Rate_2019 | Under-five mortality rate is the probability per 1,000 that a newborn male baby will die before reaching age five, if subject to male age-specific mortality rates in 1990. | number | level : Ratio |
| Under_5_Mortality_Rate_Male_2019 | Under-five mortality rate, male is the probability per 1,000 that a newborn male baby will die before reaching age five, if subject to male age-specific mortality rates of the specified year. | number | level : Ratio |
| Under_5_Mortality_Rate_Female_2019 | Under-five mortality rate, female is the probability per 1,000 that a newborn female baby will die before reaching age five, if subject to female age-specific mortality rates of the specified year. | number | level : Ratio |
| Adult_Mortality_Rate_Male_2013_2018 | Adult mortality rate, male, is the probability of dying between the ages of 15 and 60--that is, the probability of a 15-year-old male dying before reaching age 60, if subject to age-specific mortality rates of the specified year between those ages. | number | level : Ratio |
| Adult_Mortality_Rate_Female_2013_2018 | Adult mortality rate, female, is the probability of dying between the ages of 15 and 60--that is, the probability of a 15-year-old female dying before reaching age 60, if subject to age-specific mortality rates of the specified year between those ages. | number | level : Ratio |
| Demography_Survey_Year | Survey year when demography data was collected | date | - |
| Infant_Mortality_Rate_Poorest_MRV | Most recent value of infant mortality rate: Number of deaths to children under age twelve months per 1000 live births, based on experience during the reference period before the survey. The reference period is ten years preceding the survey for DHS surveys, and the reference period varies for MICS surveys (often three to five years preceding the survey). | number | level : Ratio |
| Infant_Mortality_Rate_Richest_MRV | Most recent value of infant mortality rate: Number of deaths to children under age twelve months per 1000 live births, based on experience during the reference period before the survey. The reference period is ten years preceding the survey for DHS surveys, and the reference period varies for MICS surveys (often three to five years preceding the survey). | number | level : Ratio |
| Under_Five_Mortality_Rate_Poorest_MRV | Most recent value of under-5 mortality rate among the poorest in the population: Number of deaths to children under age five years per 1000 live births, based on experience during the reference period before the survey. The reference period is ten years preceding the survey for DHS surveys, and the reference period varies for MICS surveys (often three to five years preceding the survey). | number | level : Ratio |
| Under_Five_Mortality_Rate_Richest_MRV | Most recent value of under-5 mortality rate among the richest in the population: Number of deaths to children under age five years per 1000 live births, based on experience during the reference period before the survey. The reference period is ten years preceding the survey for DHS surveys, and the reference period varies for MICS surveys (often three to five years preceding the survey). | number | level : Ratio |
| Total_Fertility_Rate_Poorest_MRV | Most recent value of total fertility rate (TFR) among the poorest in the population: The number of children that would be born to a woman if she were to live to the end of her childbearing years and bear children in accordance with age-specific fertility rates currently observed. The reference period is three years preceding the survey. | number | level : Ratio |
| Total_Fertility_Rate_Richest_MRV | Most recent value of total fertility rate (TFR) among the richest in the population: The number of children that would be born to a woman if she were to live to the end of her childbearing years and bear children in accordance with age-specific fertility rates currently observed. The reference period is three years preceding the survey. | number | level : Ratio |
| Teenage_Mothers_Poorest_MRV | Most recent value of teenage pregnancy and motherhood among the poorest in the population: Percentage of women aged 15-19 years who are mothers or pregnant with their first child. | number | level : Ratio |
| Teenage_Mothers_Richest_MRV | Most recent value of teenage pregnancy and motherhood: Percentage of women aged 15-19 years who are mothers or pregnant with their first child. | number | level : Ratio |
| Child_Health_Survey_Year | Year when survey on child health was collected | date | - |
| Prevalence_Diarrhea_Under_5_Poorest_MRV | Most recent value of prevalence of diarrhea among the poorest in the population: Percentage of children under age five years who had diarrhea in the two weeks preceding the survey. | number | level : Ratio |
| Prevalance_Diarrhea_Under_5_Richest_MRV | Most recent value of prevalence of diarrhea among the richest in the population: Percentage of children under age five years who had diarrhea in the two weeks preceding the survey. | number | level : Ratio |
| Treatment_Diarrhea_Under_5_Poorest_MRV | Most recent value of treatment of diarrhea (ORS, RHS or increased fluids) among the poorest in the population: Percentage of children under age five years with diarrhea in the two weeks preceding the survey who received oral rehydration solution (ORS), recommended home solution (RHS) or increased fluids. | number | level : Ratio |
| Treatment_Diarrhea_Under_5_Richest_MRV | Most recent value of treatment of diarrhea (ORS, RHS or increased fluids) among the richest in the population: Percentage of children under age five years with diarrhea in the two weeks preceding the survey who received oral rehydration solution (ORS), recommended home solution (RHS) or increased fluids. | number | level : Ratio |
| Prevalence_Acute_Respiratory_Infection_Under_5_Poorest_MRV | Most recent value of prevalence of acute respiratory infection (ARI) among the poorest in the population: Percentage of children under age five years who were ill with a cough accompanied with rapid breathing in the two weeks preceding the survey. | number | level : Ratio |
| Prevalence_Acute_Respiratory_Infection_Under_5_Richest_MRV | Most recent value of prevalence of acute respiratory infection (ARI) among the richest in the population: Percentage of children under age five years who were ill with a cough accompanied with rapid breathing in the two weeks preceding the survey. | number | level : Ratio |
| Treatment_Acute_Respiratory_Infection_Under_5_Poorest_MRV | Most recent value of treatment of acute respiratory infection (ARI) among the poorest in the population: Percentage of children under age five years with acute respiratory infection (ARI) in the two weeks preceding the survey who were taken to a health facility. | number | level : Ratio |
| Treatment_Acute_Respiratory_Infection_Under_5_Richest_MRV | Most recent value of treatment of acute respiratory infection (ARI) among the richest in the population: Percentage of children under age five years with acute respiratory infection (ARI) in the two weeks preceding the survey who were taken to a health facility. | number | level : Ratio |
| Prevalence_Malnutrition_Under_5_Poorest_MRV | Most recent value of malnourished children among the poorest in the population: Percentage of children under age five years who are classified as undernourished according to three anthropometric indices of nutritional status: height-for-age (stunting), weight-for-age (underweight) and weight-for-height (wasting). | number | level : Ratio |
| Prevalence_Malnutrition_Under_5_Richest_MRV | Most recent value of malnourished children among the richest in the population: Percentage of children under age five years who are classified as undernourished according to three anthropometric indices of nutritional status: height-for-age (stunting), weight-for-age (underweight) and weight-for-height (wasting). | number | level : Ratio |
| Prevalence_Immunization_Under_2_Poorest_MRV | Most recent value of vaccinations among the poorest in the population: Percentage of children 12-23 months who have received specific vaccines by the time of the survey (according to the vaccination card or the mother's report). Children with all vaccinations refer children who have received BCG, measles, and three doses each of DPT and polio vaccine (excluding polio 0). Some MICS surveys refer children in different age groups (e.g. 18-29 months, or 15-26 months). | number | level : Ratio |
| Prevalence_Immunization_Under_2_Richest_MRV | Most recent value of vaccinations among the richest in the population: Percentage of children 12-23 months who have received specific vaccines by the time of the survey (according to the vaccination card or the mother's report). Children with all vaccinations refer children who have received BCG, measles, and three doses each of DPT and polio vaccine (excluding polio 0). Some MICS surveys refer children in different age groups (e.g. 18-29 months, or 15-26 months). | number | level : Ratio |
| Women_Health_Survey_Year | Year when survey on reproductive health was collected | date | - |
| Contraception_Knowledge_Poorest_MRV | Most recent value of knowledge of contraception among the poorest in the population: Percentage of currently married women who know at least one contraceptive method and at least one modern contraceptive method. | number | level : Ratio |
| Contraception_Knowledge_Richest_MRV | Most recent value of knowledge of contraception among the richest in the population: Percentage of currently married women who know at least one contraceptive method and at least one modern contraceptive method. | number | level : Ratio |
| Contraceptive_Prevalence_Rate_Poorest_MRV | Most recent value of current use of contraception among the poorest in the population: Percentage of currently married women who are using or whose partners are using any method of contraception and modern method of contraception. | number | level : Ratio |
| Contraceptive_Prevalence_Rate_Richest_MRV | Most recent value of current use of contraception among the richest in the population: Percentage of currently married women who are using or whose partners are using any method of contraception and modern method of contraception. | number | level : Ratio |
| Prenatal_Care_Poorest_MRV | Most recent value of antenatal care among the poorest in the population: Percentage of women with one or more live births in the three (one, two) years preceding the survey who have received at least one antenatal care during pregnancy before the most recent birth from any skilled personnel and from a doctor. | number | level : Ratio |
| Prenatal_Care_Richest_MRV | Most recent value of antenatal care among the richest in the population: Percentage of women with one or more live births in the three (one, two) years preceding the survey who have received at least one antenatal care during pregnancy before the most recent birth from any skilled personnel and from a doctor. | number | level : Ratio |
| Births_Attended_Poorest_MRV | Most recent value of assistance during delivery (assisted births) among the poorest in the population: Percentage of live births in the three (one, two) years preceding the survey attended by any skilled personnel and by a doctor. | number | level : Ratio |
| Births_Attended_Richest_MRV | Most recent value of assistance during delivery (assisted births) among the richest in the population: Percentage of live births in the three (one, two) years preceding the survey attended by any skilled personnel and by a doctor. | number | level : Ratio |
| Problems_Accessing_Healthcare_Poorest_MRV | Most recent value of problems in accessing health care among the poorest in the population: Percentage of women who report they have big problems in accessing health care for themselves when they are sick, by type of problem. The types of problem specified are; knowing where to go for treatment, getting permission to go for treatment, getting money for treatment, distance to health facility, having to take transport, not wanting to go alone, and concern there may not be a female provider. | number | level : Ratio |
| Problems_Accessing_Healthcare_Richest_MRV | Most recent value of problems in accessing health care among the richest in the population: Percentage of women who report they have big problems in accessing health care for themselves when they are sick, by type of problem. The types of problem specified are; knowing where to go for treatment, getting permission to go for treatment, getting money for treatment, distance to health facility, having to take transport, not wanting to go alone, and concern there may not be a female provider. | number | level : Ratio |
Data Preview
| | | | | | | | | | | | | | | | | | | | | | | | | | | | | | | | | | | | | | | | | | | | | | | | | | | | | | | | | | | | | | | | | | | | | | | | | | | | | | | | | | | | | | | | | | | | | | | | | | | | | | | | | | | | | | | | | | | | | | | | | | | | | | | | | | | | | | | | | | | | | | | | | | | | | | | | | | | | | | | | | | | | | | | | | | | | | | | | | | | | | | | | | | | | | | | | | | | | | | | | | | | | | | | | | | | | | | | | | | |
| --- | --- | --- | --- | --- | --- | --- | --- | --- | --- | --- | --- | --- | --- | --- | --- | --- | --- | --- | --- | --- | --- | --- | --- | --- | --- | --- | --- | --- | --- | --- | --- | --- | --- | --- | --- | --- | --- | --- | --- | --- | --- | --- | --- | --- | --- | --- | --- | --- | --- | --- | --- | --- | --- | --- | --- | --- | --- | --- | --- | --- | --- | --- | --- | --- | --- | --- | --- | --- | --- | --- | --- | --- | --- | --- | --- | --- | --- | --- | --- | --- | --- | --- | --- | --- | --- | --- | --- | --- | --- | --- | --- | --- | --- | --- | --- | --- | --- | --- | --- | --- | --- | --- | --- | --- | --- | --- | --- | --- | --- | --- | --- | --- | --- | --- | --- | --- | --- | --- | --- | --- | --- | --- | --- | --- | --- | --- | --- | --- | --- | --- | --- | --- | --- | --- | --- | --- | --- | --- | --- | --- | --- | --- | --- | --- | --- | --- | --- | --- | --- | --- | --- | --- | --- | --- | --- | --- | --- | --- | --- | --- | --- | --- | --- | --- | --- | --- | --- | --- | --- | --- | --- | --- | --- | --- | --- | --- | --- | --- | --- | --- | --- | --- | --- | --- | --- | --- | --- | --- | --- | --- | --- | --- | --- | --- | --- | --- | --- | --- | --- | --- | --- | --- | --- | --- | --- | --- | --- | --- | --- | --- | --- | --- | --- | --- | --- | --- | --- |
| Country | Population 2000 | Population 2019 | Annual Growth 2000 2019 | Ages 0 to 14 2019 | Ages 15 to 64 2019 | Ages 65 Up 2019 | Dependency Ratio Young 2019 | Dependency Ratio Old 2019 | Crude Death Rate 2019 | Crude Birth Rate 2019 | Labor Force Participation Male 2000 | Labor Force Participation Male 2018 | Labor Force Participation Female 2000 | Labor Force Participation Female 2018 | Labor Force Total 2000 | Labor Force Total 2018 | Labor Force Female 2000 | Labor Force Female 2018 | Labor Force Growth 2008 2018 | Agriculture Male 2000 | Agriculture Male 2018 | Agriculture Female 2000 | Agriculture Female 2018 | Industry Male 2000 | Industry Male 2018 | Industry Female 2000 | Industry Female 2018 | Services Male 2000 | Services Male 2018 | Services Female 2000 | Services Female 2018 | Employment Population Ratio Total 2000 | Employment Population Ratio Total 2018 | Employment Population Ratio Youth 2000 | Employment Population Ratio Youth 2018 | Vulnerable Employment Male 2000 | Vulnerable Employment Male 2018 | Vulnerable Employment Female 2000 | Vulnerable Employment Female 2018 | Labor Productivity 2000 2002 | Labor Productivity 2015 2018 | Unemployment Male 2000 | Unemployment Male 2018 | Unemployment Female 2000 | Unemployment Female 2018 | Unemployment Male Youth 2000 | Unemployment Male Youth 2018 | Unemployment Female Youth 2000 | Unemployment Female Youth 2018 | Unemployment Basic Education 2015 2018 | Unemployment Intermediate Education 2015 2018 | Unemployment Advanced Education 2015 2018 | Child Employment Survey Year | Employed Children Total | Employed Children Male | Employed Children Female | Children Work Only | Children Study and Work | Employment Agriculture | Employment Manufacturing | Employment Services | Status Self Employed | Status Wage | Status Unpaid | GDP Primary 1999 | Government Expenditure Primary 2018 | Government Expenditure Secondary 1999 | Government Expenditure Secondary 2018 | Government Expenditure Tertiary 1999 | Government Expenditure Tertiary 2018 | Government Expenditure Per Capita 2018 | Government Expenditure Education 2018 | Trained Teachers Primary 2018 | Trained Teachers Secondary 2018 | Pupil Teacher Ratio Primary 2018 | Pupil Teacher Ratio Secondary 2018 | Gross Enrollment Ratio Preprimary 2018 | Gross Enrollment Ratio Primary 2019 | Gross Enrollment Ratio Secondary 2018 | Gross Enrollment Ratio Tertiary 2018 | Net Enrollment Rater Primary 1999 | Net Enrollment Rater Primary 2018 | Net Enrollment Rater Secondary 1999 | Net Enrollment Rater Secondary 2018 | Adjusted Net Enrollment Rate Primary Male 2018 | Adjusted Net Enrollment Rate Primary Female 2018 | Children Out Of Primary School Male 2018 | Children Out Of Primary School Female 2018 | Gross Intake Ratio Grade 1 Male 2018 | Gross Intake Ratio Grade 1 Female 2018 | Reaching Grade 5 Male 1999 | Reaching Grade 5 Male 2017 | Reaching Grade 5 Female 1999 | Reaching Grade 5 Female 2017 | Reaching Last Grade Male 2017 | Reaching Last Grade Female 2017 | Repeaters Primary Male 2018 | Repeaters Primary Female 2018 | Transition Rate Secondary Male 2017 | Transition Rate Secondary Female 2017 | Primary Completion Rate Male 2018 | Primary Completion Rate Female 2018 | Lower Secondary Completion Rate Male 2018 | Lower Secondary Completion Rate Female 2018 | Youth Literacy Rate Male 2010 2019 | Youth Literacy Rate Female 2010 2019 | Adult Literacy Rate Male 2010 2019 | Adult Literacy Rate Female 2010 2019 | Proficiency Mathematics 2018 | Proficiency Reading 2018 | Primary Completion Rate Poorest 2008 2017 | Primary Completion Rate Richest 2008 2017 | Primary Completion Rate Male 2008 2017 | Primary Completion Rate Female 2008 2017 | Primary Completion Rate Urban 2008 2017 | Primary Completion Rate Rural 2008 2017 | Average Years Schooling Poorest 2008 2017 | Average Years Schooling Richest 2008 2017 | Children Out of School Poorest 2008 2017 | Children Out of School Richest 2008 2017 | Current Health Expenditure 2018 | Public Health Expenditure 2017 | Out of Pocket Health Expenditure 2017 | Health Expenditure per Capita 2017 | Health Expenditure Current PPP 2017 | External Health Expenditure 2017 | Physicians 2013 2018 | Nurses and Midwives 2012 2018 | Specialist Surgical Workforce 2013 2018 | Completeness Birth Registration 2013 2018 | Completeness Death Registration 2008 2016 | Total Fertility Rate 1990 | Total Fertility Rate 2018 | Adolescent Fertility Rate 2018 | Family Planning Demand 2013 2018 | Contraceptive Prevalence 2013 2018 | Prenatal Care 2013 2018 | Births Attended 2013 2018 | Maternal Mortality Ratio National Estimate 2008 2016 | Maternal Mortality Ratio Modeled Estimate 1990 | Prevalence Undernourishment 2001 | Prevalence Undernourishment 2018 | Prevalence Underweight Male 2011 2019 | Prevalence Underweight Female 2011 2019 | Prevalence Stunting Male 2011 2019 | Prevalence Stunting Female 2011 2019 | Wasting Male 2008 2016 | Wasting Female 2008 2016 | Severe Wasting Male 2011 2019 | Severe Wasting Female 2011 2019 | Overweight Male 2011 2019 | Overweight Female 2011 2019 | Low Birthweight Babies 2015 | Exclusive Breastfeeding 2013 2018 | Iodized Salt Consumption 2013 2018 | Vitamin A Supplementation 2017 | Prevalence Anemia Under 5 2016 | Prevalance Pregnant 2016 | Prevalence Nonpregnant 2016 | Prevalence Smoking Male 2016 | Prevalence Smoking Female 2016 | Incidence Tuberculosis 2018 | Prevalence Diabetes 2019 | Incidence HIV 2019 | Total Prevalence Incidence 2019 | Prevalence HIV Female 15 Up 2019 | Prevalence HIV Youth Male 2019 | Prevalence HIV Youth Female 2019 | Antiretroviral Therapy Coverage 2019 | Death Cause Communicable 2016 | Death Cause Noncommunicable 2016 | Death Cause Injuries 2016 | Life Expectancy At Birth 1990 | Life Expectancy At Birth 2018 | Neonatal Mortality Rate 1990 | Neonatal Mortality Rate 2019 | Infant Mortality Rate 1990 | Infant Mortality Rate 2019 | Under 5 Mortality Rate 1990 | Under 5 Mortality Rate 2019 | Under 5 Mortality Rate Male 2019 | Under 5 Mortality Rate Female 2019 | Adult Mortality Rate Male 2013 2018 | Adult Mortality Rate Female 2013 2018 | Demography Survey Year | Infant Mortality Rate Poorest MRV | Infant Mortality Rate Richest MRV | Under Five Mortality Rate Poorest MRV | Under Five Mortality Rate Richest MRV | Total Fertility Rate Poorest MRV | Total Fertility Rate Richest MRV | Teenage Mothers Poorest MRV | Teenage Mothers Richest MRV | Child Health Survey Year | Prevalence Diarrhea Under 5 Poorest MRV | Prevalance Diarrhea Under 5 Richest MRV | Treatment Diarrhea Under 5 Poorest MRV | Treatment Diarrhea Under 5 Richest MRV | Prevalence Acute Respiratory Infection Under 5 Poorest MRV | Prevalence Acute Respiratory Infection Under 5 Richest MRV | Treatment Acute Respiratory Infection Under 5 Poorest MRV | Treatment Acute Respiratory Infection Under 5 Richest MRV | Prevalence Malnutrition Under 5 Poorest MRV | Prevalence Malnutrition Under 5 Richest MRV | Prevalence Immunization Under 2 Poorest MRV | Prevalence Immunization Under 2 Richest MRV | Women Health Survey Year | Contraception Knowledge Poorest MRV | Contraception Knowledge Richest MRV | Contraceptive Prevalence Rate Poorest MRV | Contraceptive Prevalence Rate Richest MRV | Prenatal Care Poorest MRV | Prenatal Care Richest MRV | Births Attended Poorest MRV | Births Attended Richest MRV | Problems Accessing Healthcare Poorest MRV | Problems Accessing Healthcare Richest MRV |
| Afghanistan | 20.8 | 38.9 | 3.2 | 42.0 | 55.0 | 3.0 | 77.0 | 5.0 | 6.0 | 32.0 | 78.3 | 74.7 | 14.6 | 21.4 | 5.0 | 10.3 | 15.0 | 21.3 | 4.3 | 63.5 | 37.6 | 79.9 | 65.7 | 9.6 | 16.4 | 11.2 | 24.5 | 26.8 | 46.0 | 8.9 | 9.8 | 42.0 | 43.4 | 32.5 | 33.2 | 90.6 | 77.1 | 98.3 | 90.1 | | -1.9 | 11.0 | 10.3 | 14.7 | 13.9 | 17.2 | 16.1 | 22.9 | 21.0 | 12.3 | 16.2 | 15.5 | 2011.0 | 9.3 | 13.1 | 5.1 | 50.0 | 50.0 | | | | | 17.4 | 61.7 | | 10.3 | | 11.3 | | | 4.1 | 15.7 | | | 49.0 | 34.0 | | 104.0 | 55.4 | 9.7 | | | | 50.1 | | | | | 130.0 | 90.0 | | | | | | | 4.0 | 4.0 | 94.0 | 86.0 | 103.0 | 67.0 | 70.0 | 40.0 | 74.0 | 56.0 | 55.0 | 30.0 | | | | | | | | | | | | | 11.8 | 5.1 | 75.5 | 67.1 | 174.7 | 19.4 | 0.3 | 0.2 | 0.0 | 42.3 | | 7.5 | 4.5 | 65.0 | 42.2 | 19.8 | 59.0 | 51.0 | 673.0 | | 47.8 | 29.9 | 19.5 | 18.7 | 38.3 | 38.1 | 6.1 | 4.1 | 1.7 | 1.4 | 4.0 | 4.2 | | 58.0 | 57.0 | 95.0 | 46.0 | 38.0 | 42.0 | | | 189 | 9.2 | 0.08 | 0.1 | 29.0 | 0.1 | 0.1 | 10.0 | 36.0 | 44.0 | 20.0 | 50.0 | 64.0 | 74.0 | 36.0 | 120.0 | 47.0 | 178.0 | 60.0 | 64.0 | 57.0 | 238.0 | 193.0 | 2015.0 | 62.0 | 35.0 | 81.0 | 40.0 | 5.3 | 4.6 | 15.0 | 9.0 | 2015.0 | 30.0 | 36.0 | 57.0 | 59.0 | 16.0 | 11.0 | 53.0 | 70.0 | | | 38.0 | 56.0 | 2015.0 | | | 16.0 | 37.0 | 51.0 | 76.0 | 27.0 | 88.0 | 94.0 | 77.0 |
| Albania | 3.1 | 2.8 | -0.4 | 17.0 | 68.0 | 14.0 | 25.0 | 21.0 | 8.0 | 12.0 | 71.7 | 64.7 | 51.5 | 46.8 | 1.3 | 1.3 | 41.6 | 41.5 | 0.8 | 43.5 | 34.3 | 63.0 | 41.5 | 17.8 | 22.7 | 7.1 | 15.7 | 38.6 | 43.0 | 29.9 | 42.8 | 51.4 | 49.0 | 39.7 | 22.1 | 59.7 | 53.8 | 65.5 | 53.7 | 6.8 | 1.1 | 16.3 | 13.1 | 16.9 | 11.2 | 28.0 | 31.1 | 24.7 | 24.5 | 6.4 | 10.3 | 15.1 | 2010.0 | 5.5 | 6.4 | 4.6 | 5.1 | 94.9 | 83.9 | 1.3 | 9.3 | 3.8 | 1.9 | 94.3 | | 34.2 | | 8.0 | | 13.8 | 3.6 | 12.4 | 89.9 | | 18.0 | 11.0 | 80.5 | 107.0 | 95.4 | 55.0 | 96.8 | 94.5 | 66.7 | 86.6 | | | | | 107.0 | 111.0 | | 92.0 | | 93.0 | 92.0 | 93.0 | 1.0 | 1.0 | 99.0 | 98.0 | 99.0 | 105.0 | 93.0 | 100.0 | 99.0 | 100.0 | 99.0 | 98.0 | 17.0 | 2.0 | 71.0 | 88.0 | 84.0 | 94.0 | 86.0 | 90.0 | 9.0 | 11.0 | 7.0 | 4.0 | | | | | | | 1.2 | 3.6 | 11.6 | 98.4 | 53.0 | 3.0 | 1.6 | 20.0 | 6.0 | 3.7 | 88.0 | 100.0 | 16.0 | | 5.0 | 3.6 | 1.8 | 1.2 | 11.6 | 11.0 | 1.2 | 2.0 | 0.4 | 0.7 | 17.4 | 15.4 | 5.0 | 37.0 | 65.0 | | 25.0 | 23.0 | 25.0 | 51.0 | 7.0 | 18 | 9.0 | 0.05 | 0.1 | 23.0 | 0.1 | 0.1 | 85.0 | 3.0 | 93.0 | 4.0 | 72.0 | 78.0 | 13.0 | 8.0 | 36.0 | 9.0 | 41.0 | 10.0 | 11.0 | 9.0 | 93.0 | 49.0 | 2009.0 | 29.0 | 13.0 | 34.0 | 13.0 | 2.0 | 1.5 | 6.0 | 1.0 | 2018.0 | 10.0 | 5.0 | 54.0 | 79.0 | 2.0 | 2.0 | 52.0 | 49.0 | 2.0 | 1.0 | 82.0 | 54.0 | 2018.0 | 99.0 | 100.0 | 42.0 | 56.0 | 87.0 | 98.0 | 99.0 | 100.0 | 66.0 | 12.0 |
| Algeria | 31.0 | 43.9 | 1.7 | 31.0 | 63.0 | 7.0 | 49.0 | 10.0 | 5.0 | 24.0 | 74.7 | 67.7 | 11.9 | 14.6 | 8.9 | 12.2 | 13.5 | 17.6 | 1.3 | 23.6 | 11.2 | 13.1 | 3.6 | 23.9 | 32.1 | 30.4 | 23.9 | 52.4 | 56.7 | 56.5 | 72.4 | 30.6 | 36.4 | 17.9 | 18.2 | 30.3 | 27.7 | 36.6 | 23.3 | -0.9 | 1.0 | 29.8 | 9.9 | 29.7 | 21.1 | 51.1 | 26.6 | 47.6 | 45.2 | | | | 2013.0 | 7.5 | 8.5 | 6.5 | 4.5 | 95.5 | | | | | 14.4 | 85.6 | 12.2 | | 21.1 | | | | | | | | 24.0 | | | 109.9 | | 51.4 | 88.6 | 97.6 | 52.9 | | | | | | 102.0 | 102.0 | 94.0 | 95.0 | 96.0 | 97.0 | 95.0 | 97.0 | 7.0 | 4.0 | 100.0 | 98.0 | 105.0 | 106.0 | 74.0 | 95.0 | 98.0 | 97.0 | 87.0 | 75.0 | 51.0 | 4.0 | | | | | | | | | | | 6.4 | 66.0 | 32.5 | 258.5 | 974.8 | 0.0 | 1.7 | 1.5 | 12.1 | 100.0 | | 4.7 | 3.0 | 10.0 | 77.2 | 49.5 | 93.0 | 97.0 | 113.0 | | 8.0 | 2.8 | 3.1 | 3.0 | 12.6 | 10.7 | 4.4 | 3.8 | 1.7 | 1.0 | 12.9 | 12.0 | 7.0 | 25.0 | 82.0 | | 30.0 | 39.0 | 36.0 | 30.0 | 1.0 | 69 | 6.7 | 0.09 | 0.1 | 46.0 | 0.1 | 0.1 | 67.0 | 15.0 | 76.0 | 10.0 | 67.0 | 77.0 | 23.0 | 16.0 | 42.0 | 20.0 | 50.0 | 23.0 | 25.0 | 22.0 | 103.0 | 81.0 | 2013.0 | 31.0 | 18.0 | 35.0 | 21.0 | 3.1 | 2.3 | | | 2013.0 | 10.0 | 8.0 | 54.0 | 61.0 | 7.0 | 4.0 | 60.0 | 73.0 | | | 76.0 | 83.0 | 2013.0 | | | 57.0 | 60.0 | 88.0 | 96.0 | 95.0 | 99.0 | | |
| American Samoa | 0.1 | 0.1 | -0.2 | | | | | | | | | | | | | | | | | | | | | | | | | | | | | | | | | | | | | | | | | | | | | | | | | | | | | | | | | | | | | | | | | | | | | | | | | | | | | | | | | | | | | | | | | | | | | | | | | | | | | | | | | | | | | | | | | | | | | | | | | | | | | | | | | | | | | | | | | | | | | | | | | | | | | | | | | | | | | | | 0 | | | | | | | | | | | | | | | | | | | | | | | | | | | | | | | | | | | | | | | | | | | | | | | | | | | | | | | |
| Andorra | 0.1 | 0.1 | 0.9 | | | | | | 4.0 | 7.0 | | | | | | | | | | | | | | | | | | | | | | | | | | | | | | | | | | | | | | | | | | | | | | | | | | | | | | | | 12.3 | | 13.9 | | 22.3 | 3.2 | 19.3 | 100.0 | 100.0 | 10.0 | 8.0 | | | | | | | | | | | | | | | | 99.0 | | 99.0 | 69.0 | 70.0 | 1.0 | 1.0 | | | | | | | | | | | | | | | | | | | | | | | 10.3 | 49.0 | 41.8 | 4040.8 | 5237.2 | 0.0 | 3.3 | 4.0 | 83.1 | 100.0 | 100.0 | | | | | | | | | | | | | | | | | | | | | | 7.0 | | | | 13.0 | 22.0 | 14.0 | 38.0 | 29.0 | 3 | 7.7 | | | | | | | | | | | | 7.0 | 1.0 | 9.0 | 3.0 | 13.0 | 3.0 | 3.0 | 3.0 | | | | | | | | | | | | | | | | | | | | | | | | | | | | | | | | | | | |
| Angola | 16.4 | 32.9 | 3.5 | 47.0 | 51.0 | 2.0 | 91.0 | 4.0 | 8.0 | 41.0 | 79.5 | 79.0 | 75.6 | 76.1 | 6.7 | 12.7 | 49.0 | 50.2 | 3.6 | 29.6 | 44.4 | 45.5 | 56.7 | 15.5 | 15.3 | 1.8 | 1.1 | 54.8 | 40.3 | 52.7 | 42.2 | 74.6 | 72.1 | 52.3 | 47.3 | 46.2 | 52.6 | 76.1 | 79.8 | 5.2 | -5.2 | 4.8 | 6.7 | 2.8 | 7.3 | 11.2 | 16.8 | 6.2 | 16.2 | | | | 2001.0 | 30.1 | 30.0 | 30.1 | 26.6 | 73.4 | | | | | 6.2 | 80.1 | | | | | | | | | | | | 27.0 | 39.6 | | 50.7 | 9.3 | 45.3 | | | | | | | | | | | | | | | | | | | | | | | | 85.0 | 71.0 | 80.0 | 53.0 | | | | | | | | | | | | | 2.8 | 46.3 | 34.1 | 114.5 | 185.9 | 3.1 | 0.2 | 0.4 | | 25.0 | | 7.3 | 5.5 | 148.0 | 24.3 | 12.5 | 82.0 | 50.0 | 246.0 | | 67.5 | 18.6 | 21.0 | 17.1 | 41.0 | 34.1 | 5.6 | 4.3 | 1.3 | 0.9 | 3.1 | 3.6 | 15.0 | 37.0 | 82.0 | 3.0 | 51.0 | 51.0 | 47.0 | | | 355 | 4.5 | 1.45 | 1.9 | 70.0 | 0.4 | 1.2 | 27.0 | 63.0 | 27.0 | 9.0 | 45.0 | 61.0 | 53.0 | 28.0 | 131.0 | 50.0 | 222.0 | 75.0 | 80.0 | 69.0 | 327.0 | 220.0 | 2016.0 | 62.0 | 25.0 | 102.0 | 39.0 | 8.5 | 4.0 | 48.0 | 16.0 | 2016.0 | 19.0 | 22.0 | 36.0 | 72.0 | 4.0 | 3.0 | 25.0 | 78.0 | 27.0 | 8.0 | 13.0 | 57.0 | 2016.0 | | | 1.0 | 33.0 | 57.0 | 98.0 | 19.0 | 89.0 | 86.0 | 58.0 |
| Antigua and Barbuda | 0.1 | 0.1 | 1.3 | 22.0 | 69.0 | 9.0 | 32.0 | 13.0 | 6.0 | 15.0 | | | | | | | | | | | | | | | | | | | | | | | | | | | | | | | | | | | | | | | | | | | | | | | | | | | | | | | | | | | | | | | 52.8 | 47.7 | 12.0 | 9.0 | 70.3 | 105.0 | 111.2 | | | 95.7 | 70.7 | 88.8 | 96.4 | 98.7 | 173.0 | 62.0 | 97.0 | 100.0 | | | | | | | 2.0 | 1.0 | 100.0 | 99.0 | 93.0 | 99.0 | 95.0 | 102.0 | | | 98.0 | 99.0 | | | | | | | | | | | | | 4.5 | 47.0 | 35.0 | 673.9 | 1070.8 | 0.0 | 3.0 | 4.5 | 14.0 | | 83.0 | 2.1 | 2.0 | 42.0 | | | | 100.0 | 43.0 | | | | | | | | | | | | | | 9.0 | | | | 32.0 | 25.0 | 22.0 | | | 6 | 13.1 | | | | | | | 12.0 | 82.0 | 6.0 | 72.0 | 77.0 | 8.0 | 4.0 | 12.0 | 6.0 | 14.0 | 7.0 | 7.0 | 6.0 | 127.0 | 83.0 | | | | | | | | | | | | | | | | | | | | | | | | | | | | | | | | | |
| Argentina | 36.9 | 45.4 | 1.0 | 25.0 | 64.0 | 11.0 | 38.0 | 18.0 | 8.0 | 17.0 | 75.1 | 72.8 | 49.8 | 50.8 | 16.3 | 20.6 | 42.1 | 43.0 | 1.3 | 1.0 | 0.1 | 0.2 | 0.1 | 31.6 | 31.3 | 10.4 | 9.1 | 67.4 | 68.6 | 89.4 | 90.8 | 52.6 | 55.7 | 31.1 | 29.6 | 24.4 | 22.8 | 20.6 | 20.0 | -6.1 | -2.1 | 14.0 | 8.2 | 16.3 | 10.5 | 29.7 | 21.2 | 36.2 | 28.2 | 11.1 | 10.7 | 3.6 | 2012.0 | 5.0 | 6.4 | 3.5 | 4.8 | 95.2 | | | | 10.8 | 12.8 | 76.4 | 12.4 | 15.0 | 16.6 | 20.6 | 17.7 | 16.9 | 5.5 | 13.3 | | | | | 76.1 | 109.7 | 108.7 | 90.0 | 99.2 | 99.2 | 76.3 | 90.8 | | | | | 106.0 | 106.0 | 98.0 | 95.0 | 94.0 | 96.0 | 94.0 | 94.0 | 3.0 | 3.0 | 100.0 | 100.0 | 100.0 | 100.0 | 86.0 | 94.0 | 99.0 | 100.0 | 99.0 | 99.0 | 40.0 | 5.0 | | | | | | | | | | | 9.1 | 72.4 | 15.0 | 1324.6 | 1916.5 | 0.5 | 4.0 | 2.6 | 50.1 | | 100.0 | 3.0 | 2.3 | 63.0 | | 78.2 | | 100.0 | 40.0 | | 3.1 | 3.8 | | | | | | | | | | | 7.0 | | | | 22.0 | 29.0 | 18.0 | 28.0 | 16.0 | 27 | 5.9 | 0.24 | 0.4 | 32.0 | 0.1 | 0.1 | 58.0 | 16.0 | 78.0 | 7.0 | 72.0 | 77.0 | 15.0 | 6.0 | 25.0 | 8.0 | 29.0 | 9.0 | 10.0 | 8.0 | 147.0 | 79.0 | | | | | | 3.7 | 1.9 | | | 2012.0 | 10.0 | 8.0 | 86.0 | 91.0 | 12.0 | 11.0 | 92.0 | 96.0 | | | | | | | | 52.0 | 59.0 | | | 97.0 | 100.0 | | |
| Armenia | 3.1 | 3.0 | -0.2 | 21.0 | 68.0 | 11.0 | 31.0 | 17.0 | 10.0 | 14.0 | 63.0 | 65.9 | 45.7 | 47.1 | 1.2 | 1.3 | 46.7 | 46.2 | 0.4 | 38.8 | 27.6 | 48.7 | 33.8 | 22.7 | 23.8 | 8.6 | 8.9 | 38.5 | 48.6 | 42.7 | 57.4 | 47.6 | 45.9 | 25.4 | 21.8 | 42.6 | 39.4 | 54.2 | 38.3 | 10.5 | 4.7 | 8.0 | 17.8 | 14.5 | 17.2 | 11.7 | 32.7 | 14.9 | 44.6 | 20.6 | 19.9 | 21.0 | 2010.0 | 9.9 | 12.0 | 7.5 | 0.0 | 100.0 | | | | | | 97.5 | | 10.2 | | | | 9.9 | 2.7 | 10.4 | 73.6 | 74.6 | 15.0 | 8.0 | 38.0 | 92.7 | 83.2 | 54.6 | | 90.7 | | | 91.0 | 90.7 | 6050.0 | 5376.0 | 91.0 | 93.0 | | | | | 95.0 | 94.0 | 0.0 | 0.0 | 98.0 | 99.0 | 90.0 | 90.0 | 92.0 | 94.0 | 100.0 | 100.0 | 100.0 | 100.0 | | | | | | | | | 10.0 | 11.0 | 2.0 | 0.0 | 10.4 | 13.2 | 84.3 | 407.6 | 1001.1 | 1.3 | 4.4 | 6.1 | 86.7 | 99.3 | 100.0 | 2.5 | 1.8 | 21.0 | 40.2 | 28.0 | 100.0 | 100.0 | 26.0 | | 26.2 | 2.6 | 3.2 | 2.0 | 10.9 | 7.8 | 4.0 | 5.0 | 1.6 | 1.9 | 14.6 | 12.7 | 9.0 | 45.0 | 99.0 | | 32.0 | 36.0 | 29.0 | 52.0 | 2.0 | 31 | 6.1 | 0.1 | 0.2 | 35.0 | 0.1 | 0.1 | 85.0 | 3.0 | 93.0 | 4.0 | 68.0 | 75.0 | 23.0 | 6.0 | 42.0 | 11.0 | 49.0 | 12.0 | 13.0 | 11.0 | 173.0 | 66.0 | 2016.0 | 13.0 | 5.0 | 15.0 | 5.0 | 2.0 | 1.9 | 6.0 | 0.0 | 2016.0 | 6.0 | 2.0 | 88.0 | 92.0 | 2.0 | 0.0 | 46.0 | 67.0 | 4.0 | 3.0 | 91.0 | 79.0 | 2016.0 | 100.0 | 100.0 | 59.0 | 60.0 | 99.0 | 100.0 | 100.0 | 100.0 | 72.0 | 58.0 |
| Aruba | 0.1 | 0.1 | 0.8 | 18.0 | 68.0 | 14.0 | 26.0 | 21.0 | 9.0 | 12.0 | | | | | | | | | | | | | | | | | | | | | | | | | | | | | | | | | | | | | | | | | | | | | | | | | | | | | | | 11.6 | | 18.6 | | 31.5 | 100.2 | 5.5 | 21.4 | | | | | | | | 15.6 | 97.8 | | 77.8 | | | | | | | | 97.0 | | 96.0 | | | | | | | | | | | | 100.0 | 99.0 | 98.0 | 98.0 | | | | | | | | | | | | | | | | | | | | | | | | 2.2 | 1.9 | 21.0 | | | | | | | | | | | | | | | | | | | | | | | | | | | | 5 | 11.6 | | | | | | | | | | 73.0 | 76.0 | | | | | | | | | 111.0 | 69.0 | | | | | | | | | | | | | | | | | | | | | | | | | | | | | | | | | |