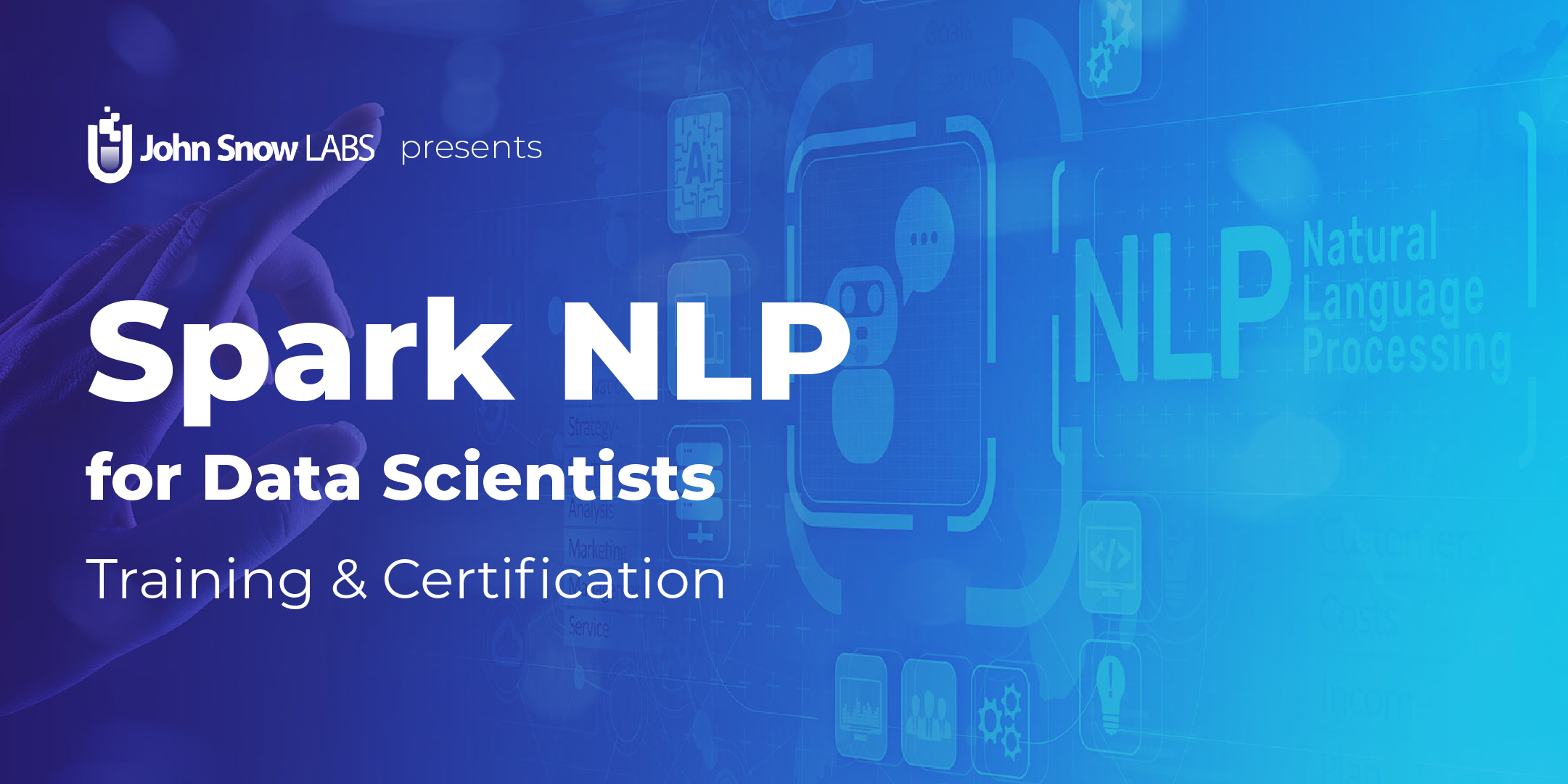 Day 1: Oct 11, 2022 – 9:00 to 13:00 PST
Day 2: Oct 12, 2022 – 9:00 to 13:00 PST
Training Location: Online
Price: $395
Spark NLP for Data Scientists
Training & Certification
This two-day workshop will walk you through building state-of-the-art natural language processing (NLP) solutions using John Snow Labs' open-source Spark NLP library. This is a hands-on workshop for data scientists that will enable you to write and run live Python notebooks that cover the majority of the open-source library's functionality. This includes reusing, training, and combining models for NLP tasks like named entity recognition, text classification, spelling & grammar correction, question answering, knowledge extraction, sentiment analysis and more.
The workshop is organized in two four-hour-long sessions, each followed by self-guided coding, on Python notebooks relevant to each section. This is a live online workshop whose instructors are current lead contributors to the Spark NLP codebase.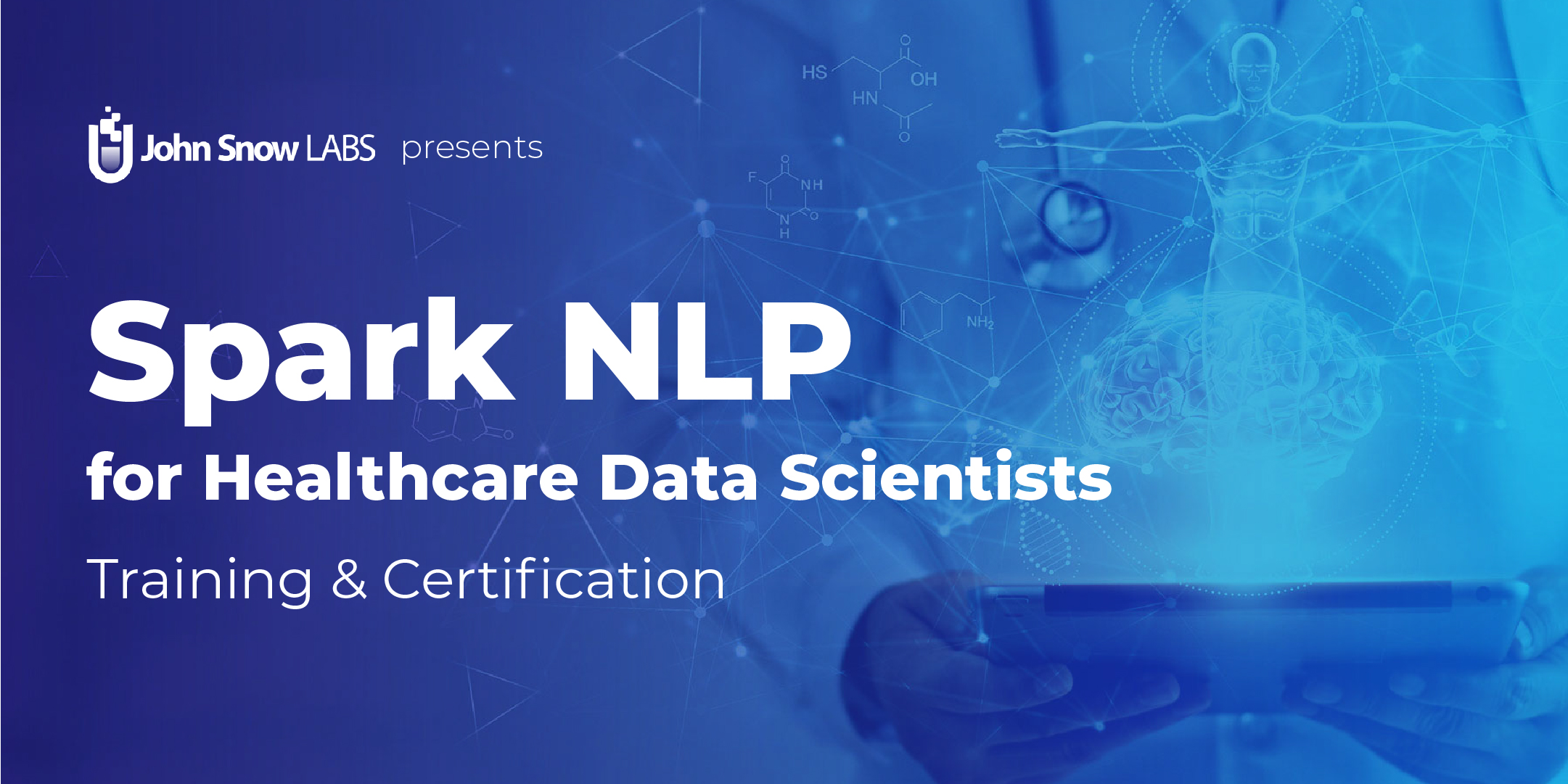 Day 1: Oct 13, 2022 – 9:00 to 13:00 PST
Day 2: Oct 14, 2022 – 9:00 to 13:00 PST
Training Location: Online
Price: $395
Spark NLP for Healthcare Data Scientists
Training & Certification
This two-day workshop for practicing data scientists will enable you to use and extend John Snow Labs' Healthcare NLP library. You will run live Python notebooks that walk through clinical entity recognition, entity resolution (mapping entities to medical codes), assertion status detection (i.e. negation detection), relation extraction, and de-identification. You will also learn how to train and tune your own models for these tasks – and how to choose which pre-trained models to start from.
The workshop is organized in two four-hour-long sessions, each followed by self-guided coding. This is a live online workshop whose instructors are current lead contributors to the Healthcare NLP codebase.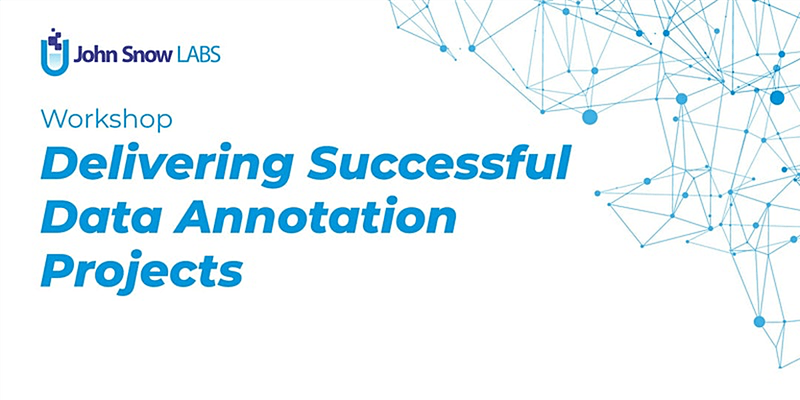 Dates to be announced
Training Location: Online
Price: $495
Delivering Successful Data Annotation Projects
Training & Certification
Data Annotation is an important part of Natural Language Processing (NLP) projects. To train a successful NLP model, it is necessary to extract data in an accurate and consistent way, combining different features such as Named-Entity Recognition (NER), Assertion Status Detection, Relation Extraction, and Text Classification.
During this training, you will develop key skills to carry out a complete annotation project using John Snow Labs' high-productivity annotation tool: The Annotation Lab. You will also learn and practice how to develop effective Annotation Guidelines, best practices for leading a team of annotators to ensure accurate results, and how to track your project's progress and the quality of your annotations.
The instructors have led multiple large data annotation projects and will be available during the assignments to answer questions. The course ends with a certification exam – completing the hands-on exercises and passing the exam grants a certificate as a Certified Data Annotation Expert.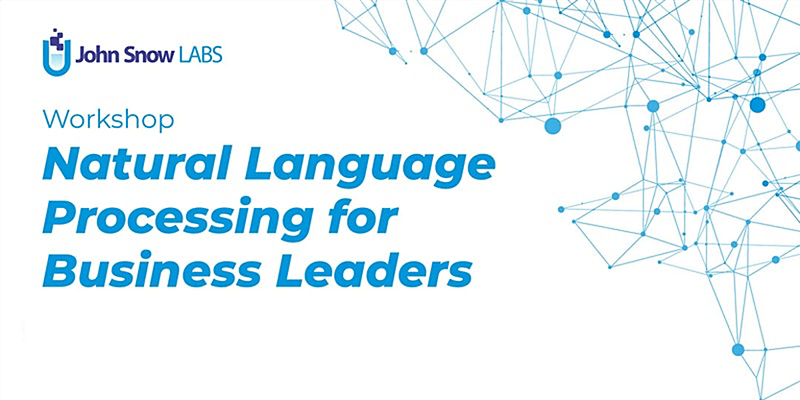 Dates to be announced
Training Location: Online
Price: $495
Natural Language Processing for Business Leaders
Training
Like any other technology, Natural Language Processing (NLP) requires business, product, and design leaders to understand what it can and cannot do – so that they can understand what opportunities it holds for improving their customers' experience and bottom line with a solid ROI.
This five-hour live online workshop presents key concepts in NLP such as named entity recognition, document classification, transformers, pipelines, training, and annotation – but through the lens of real-world projects that got from concepts to production systems. The content is organized as a series of case studies, each starting with a business use case, diving into the solution architecture, explaining how NLP played part in the solution, and ends with best practices and lessons learned.
The instructor is a seasoned technology executive and NLP expert who oversaw the construction & operations of dozens of AI & NLP systems, and will be available for questions during and after the workshop.
I really appreciate their team's willingness to help and am amazed by what can be done using Spark NLP!

John Snow Labs Spark NLP training was well organized and easy to follow, I enjoyed that the sessions were focused on coding but also included a more general overview of the process. In addition to the webinar training, many resources were made available to participants which was very helpful in taking the certification exam.

The Spark NLP training sessions covered an astonishing amount of material and have been a valuable resource for me to come back to whenever I am unsure of an implementation. John Snow Labs clearly put a great deal of effort into creating a broad ranging curriculum that builds upon previous lessons, while still emphasizing how simple it is to create a complex pipeline with Spark NLP.
***
The instructor was attentive to questions and feedback during and after the session, and the certification exam that followed challenged me to think and dig deeper than just the surface of the course material. I highly recommend this course to anyone who is new to Spark NLP or to those who want to bolster their confidence in working with it.
Training & Certification FAQ
Training
We offer two training courses. Both are designed to teach hands-on data scientists to use Spark NLP:
"Spark NLP for Data Scientists" focuses on the open-source library
"Spark NLP for Healthcare Data Scientists" focuses on Spark NLP for Healthcare
Training courses are done online, with a live instructor.
Each training course is two days long. Each day includes four hours of live lectures and code walkthroughs.
Training courses are taught by a senior data scientist who is an active committer to Spark NLP who applies it in real-world projects on a day-to-day basis.
Of course. Live Q&A is encouraged and the instructor is also available to questions afterward.
We assume that you are a Python developer, know how to use its data science libararies, and are familiar with the basics of machine learning. Experience with Apache Spark is helpful but not required.
Yes. We can arrange courses to be done in person at your offices, and be customized to your specific use cases, programming language, or datasets.
We currently offer two certifications, each matches the training course of the same name:
"Certified Spark NLP Data Scientist" focuses on the open source Spark NLP library
"Certified Spark NLP for Healthcare Data Scientists" focuses on the healthcare library
Register for the next certification exam – there's one every quarter – and pass it!
Each training course is designed to help you prepare for one certification. You can register for a training & certification combo, or choose to register for just the exam.
The exam will be accessible right after the training and you can complete it up to 30 days after the training.
An official digital certificate from John Snow Labs that includes your name, the type of certification, and the date in which you earned it.
Forever. Remember though that employers who see a 2-year-old certification will likely ask you how you've been keeping your skills up to date.
At this time, we only offer training & certification for hands-on data scientists.
30 multiple-choice questions about Spark NLP features, code, models, and best practices.
From the moment you start the exam, you have 60 minutes to complete it.
It's a multiple-choice exam so it's graded automatically by counting the correct answers.
You'll see your results right after completing the exam. If you pass it, you'll be able to download your certificate in the "Library" section on the platform.
You'll have two attempts in total to pass the exam.
A desktop or laptop computer with a good Internet connection and a modern browser.
Download and run Spark NLP, run the Python notebooks relevant to the certification you're taking, and read the documentation. The training courses are intended to prepare data scientists for the certification exam as well.
Registration is done through Eventbrite which accepts PayPal and all major credit cards.
Of course. You can download a receipt at the end of the checkout process.
Yes, but your company will have to pay it using the online form before the training starts. We do not currently support alternative payment methods or terms.
Yes! Please email us to describe your situation and needs.