Watch the webinar
1 Line of Code to Use 200+ State-of-the-Art Clinical & Biomedical NLP Models
In this Webinar, Christian Kasim Loan will teach you how to leverage the hundreds of biomedicine NLP and medical State-of-the-Art models for various Medical and Healthcare domains in 1 line of code like Named Entity Recognition (NER) for Adverse Drug Events, Anatomy, Diseases, Chemicals, Clinical Events, Human Phenotypes, Posology, Radiology, Measurements, and many other fields plus the best in class resolution algorithms to map the extracted entities into medical code terminologies like ICD10, ICD0, RXNORM, SNOMED, LOINC, and many more.
Additionally, we will showcase how to extract the relationship between predicted entities for the Posology, Drug Adverse Effects, Temporal Features, Body Party problems, Procedures domains, and how to De-Identify your text documents.
Finally, we will take a look at the latest NLU Streamlit features and how you can leverage them to visualize all model predictions and test them out with 0 lines of code in your web browser!
About the speaker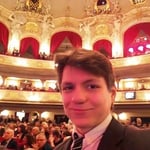 Christian Kasim Loan
Data scientist
Data Scientist and Spark/Scala ML engineer