Watch the webinar
Automating Clinical Trial Master File Migration & Information Extraction
Pharmaceutical Companies who conduct clinical trials, looking to get new treatments to market as quickly as possible, possess a high volume of documents. Millions of documents can be created as part of one trial and are stored in a document management system. In case migrating these documents to a new system is needed – for example, when a pharma company acquires the rights to a drug or trial – all these documents must often be read manually in order to classify them and extract metadata that is legally required and must be accurate. Traditionally, this migration is a long, complex, and labor-intensive process.
We present a solution based on the clinical natural language processing (NLP) system which provides:
Speed – 80% reduction of manual labor and migration timeline, proven in major real-world projects
State of the art accuracy – based on Spark NLP for Healthcare, integrated in a human-in-the-loop solution
End-to-end, secure and compliant solution – Air-gap deployment, GxP and GAMP 5 validated
We will share lessons learned from an end-to-end migration process of the trial master file in Novartis.
About the speaker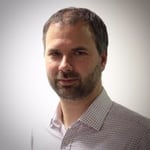 Jiri Dobes
Head of Solutions in John Snow Labs
Jiri Dobes is the Head of Solutions in John Snow Labs. He has been leading the development of machine learning solutions in healthcare and other domains for the past five years. Jiri is a PMP certified project manager. His previous experience includes delivering large projects in the power generation sector and consulting for the Boston Consulting Group and large pharma. Jiri holds a Ph.D. in mathematical modeling.