Others titles
Child Mortality Estimates in Africa 1998-2017
Africa Child Death 1998-2017
Africa Under-5 and Neonatal Mortality Geospatial Estimates 1998-2017
Keywords
Infant Mortality
Neonatal Mortality
Under 5 Mortality
Infant Deaths
Neonatal Deaths
Under 5 Deaths
Child Mortality Rate
Child Mortality
Africa Child Mortality 1998 to 2017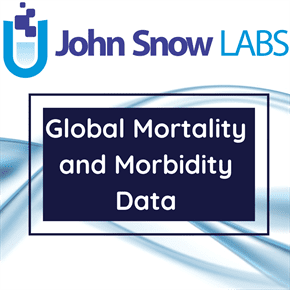 This dataset provides estimates of the probability of child death from 1998 to 2017 for each country in Africa at the first administrative divisions.
Log in to download
Complexity
Get The Data
For getting access to data download links please read and accept the end-user license agreement.
Your Data License
Research

Non-Commercial, Share-Alike, Attribution

Free Forever

Commercial

Commercial Use, Remix & Adapt, White Label Log in to download
Description
The dataset was produced from estimates for under‐5 mortality (the probability of death before reaching age 5) and neonatal mortality (probability of death within the first month of life) for each pixel cell (approximately 5×5 kilometer (km)) in 46 countries in Africa for 1998-2002, 2003-2007, 2008-2012, and 2013-2017. These estimates were produced using data on child mortality and geographical locations from censuses and several household survey series, including the Demographic and Health Survey (DHS), UNICEF Mulitple Indicator Cluster Survey (MICS), and other country‐specific surveys.
About this Dataset
Data Info
| | |
| --- | --- |
| Date Created | 2017-12-31 |
| Last Modified | 2018-03-11 |
| Version | 2018-03-11 |
| Update Frequency | Never |
| Temporal Coverage | 1998-01-01 to 2017-12-31 |
| Spatial Coverage | Africa |
| Source | John Snow Labs; Institute for Health Metrics and Evaluation (IHME), Global Health Data Exchange; |
| Source License URL | |
| Source License Requirements | N/A |
| Source Citation | N/A |
| Keywords | Infant Mortality, Neonatal Mortality, Under 5 Mortality, Infant Deaths, Neonatal Deaths, Under 5 Deaths, Child Mortality Rate, Child Mortality |
| Other Titles | Child Mortality Estimates in Africa 1998-2017, Africa Child Death 1998-2017, Africa Under-5 and Neonatal Mortality Geospatial Estimates 1998-2017 |
Data Fields
| Name | Description | Type | Constraints |
| --- | --- | --- | --- |
| GAUL_Admin_0_Name | Name of Global Administrative Unit Layers (GAUL) administrative unit 0 where child mortality was estimated from 1998 to 2017 | string | - |
| GAUL_Admin_1_Name | Name of Global Administrative Unit Layers (GAUL) administrative unit 1 where child mortality was estimated from 1998 to 2017 | string | - |
| GAUL_Code | Code of Global Administrative Unit Layers (GAUL) administrative unit 1 where child mortality was estimated from 1998 to 2017 | integer | level : Nominal |
| Year | Year where child mortality was estimated from 1998 to 2017 | date | - |
| Age_Group_ID | Age group where child mortality was estimated from 1998 to 2017 | integer | level : Nominal |
| Age_Group_Name | Age group name where child mortality was estimated from 1998 to 2017 | string | - |
| Measure_ID | Measure ID of the probability of child death | integer | level : Nominal |
| Measure_Name | The variable measured which is the probability of child death | string | - |
| Mean | Mean probability of child death estimated from 1998 to 2017 | number | level : Ratio |
| Lower_Confidence_Interval | The lower bound of mean probability of child death estimated from 1998 to 2017 | number | level : Ratio |
| Upper_Confidence_Interval | The upper bound of mean probability of child death estimated from 1998 to 2017 | number | level : Ratio |
Data Preview
| | | | | | | | | | | |
| --- | --- | --- | --- | --- | --- | --- | --- | --- | --- | --- |
| GAUL Admin 0 Name | GAUL Admin 1 Name | GAUL Code | Year | Age Group ID | Age Group Name | Measure ID | Measure Name | Mean | Lower Confidence Interval | Upper Confidence Interval |
| Angola | Bengo | 398 | 2000 | 42 | Neonatal | 27 | Probability of death | 0.041143729 | 0.034248542 | 0.050030048 |
| Angola | Bengo | 398 | 2005 | 42 | Neonatal | 27 | Probability of death | 0.033419566 | 0.027968865 | 0.040090615 |
| Angola | Bengo | 398 | 2010 | 42 | Neonatal | 27 | Probability of death | 0.027302941 | 0.022664953999999998 | 0.032799837000000005 |
| Angola | Bengo | 398 | 2015 | 42 | Neonatal | 27 | Probability of death | 0.02122889 | 0.017002022 | 0.026669131000000002 |
| Angola | Benguela | 399 | 2000 | 42 | Neonatal | 27 | Probability of death | 0.039252824 | 0.031342982 | 0.048193755 |
| Angola | Benguela | 399 | 2005 | 42 | Neonatal | 27 | Probability of death | 0.035098349 | 0.028288398 | 0.042925382000000005 |
| Angola | Benguela | 399 | 2010 | 42 | Neonatal | 27 | Probability of death | 0.029705226 | 0.023408579 | 0.037132442 |
| Angola | Benguela | 399 | 2015 | 42 | Neonatal | 27 | Probability of death | 0.022314297 | 0.016997006000000002 | 0.028746435 |
| Angola | Bie | 400 | 2000 | 42 | Neonatal | 27 | Probability of death | 0.031869595 | 0.024838582 | 0.039918847 |
| Angola | Bie | 400 | 2005 | 42 | Neonatal | 27 | Probability of death | 0.026914255 | 0.021015474 | 0.033270062999999996 |