Others titles
Immunization Record 19 to 35 months olds 2011 to 2014
Vaccination Record 19 to 35 months olds 2011 to 2014
DTaP, Polio, MMR, Hib, HepB, HepA, Var, PCV, Rotavirus Vaccination in Children 19 to 35 months old 2011 to 2014
Immunity with Combined vaccine series in Children 2011 to 2014
Keywords
Diphtheria
Tetanus Toxoids
and Acellular Pertussis Vaccine (DTaP)
Poliovirus Vaccine (Polio)
Measles
Mumps
and Rubella Vaccine (MMR Vaccine)
Haemophilus Influenzae Type b Vaccine (Hib)
Hib Full Series Vaccine
Hepatitis B Vaccine (HepB)
Varicella Vaccine (Var)
Pneumococcal Conjugate Vaccine (PCV)
Hepatitis A Vaccine (HepA)
Rotarix (RVI) Rotavirus Vaccine
CDC Immunization
Vaccine Statistics
CDC Immunization Coverage 19 to 35 Months 2011 to 2014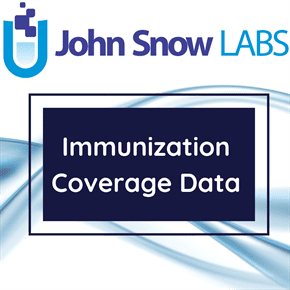 Vaccinations are one of the best ways to put an end to the serious effects of certain diseases. Vaccination helps to check the occurrence of epidemics as well as control the mortality and morbidity rates. Vaccination in the absence of prevalence of any disease is necessary that it will avoid the reoccurrence of the disease and save future generations from the agony of the deadly disease. The dataset carries vaccination statistics of 19 to 35 Months Old Children.
Log in to download
Complexity
Get The Data
For getting access to data download links please read and accept the end-user license agreement.
Your Data License
Research

Non-Commercial, Share-Alike, Attribution

Free Forever

Commercial

Commercial Use, Remix & Adapt, White Label Log in to download
Description
The reduction in morbidity and mortality associated with vaccine-preventable diseases in the United States has been described as one of the 10 greatest public health achievements of the first decade of the 21st century. A recent analysis concluded that routine childhood vaccination will prevent 322 million cases of disease and about 732,000 early deaths among children born during 1994–2013, for a net societal cost savings of $1.38 trillion (2). The National Immunization Survey (NIS) has monitored vaccination coverage among U.S. children aged 19–35 months of ≥3 doses of poliovirus vaccine, ≥1 dose of measles, mumps, and rubella vaccine (MMR), ≥3 doses of hepatitis B vaccine (HepB), ≥1 dose of varicella vaccine, ≥4 doses of diphtheria, tetanus, and acellular pertussis vaccine (DTaP), the full series of Haemophilus influenzae type b (Hib) vaccine, hepatitis B (HepB) birth dose, ≥4 doses pneumococcal conjugate vaccine (PCV), ≥2 doses of HepA, the full series of rotavirus vaccine, and the combined vaccine series including DTaP, the full series of Hib, PCV, rotavirus vaccine, and the combined series. NIS employs a dual-frame landline and cell phone random-digit–dialing (RDD) design to identify households with children. Once households with age-eligible children are identified, a parent or guardian is interviewed and asked for consent to contact the child's vaccination provider. If consent is obtained, the providers receive a mail survey requesting the child's vaccination history, including dates of receipt of specific vaccine doses. This information is used to calculate comprehensive estimates of coverage (i.e., the percentage of children who are up-to-date as recommended by the Advisory Committee on Immunization Practices [ACIP]). Data are weighted to be representative of the population of U.S. children aged 19–35 months and are adjusted for multiple telephone lines, mixed telephone use (i.e., landline and cellular), household nonresponse, and the exclusion of households without telephones. Data is presented as point estimate (%) ± 95% confidence interval. Estimate=NA (Not Available) if the un-weighted sample size for the denominator was 0.588.
About this Dataset
Data Info
| | |
| --- | --- |
| Date Created | 2015-08-01 |
| Last Modified | 2015-08-01 |
| Version | 2015-08-01 |
| Update Frequency | Annual |
| Temporal Coverage | 2011 to 2014 |
| Spatial Coverage | United States |
| Source | John Snow Labs; Centre For Disease Control And Prevention; |
| Source License URL | |
| Source License Requirements | N/A |
| Source Citation | N/A |
| Keywords | Diphtheria, Tetanus Toxoids, and Acellular Pertussis Vaccine (DTaP), Poliovirus Vaccine (Polio), Measles, Mumps, and Rubella Vaccine (MMR Vaccine), Haemophilus Influenzae Type b Vaccine (Hib), Hib Full Series Vaccine, Hepatitis B Vaccine (HepB), Varicella Vaccine (Var), Pneumococcal Conjugate Vaccine (PCV), Hepatitis A Vaccine (HepA), Rotarix (RVI) Rotavirus Vaccine, CDC Immunization, Vaccine Statistics |
| Other Titles | Immunization Record 19 to 35 months olds 2011 to 2014, Vaccination Record 19 to 35 months olds 2011 to 2014, DTaP, Polio, MMR, Hib, HepB, HepA, Var, PCV, Rotavirus Vaccination in Children 19 to 35 months old 2011 to 2014, Immunity with Combined vaccine series in Children 2011 to 2014 |
Data Fields
| Name | Description | Type | Constraints |
| --- | --- | --- | --- |
| Year | Year of immunization data | date | - |
| State | State | string | - |
| Diphtheria_Tetanus_Pertussis_Any_Pertussis | Immunization with 3 doses of any Diphtheria and Tetanus Toxoids and Pertussis vaccine including Diphtheria and Tetanus Toxoids and any Acellular Pertussis vaccine | number | level : Ratio |
| Diphtheria_Tetanus_Pertussis_Any_Pertussis_Margin_Of_Error | The margin of error for 3 doses of any Diphtheria and Tetanus Toxoids and Pertussis vaccine including Diphtheria and Tetanus Toxoids and any Acellular Pertussis vaccine | number | level : Ratio |
| Diphtheria_Tetanus_And_Pertussis | Immunization with 4 doses of Diphtheria and Tetanus Toxoids and Acellular Pertussis | number | level : Ratio |
| Diphtheria_Tetanus_And_Pertussis_Margin_Of_Error | The margin of error for 4 doses of Diphtheria and Tetanus Toxoids and Acellular Pertussis | number | level : Ratio |
| Doses3_Any_Polio | Immunization with 3 doses of any Polio vaccine | number | level : Ratio |
| Doses3_Any_Polio_Margin_Of_Error | The margin of error for 3 doses of any Polio vaccine | number | level : Ratio |
| Dose1_Measles_Mumps_Rubella | Immunization with 1 dose of Measles Mumps Rubella vaccine | number | level : Ratio |
| Dose1_Measles_Mumps_Rubella_Margin_Of_Error | The margin of error for 1 dose of Measles Mumps Rubella vaccine | number | level : Ratio |
| Doses3_Haemophilus_Influenzae_B | Immunization with 3 doses of Haemophilus Influenzae Type B Vaccine | number | level : Ratio |
| Doses3_Of_Haemophilus_Margin_Of_Error | The margin of error for 3 doses of Haemophilus Influenzae Type B Vaccine | number | level : Ratio |
| Primary_Series_Haemophilus_Influenzae_B | 2 or 3 doses of Primary Series Haemophilus Influenzae Type B Vaccine | number | level : Ratio |
| Primary_Series_Haemophilus_Margin_Of_Error | The margin of error for 2 or 3 doses of Primary Series Haemophilus Influenzae Type B Vaccine | number | level : Ratio |
| Full_Series_Haemophilus_Influenzae_B | Immunization with 3 or 4 doses of Full Series Haemophilus Influenzae Type B Vaccine | number | level : Ratio |
| Full_Series_Haemophilus_Margin_Of_Error | The margin of error for 3 or 4 doses of Full Series Haemophilus Influenzae Type B Vaccine | number | level : Ratio |
| Doses3_Hepatitis_B | Immunization with 3 doses of Hepatitis B Vaccine | number | level : Ratio |
| Doses3_Hepatitis_B_Margin_Of_Error | The margin of error for 3 doses of Hepatitis B Vaccine | number | level : Ratio |
| Dose1_Hepatitis_B | Immunization with 1 dose of Hepatitis B Vaccine | number | level : Ratio |
| Dose1_Hepatitis_B_Margin_Of_Error | The margin of error for 1 dose of Hepatitis B Vaccine | number | level : Ratio |
| Dose1_Varicella | Immunization with 1 dose of Varicella Vaccine | number | level : Ratio |
| Dose1_Varicella_Margin_Of_Error | The margin of error for 1 dose of Varicella Vaccine | number | level : Ratio |
| Doses3_Pneumococcal | Immunization with 3 doses of Pneumococcal Conjugate Vaccine | number | level : Ratio |
| Doses3_Pneumococcal_Margin_Of_Error | The margin of error for 3 doses of Pneumococcal Conjugate Vaccine | number | level : Ratio |
| Doses4_Pneumococcal | Immunization with 4 doses of Pneumococcal Conjugate Vaccine | number | level : Ratio |
| Doses4_Pneumococcal_Margin_Of_Error | The margin of error for 4 doses of Pneumococcal Conjugate Vaccine | number | level : Ratio |
| Dose1_Hepatitis_A | Immunization with 1 dose of Hepatitis A Vaccine | number | level : Ratio |
| Dose1_Hepatitis_A_Margin_Of_Error | The margin of error for 1 dose of Hepatitis A Vaccine | number | level : Ratio |
| Doses2_Hepatitis_A | Immunization with 2 doses of Hepatitis A Vaccine | number | level : Ratio |
| Doses2_Hepatitis_A_Margin_Of_Error | The margin of error for 2 doses of Hepatitis A Vaccine | number | level : Ratio |
| Rotavirus | Rotavirus vaccine | number | level : Ratio |
| Rotavirus_Margin_Of_Error | The margin of error for rotavirus vaccine | number | level : Ratio |
| Combined_Vaccine3 | Immunization with Combined 3 vaccine series | number | level : Ratio |
| Vaccine3_Margin_Of_Error | The margin of error for Combined 3 vaccine series | number | level : Ratio |
| Combined_Vaccine3_3Haemophilus_Influenzae_B | Immunization with Combined 3 Vaccine Series plus 3 doses of Haemophilus Influenzae Type B Vaccine of any type | number | level : Ratio |
| Vaccine3_3Haemophilus_Margin_Of_Error | The margin of error for Combined 3 Vaccine Series plus 3 doses of Haemophilus Influenzae Type B Vaccine of any type | number | level : Ratio |
| Combined_Vaccine3_3Primary_Haemophilus_Influenzae_B | Immunization with Combined 3 Vaccine Series plus 3 doses of Primary Series Haemophilus Influenzae Type B Vaccine of any type | number | level : Ratio |
| Vaccine3_3Primary_Haemophilus_Margin_Of_Error | The margin of error for Combined 3 Vaccine Series plus 3 doses of Primary Series Haemophilus Influenzae Type B Vaccine of any type | number | level : Ratio |
| Combined_Vaccine4 | Immunization with Combined 4 Vaccine Series | number | level : Ratio |
| Vaccine4_Margin_Of_Error | The margin of error for Combined 4 Vaccine Series | number | level : Ratio |
| Combined_Vaccine4_3Haemophilus_Influenzae_B_3Hepatits_B | Immunization with Combined 4 Vaccine Series plus 3 doses of Haemophilus Influenzae Type B Vaccine of any type and 3 doses of Hepatits B Vaccine | number | level : Ratio |
| Vaccine4_3Haemophilus_3Hepatits_B_Margin_Of_Error | The margin of error for Combined 4 Vaccine Series plus 3 doses of Haemophilus Influenzae Type B Vaccine of any type and 3 doses of Hepatits B Vaccine | number | level : Ratio |
| Combined_Vaccine4_3Primary_Haemophilus_Influenzae_B_3Hepatitis_B | Immunization with Combined 4 Vaccine Series plus Primary Series Haemophilus Influenzae Type B Vaccine and 3 doses of Hepatitis B Vaccine | number | level : Ratio |
| Vaccine4_3Primary_Haemophilus_3Hepatitis_B_Margin_Of_Error | The margin of error for Combined 4 Vaccine Series plus Primary Series Haemophilus Influenzae Type B Vaccine and 3 doses of Hepatitis B Vaccine | number | level : Ratio |
| Combined_Vaccine5 | Immunization with Combined 5 Vaccine Series | number | level : Ratio |
| Vaccine5_Margin_Of_Error | The margin of error for Combined 5 Vaccine Series | number | level : Ratio |
| Combined_Vaccine5_1Varicella | Immunization with Combined 5 Vaccine Series 1 dose of Varicella Vaccine | number | level : Ratio |
| Vaccine5_1Varicella_Margin_Of_Error | The margin of error for Combined 5 Vaccine Series 1 dose of Varicella Vaccine | number | level : Ratio |
| Combined_Vaccine3_3Hepatitis_B_1Varicella | Immunization with Combined 3 Vaccine Series plus 3 Doses of Hepatitis B Vaccine and 1 dose of Varicella Vaccine | number | level : Ratio |
| Vaccine3_3Hepatitis_B_1Varicella_Margin_Of_Error | The margin of error for Combined 3 Vaccine Series plus 3 Doses of Hepatitis B Vaccine and 1 dose of Varicella Vaccine | number | level : Ratio |
| Combined_Vaccine3_3Primary_Haemophilus_B_3Hepatitis_B_1Varicella | Immunization with Combined 3 Vaccine Series plus Primary Series Haemophilus Influenzae Type B Vaccine 3 doses of Hepatitis B Vaccine and 1 dose of Varicella Vaccine | number | level : Ratio |
| Vaccine3_3Primary_Haemophilus_3Hepatitis_B_1Varicella_Margin_Of_Error | The margin of error for Combined 3 Vaccine Series plus Primary Series Haemophilus Influenzae Type B Vaccine 3 doses of Hepatitis B Vaccine and 1 dose of Varicella Vaccine | number | level : Ratio |
| Combined_Vaccine6 | Immunization with Combined 6 Vaccine Series | number | level : Ratio |
| Vaccine6_Margin_Of_Error | The margin of error for Combined 6 Vaccine Series | number | level : Ratio |
| Combined_Vaccine6_4Pneumococcal | Immunization with Combined 6 Vaccine Series 4 doses of Pneumococcal Conjugate Vaccine | number | level : Ratio |
| Vaccine6_4Pneumococcal_Margin_Of_Error | The margin of error for Combined 6 Vaccine Series 4 doses of Pneumococcal Conjugate Vaccine | number | level : Ratio |
| Combined_Vaccine3_3Hepatitis_B_1Varicella_4Pneumococcal | Immunization with Combined 3 Vaccine Series plus 3 doses of Hepatitis B Vaccine 1 dose of Varicella Vaccine and 4 doses of Pneumococcal Conjugate Vaccine | number | level : Ratio |
| Vaccine3_3Hepatitis_B_1Varicella_4Pneumococcal_Margin_Of_Error | The margin of error for Combined 3 Vaccine Series plus 3 doses of Hepatitis B Vaccine 1 dose of Varicella Vaccine and 4 doses of Pneumococcal Conjugate Vaccine | number | level : Ratio |
| Combined_Vaccine3_Haemophilus_3Hepatitis_B_1Varicella_4Pnemococcal | Immunization with Combined 3 Vaccine Series plus Primary Series Haemophilus Influenzae Vaccine 3 doses of Hepatitis B Vaccine 1 dose of Varicella Vaccine and 4 doses of Pnemococcal Conjugate Vaccine | number | level : Ratio |
| Vaccine3_Haemophilus_3Hepatitis_1Varicella_4Pnemococcal_Margin_Error | The margin of error for Combined 3 Vaccine Series plus Primary Series Haemophilus Influenzae Vaccine 3 doses of Hepatitis B Vaccine 1 dose of Varicella Vaccine and 4 doses of Pnemococcal Conjugate Vaccine | number | level : Ratio |
| Combined_Vaccine7 | Immunization with Combined 7 Vaccine Series | number | level : Ratio |
| Vaccine7_Margin_Of_Error | The margin of error for Combined 7 Vaccine Series | number | level : Ratio |
Data Preview
| | | | | | | | | | | | | | | | | | | | | | | | | | | | | | | | | | | | | | | | | | | | | | | | | | | | | | | | | | | | | | |
| --- | --- | --- | --- | --- | --- | --- | --- | --- | --- | --- | --- | --- | --- | --- | --- | --- | --- | --- | --- | --- | --- | --- | --- | --- | --- | --- | --- | --- | --- | --- | --- | --- | --- | --- | --- | --- | --- | --- | --- | --- | --- | --- | --- | --- | --- | --- | --- | --- | --- | --- | --- | --- | --- | --- | --- | --- | --- | --- | --- | --- | --- |
| Year | State | Diphtheria Tetanus Pertussis Any Pertussis | Diphtheria Tetanus Pertussis Any Pertussis Margin Of Error | Diphtheria Tetanus And Pertussis | Diphtheria Tetanus And Pertussis Margin Of Error | Doses3 Any Polio | Doses3 Any Polio Margin Of Error | Dose1 Measles Mumps Rubella | Dose1 Measles Mumps Rubella Margin Of Error | Doses3 Haemophilus Influenzae B | Doses3 Of Haemophilus Margin Of Error | Primary Series Haemophilus Influenzae B | Primary Series Haemophilus Margin Of Error | Full Series Haemophilus Influenzae B | Full Series Haemophilus Margin Of Error | Doses3 Hepatitis B | Doses3 Hepatitis B Margin Of Error | Dose1 Hepatitis B | Dose1 Hepatitis B Margin Of Error | Dose1 Varicella | Dose1 Varicella Margin Of Error | Doses3 Pneumococcal | Doses3 Pneumococcal Margin Of Error | Doses4 Pneumococcal | Doses4 Pneumococcal Margin Of Error | Dose1 Hepatitis A | Dose1 Hepatitis A Margin Of Error | Doses2 Hepatitis A | Doses2 Hepatitis A Margin Of Error | Rotavirus | Rotavirus Margin Of Error | Combined Vaccine3 | Vaccine3 Margin Of Error | Combined Vaccine3 3Haemophilus Influenzae B | Vaccine3 3Haemophilus Margin Of Error | Combined Vaccine3 3Primary Haemophilus Influenzae B | Vaccine3 3Primary Haemophilus Margin Of Error | Combined Vaccine4 | Vaccine4 Margin Of Error | Combined Vaccine4 3Haemophilus Influenzae B 3Hepatits B | Vaccine4 3Haemophilus 3Hepatits B Margin Of Error | Combined Vaccine4 3Primary Haemophilus Influenzae B 3Hepatitis B | Vaccine4 3Primary Haemophilus 3Hepatitis B Margin Of Error | Combined Vaccine5 | Vaccine5 Margin Of Error | Combined Vaccine5 1Varicella | Vaccine5 1Varicella Margin Of Error | Combined Vaccine3 3Hepatitis B 1Varicella | Vaccine3 3Hepatitis B 1Varicella Margin Of Error | Combined Vaccine3 3Primary Haemophilus B 3Hepatitis B 1Varicella | Vaccine3 3Primary Haemophilus 3Hepatitis B 1Varicella Margin Of Error | Combined Vaccine6 | Vaccine6 Margin Of Error | Combined Vaccine6 4Pneumococcal | Vaccine6 4Pneumococcal Margin Of Error | Combined Vaccine3 3Hepatitis B 1Varicella 4Pneumococcal | Vaccine3 3Hepatitis B 1Varicella 4Pneumococcal Margin Of Error | Combined Vaccine3 Haemophilus 3Hepatitis B 1Varicella 4Pnemococcal | Vaccine3 Haemophilus 3Hepatitis 1Varicella 4Pnemococcal Margin Error | Combined Vaccine7 | Vaccine7 Margin Of Error |
| 2011 | U.S. National | 95.5 | 0.5 | 84.6 | 1.0 | 93.9 | 0.6 | 91.6 | 0.8 | 94.0 | 0.6 | 94.2 | 0.6 | 80.4 | 1.1 | 91.1 | 0.7 | 68.6 | 1.3 | 90.8 | 0.7 | 93.6 | 0.6 | 84.4 | 1.0 | 81.2 | 1.0 | 52.2 | 1.4 | 67.3 | 1.3 | 82.6 | 1.0 | 81.9 | 1.0 | 81.9 | 1.0 | 75.4 | 1.2 | | | | | | | 77.0 | 1.1 | 77.6 | 1.1 | 77.0 | 1.1 | 71.0 | 1.2 | 73.3 | 1.2 | 73.6 | 1.2 | 73.3 | 1.2 | 68.5 | 1.3 |
| 2011 | Alabama | 97.1 | 1.8 | 87.5 | 4.7 | 96.2 | 2.0 | 94.0 | 2.9 | 96.4 | 2.1 | 96.4 | 2.1 | 79.6 | 5.6 | 91.2 | 3.5 | 75.3 | 5.8 | 94.2 | 2.8 | 96.4 | 2.0 | 85.2 | 5.1 | 84.8 | 4.3 | 53.7 | 6.5 | 75.5 | 5.7 | 85.8 | 4.8 | 84.8 | 4.9 | 84.8 | 4.9 | 75.9 | 5.8 | | | | | | | 79.2 | 5.3 | 79.5 | 5.3 | 79.2 | 5.3 | 71.0 | 6.0 | 72.9 | 5.9 | 73.3 | 5.9 | 72.9 | 5.9 | 68.8 | 6.1 |
| 2011 | Alaska | 93.7 | 3.5 | 77.4 | 6.4 | 93.3 | 3.5 | 90.8 | 3.9 | 89.7 | 4.4 | 92.1 | 4.0 | 83.8 | 5.3 | 93.3 | 3.5 | 63.9 | 7.1 | 87.2 | 4.5 | 90.9 | 4.1 | 78.2 | 6.0 | 85.0 | 4.9 | 48.9 | 7.6 | 55.6 | 7.5 | 76.9 | 6.4 | 75.5 | 6.6 | 75.5 | 6.6 | 71.3 | 6.9 | | | | | | | 73.2 | 6.7 | 74.5 | 6.6 | 73.2 | 6.7 | 69.0 | 7.0 | 67.7 | 7.1 | 69.0 | 7.0 | 67.7 | 7.1 | 64.7 | 7.3 |
| 2011 | Arizona | 95.9 | 2.5 | 86.0 | 6.0 | 93.8 | 2.9 | 86.7 | 6.7 | 93.7 | 3.6 | 94.4 | 3.3 | 82.4 | 6.8 | 87.0 | 6.0 | 71.2 | 8.2 | 87.9 | 5.9 | 93.1 | 3.6 | 83.3 | 6.4 | 87.5 | 5.8 | 51.2 | 9.1 | 64.6 | 8.7 | 79.9 | 7.3 | 78.8 | 7.5 | 78.8 | 7.5 | 74.6 | 8.0 | | | | | | | 68.1 | 8.7 | 69.2 | 8.6 | 68.1 | 8.7 | 64.2 | 8.9 | 64.0 | 8.9 | 65.1 | 8.8 | 64.0 | 8.9 | 60.4 | 9.0 |
| 2011 | Arkansas | 95.5 | 2.5 | 84.5 | 5.5 | 95.8 | 2.3 | 93.7 | 3.2 | 92.9 | 4.0 | 92.9 | 4.0 | 77.0 | 6.3 | 90.0 | 4.3 | 81.9 | 6.9 | 93.0 | 3.4 | 91.7 | 4.8 | 79.1 | 6.4 | 63.0 | 7.6 | 33.2 | 7.2 | 62.1 | 7.5 | 82.6 | 5.8 | 82.2 | 5.8 | 82.2 | 5.8 | 73.4 | 6.8 | | | | | | | 79.1 | 6.1 | 79.1 | 6.1 | 79.1 | 6.1 | 70.5 | 7.0 | 71.5 | 7.1 | 71.5 | 7.1 | 71.5 | 7.1 | 66.0 | 7.5 |
| 2011 | California | 96.5 | 1.7 | 87.7 | 3.9 | 94.1 | 2.5 | 91.0 | 3.7 | 95.0 | 2.3 | 95.0 | 2.3 | 81.9 | 4.5 | 90.3 | 3.2 | 58.4 | 6.3 | 91.8 | 2.8 | 96.1 | 1.8 | 86.1 | 4.0 | 88.0 | 3.6 | 59.6 | 6.4 | 71.1 | 5.8 | 86.2 | 4.0 | 85.2 | 4.2 | 85.2 | 4.2 | 76.8 | 5.1 | | | | | | | 80.4 | 4.7 | 81.4 | 4.6 | 80.4 | 4.7 | 72.5 | 5.4 | 77.4 | 5.0 | 78.0 | 4.9 | 77.4 | 5.0 | 70.1 | 5.6 |
| 2011 | Colorado | 91.2 | 5.1 | 81.0 | 7.7 | 89.8 | 5.2 | 88.4 | 5.4 | 90.9 | 5.3 | 91.0 | 5.3 | 76.5 | 8.3 | 88.0 | 5.2 | 57.8 | 8.4 | 88.6 | 5.3 | 87.3 | 6.7 | 78.7 | 7.7 | 67.5 | 8.5 | 46.8 | 8.5 | 67.7 | 8.1 | 78.7 | 7.7 | 77.7 | 7.8 | 77.7 | 7.8 | 72.5 | 8.3 | | | | | | | 75.8 | 7.8 | 75.8 | 7.8 | 75.8 | 7.8 | 70.8 | 8.3 | 70.3 | 8.5 | 70.3 | 8.5 | 70.3 | 8.5 | 65.7 | 8.7 |
| 2011 | Connecticut | 97.5 | 1.8 | 88.8 | 3.6 | 96.7 | 2.4 | 95.0 | 2.6 | 96.3 | 2.5 | 96.3 | 2.5 | 84.5 | 4.8 | 94.1 | 2.6 | 71.1 | 5.6 | 94.1 | 3.0 | 97.0 | 1.9 | 91.6 | 3.2 | 83.8 | 4.9 | 53.9 | 6.8 | 69.6 | 6.0 | 86.1 | 4.1 | 85.8 | 4.1 | 85.8 | 4.1 | 79.9 | 5.1 | | | | | | | 81.2 | 4.8 | 81.4 | 4.8 | 81.2 | 4.8 | 76.2 | 5.4 | 79.0 | 5.0 | 79.0 | 5.0 | 79.0 | 5.0 | 74.6 | 5.5 |
| 2011 | Delaware | 94.0 | 4.6 | 83.7 | 6.0 | 92.1 | 4.9 | 90.6 | 5.1 | 93.5 | 4.8 | 93.5 | 4.8 | 78.6 | 6.2 | 83.8 | 6.3 | 68.4 | 6.7 | 90.5 | 5.1 | 91.8 | 4.9 | 84.5 | 6.0 | 81.6 | 6.1 | 54.5 | 7.3 | 72.5 | 6.9 | 80.2 | 6.3 | 80.2 | 6.3 | 80.2 | 6.3 | 73.5 | 6.6 | | | | | | | 72.1 | 6.9 | 72.1 | 6.9 | 72.1 | 6.9 | 66.8 | 7.0 | 68.6 | 7.0 | 68.6 | 7.0 | 68.6 | 7.0 | 63.5 | 7.0 |
| 2011 | Dist. of Columbia | 95.0 | 2.7 | 87.4 | 4.6 | 93.2 | 3.4 | 93.5 | 3.0 | 94.5 | 2.6 | 94.5 | 2.6 | 83.5 | 5.1 | 91.6 | 3.3 | 74.1 | 6.6 | 93.7 | 2.8 | 93.1 | 2.9 | 83.8 | 5.1 | 89.5 | 4.3 | 55.8 | 7.3 | 62.1 | 7.0 | 86.5 | 4.7 | 85.3 | 4.8 | 85.3 | 4.8 | 80.3 | 5.5 | | | | | | | 81.4 | 5.2 | 82.3 | 5.1 | 81.4 | 5.2 | 77.3 | 5.7 | 76.3 | 5.8 | 76.3 | 5.8 | 76.3 | 5.8 | 73.1 | 6.1 |