Others titles
E-Cigarette Legislation Regarding Youth Access to Tobacco Products
Restrictions, Enforcement and Penalties Over Sale of E-Cigarettes to Youth
Keywords
Tobacco Use
Tobacco Use Prevention and Control Policies
E-Cigarette
State Tobacco Activities Tracking and Evaluation (STATE)
Sale of E-Cigarettes to Youth
CDC State System E-Cigarette Legislation About Youth Access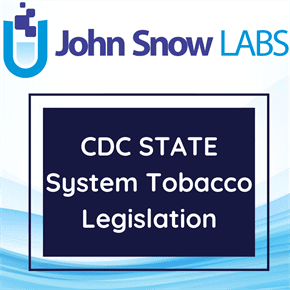 This dataset includes information over State Tobacco Activities Tracking and Evaluation (STATE) System houses current and historical state-level legislative data on E-Cigarette tobacco use prevention and control policies and about youth access to it.
Log in to download
Complexity
Get The Data
For getting access to data download links please read and accept the end-user license agreement.
Your Data License
Research

Non-Commercial, Share-Alike, Attribution

Free Forever

Commercial

Commercial Use, Remix & Adapt, White Label Log in to download
Description
The data for this dataset is provided by Centers for Disease Control and Prevention (CDC), National Center for Chronic Disease Prevention and Health Promotion, Office on Smoking and Health (OSH). Data are reported on a quarterly basis. It includes information related to restrictions, enforcement and penalties associated with the sale of e-cigarettes to youth through retail sales and vending machines.
In the United States, tobacco use is the leading cause of preventable disease, disability, and death. More than 480,000 people die prematurely in the United States annually and another 16 million have a serious illness caused by smoking or exposure to secondhand smoke. Each year, smoking costs the United States nearly $170 billion in direct medical costs and more than $156 billion in lost productivity.
An E-Cigarette is any electronic device that can be used to deliver nicotine or other substances to the person inhaling from the device, including—but not limited to—electronic cigarettes (e-cigarettes), e-cigars, e-pipes, e-hookahs, vape pens, and other electronic nicotine delivery systems. E-cigarettes are now the most commonly used tobacco product among youth. In the United States, youth are more likely than adults to use e-cigarettes. In 2016, more than 2 million U.S. middle and high school students used e-cigarettes in the past 30 days, including 4.3% of middle school students and 11.3% of high school students.
E-cigarettes have long-term health effects and most e-cigarettes contain nicotine, which has known health effects. Besides being highly addictive, Nicotine is toxic to developing fetuses. It can harm adolescent brain development, which continues into the early to mid-20s. Nicotine is a health danger for pregnant women and their developing babies. E-cigarette aerosol can contain substances which includes cancer-causing chemicals and tiny particles that reach deep into lungs. E-cigarettes can also cause unintended injuries. Defective e-cigarette batteries have caused fires and explosions, some of which have resulted in serious injuries. The Food and Drug Administration (FDA) collects data to help address this issue. In addition, acute nicotine exposure can be toxic. Children and adults have been poisoned by swallowing, breathing, or absorbing e-cigarette liquid through their skin or eyes.
As of June 30, 2017, 46 states, the District of Columbia, Guam, Puerto Rico, and the U.S. Virgin Islands have passed legislation prohibiting the sale of e-cigarettes to minors. Four states (Maine, Massachusetts, Michigan, and Pennsylvania) do not have any legislation requiring a minimum age restriction on the purchase of e-cigarettes.
As of June 30, 2017, fifteen states (Arkansas, California, Connecticut, Indiana, Iowa, Kansas, Louisiana, Maryland, Minnesota, Montana, Pennsylvania, Rhode Island, Utah, Vermont and Washington), the District of Columbia, and the U.S. Virgin Islands have passed legislation that requires a retail license to sell e-cigarettes over-the-counter. In Maryland, the licensure law becomes effective on October 1, 2017.
In this dataset, the data source is repesented by Occupational Safety and Health (OSH) and TopicId is 1045LEG.
About this Dataset
Data Info
| | |
| --- | --- |
| Date Created | 2015-05-04 |
| Last Modified | 2023-01-12 |
| Version | 2023-01-12 |
| Update Frequency | Quarterly |
| Temporal Coverage | 1995-2022 |
| Spatial Coverage | United States |
| Source | John Snow Labs; Centers for Disease Control and Prevention (CDC); |
| Source License URL | |
| Source License Requirements | N/A |
| Source Citation | N/A |
| Keywords | Tobacco Use, Tobacco Use Prevention and Control Policies, E-Cigarette, State Tobacco Activities Tracking and Evaluation (STATE), Sale of E-Cigarettes to Youth |
| Other Titles | E-Cigarette Legislation Regarding Youth Access to Tobacco Products, Restrictions, Enforcement and Penalties Over Sale of E-Cigarettes to Youth |
Data Fields
| Name | Description | Type | Constraints |
| --- | --- | --- | --- |
| Year | Year in which the survey had been conducted. | date | - |
| Quarter | The specific quarter of the year in which the survey had been conducted. | integer | level : Ordinal |
| State_Abbreviation | It indicates the abbreviation of different locations and states. | string | - |
| State | It includes the description of different locations and states. | string | - |
| Measure_Description | It includes different measure description. | string | enum : Array ( [0] => E-Cigarette Vending Machines [1] => E-Cigarette Sales ) |
| Provision_Group_Description | Refers to the group for different provision description. | string | enum : Array ( [0] => Restrictions [1] => Penalties [2] => Enforcement ) |
| Provision_Description | Refers to the Provision description for different states. | string | - |
| Provision_Value | It includes the provision value for states. | string | - |
| Citation | Citations should supply detail to identify the item uniquely. | string | - |
| Provision_Alternative_Value | It includes provision alternative value for different states. | number | level : Ratio |
| Data_Type | Refers to the type of different data values. | string | enum : Array ( [0] => Ranking [1] => Money [2] => Years [3] => Yes/No ) |
| Comments | It includes the pertaining to legislation (additional details). | string | - |
| Enacted_Date | Refers to the date of legislation enaction. | date | - |
| Effective_Date | Date this legislation becomes effective. | date | - |
| Latitude | Geographical Location Latitude coordinates from where the data was collected | number | required : 1 |
| Longitude | Geographical Location Longitude coordinates from where the data was collected | number | required : 1 |
| Display_Order | It refers to the order of display. | integer | level : Ordinal |
| Measure_Id | It indicates the measure identifier which consists of alphanumeric code. | string | - |
| Provision_Group_ID | It refers to the Provision Group Identifier which also consists of alphanumeric codes. | string | - |
| Provision_ID | It includes the Provision Idenfier number. | integer | level : Nominal |
Data Preview
| | | | | | | | | | | | | | | | | | | | |
| --- | --- | --- | --- | --- | --- | --- | --- | --- | --- | --- | --- | --- | --- | --- | --- | --- | --- | --- | --- |
| Year | Quarter | State Abbreviation | State | Measure Description | Provision Group Description | Provision Description | Provision Value | Citation | Provision Alternative Value | Data Type | Comments | Enacted Date | Effective Date | Latitude | Longitude | Display Order | Measure Id | Provision Group ID | Provision ID |
| 2021 | 3 | RI | Rhode Island | E-Cigarette Sales | Restrictions | Minimum Age (Years) | 21 | R.I. GEN. LAWS § 11-9-13.8 | 21.0 | Years | | 2021-07-07 | 2021-07-07 | 41.70828019 | -71.52247031 | 2 | 1021ECT | 10GRP | 509 |
| 2022 | 1 | CO | Colorado | E-Cigarette Sales | Penalties | Penalty to Business (Type) | Civil infraction; fine; written warning | COLO. REV. STAT. § 18-13-121 | | | | 2021-07-06 | 2022-03-01 | 38.84384076 | -106.13361090000002 | 10 | 1021ECT | 60GRP | 517 |
| 2021 | 4 | RI | Rhode Island | E-Cigarette Sales | Restrictions | Minimum Age (Years) | 21 | R.I. GEN. LAWS § 11-9-13.8 | 21.0 | Years | | 2021-07-07 | 2021-07-07 | 41.70828019 | -71.52247031 | 2 | 1021ECT | 10GRP | 509 |
| 2021 | 1 | AR | Arkansas | E-Cigarette Sales | Penalties | Penalty to Youth (Type) | 3 hours community service and tobacco education program in addition to any other punishment imposed by the court; fine | Ark. Code Ann §§ 5-78-102 and 26-57-255 | | | | 2019-03-28 | 2019-07-24 | 34.74865012 | -92.27449074 | 14 | 1021ECT | 60GRP | 521 |
| 2020 | 4 | AR | Arkansas | E-Cigarette Sales | Penalties | Minimum Penalty to Youth ($) | No Minimum | Ark. Code Ann § 26-57-255 | | Money | | 2019-04-16 | 2019-07-24 | 34.74865012 | -92.27449074 | 15 | 1021ECT | 60GRP | 522 |
| 2019 | 4 | AR | Arkansas | E-Cigarette Sales | Penalties | Maximum Penalty to Youth ($) | 250 | Ark. Code Ann. §26-57-255 | 250.0 | Money | | 2019-04-16 | 2019-07-24 | 34.74865012 | -92.27449074 | 16 | 1021ECT | 60GRP | 523 |
| 2016 | 2 | MD | Maryland | E-Cigarette Vending Machines | Restrictions | Supervision | No Provision | | | Ranking | | | | 39.29058096 | -76.60926011 | 5 | 1024EVM | 10GRP | 499 |
| 2014 | 2 | WY | Wyoming | E-Cigarette Sales | Penalties | Penalty to Business (Type) | Misdemeanor; Fine | WYO. STAT. § 14-3-304 | | | | 2013-03-13 | 2013-03-13 | 43.23554134 | -108.1098304 | 10 | 1021ECT | 60GRP | 517 |
| 2015 | 2 | TN | Tennessee | E-Cigarette Sales | Restrictions | Purchase Prohibited | No Provision | | | Ranking | | | | 35.68094058 | -85.77449091 | 3 | 1021ECT | 10GRP | 510 |
| 2014 | 3 | OR | Oregon | E-Cigarette Sales | Penalties | Penalty to Youth | No Provision | | | Ranking | | | | 44.56744942 | -120.1550313 | 13 | 1021ECT | 60GRP | 520 |