Others titles
Inpatient CPT Place of Service Codes Set
Type Of Bill Place of Service Codes Set
CPT Codes Place of Service Codes Set
Coding Services Place of Service Codes Set
Keywords
POS Codes
POS in Medical Billing
Medicare Place of Service Code
CPT
CPT Codes
Coding Services
Place Of Service Codes
Centers for Medicare and Medicaid Services Place of Service Codes Set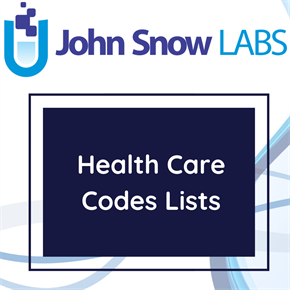 In this dataset the place of service codes and their descriptions have been cited. These codes should be used on professional claims to specify the entity where service(s) were rendered. These Place of Service Codes database have been updated from November 17, 2016.
Log in to download
Complexity
Get The Data
For getting access to data download links please read and accept the end-user license agreement.
Your Data License
Research

Non-Commercial, Share-Alike, Attribution

Free Forever

Commercial

Commercial Use, Remix & Adapt, White Label Log in to download
Description
Place of Service Codes is a two-digit codes placed on health care professional claims to indicate the setting in which a service was provided. The Centers for Medicare & Medicaid Services (CMS) maintain POS (place of service) codes used throughout the healthcare industry.
This code set is required for use in the implementation guide adopted as the national standard for electronic transmission of professional health care claims under the provisions of the Health Insurance Portability and Accountability Act of 1996 (HIPAA). HIPAA directed the Secretary of HHS (Health & Human Services) to adopt national standards for electronic transactions. These standard transactions require all health plans and providers to use standard code sets to populate data elements in each transaction. The Transaction and Code Set Rule adopted the ASC X12N-837 Health Care Claim: Professional, volumes 1 and 2, version 4010, as the standard for electronic submission of professional claims. This standard names the POS code set currently maintained by CMS as the code set to be used for describing sites of service in such claims. POS information is often needed to determine the acceptability of direct billing of Medicare, Medicaid and private insurance services provided by a given provider.
About this Dataset
Data Info
| | |
| --- | --- |
| Date Created | 2014-04-01 |
| Last Modified | 2023-06-28 |
| Version | 2023-06-28 |
| Update Frequency | Annual |
| Temporal Coverage | 2014 to 2023 |
| Spatial Coverage | United States |
| Source | John Snow Labs; Centers for Medicare & Medicaid Services; |
| Source License URL | |
| Source License Requirements | N/A |
| Source Citation | N/A |
| Keywords | POS Codes, POS in Medical Billing, Medicare Place of Service Code, CPT, CPT Codes, Coding Services, Place Of Service Codes |
| Other Titles | Inpatient CPT Place of Service Codes Set, Type Of Bill Place of Service Codes Set, CPT Codes Place of Service Codes Set, Coding Services Place of Service Codes Set |
Data Fields
| Name | Description | Type | Constraints |
| --- | --- | --- | --- |
| Place_of_Service_Code | 1- or 2-digit POS code to indicate the setting in which service was provided. | string | - |
| Place_of_Service_Name | Location where services have been performed. | string | - |
| Place_of_Service_Description | Long (full line / sentence) description of the code | string | - |
Data Preview
| | | |
| --- | --- | --- |
| Place of Service Code | Place of Service Name | Place of Service Description |
| 1 | Pharmacy | A facility or location where drugs and other medically related items and services are sold, dispensed, or otherwise provided directly to patients. (Effective October 1, 2003) |
| 2 | Telehealth Provided Other than in Patient's Home | The location where health services and health related services are provided or received, through telecommunication technology. Patient is not located in their home when receiving health services or health related services through telecommunication technology.  (Effective January 1, 2017) (Description change effective January 1, 2022, and applicable for Medicare April 1, 2022.) |
| 3 | School | A facility whose primary purpose is education. (Effective January 1, 2003) |
| 4 | Homeless Shelter | A facility or location whose primary purpose is to provide temporary housing to homeless individuals (e.g., emergency shelters, individual or family shelters). (Effective January 1, 2003) |
| 5 | Indian Health Service Free-standing Facility | A facility or location, owned and operated by the Indian Health Service, which provides diagnostic, therapeutic (surgical and non-surgical), and rehabilitation services to American Indians and Alaska Natives who do not require hospitalization. Â (Effective January 1, 2003) |
| 6 | Indian Health Service Free-standing Facility | A facility or location, owned and operated by the Indian Health Service, which provides diagnostic, therapeutic (surgical and non-surgical), and rehabilitation services rendered by, or under the supervision of, physicians to American Indians and Alaska Natives admitted as inpatients or outpatients. (Effective January 1, 2003) |
| 7 | Tribal 638 Free-standing Facility | A facility or location owned and operated by a federally recognized American Indian or Alaska Native tribe or tribal organization under a 638 agreement, which provides diagnostic, therapeutic (surgical and non-surgical), and rehabilitation services to tribal members who do not require hospitalization. Â (Effective January 1, 2003) |
| 8 | Tribal 638 Provider-based Facility | A facility or location owned and operated by a federally recognized American Indian or Alaska Native tribe or tribal organization under a 638 agreement, which provides diagnostic, therapeutic (surgical and non-surgical), and rehabilitation services to tribal members admitted as inpatients or outpatients. (Effective January 1, 2003) |
| 9 | Prison/ Correctional Facility | A prison, jail, reformatory, work farm, detention center, or any other similar facility maintained by either Federal, State or local authorities for the purpose of confinement or rehabilitation of adult or juvenile criminal offenders. (Effective July 1, 2006) |
| 10 | Telehealth Provided in Patient's Home | The location where health services and health related services are provided or received, through telecommunication technology. Patient is located in their home (which is a location other than a hospital or other facility where the patient receives care in a private residence) when receiving health services or health related services through telecommunication technology. (This code is effective January 1, 2022, and available to Medicare April 1, 2022.) |