Others titles
Physician Profiles Supplement file
Physician Profile Data
Covered recipients of payments for a specific country
Covered recipients of payments for a specific state in US
Specialty based information for covered recipients
Covered recipients with multiple states licenses
Keywords
Open Payments
Affordable Care Act
Sunshine Act
Transparency programs
Physician Profile ID
CMS Physicians and Principal Investigators Details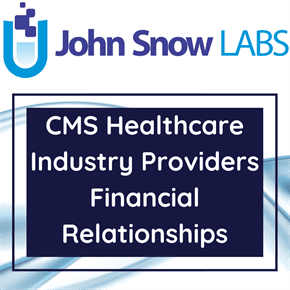 Dataset contains all of the identifying information for physicians who were indicated as recipients of payments, other transfers of value, or ownership and investment interest in records published by CMS through Open Payments as well as physician principal investigators who were associated with payments or other transfers of value in records published in Open Payments. This file contains only physicians and principal investigators having at least one payment record published.
Log in to download
Complexity
Get The Data
The data in CSV format

DOWNLOAD

Metadata in Human Readable format (PDF)

DOWNLOAD

Metadata in Machine Readable format (JSON)

DOWNLOAD
Your Data License
Research

Non-Commercial, Share-Alike, Attribution

Free Forever

Commercial

Commercial Use, Remix & Adapt, White Label Buy Subscription
Description
Open Payments, which is managed by the Centers for Medicare & Medicaid Services (CMS), is a national disclosure program created by the Affordable Care Act (ACA) that promotes transparency and accountability by helping consumers understand the financial relationships between pharmaceutical and medical device industries and physicians and teaching hospitals. These financial relationships may include consulting fees, research grants, travel reimbursements, and payments made from the industry to medical practitioners.
This is a supplementary file that displays all of the physicians and principal investigators indicated as covered recipients of payments for records published by Open Payments. Each record includes the physician's or principal investigator's demographic information, specialties, and license state, as well as the Open Payments' unique identification number (Physician Profile ID) for each physician and principal investigator. The Physician Profile ID can be used to search other datasets to find payments
made to or associated with that specific physician as well as to link physician records across program years.
The physician information included in this dataset is derived from the National Plan and Provider Enumeration System (NPPES) and supplemented by information in the Provider Enrollment, Chain and Ownership System (PECOS).
About this Dataset
Data Info
| | |
| --- | --- |
| Date Created | 2014-06 |
| Last Modified | 2017-06-30 |
| Version | 2017-06-30 |
| Update Frequency | Annual |
| Temporal Coverage | 2013-08 to 2015-12 |
| Spatial Coverage | United States |
| Source | John Snow Labs; Centers of Medicare and Medicaid Services (CMS); |
| Source License URL | |
| Source License Requirements | N/A |
| Source Citation | N/A |
| Keywords | Open Payments, Affordable Care Act, Sunshine Act, Transparency programs, Physician Profile ID |
| Other Titles | Physician Profiles Supplement file, Physician Profile Data, Covered recipients of payments for a specific country, Covered recipients of payments for a specific state in US, Specialty based information for covered recipients, Covered recipients with multiple states licenses |
Data Fields
| Name | Description | Type | Constraints |
| --- | --- | --- | --- |
| Physician_Profile_ID | System-generated unique identifier for physician profile receiving the payment or other transfer of value | integer | unique : 1 required : 1 level : Nominal |
| Physician_Profile_First_Name | The physician's first name | string | required : 1 maxLength : 20 |
| Physician_Profile_Middle_Name | The physician's middle name | string | maxLength : 20 |
| Physician_Profile_Last_Name | The physician's last name | string | maxLength : 35 |
| Physician_Profile_Suffix | The physician's suffix | string | maxLength : 5 |
| Physician_Profile_Alternate_First_Name | The physician's alternate first name | string | maxLength : 20 |
| Physician_Profile_Alternate_Middle_Name | The physician's alternate middle name | string | maxLength : 20 |
| Physician_Profile_Alternate_Last_Name | The physician's alternate last name | string | maxLength : 35 |
| Physician_Profile_Alternate_Suffix | The physician's alternate suffix | string | maxLength : 5 |
| Physician_Profile_Address_Line_1 | The first line of the latest provider business practice location address | string | maxLength : 55 |
| Physician_Profile_Address_Line_2 | The second line of the latest provider business practice location address | string | maxLength : 55 |
| Physician_Profile_City | The city of the latest provider business practice location address | string | maxLength : 40 |
| Physician_Profile_State | The state of the latest provider business practice location address | string | maxLength : 2 |
| Physician_Profile_Zipcode | The 9-digit ZIP code of the latest provider business practice location address | string | maxLength : 10 |
| Physician_Profile_Country_Name | The country of the latest provider business practice location address | string | maxLength : 100 |
| Physician_Profile_Province_Name | The province of the latest provider business practice location address | string | maxLength : 20 |
| Physician_Profile_Primary_Specialty | The single primary specialty | string | maxLength : 300 |
| Physician_Profile_OPS_Taxonomy_1 | The primary Open Payments valid taxonomy code as listed in CMS physician reference data for physicians that have a valid Open Payments taxonomy | string | maxLength : 10 |
| Physician_Profile_OPS_Taxonomy_2 | The primary Open Payments valid taxonomy code as listed in CMS physician reference data for physicians that have a valid Open Payments taxonomy | string | maxLength : 10 |
| Physician_Profile_OPS_Taxonomy_3 | The primary Open Payments valid taxonomy code as listed in CMS physician reference data for physicians that have a valid Open Payments taxonomy | string | maxLength : 10 |
| Physician_Profile_OPS_Taxonomy_4 | The primary Open Payments valid taxonomy code as listed in CMS physician reference data for physicians that have a valid Open Payments taxonomy | string | maxLength : 10 |
| Physician_Profile_OPS_Taxonomy_5 | The primary Open Payments valid taxonomy code as listed in CMS physician reference data for physicians that have a valid Open Payments taxonomy | string | maxLength : 10 |
| Physician_Profile_License_State_Code_1 | The state license number of the physician profile in the Open Payments system, which is a 2-letter state abbreviation; | string | required : 1 maxLength : 2 |
| Physician_Profile_License_State_Code_2 | The state license number of the physician profile in the Open Payments system, which is a 2-letter state abbreviation; | string | maxLength : 2 |
| Physician_Profile_License_State_Code_3 | The state license number of the physician profile in the Open Payments system, which is a 2-letter state abbreviation; | string | maxLength : 2 |
| Physician_Profile_License_State_Code_4 | The state license number of the physician profile in the Open Payments system, which is a 2-letter state abbreviation; | string | maxLength : 2 |
| Physician_Profile_License_State_Code_5 | The state license number of the physician profile in the Open Payments system, which is a 2-letter state abbreviation; | string | maxLength : 2 |
Data Preview
| | | | | | | | | | | | | | | | | | | | | | | | | | | |
| --- | --- | --- | --- | --- | --- | --- | --- | --- | --- | --- | --- | --- | --- | --- | --- | --- | --- | --- | --- | --- | --- | --- | --- | --- | --- | --- |
| Physician_Profile_ID | Physician_Profile_First_Name | Physician_Profile_Middle_Name | Physician_Profile_Last_Name | Physician_Profile_Suffix | Physician_Profile_Alternate_First_Name | Physician_Profile_Alternate_Middle_Name | Physician_Profile_Alternate_Last_Name | Physician_Profile_Alternate_Suffix | Physician_Profile_Address_Line_1 | Physician_Profile_Address_Line_2 | Physician_Profile_City | Physician_Profile_State | Physician_Profile_Zipcode | Physician_Profile_Country_Name | Physician_Profile_Province_Name | Physician_Profile_Primary_Specialty | Physician_Profile_OPS_Taxonomy_1 | Physician_Profile_OPS_Taxonomy_2 | Physician_Profile_OPS_Taxonomy_3 | Physician_Profile_OPS_Taxonomy_4 | Physician_Profile_OPS_Taxonomy_5 | Physician_Profile_License_State_Code_1 | Physician_Profile_License_State_Code_2 | Physician_Profile_License_State_Code_3 | Physician_Profile_License_State_Code_4 | Physician_Profile_License_State_Code_5 |
| 141302 | Lee | | Cohen | | | | | | | | | | | | | | | | | | | NY | | | | |
| 79909 | Robert | | Hidalgo | | | | | | 10 POST | | IRVINE | CA | 92618 | UNITED STATES | | | | | | | | CA | | | | |
| 340367 | Luann | | Olson | | | | | | 204 S MAIN | | ALEXIS | IL | 61412 | UNITED STATES | | | | | | | | IA | | | | |
| 1385922 | CONRAD | | GIBBY | | | | | | BCM 360 | | HOUSTON | TX | 77030 | UNITED STATES | | | | | | | | TX | | | | |
| 1385228 | JARED | | WEST | | | | | | 475 W 940 N | | PROVO | UT | 84604 | UNITED STATES | | | | | | | | UT | | | | |
| 2786012 | SAFI | | KHAN | | | | | | 1 GUTHRIE SQ | | SAYRE | PA | 18840 | UNITED STATES | | | | | | | | PA | | | | |
| 1397251 | ABDALLA | | OUN | | | | | | 198 MAIN ST | | POLO | MO | 64671 | UNITED STATES | | | | | | | | MO | | | | |
| 2786182 | YI | | WANG | | | | | | 1 BAYLOR PLZ | | HOUSTON | TX | 77030 | UNITED STATES | | | | | | | | TX | | | | |
| 2785323 | JEAN | | THOMAS | | | | | | DUMC 2626 | | DURHAM | NC | 27711 | UNITED STATES | | | | | | | | MO | | | | |
| 2786289 | YA | | XU | | | | | | 6565 FANNIN ST | | HOUSTON | TX | 77030 | UNITED STATES | | | | | | | | TX | | | | |