Others titles
Convergent Medical Terminology History Subset
CMT History and Family History Subset
CMT History and Family History Problem List Subset ICD Mapping
Kaiser Permanente CMT History and Family History Subset
Keywords
CMT Family History
Kaiser Permanente
IHTSDO
International Health Terminology Standards Development Organisation
SNOMED CT Subsets
CMT Problem Lists
SNOMED Subsets
ICD-9-CM Mapping
ICD-10-CM Mapping
CMT History and Family History Problem List Subset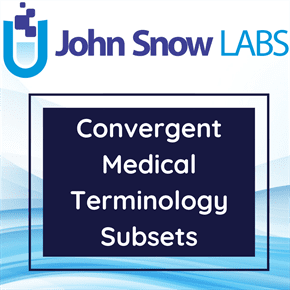 This problem list subset includes concepts that KP (Kaiser Permanente) uses for documenting History and Family History. There are 1,856 SNOMED CT (Systematized Nomenclature of Medicine – Clinical Terms) concepts in the file and includes mappings to ICD-9-CM and ICD-10-CM. This dataset is the compilation of history and family history related problem list subsets that KP has released in the year 2013 and 2015.
Log in to download
Complexity
Get The Data
For getting access to data download links please read and accept the end-user license agreement.
Your Data License
Research

Non-Commercial, Share-Alike, Attribution

Free Forever

Commercial

Commercial Use, Remix & Adapt, White Label Log in to download
Description
CMT stands for Convergent Medical Terminology. It is a set of clinician and patient friendly terminology, linked to US and international interoperability standards, and related vocabulary development tools and utilities. Developed by Kaiser Permanente over many years for use within its health-IT systems, CMT now includes more than 75,000 concepts.
The terminology itself was developed by doctors, nurses, specialists, and pharmacists working together with IT. The tools and utilities were created by technology specialists with input from those clinicians every step of the way. It was developed to extend and link published standards that have now been adopted by the U.S. government. The development and implementation of CMT was difficult and time consuming at first. It was a strategic investment as part of Kaiser Permanente's commitment to improving the quality of care.
In September 2010 Kaiser Permanente, the International Health Terminology Standards Development Organisation (IHTSDO) and the US Department of Health and Human Services jointly announced Kaiser Permanente's donation of their CMT content and related tooling to the IHTSDO. The donation consists of terminology content already developed, a set of tools to help create and manage terminology and processes to control the quality of terminology that is developed. CMT also includes mappings to classifications and standard vocabularies including SNOMED CT.
CMT can be incorporated in the underlying architecture of health-IT systems to support data flow between health care providers, as it is in Kaiser Permanente today. It provides uniform concept definitions so that systems used for labs, vaccines, observations, and other medical data can communicate with each other in a common language, making data transferable between systems and among care teams. CMT allows care teams to interact with health information technology systems by providing more familiar names and descriptions so that they can coordinate with each other in an easy to understand way. Because CMT links to U.S. national standard vocabularies and code sets, such as SNOMED CT and ICD-9-CM, health data created using CMT's clinician-friendly language can be translated as needed to standards required for quality measurement, statistical reporting, and health care reimbursement.
About this Dataset
Data Info
| | |
| --- | --- |
| Date Created | 2013-07-15 |
| Last Modified | 2015-10-15 |
| Version | 2015-10-15 |
| Update Frequency | Biennial |
| Temporal Coverage | N/A |
| Spatial Coverage | United States |
| Source | John Snow Labs; Kaiser Permanente, International Health Terminology Standards Development Organization (IHTSDO), U.S. National Library of Medicine (NLM); |
| Source License URL | |
| Source License Requirements | N/A |
| Source Citation | N/A |
| Keywords | CMT Family History, Kaiser Permanente, IHTSDO, International Health Terminology Standards Development Organisation, SNOMED CT Subsets, CMT Problem Lists, SNOMED Subsets, ICD-9-CM Mapping, ICD-10-CM Mapping |
| Other Titles | Convergent Medical Terminology History Subset, CMT History and Family History Subset, CMT History and Family History Problem List Subset ICD Mapping, Kaiser Permanente CMT History and Family History Subset |
Data Fields
| Name | Description | Type | Constraints |
| --- | --- | --- | --- |
| Release_Date | Release date of the problem list subset | date | required : 1 |
| Parent_SNOMEDCT_Id | This is only present when the concept is a SNOMED CT Extension | integer | level : Nominal |
| Parent_SNOMEDCT_Id_2 | This is only present when there are multiple parent concepts for the SNOMED CT Extension | integer | level : Nominal |
| SNOMEDCT_Concept_Id | This is the SNOMED CT identifier of the concept. If the concept is a SNOMED CT Extension, the SCTID is in KP namespace. | integer | level : Nominalrequired : 1 |
| SNOMEDCT_Fully_Specified_Name | Fully specified name of the concept | string | required : 1 |
| Concept_Preferred_Term | Preferred term of the concept | string | required : 1 |
| KP_Clinician_Display_Name | KP (Kaiser Permanente) clinician display name of the concept | string | required : 1 |
| ICD_9_CM_Code | This is the ICD-9-CM mapping of the concept. This mapping represents direct, one to one mapping from the concept to the ICD9-CM code(s). When multiple ICD9-CM codes are required, they are delimited by a "/". | string | - |
| ICD_10_CM_Code | This is the ICD-10-CM mapping of the concept. This mapping represents direct, one to one mapping from the concept to the ICD10-CM code(s). When multiple ICD10-CM codes are required, they are delimited by a "/". | string | required : 1 |
| KP_Patient_Display_Name | KP (Kaiser Permanente) patient display name of the concept | string | required : 1 |
Data Preview
| | | | | | | | | | |
| --- | --- | --- | --- | --- | --- | --- | --- | --- | --- |
| Release Date | Parent SNOMEDCT Id | Parent SNOMEDCT Id 2 | SNOMEDCT Concept Id | SNOMEDCT Fully Specified Name | Concept Preferred Term | KP Clinician Display Name | ICD 9 CM Code | ICD 10 CM Code | KP Patient Display Name |
| 2013-07-15 | | | 251869004 | Adequacy of hemodialysis (finding) | Adequacy of hemodialysis | Adequacy of hemodialysis | V56.31 | Z49.31 | Assessment of adequacy of hemodialysis |
| 2013-07-15 | 365399009.0 | | 11018761000119105 | Adequacy of peritoneal dialysis (finding) | Adequacy of peritoneal dialysis | Adequacy of peritoneal dialysis | V56.32 | Z49.32 | Assessment of adequacy of peritoneal dialysis |
| 2013-07-15 | | | 169585004 | Antenatal care: history of trophoblastic disease (situation) | A/N care: H/O trophoblastic disease | Hx of trophoblastic disease | V13.1 | Z87.59 | History of trophoblastic disease (tumor) |
| 2013-07-15 | | | 129839007 | At risk for falls (finding) | At risk for falls | Fall risk | V15.88 | Z91.81 | Patient at increased risk for falling |
| 2013-07-15 | 281694009.0 | | 59511000119101 | At risk for heritable disorder based on family history (finding) | At risk for heritable disorder based on family history | Fhx of heritable disorder, at risk | V19.8 | Z84.81 | Family history of heritable disorder with the patient or offspring at risk |
| 2013-07-15 | 53741008.0 | | 139011000119104 | Coronary arteriosclerosis after coronary artery bypass graft (disorder) | Coronary arteriosclerosis after coronary artery bypass graft | Cad w hx of CABG | 414.00/V45.81 | I25.10/Z95.5 | Coronary artery disease with history of coronary artery bypass graft (CABG) |
| 2013-07-15 | 53741008.0 | | 11018701000119109 | Coronary artery disease with a history of percutaneous coronary angioplasty (disorder) | Coronary artery disease with a history of percutaneous coronary angioplasty | Cad w hx of percutaneous coronary angioplasty | 414.01/V45.82 | I25.10/Z98.61 | Coronary artery disease with history of angioplasty (opening artery canal with catheter) |
| 2013-07-15 | 931000119107.0 | | 89241000119108 | Dependece on nocturnal oxygen therapy (finding) | Dependece on nocturnal oxygen therapy | Nocturnal oxygen therapy dependence | V46.2 | Z99.81 | Dependent on nocturnal oxygen therapy |
| 2013-07-15 | 105501005.0 | | 79021000119104 | Dependence on aspirator (finding) | Dependence on aspirator | Aspirator dependence | V46.0 | Z99.0 | Dependent on aspirator (remove secretions by vaccum) |
| 2013-07-15 | | | 429091008 | Dependence on biphasic positive airway pressure ventilation (finding) | Dependence on biphasic positive airway pressure ventilation | Bipap dependence | V46.8 | Z99.89 | BIPAP (respiratory assist device) dependence |