Others titles
Consumer Complaint Financial
Financial Protection Consumers
Keywords
Consumer Complaint
Consumer Complaint Data
Consumer Data
Financial Services Data
Financial Service
Consumer Complaint Database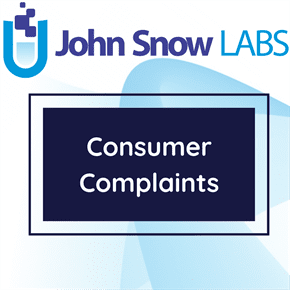 The Consumer Complaint Database is a collection of 719,794 complaints, on a range of consumer financial products and services, sent to nearly 3,000 companies for a response. All the facts alleged in these complaints are not verified, but steps are taken to confirm a commercial relationship between the consumer and the company.
Log in to download
Complexity
Get The Data
For getting access to data download links please read and accept the end-user license agreement.
Your Data License
Research

Non-Commercial, Share-Alike, Attribution

Free Forever

Commercial

Commercial Use, Remix & Adapt, White Label Log in to download
Description
The database generally updates nightly, and contains certain information for each complaint, including the source of the complaint, the date of submission, and the company the complaint was sent to for a response. The database also includes information about the actions taken by the company in response to the complaint, such as, whether the company's response was timely, how the company responded, and whether the consumer disputed the company's response. If the consumer opts to share it and after steps are taken to remove personal information, the consumer's description are published of what happened. Companies also have the option to select a public response. Company level information should be considered in the context of company size and/or market share. Complaints referred to other regulators, such as complaints about depository institutions with less than $10 billion in assets, are not published in the Consumer Complaint Database.
About this Dataset
Data Info
| | |
| --- | --- |
| Date Created | 2014-02-26 |
| Last Modified | 2020-01-15 |
| Version | 2020-01-15 |
| Update Frequency | Quarterly |
| Temporal Coverage | N/A |
| Spatial Coverage | United States |
| Source | John Snow Labs; Bureau of Consumer Financial Protection; |
| Source License URL | |
| Source License Requirements | N/A |
| Source Citation | N/A |
| Keywords | Consumer Complaint, Consumer Complaint Data, Consumer Data, Financial Services Data, Financial Service |
| Other Titles | Consumer Complaint Financial, Financial Protection Consumers |
Data Fields
| Name | Description | Type | Constraints |
| --- | --- | --- | --- |
| Date_Received | Receiving Date | date | - |
| Product | Product Name | string | - |
| Sub_Product | Sub Products Name | string | - |
| Issue | Issues related to Consumers | string | - |
| Sub_Issue | Other Issues related to Consumers | string | - |
| Consumer_Complaint_Narrative | Detail description of Consumer Complaint | string | - |
| Company_Public_Response | Detail description of Consumer Public Response | string | - |
| Company | Consumer Company Name | string | - |
| State | State of Company | string | - |
| ZIP_Code | ZIP Code | integer | level : Nominal |
| Tags | Rags | string | - |
| Consumer_Consent_Provided | Consumer Consent Provided | string | - |
| Submitted | Complaint submitted by | string | - |
| Date_Sent_To_Company | Complaint sending date | date | - |
| Company_Response_To_Consumer | Response of company to consumer regarding complaint | string | - |
| Is_Timely_Response | Time Response by the Company | boolean | - |
| Avg_Skin_State | Average Skin State | string | - |
| Complaint_ID | Consumer Complaint ID | integer | level : Nominal |
Data Preview
| | | | | | | | | | | | | | | | | | |
| --- | --- | --- | --- | --- | --- | --- | --- | --- | --- | --- | --- | --- | --- | --- | --- | --- | --- |
| Date Received | Product | Sub Product | Issue | Sub Issue | Consumer Complaint Narrative | Company Public Response | Company | State | ZIP Code | Tags | Consumer Consent Provided | Submitted | Date Sent To Company | Company Response To Consumer | Is Timely Response | Avg Skin State | Complaint ID |
| 2013-07-29 | Consumer Loan | Vehicle loan | Managing the loan or lease | | | | Wells Fargo & Company | VA | 24540 | | | Phone | 2013-07-30 | Closed with explanation | True | No | 468882 |
| 2013-07-29 | Bank account or service | Checking account | Using a debit or ATM card | | | | Wells Fargo & Company | CA | 95992 | Older American | | Web | 2013-07-31 | Closed with explanation | True | No | 468889 |
| 2013-07-29 | Bank account or service | Checking account | Account opening closing or management | | | | Santander Bank US | NY | 10065 | | | Fax | 2013-07-31 | Closed | True | No | 468879 |
| 2013-07-29 | Bank account or service | Checking account | Deposits and withdrawals | | | | Wells Fargo & Company | GA | 30084 | | | Web | 2013-07-30 | Closed with explanation | True | No | 468949 |
| 2013-07-29 | Mortgage | Conventional fixed mortgage | Loan servicing payments escrow account | | | | Franklin Credit Management | CT | 6106 | | | Web | 2013-07-30 | Closed with explanation | True | No | 475823 |
| 2013-07-29 | Bank account or service | Checking account | Deposits and withdrawals | | | | Bank of America | TX | 75025 | | | Web | 2013-07-30 | Closed with explanation | True | No | 468981 |
| 2013-07-29 | Debt collection | Other i.e. phone health club etc. | Contd attempts collect debt not owed | Debt is not mine | | | NRA Group, LLC | VA | 20147 | | | Web | 2013-08-07 | Closed with nonmonetary relief | True | No | 467801 |
| 2013-07-29 | Debt collection | I do not know | Contd attempts collect debt not owed | Debt was paid | | | SunTrust Banks, Inc. | FL | 32818 | | | Referral | 2013-08-01 | Closed with explanation | True | Yes | 475728 |
| 2013-07-29 | Credit card | | Billing statement | | | | Citibank | OH | 45247 | | | Referral | 2013-07-30 | Closed with explanation | True | Yes | 469026 |
| 2013-07-29 | Mortgage | Other mortgage | Loan servicing payments escrow account | | | | Wells Fargo & Company | NV | 89511 | | | Referral | 2013-07-30 | Closed with explanation | True | Yes | 469035 |