Others titles
2023 MUE DME Supplier services
DME Supplier Services MUE Values
Durable Medical Equipment Supplier Services MUE Values
MUE Adjudication Indicator
2023 MUE DME Supplier Services
DME Supplier Services MUE Values
Durable Medical Equipment Supplier Services MUE Values
MUE Adjudication Indicator
2023 MUE for 3rd Quarter
Durable Medical Equipment Supplier Services
Keywords
2023 MUE for 3rd Quarter
MUE DME Supplier Services
Durable Medical Equipment Supplier Services
Quarterly MUE Version updates
NCCI Edits
CCI Edits
MUE DME Supplier Services
Quarterly MUE Version Updates
Medical Billing
Billing Cost
Medically Unlikely Edits Outpatient Hospital Services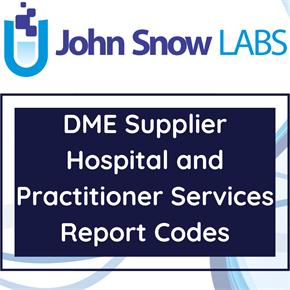 This dataset showcases the Medically Unlikely Edits (MUEs) for outpatient hospital services as defined for many Healthcare Common Procedure Coding System (HCPCS) / Current Procedural Terminology (CPT) codes, the maximum allowable number of units of service by the same provider, for the same beneficiary, the same date of service, on the same claim line. Reported units of service greater than the MUE value are unlikely to be correct.
Log in to download
Complexity
Get The Data
For getting access to data download links please read and accept the end-user license agreement.
Your Data License
Research

Non-Commercial, Share-Alike, Attribution

Free Forever

Commercial

Commercial Use, Remix & Adapt, White Label Log in to download
Description
The Centers for Medicare and Medicaid Services (CMS) developed the Medically Unlikely Edit (MUE) program to reduce the paid claims error rate for Part B claims. The first edits were implemented on January 1, 2007. Subsequently, there have been quarterly updates increasing the number of edits. The edits were developed based on anatomic considerations, HCPCS/CPT code descriptors, CPT instructions, CMS policies, nature of service/procedure, nature of the analyte, nature of the equipment, and clinical judgment. Prior to implementation, all edits were reviewed by national healthcare organizations, and their alternative recommendations were taken into consideration.
A Medically Unlikely Edit (MUE) is a US Medicare unit of service claim edit applied to Medical claims against a procedure code for medical services rendered by one provider/supplier to one patient on one day. Claim edits compare different values on the medical claim to a set of defined criteria to check for irregularities, often in an automated claims processing system. MUEs are designed to limit fraud and/or coding errors. They represent an upper limit that unquestionably requires further documentation to support. The ideal MUE is the maximum unit of service for a code on the majority of medical claims. MUE is part of the National Correct Coding Initiative (NCCI) to address coding methodologies. The MUE Outpatient Hospital Services for the second quarter of 2017 is released on CMS website on June 02, 2017 and will be effective from July 1, 2017 to September 30, 2017.
About this Dataset
Data Info
| | |
| --- | --- |
| Date Created | 2015-12 |
| Last Modified | 2023-10-01 |
| Version | 2023-10-01 |
| Update Frequency | Quarterly |
| Temporal Coverage | 2017-07 to 2023-09 |
| Spatial Coverage | United States |
| Source | John Snow Labs; Centers for Medicare and Medicaid Services; |
| Source License URL | |
| Source License Requirements | CPT codes, descriptions and other data only are copyright 1995 - 2016 American Medical Association. All rights reserved. CPT is a registered trademark of the American Medical Association (AMA). |
| Source Citation | CPT codes, descriptions and other data only are copyright 1995 - 2016 American Medical Association. All rights reserved. CPT is a registered trademark of the American Medical Association (AMA). |
| Keywords | 2023 MUE for 3rd Quarter, MUE DME Supplier Services, Durable Medical Equipment Supplier Services, Quarterly MUE Version updates, NCCI Edits, CCI Edits, MUE DME Supplier Services, Quarterly MUE Version Updates, Medical Billing, Billing Cost |
| Other Titles | 2023 MUE DME Supplier services, DME Supplier Services MUE Values, Durable Medical Equipment Supplier Services MUE Values, MUE Adjudication Indicator, 2023 MUE DME Supplier Services, DME Supplier Services MUE Values, Durable Medical Equipment Supplier Services MUE Values, MUE Adjudication Indicator, 2023 MUE for 3rd Quarter, Durable Medical Equipment Supplier Services |
Data Fields
| Name | Description | Type | Constraints |
| --- | --- | --- | --- |
| HCPCS_and_CPT_Code | 5 digit code that contains the Physicians Current Procedural Terminology | string | - |
| Outpatient_Hospital_Services_MUE_Values | Represents the maximum units of service that an outpatient can avail on a single date of service. | integer | level : Nominal |
| MUE_Adjudication_Indicator | Describes the type of MUE. | string | - |
| MUE_Rationale | Describes the underlying basis for each MUE. | string | - |
Data Preview
| | | | |
| --- | --- | --- | --- |
| HCPCS and CPT Code | Outpatient Hospital Services MUE Values | MUE Adjudication Indicator | MUE Rationale |
| 0001A | 1 | 2 Date of Service Edit: Policy | Code Descriptor / CPT Instruction |
| 0001U | 1 | 2 Date of Service Edit: Policy | Code Descriptor / CPT Instruction |
| 0002A | 1 | 2 Date of Service Edit: Policy | Code Descriptor / CPT Instruction |
| 0002M | 1 | 3 Date of Service Edit: Clinical | Nature of Analyte |
| 0002U | 1 | 2 Date of Service Edit: Policy | Code Descriptor / CPT Instruction |
| 0003A | 1 | 2 Date of Service Edit: Policy | Code Descriptor / CPT Instruction |
| 0003M | 1 | 3 Date of Service Edit: Clinical | Nature of Analyte |
| 0003U | 1 | 2 Date of Service Edit: Policy | Code Descriptor / CPT Instruction |
| 0004A | 1 | 2 Date of Service Edit: Policy | Code Descriptor / CPT Instruction |
| 0004M | 1 | 2 Date of Service Edit: Policy | Code Descriptor / CPT Instruction |