Others titles
Consumer Mediated Complaints Complaint
Business Mediation Complaints
Keywords
Consumer Complaint
Consumer Complaint Data
Consumer Data
Mediated Complaints
Consumer Services Mediated Complaints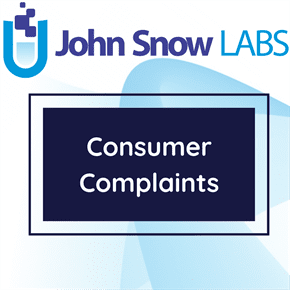 This data set features consumer complaints against businesses that were mediated by the DCA (Department of Consumer Affairs) Consumer Services Division during the last and current calendar years. It excludes complaints that may have ongoing legal investigations.
Log in to download
Complexity
Get The Data
For getting access to data download links please read and accept the end-user license agreement.
Your Data License
Research

Non-Commercial, Share-Alike, Attribution

Free Forever

Commercial

Commercial Use, Remix & Adapt, White Label Log in to download
Description
A consumer complaint or customer complaint is "an expression of dissatisfaction on a consumer's behalf to a responsible party" (Landon, 1980). It can also be described in a positive sense as a report from a consumer providing documentation about a problem with a product or service.
Consumer complaints are usually informal complaints directly addressed to a company or public service provider, and most consumers manage to resolve problems with products and services in this way, but it sometimes requires persistence.
If the grievance is not addressed in a way that satisfies the consumer, the consumer sometimes registers the complaint with a third party such as the Better Business Bureau, a county government (if it has a "consumer protection" office) and Federal Trade Commission (in the United States). These and similar organizations in other countries accept consumer complaints and assist people with customer service issues, as do government representatives like attorneys general. Consumers however rarely file complaints in the more formal legal sense, which consists of a formal legal process.
About this Dataset
Data Info
| | |
| --- | --- |
| Date Created | 2016-02-11 |
| Last Modified | 2023-11-17 |
| Version | 2023-11-17 |
| Update Frequency | Weekly |
| Temporal Coverage | 2016-10 to 2023-07 |
| Spatial Coverage | United States |
| Source | John Snow Labs; Data City of New York; |
| Source License URL | |
| Source License Requirements | N/A |
| Source Citation | N/A |
| Keywords | Consumer Complaint, Consumer Complaint Data, Consumer Data, Mediated Complaints |
| Other Titles | Consumer Mediated Complaints Complaint, Business Mediation Complaints |
Data Fields
| Name | Description | Type | Constraints |
| --- | --- | --- | --- |
| Business_Name | Name of the business against which a complaint has been made. | string | - |
| Industry | The business category of the business against which a complaint has been made. | string | - |
| Complaint_Type | Indicates the type of complaint made. | string | - |
| Mediation_Start_Date | Date mediation started. During the mediation process, DCA sends a copy of complaint to the business for written response. Then, mostly over the phone, a DCA mediator speaks with both consumer and the business to reach an agreement and settle the matter. | date | - |
| Mediation_Close_Date | Date mediation ended. | date | - |
| Complaint_Result | Outcome of mediation efforts. | string | - |
| Is_Satisfaction | This section indicates whether the complaint was mediated to the satisfaction of both the business and consumer. | boolean | - |
| Restitution | Restoring | integer | level : Nominal |
| Business_Building | The building number of the business's address. | string | - |
| Business_Street | The street name of the business's address. | string | - |
| Building_Address_Unit | The unit number of the business's address (e.g., Apartment/Suite/Other). | string | - |
| Business_City | The city where the business is located. | string | - |
| Business_State | The state where the business is located. | string | - |
| Business_ZIP | The zip code where the business is located. | string | - |
| Complainant_ZIP | The zip code where the individual who filed the complaint is located. | string | - |
| Longitude | Longitude Location of Business | number | - |
| Latitude | Latitude Location of Business | number | - |
Data Preview
| | | | | | | | | | | | | | | | | |
| --- | --- | --- | --- | --- | --- | --- | --- | --- | --- | --- | --- | --- | --- | --- | --- | --- |
| Business Name | Industry | Complaint Type | Mediation Start Date | Mediation Close Date | Complaint Result | Is Satisfaction | Restitution | Business Building | Business Street | Building Address Unit | Business City | Business State | Business ZIP | Complainant ZIP | Longitude | Latitude |
| VUKSANAJ, MARIO | Home Improvement Contractor - 100 | Breach of Contract - B03 | 2015-11-23 | 2015-12-04 | Referred to Hearing - RTH | False | 0 | 45 | LAKE SHORE DR | | MAHOPAC | NY | 10541 | 10579 | | |
| METROPOLITAN HOME IMPROVEMENTS INC. | Home Improvement Contractor - 100 | Quality of Work - Q01 | 2020-01-14 | 2020-02-20 | Advised to Sue - ATS | False | 0 | 98 | HAYPATH RD | | BETHPAGE | NY | 11714 | 11213 | | |
| ELTMAN, ELTMAN & COOPER, P.C. | Debt Collection Agency - 122 | Billing Dispute - B02 | 2014-03-24 | 2014-04-11 | Resolved and Consumer Satisfied - SPF | True | 0 | 140 | BROADWAY | # 26 | NEW YORK | NY | 10005 | 10025 | | |
| NORTH SHORE AGENCY, LLC | Debt Collection Agency - 122 | Billing Dispute - B02 | 2015-06-16 | 2015-07-30 | Bill Reduced - BLR | True | 449 | 270 | SPAGNOLI RD | STE 110 | MELVILLE | NY | 11747 | 10001 | | |
| SPRINT SPECTRUM L.P. | Electronic Store - 001 | Advertising/Misleading - A02 | 2020-08-13 | 2020-09-15 | Resolved and Consumer Satisfied - SPF | True | 0 | 6500 | SPRINT PARKWAY | | OVERLAND PARK | NY | 66251 | 10009 | -73.98987044 | 40.74113162 |
| ANTHONY BROSS, INC | Secondhand Dealer [General] - 006 | Damaged Goods - D01 | 2014-05-12 | 2014-06-25 | Advised to Sue - ATS | False | 0 | 1468 | BROADWAY | | BROOKLYN | NY | 11221 | 11693 | -73.91861759 | 40.68752555 |
| ALICE ZOTTA WEAVING & MENDING | Misc Non-Food Retail - 817 | Non-Delivery of Goods - N01 | 2021-01-01 | 2021-01-19 | Unable to Locate Business - ULV | | 0 | 280 | MADISON AVE | #703 | NEW YORK | NY | 10016 | 8611 | -73.98030079 | 40.75143142 |
| METRO CEMENT, INC. | Home Improvement Contractor - 100 | Exchange Goods/Contract Cancelled - E01 | 2015-10-20 | 2015-11-13 | Goods Repaired - GRS | True | 800 | 1421 | WAGNER ST | | WANTAGH | NY | 11793 | 11417 | | |
| SLEEPMART | Furniture Sales - 242 | Exchange Goods/Contract Cancelled - E01 | 2017-01-10 | 2017-02-03 | Goods Exchanged - GEX | True | 999 | 2067 | CONEY ISLAND AVE | | BROOKLYN | NY | 11223 | 11223 | -73.96182505 | 40.60667569 |
| BASEMENT WATERPROOFING SOLUTIONS | Home Improvement Contractor - 100 | Quality of Work - Q01 | 2017-05-01 | 2017-07-07 | No Consumer Response - NCR | | 0 | 10 | S RIVER RD | 5 | CRANBURY | NJ | 8512 | 10306 | | |