Others titles
New ATC Code 2020
New ATC Update and Alterations
New DDD Updates and Alterations
Keywords
ATC Classification
ATC/DDD
ATC Alterations
DDD Alterations
New ATC
New DDD
Defined Daily Dose Alterations 2005 to 2021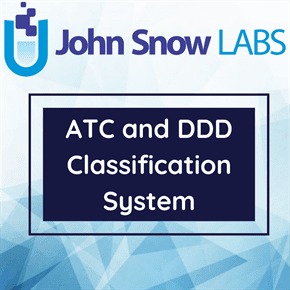 This dataset contains the DDD (Defined Daily Dose) Alterations from 2005 to 2021.
Log in to download
Complexity
Get The Data
For getting access to data download links please read and accept the end-user license agreement.
Your Data License
Research

Non-Commercial, Share-Alike, Attribution

Free Forever

Commercial

Commercial Use, Remix & Adapt, White Label Log in to download
Description
Cumulative overview of all DDD alterations performed in the period 2005 to 2020. The year changed is when the alterations were implemented in the ATC/DDD Index. Please note that a DDD may have changed more than once for some ATC codes. The ATC codes are current codes. For substances where the DDD is changed twice the new DDD which is not according to the current value is marked with an asterisk (*).
In 1996, WHO recognized the need to develop the use of the ATC/DDD system as an international standard for drug utilization studies. The Centre was therefore linked directly to WHO Headquarters in Geneva instead of the WHO Regional Office for Europe in Copenhagen. This was seen as important to allow close integration of international drug utilization studies and WHO's initiatives to achieve universal access to needed drugs and rational use of drugs particularly in developing countries. Access to standardized and validated information on drug use is essential to allow audit of patterns of drug utilization, identification of problems, educational or other interventions and monitoring of the outcomes of the interventions.
When the decision on globalizing the ATC/DDD system was taken, the WHO Division of Drug Management and Policies established the WHO International Working Group for Drug Statistics Methodology. The WHO Collaborating Centre for Drug Statistics Methodology receives expert advice from the Working Group.
About this Dataset
Data Info
| | |
| --- | --- |
| Date Created | 1982 |
| Last Modified | 2022-04-07 |
| Version | 2022-04-07 |
| Update Frequency | Semiannual |
| Temporal Coverage | 2005-2021 |
| Spatial Coverage | United States |
| Source | John Snow Labs; WHO Collaborating Centre for Drug Statistics Methodology; |
| Source License URL | |
| Source License Requirements | N/A |
| Source Citation | N/A |
| Keywords | ATC Classification, ATC/DDD, ATC Alterations, DDD Alterations, New ATC, New DDD |
| Other Titles | New ATC Code 2020, New ATC Update and Alterations, New DDD Updates and Alterations |
Data Fields
| Name | Description | Type | Constraints |
| --- | --- | --- | --- |
| Substance_Name | Substances Indicated for Rare Disorders with Individual Dosing | string | - |
| Previous_DDD | Previous Rate of Defined Daily Dose | number | level : Ratio |
| Previous_Unit | Previous Unit used for DDD (g = gram, mg milligram, MU = million units, TU = thousand units, U = unit) | string | - |
| Previous_Administration_Route | Previous Administration Route for DDD (N = nasal, Inhal = Inhalation , O = oral, P = parenteral, R = rectal, TD = transdermal, SL = sublingual/buccal) | string | - |
| New_DDD | New Rate of Defined Daily Dose. Various Sources are used to get the Best Overview of the Actual or Expected use of a Substance. | number | level : Ratio |
| New_Unit | New Unit Used for the New DDD (g = gram, mg milligram, MU = million units, TU = thousand units, U = unit) | string | - |
| New_Administration_Route | New Administration Route for the New DDD (N = nasal, Inhal = Inhalation , O = oral, P = parenteral, TD = transdermal, SL = sublingual/buccal) | string | - |
| Present_ATC_Code | Present ATC Code | string | - |
| Year_Changed | Year when DDD was altered | date | - |
Data Preview
| | | | | | | | | |
| --- | --- | --- | --- | --- | --- | --- | --- | --- |
| Substance Name | Previous DDD | Previous Unit | Previous Administration Route | New DDD | New Unit | New Administration Route | Present ATC Code | Year Changed |
| alosetron | 2.0 | mg | O | 1.0 | mg | O | A03AE01 | 2005 |
| amoxicillin and beta-lactamase inhibitor | 1.0 | g | O | 1.5 | g | O | J01CR02 | 2019 |
| amoxicillin and enzyme inhibitor | 1.0 | g | P | 3.0 | g | P | J01CR02 | 2005 |
| amoxicillin | 1.0 | g | O | 1.5 | g | O | J01CA04 | 2019 |
| amoxicillin | 1.0 | g | P | 3.0 | g | P | J01CA04 | 2019 |
| ampicillin and enzyme inhibitor | 2.0 | g | P | 6.0 | g | P | J01CR01 | 2017 |
| ampicillin | 2.0 | g | P | 6.0 | g | P | J01CA01 | 2019 |
| amprenavir | 2.4 | g | O | 1.2 | g | O | J05AE05 | 2006 |
| apixaban | 5.0 | mg | O | 10.0 | mg | O | B01AF02 | 2016 |
| aprepitant | 95.0 | mg | P | 150.0 | mg | P | A04AD12 | 2019 |