Others titles
Detailed Canada Population Statistics in 2011
Canada Immigrant Population in 2011
Canada Citizen Population in 2011
Canada Population Distribution in 2011
Keywords
Canada Population
Canada Population Categorization
Canada Population Groups
Canada Demographics
Canada Provinces Population
Population By Geocode
Canada Census
National Household Survey
NHS Survey
Detailed Canadian Population Statistics by Province 2011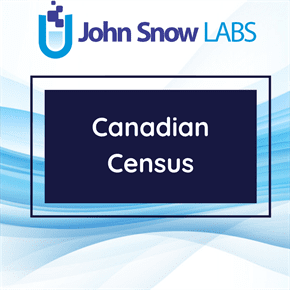 This dataset covers the population statistics of Canada by provinces and territories. It is categorized also by citizen/immigration status, ethnic origin, religion, mobility, education, language, work, housing, income etc. There is detailed characteristics categorization within these stated categories that are in 5 layers.
Log in to download
Complexity
Get The Data
For getting access to data download links please read and accept the end-user license agreement.
Your Data License
Research

Non-Commercial, Share-Alike, Attribution

Free Forever

Commercial

Commercial Use, Remix & Adapt, White Label Log in to download
Description
This dataset belongs to the National Household Survey (NHS) 2011 profile that presents information from the 2011 NHS survey for various levels of geography, including provinces and territories, census metropolitan areas/census agglomerations, census divisions, census subdivisions, census tracts, federal electoral districts and health regions.
In order to provide a comprehensive overview of an area, this product presents data from both the NHS and the 2011 Census. NHS data topics include immigration and ethnocultural diversity; aboriginal peoples; education and labor; mobility and migration; language of work; income and housing. 2011 Census data topics include population and dwelling counts; age and sex; families, households and marital status; structural type of dwelling and collectives; and language.
The data are collected for private dwellings occupied by usual residents. A private dwelling is a dwelling in which a person or a group of persons permanently reside. Information for the National Household Survey does not include information for collective dwellings. Collective dwellings are dwellings used for commercial, institutional or communal purposes, such as a hotel, a hospital or a work camp.
To ensure confidentiality, the values, including totals are randomly rounded either up or down to a multiple of 5 or 10. As a result, when these data are summed or grouped, the total value may not match the individual values since totals and sub-totals are independently rounded.
In addition to random rounding, area and data suppression have been adopted to further protect the confidentiality of individual respondents' personal information.
Area and data suppression results in the deletion of all information for geographic areas with populations below a specified size. For example, areas with a population of fewer than 40 persons are suppressed. In addition to area suppression, information is suppressed if the global non-response rate to the National Household Survey was greater than 50% or greater than 25% for the Census of Population. Any income data collected from the National Household Survey are suppressed if the population in the area is less than 250 or if the number of private households is less than 40. Suppression of data can also be due to poor data quality or to other technical reasons.
About this Dataset
Data Info
| | |
| --- | --- |
| Date Created | 2012-09-15 |
| Last Modified | 2016-01-08 |
| Version | 2016-01-08 |
| Update Frequency | Quinquennial |
| Temporal Coverage | 2011 |
| Spatial Coverage | Canada |
| Source | John Snow Labs; Statistics Canada; |
| Source License URL | |
| Source License Requirements | N/A |
| Source Citation | N/A |
| Keywords | Canada Population, Canada Population Categorization, Canada Population Groups, Canada Demographics, Canada Provinces Population, Population By Geocode, Canada Census, National Household Survey, NHS Survey |
| Other Titles | Detailed Canada Population Statistics in 2011, Canada Immigrant Population in 2011, Canada Citizen Population in 2011, Canada Population Distribution in 2011 |
Data Fields
| Name | Description | Type | Constraints |
| --- | --- | --- | --- |
| Geocode | Geocode is a number assigned to convert addresses (like a street address) into geographic coordinates which can be used to place markers on a map or position the map | integer | level : Nominalrequired : 1 |
| Province | Canada or the province name in Canada | string | required : 1 |
| Global_NonResponse_Rate | For the 2011 National Household Survey (NHS) estimates, the global non-response rate (GNR) is used as an indicator of data quality; this indicator combines complete non-response (household) and partial non-response (question) into a single rate; a smaller GNR indicates a lower risk of non-response bias and as a result, lower risk of inaccuracy; the threshold used for estimates' suppression is a GNR of 50% or more | string | - |
| Topic | The socio-economic or demographic topic (as mentioned in the description) for which data are provided for the main population groups by the specified topic and subgroups of the main groups (characteristic subgroups levels 1-4) | string | required : 1 |
| Main_Characteristic_Groups | Includes the main population groups (as totals) depending on the topic | string | required : 1 |
| Characteristic_Subgroups_Level_1 | Includes the main population groups (as totals for level 1) and the subgroups belonging to the main population groups | string | required : 1 |
| Characteristic_Subgroups_Level_2 | Includes the main population groups (as totals), the first level subgroups (as totals for level 2) and the second level subgroups belonging to the first level subgroups | string | required : 1 |
| Characteristic_Subgroups_Level_3 | Includes the main population groups (as totals), the first level subgroups (as totals), the second level subgroups (as totals for level 3) and the third level subgroups belonging to the second level subgroups | string | required : 1 |
| Characteristic_Subgroups_Level_4 | Includes the main population groups (as totals), the first level subgroups (as totals), the second level subgroups (as totals), the third level subgroups (as totals for level 4) and the fourth level subgroups belonging to the third level subgroups | string | required : 1 |
| Total | The estimated total number of individuals (estimated population); because the values are estimated, they includes decimals | number | level : Ratio |
| Male | The estimated number of male individuals in the population; because the values are estimated, they includes decimals | number | level : Ratio |
| Female | The estimated number of female individuals in the population; because the values are estimated, they includes decimals | number | level : Ratio |
| Notes | Additional relevant notes for the data | string | - |
Data Preview
| | | | | | | | | | | | | |
| --- | --- | --- | --- | --- | --- | --- | --- | --- | --- | --- | --- | --- |
| Geocode | Province | Global NonResponse Rate | Topic | Main Characteristic Groups | Characteristic Subgroups Level 1 | Characteristic Subgroups Level 2 | Characteristic Subgroups Level 3 | Characteristic Subgroups Level 4 | Total | Male | Female | Notes |
| 1 | Canada | 26.1 | Citizenship | Total population in private households by citizenship | Total population in private households by citizenship | Total population in private households by citizenship | Total population in private households by citizenship | Total population in private households by citizenship | 32852325.0 | 16163115.0 | 16689210.0 | Citizenship refers to the legal citizenship status of a person. Citizenship can be by birth or naturalization. A person may have more than one citizenship. A person may be stateless that is they may have no citizenship. |
| 1 | Canada | 26.1 | Citizenship | Total population in private households by citizenship | Canadian citizens | Canadian citizens | Canadian citizens | Canadian citizens | 30895310.0 | 15232595.0 | 15662710.0 | |
| 1 | Canada | 26.1 | Citizenship | Total population in private households by citizenship | Canadian citizens | Canadian citizens aged under 18 | Canadian citizens aged under 18 | Canadian citizens aged under 18 | 6576425.0 | 3381280.0 | 3195140.0 | |
| 1 | Canada | 26.1 | Citizenship | Total population in private households by citizenship | Canadian citizens | Canadian citizens aged 18 and over | Canadian citizens aged 18 and over | Canadian citizens aged 18 and over | 24318885.0 | 11851320.0 | 12467565.0 | |
| 1 | Canada | 26.1 | Citizenship | Total population in private households by citizenship | Not Canadian citizens | Not Canadian citizens | Not Canadian citizens | Not Canadian citizens | 1957015.0 | 930520.0 | 1026495.0 | Includes persons who are stateless. |
| 1 | Canada | 26.1 | Immigrant status and period of immigration | Total population in private households by immigrant status and period of immigration | Total population in private households by immigrant status and period of immigration | Total population in private households by immigrant status and period of immigration | Total population in private households by immigrant status and period of immigration | Total population in private households by immigrant status and period of immigration | 32852320.0 | 16163110.0 | 16689210.0 | Period of immigration refers to the period in which the immigrant first obtained his or her landed immigrant/permanent resident status. A landed immigrant/permanent resident refers to a person who has been granted the right to live permanently in Canada by immigration authorities. |
| 1 | Canada | 26.1 | Immigrant status and period of immigration | Total population in private households by immigrant status and period of immigration | Non-immigrants | Non-immigrants | Non-immigrants | Non-immigrants | 25720175.0 | 12753235.0 | 12966935.0 | Non-immigrant refers to a person who is a Canadian citizen by birth. |
| 1 | Canada | 26.1 | Immigrant status and period of immigration | Total population in private households by immigrant status and period of immigration | Immigrants | Immigrants | Immigrants | Immigrants | 6775765.0 | 3231370.0 | 3544400.0 | Immigrant refers to a person who is or has ever been a landed immigrant/permanent resident. This person has been granted the right to live in Canada permanently by immigration authorities. Some immigrants have resided in Canada for a number of years while others have arrived recently. Some immigrants are Canadian citizens while others are not. Most immigrants are born outside Canada but a small number are born in Canada. In the 2011 National Household Survey 'Immigrants' includes immigrants who landed in Canada prior to May 10 2011. |
| 1 | Canada | 26.1 | Immigrant status and period of immigration | Total population in private households by immigrant status and period of immigration | Immigrants | Before 1971 | Before 1971 | Before 1971 | 1261055.0 | 605430.0 | 655625.0 | |
| 1 | Canada | 26.1 | Immigrant status and period of immigration | Total population in private households by immigrant status and period of immigration | Immigrants | 1971 to 1980 | 1971 to 1980 | 1971 to 1980 | 870775.0 | 416670.0 | 454105.0 | |