Canadian Census Data Package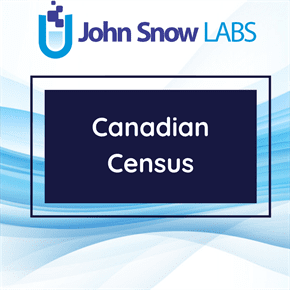 The data package provides demographics for Canadian population groups according to multiple location categories: Forward Sortation Areas (FSAs), Census Metropolitan Areas (CMAs) and Census Agglomerations (CAs), Federal Electoral Districts (FEDs), Health Regions (HRs) and provinces.
Get The Data
For getting access to data download links please read and accept the end-user license agreement.
Your Data License
Research

Non-Commercial, Share-Alike, Attribution

Free Forever

Commercial

Commercial Use, Remix & Adapt, White Label Log in to download
Description
The data are available through the Canadian Census and the National Household Survey (NHS), separated or combined. The main demographic indicators provided for the population groups, stratified not only by location but also for the majority by demographical and socioeconomic characteristics, are population number, females and males, usual residents and private dwellings. The primary use of the data at the Health Region level is for health surveillance and population health research. Federal and provincial departments of health and human resources, social service agencies, and other types of government agencies use the information to monitor, plan, implement and evaluate programs to improve the health of Canadians and the efficiency of health services. Researchers from various fields use the information to conduct research to improve health. Non-profit health organizations and the media use the health region data to raise awareness about health, an issue of concern to all Canadians.
The Census population counts for a particular geographic area representing the number of Canadians whose usual place of residence is in that area, regardless of where they happened to be on Census Day. Also included are any Canadians who were staying in that area on Census Day and who had no usual place of residence elsewhere in Canada, as well as those considered to be 'non-permanent residents'. National Household Survey (NHS) provides demographic data for various levels of geography, including provinces and territories, census metropolitan areas/census agglomerations, census divisions, census subdivisions, census tracts, federal electoral districts and health regions. In order to provide a comprehensive overview of an area, this product presents data from both the NHS and the Census. NHS data topics include immigration and ethnocultural diversity; aboriginal peoples; education and labor; mobility and migration; language of work; income and housing. 2011 Census data topics include population and dwelling counts; age and sex; families, households and marital status; structural type of dwelling and collectives; and language. The data are collected for private dwellings occupied by usual residents. A private dwelling is a dwelling in which a person or a group of persons permanently reside. Information for the National Household Survey does not include information for collective dwellings. Collective dwellings are dwellings used for commercial, institutional or communal purposes, such as a hotel, a hospital or a work camp.
About this Dataset
Data Info
| | |
| --- | --- |
| Date Created | |
| Last Modified | |
| Version | |
| Update Frequency | |
| Temporal Coverage | |
| Spatial Coverage | |
| Source | |
| Source License URL | |
| Source License Requirements | |
| Source Citation | |
| Keywords | |
| Other Titles | |
Data Fields
| Name | Description | Type | Constraints |
| --- | --- | --- | --- |
Data Preview
<!doctype html>
<html class="no-js aws-lng-en_US aws-with-target" lang="en-US" data-static-assets="https://a0.awsstatic.com" data-js-version="1.0.478" data-css-version="1.0.441">
<head>
<meta http-equiv="Content-Security-Policy" content="default-src 'self' data: https://a0.awsstatic.com; connect-src 'self' https://112-tzm-766.mktoresp.com https://112-tzm-766.mktoutil.com https://a0.awsstatic.com https://a0.p.awsstatic.com https://a1.awsstatic.com https://amazonwebservices.d2.sc.omtrdc.net https://amazonwebservicesinc.tt.omtrdc.net https://api.regional-table.region-services.aws.a2z.com https://api.us-west-2.prod.pricing.aws.a2z.com https://aws.amazon.com https://aws.demdex.net https://b0.p.awsstatic.com https://c0.b0.p.awsstatic.com https://calculator.aws https://chatbot-api.us-east-1.prod.mrc-sunrise.marketing.aws.dev https://cm.everesttech.net https://csml-plc-prod.us-west-2.api.aws/plc/csml/logging https://d0.awsstatic.com https://d1.awsstatic.com https://d1fgizr415o1r6.cloudfront.net https://d2c.aws.amazon.com https://d3borx6sfvnesb.cloudfront.net https://dc.ads.linkedin.com https://dftu77xade0tc.cloudfront.net https://dpm.demdex.net https://fls-na.amazon.com https://googleads.g.doubleclick.net https://i18n-string.us-west-2.prod.pricing.aws.a2z.com https://infra-api.us-east-1.prod.mrc-sunrise.marketing.aws.dev https://livechat-api.us-east-1.prod.mrc-sunrise.marketing.aws.dev https://prod-us-west-2.csp-report.marketing.aws.dev https://prod.log.shortbread.aws.dev https://prod.tools.shortbread.aws.dev https://s0.awsstatic.com https://s3.amazonaws.com/aws-messaging-pricing-information/ https://s3.amazonaws.com/public-pricing-agc/ https://spot-bid-advisor.s3.amazonaws.com https://target.aws.amazon.com https://view-stage.us-west-2.prod.pricing.aws.a2z.com https://view-staging.us-east-1.prod.plc1-prod.pricing.aws.a2z.com https://vs.aws.amazon.com https://wrp.aws.amazon.com https://www.youtube-nocookie.com wss://*.transport.connect.us-east-1.amazonaws.com; font-src 'self' data: https://a0.awsstatic.com https://f0.awsstatic.com https://fonts.gstatic.com; frame-src 'self' https://aws.demdex.net https://c0.b0.p.awsstatic.com https://calculator.aws https://dpm.demdex.net https://www.youtube-nocookie.com; img-src 'self' data: https://*.ads.linkedin.com https://*.vidyard.com https://*.ytimg.com https://a0.awsstatic.com https://amazonwebservices.d2.sc.omtrdc.net https://aws-quickstart.s3.amazonaws.com https://aws.amazon.com https://aws.demdex.net https://awsmedia.s3.amazonaws.com https://chat.us-east-1.prod.mrc-sunrise.marketing.aws.dev https://cm.everesttech.net https://d1.awsstatic.com https://d1d1et6laiqoh9.cloudfront.net https://d2908q01vomqb2.cloudfront.net https://d2cpw7vd6a2efr.cloudfront.net https://d36cz9buwru1tt.cloudfront.net https://docs.aws.amazon.com https://dpm.demdex.net https://fls-na.amazon.com https://google.ca https://google.co.in https://google.co.jp https://google.co.th https://google.co.uk https://google.com https://google.com.ar https://google.com.au https://google.com.br https://google.com.hk https://google.com.mx https://google.com.tr https://google.com.tw https://google.de https://google.es https://google.fr https://google.it https://google.nl https://google.pl https://google.ru https://googleads.g.doubleclick.net https://img.youtube.com https://marketingplatform.google.com https://media.amazonwebservices.com https://p.adsymptotic.com https://pages.awscloud.com https://s3.amazonaws.com/aws-quickstart/ https://ssl-static.libsyn.com https://static-cdn.jtvnw.net https://www.google.com https://www.linkedin.com https://yt3.ggpht.com; media-src 'self' https://*.libsyn.com https://a0.awsstatic.com https://anchor.fm https://awsmedia.s3.amazonaws.com https://awspodcastsiberiaent.s3.eu-west-3.amazonaws.com https://chtbl.com https://d1.awsstatic.com https://d1hemuljm71t2j.cloudfront.net https://d1le29qyzha1u4.cloudfront.net https://d1oqpvwii7b6rh.cloudfront.net https://d1vo51ubqkiilx.cloudfront.net https://d1yyh5dhdgifnx.cloudfront.net https://d2908q01vomqb2.cloudfront.net https://d2a6igt6jhaluh.cloudfront.net https://d3ctxlq1ktw2nl.cloudfront.net https://d3h2ozso0dirfl.cloudfront.net https://dgen8gghn3u86.cloudfront.net https://dk261l6wntthl.cloudfront.net https://download.stormacq.com/aws/podcast/ https://dts.podtrac.com https://media.amazonwebservices.com https://mktg-apac.s3-ap-southeast-1.amazonaws.com https://s3-ap-northeast-1.amazonaws.com/aws-china-media/ https://www.buzzsprout.com; object-src 'none'; script-src 'self' https://a0.awsstatic.com https://amazonwebservicesinc.tt.omtrdc.net https://chat.us-east-1.prod.mrc-sunrise.marketing.aws.dev https://googleads.g.doubleclick.net https://loader.us-east-1.prod.mrc-sunrise.marketing.aws.dev https://spot-price.s3.amazonaws.com https://static.doubleclick.net https://website.spot.ec2.aws.a2z.com https://www.google.com https://www.gstatic.com https://www.youtube.com/iframe_api https://www.youtube.com/s/player/; style-src 'self' 'unsafe-inline' https://a0.awsstatic.com" data-report-uri="https://prod-us-west-2.csp-report.marketing.aws.dev/submit">
<meta http-equiv="content-type" content="text/html; charset=UTF-8">
<meta name="viewport" content="width=device-width
initial-scale=1.0">
<link rel="preconnect" href="https://a0.awsstatic.com" crossorigin="anonymous">
<link rel="dns-prefetch" href="https://a0.awsstatic.com">
<link rel="dns-prefetch" href="https://d1.awsstatic.com">
<link rel="dns-prefetch" href="https://amazonwebservicesinc.tt.omtrdc.net">
<link rel="dns-prefetch" href="https://s0.awsstatic.com">
<title>Cloud Object Storage – Amazon S3 – Amazon Web Services</title>
<meta http-equiv="X-UA-Compatible" content="IE=edge
chrome=1">
<meta name="description" content="Amazon S3 is cloud object storage with industry-leading scalability
data availability
security
and performance. S3 is ideal for data lakes
mobile applications
backup and restore
archival
IoT devices
ML
AI
and analytics.">
<meta name="robots" content="index
follow">
<link rel="canonical" href="https://aws.amazon.com/s3/">
<link rel="alternate" href="https://aws.amazon.com/ar/s3/" hreflang="ar-sa">
<link rel="alternate" href="https://aws.amazon.com/de/s3/" hreflang="de-de">
<link rel="alternate" href="https://aws.amazon.com/s3/" hreflang="en-us">
<link rel="alternate" href="https://aws.amazon.com/es/s3/" hreflang="es-es">
<link rel="alternate" href="https://aws.amazon.com/fr/s3/" hreflang="fr-fr">
<link rel="alternate" href="https://aws.amazon.com/id/s3/" hreflang="id-id">
<link rel="alternate" href="https://aws.amazon.com/it/s3/" hreflang="it-it">
<link rel="alternate" href="https://aws.amazon.com/jp/s3/" hreflang="ja-jp">
<link rel="alternate" href="https://aws.amazon.com/ko/s3/" hreflang="ko-kr">
<link rel="alternate" href="https://aws.amazon.com/pt/s3/" hreflang="pt-br">
<link rel="alternate" href="https://aws.amazon.com/ru/s3/" hreflang="ru-ru">
<link rel="alternate" href="https://aws.amazon.com/th/s3/" hreflang="th-th">
<link rel="alternate" href="https://aws.amazon.com/tr/s3/" hreflang="tr-tr">
<link rel="alternate" href="https://aws.amazon.com/vi/s3/" hreflang="vi-vn">
<link rel="alternate" href="https://aws.amazon.com/cn/s3/" hreflang="zh-cn">
<link rel="alternate" href="https://aws.amazon.com/tw/s3/" hreflang="zh-tw">
<script src="https://a0.awsstatic.com/libra/1.0.478/csp/csp-report.js" async="true"></script>
<meta property="twitter:card" content="summary">
<meta property="twitter:title" content="Cloud Object Storage – Amazon S3 – Amazon Web Services">
<meta property="twitter:description" content="Amazon S3 is cloud object storage with industry-leading scalability
data availability
security
and performance. S3 is ideal for data lakes
mobile applications
backup and restore
archival
IoT devices
ML
AI
and analytics.">
<meta property="twitter:image" content="https://a0.awsstatic.com/libra-css/images/logos/aws_logo_smile_179x109.png">
<meta property="twitter:site" content="@awscloud">
<meta property="fb:pages" content="153063591397681">
<meta name="baidu-site-verification" content="pjxJUyWxae">
<meta name="360-site-verification" content="cbe5c6f0249e273e71fffd6d6580ce09">
<meta name="shenma-site-verification" content="79b94bb338f010af876605819a332e19_1617844070">
<meta name="sogou_site_verification" content="Ow8cCy3Hgq">
<link rel="icon" type="image/ico" href="https://a0.awsstatic.com/libra-css/images/site/fav/favicon.ico">
<link rel="shortcut icon" type="image/ico" href="https://a0.awsstatic.com/libra-css/images/site/fav/favicon.ico">
<link rel="apple-touch-icon" sizes="57x57" href="https://a0.awsstatic.com/libra-css/images/site/touch-icon-iphone-114-smile.png">
<link rel="apple-touch-icon" sizes="72x72" href="https://a0.awsstatic.com/libra-css/images/site/touch-icon-ipad-144-smile.png">
<link rel="apple-touch-icon" sizes="114x114" href="https://a0.awsstatic.com/libra-css/images/site/touch-icon-iphone-114-smile.png">
<link rel="apple-touch-icon" sizes="144x144" href="https://a0.awsstatic.com/libra-css/images/site/touch-icon-ipad-144-smile.png">
<meta property="og:title" content="Cloud Object Storage – Amazon S3 – Amazon Web Services">
<meta property="og:type" content="company">
<meta property="og:url" content="https://aws.amazon.com/s3/">
<meta property="og:image" content="https://a0.awsstatic.com/libra-css/images/logos/aws_logo_smile_1200x630.png">
<meta property="og:site_name" content="Amazon Web Services
Inc.">
<meta name="google-site-verification" content="XHghG81ulgiW-3EylGcF48sG28tBW5EH0bNUhgo_DrU">
<meta name="msvalidate.01" content="6F92E52A288E266E30C2797ECB5FCCF3">
<link rel="stylesheet" href="https://a0.awsstatic.com/libra-css/css/1.0.441/style-awsm.css">
<script type="application/json" id="aws-page-settings">
{
supportedLanguages: ["ar"
cn
de
en
es
fr
id
it
jp
ko
pt
ru
th
tr
tw
vi]
defaultLanguage: "en"
logDataSet: "LIVE:PROD"
logInstance: "PUB"
csdsEndpoint: "https://aws.amazon.com/"
framework: "v2"
g11nLibPath: "https://a0.awsstatic.com/g11n-lib/2.0.101"
i18nStringPath: "https://i18n-string.us-west-2.prod.pricing.aws.a2z.com"
libraCSSPath: "https://a0.awsstatic.com/libra-css/css/1.0.441"
libraCSSImagePath: "https://a0.awsstatic.com/libra-css/images"
isLoggingEnabled: true
currentLanguage: "en-US"
currentStage: "Prod"
isBJS: false
isMarketplace: false
isRTL: false
requireBaseUrl: "https://a0.awsstatic.com"
requirePackages:[
{
name: "libra"
location: "libra/1.0.478"
}
]
requirePaths: {
directories: "https://a0.awsstatic.com/libra/1.0.478/directories"
libra-cardsui: "https://a0.awsstatic.com/libra/1.0.478/libra-cardsui"
librastandardlib: "https://a0.awsstatic.com/libra/1.0.478/librastandardlib"
aws-blog: "https://a0.awsstatic.com/aws-blog/1.0.48/js"
plc: "https://a0.awsstatic.com/plc/js/1.0.132/plc"
scripts: "libra/1.0.478/v1-polyfills/scripts"
libra-search: "https://a0.awsstatic.com/libra-search/1.0.18/js"
pricing-calculator: "https://a0.awsstatic.com/pricing-calculator/js/1.0.2"
pricing-savings-plan: "https://a0.awsstatic.com/pricing-savings-plan/js/1.0.8"
}
}
</script>
<script src="https://a0.awsstatic.com/libra/1.0.478/libra-head.js"></script>
<script src="https://a0.awsstatic.com/s_code/js/3.0/awshome_s_code.js"></script>
<link rel="stylesheet" href="https://a0.awsstatic.com/eb-csr/1.0.18/orchestrate.css">
<script type="module" async="true" src="https://a0.awsstatic.com/eb-csr/1.0.18/orchestrate.js"></script>
<script type="application/json" id="target-mediator">{"pageLanguage":"en"
supportedLanguages:["ar"
cn
de
en
es
fr
id
it
jp
ko
pt
ru
th
tr
tw
vi]
offerOrigin:"https://s0.awsstatic.com"}</script>
<script data-js-script="target-mediator" src="https://a0.awsstatic.com/target/1.0.120/aws-target-mediator.js" async="true"></script>
</head>
<body class="awsm">
<a id="aws-page-skip-to-main" class="lb-sr-only lb-sr-only-focusable lb-bold lb-skip-el" href="#aws-page-content-main"> Skip to Main Content</a>
<header id="aws-page-header" class="awsm m-page-header" role="banner">
<div id="m-nav" class="m-nav" role="navigation">
<div class="m-nav-header lb-clearfix" data-menu-url="https://s0.awsstatic.com/en_US/nav/v3/panel-content/desktop/index.html">
<div class="m-nav-logo">
<div class="lb-bg-logo aws-amazon_web_services_smile-header-desktop-en">
<a href="https://aws.amazon.com/?nc2=h_lg"><span>Click here to return to Amazon Web Services homepage</span></a>
</div>
</div>
<nav class="m-nav-secondary-links" style="min-width: 620px" aria-label="Secondary Navigation">
<a href="/contact-us/?nc2=h_header">Contact Us</a>
<a class="lb-txt-none lb-tiny-iblock lb-txt-13 lb-txt lb-has-trigger-indicator" href="#" data-mbox-ignore="true" data-lb-popover-trigger="popover-support-selector" role="button" aria-expanded="false" aria-label="Explore support options" id="popover-popover-support-selector-trigger" aria-controls="popover-support-selector" aria-haspopup="true"> Support&nbsp; <i class="icon-caret-down lb-trigger-mount"></i></a>
<a id="m-nav-language-selector" class="lb-tiny-iblock lb-txt lb-has-trigger-indicator" href="#" data-lb-popover-trigger="popover-language-selector" data-language="en" aria-label="Set site language" role="button" aria-controls="popover-language-selector" aria-expanded="false" aria-haspopup="true">English&nbsp;<i class="icon-caret-down lb-trigger-mount"></i></a>
<a class="lb-tiny-iblock lb-txt lb-has-trigger-indicator" href="#" data-lb-popover-trigger="popover-my-account" aria-label="Access account options" role="button" aria-controls="popover-my-account" aria-expanded="false" aria-haspopup="true">My Account&nbsp;<i class="icon-caret-down lb-trigger-mount"></i></a>
<div class="m-nav-cta-btn">
<div class="lb-mbox js-mbox" data-lb-comp="mbox" data-lb-comp-ignore="true" data-mbox="en_header_nav_cta">
<div class="lb-data-attr-wrapper data-attr-wrapper" data-da-type="so" data-da-so-type="viewport" data-da-so-language="en" data-da-so-category="monitoring" data-da-so-name="nav-buttons" data-da-so-version="sign-up-sign-in-all" data-da-so-url="nav">
<div class="data-attr-wrapper lb-tiny-iblock lb-none-pad lb-box" data-da-type="so" data-da-so-type="viewport" data-da-so-language="en" data-da-so-category="monitoring" data-da-so-name="nav-buttons" data-da-so-version="prospect-sign-in" data-da-so-url="all">
<a class="lb-txt-none lb-tiny-iblock lb-txt-13 lb-txt" style="padding-top:8px; padding-right:13px;" href="https://console.aws.amazon.com/console/home?nc2=h_ct&amp;src=header-signin"> Sign In</a>
</div>
<div class="data-attr-wrapper lb-tiny-iblock lb-none-v-margin lb-btn" data-da-type="so" data-da-so-type="viewport" data-da-so-language="en" data-da-so-category="monitoring" data-da-so-name="nav-buttons" data-da-so-version="prospect-signup" data-da-so-url="all">
<a class="lb-btn-p-primary" href="https://portal.aws.amazon.com/gp/aws/developer/registration/index.html?nc2=h_ct&amp;src=header_signup" data-trk-params="{&quot;trkOverrideWithQs&quot;:true}" role="button"> <span> Create an AWS Account</span> </a>
</div>
</div>
</div>
</div>
</nav>
<div class="m-nav-primary-group">
<nav class="m-nav-primary-links" aria-label="Primary Navigation">
<i class="m-nav-angle-left-icon" aria-hidden="true"></i>
<ul>
<li aria-expanded="false"><span><a href="/products/?nc2=h_ql_prod" data-panel="m-nav-panel-products">Products</a></span></li>
<li aria-expanded="false"><span><a href="/solutions/?nc2=h_ql_sol" data-panel="m-nav-panel-solutions">Solutions</a></span></li>
<li aria-expanded="false"><span><a href="/pricing/?nc2=h_ql_pr" data-panel="m-nav-panel-pricing">Pricing</a></span></li>
<li aria-expanded="false"><span><a href="https://docs.aws.amazon.com/index.html?nc2=h_ql_doc" data-panel="m-nav-panel-documentation">Documentation</a></span></li>
<li aria-expanded="false"><span><a href="/getting-started/?nc2=h_ql_le" data-panel="m-nav-panel-learn">Learn</a></span></li>
<li aria-expanded="false"><span><a href="/partners/?nc2=h_ql_pn" data-panel="m-nav-panel-partner">Partner Network</a></span></li>
<li aria-expanded="false"><span><a href="https://aws.amazon.com/marketplace/?nc2=h_ql_mp" data-panel="m-nav-panel-marketplace">AWS Marketplace</a></span></li>
<li aria-expanded="false"><span><a href="/customer-enablement/?nc2=h_ql_ce" data-panel="m-nav-panel-customer">Customer Enablement</a></span></li>
<li aria-expanded="false"><span><a href="/events/?nc2=h_ql_ev" data-panel="m-nav-panel-events">Events</a></span></li>
<li aria-expanded="false"><span><a href="/contact-us/?nc2=h_ql_exm" data-panel="m-nav-panel-more">Explore More </a></span></li>
</ul>
<div class="m-nav-icon-group">
<i class="m-nav-angle-right-icon" aria-hidden="true"></i>
<i class="m-nav-search-icon" tabindex="0" role="button" aria-expanded="false" aria-label="Search"></i>
</div>
</nav>
<div id="m-nav-desktop-search" class="m-nav-search">
<form action="https://aws.amazon.com/search/" role="search">
<div class="m-typeahead" data-directory-id="typeahead-suggestions" data-lb-comp="typeahead">
<input class="m-nav-search-field" placeholder="Search" autocomplete="off" spellcheck="false" dir="auto" type="text" name="searchQuery">
</div>
</form>
<i class="m-nav-close-icon" role="button" aria-label="Close"></i>
</div>
</div>
</div>
<div class="lb-popover lb-popover-aui lb-popover-tiny" data-lb-comp="popover" data-id="popover-language-selector" aria-labelledby="popover-popover-language-selector-trigger" id="popover-language-selector" aria-modal="false" data-action="hover" data-position="top">
<a class="lb-popover-close" role="button" tabindex="0" aria-label="Close" title="Close"> <span class="lb-sr-only">Close</span> </a>
<div class="lb-grid lb-row lb-row-max-large lb-snap">
<div class="lb-col lb-tiny-24 lb-mid-12">
<ul class="lb-txt-none lb-ul lb-list-style-none lb-tiny-ul-block">
<li lang="ar-SA" translate="no" data-language="ar"><a href="https://aws.amazon.com/ar/?nc1=h_ls">عربي</a></li>
<li lang="id-ID" translate="no" data-language="id"><a href="https://aws.amazon.com/id/?nc1=h_ls">Bahasa Indonesia</a></li>
<li lang="de-DE" translate="no" data-language="de"><a href="https://aws.amazon.com/de/?nc1=h_ls">Deutsch</a></li>
<li lang="en-US" translate="no" data-language="en"><a href="https://aws.amazon.com/?nc1=h_ls">English</a></li>
<li lang="es-ES" translate="no" data-language="es"><a href="https://aws.amazon.com/es/?nc1=h_ls">Español</a></li>
<li lang="fr-FR" translate="no" data-language="fr"><a href="https://aws.amazon.com/fr/?nc1=h_ls">Français</a></li>
<li lang="it-IT" translate="no" data-language="it"><a href="https://aws.amazon.com/it/?nc1=h_ls">Italiano</a></li>
<li lang="pt-BR" translate="no" data-language="pt"><a href="https://aws.amazon.com/pt/?nc1=h_ls">Português</a></li>
</ul>
</div>
<div class="lb-col lb-tiny-24 lb-mid-12">
<ul class="lb-txt-none lb-ul lb-list-style-none lb-tiny-ul-block">
<li lang="vi-VN" translate="no" data-language="vi"><a href="https://aws.amazon.com/vi/?nc1=f_ls">Tiếng Việt</a></li>
<li lang="tr-TR" translate="no" data-language="tr"><a href="https://aws.amazon.com/tr/?nc1=h_ls">Türkçe</a></li>
<li lang="ru-RU" translate="no" data-language="ru"><a href="https://aws.amazon.com/ru/?nc1=h_ls">Ρусский</a></li>
<li lang="th-TH" translate="no" data-language="th"><a href="https://aws.amazon.com/th/?nc1=f_ls">ไทย</a></li>
<li lang="ja-JP" translate="no" data-language="jp"><a href="https://aws.amazon.com/jp/?nc1=h_ls">日本語</a></li>
<li lang="ko-KR" translate="no" data-language="ko"><a href="https://aws.amazon.com/ko/?nc1=h_ls">한국어</a></li>
<li lang="zh-CN" translate="no" data-language="cn"><a href="https://aws.amazon.com/cn/?nc1=h_ls">中文 (简体)</a></li>
<li lang="zh-TW" translate="no" data-language="tw"><a href="https://aws.amazon.com/tw/?nc1=h_ls">中文 (繁體)</a></li>
</ul>
</div>
</div>
</div>
<div class="lb-popover lb-popover-aui lb-popover-tiny" data-lb-comp="popover" data-id="popover-my-account" aria-labelledby="popover-popover-my-account-trigger" id="popover-my-account" aria-modal="false" data-action="hover" data-position="top">
<a class="lb-popover-close" role="button" tabindex="0" aria-label="Close" title="Close"> <span class="lb-sr-only">Close</span> </a>
<ul class="lb-txt-none lb-ul lb-list-style-none lb-tiny-ul-block">
<li><a href="https://console.aws.amazon.com/?nc2=h_m_mc">AWS Management Console</a></li>
<li><a href="https://console.aws.amazon.com/billing/home#/account?nc2=h_m_ma">Account Settings</a></li>
<li><a href="https://console.aws.amazon.com/billing/home?nc2=h_m_bc">Billing &amp; Cost Management</a></li>
<li><a href="https://console.aws.amazon.com/iam/home?nc2=h_m_sc#security_credential">Security Credentials</a></li>
<li><a href="https://phd.aws.amazon.com/?nc2=h_m_sc">AWS Personal Health Dashboard</a></li>
</ul>
</div>
<div class="lb-popover lb-popover-aui lb-popover-tiny" data-lb-comp="popover" data-id="popover-support-selector" aria-labelledby="popover-popover-support-selector-trigger" id="popover-support-selector" aria-modal="false" data-action="hover" data-position="top">
<a class="lb-popover-close" role="button" tabindex="0" aria-label="Close" title="Close"> <span class="lb-sr-only">Close</span> </a>
<ul class="lb-txt-none lb-ul lb-list-style-none lb-tiny-ul-block">
<li><a href="https://console.aws.amazon.com/support/home/?nc2=h_ql_cu">Support Center</a></li>
<li><a href="/premiumsupport/knowledge-center/?nc2=h_m_ma">Knowledge Center</a></li>
<li><a href="/premiumsupport/?nc2=h_m_bc">AWS Support Overview</a></li>
<li><a href="https://repost.aws/">AWS re:Post</a></li>
</ul>
</div>
<script type="text/x-handlebars-template" data-hbs-template-path="nav-desktop/suggestions" data-hbs-context="{&quot;pricingText&quot;:&quot;Pricing&quot;
&quot;documentationText&quot;:&quot;Documentation&quot;
&quot;calculatorText&quot;:&quot;Calculator&quot;}"></script>
<script type="text/x-handlebars-template" data-hbs-template-path="nav-desktop/products-head" data-hbs-context="{&quot;productsText&quot;:&quot;Products&quot;}"></script>
<script type="text/x-handlebars-template" data-hbs-template-path="nav-desktop/keypages-head" data-hbs-context="{&quot;relatedPagesText&quot;:&quot;Related Pages&quot;}"></script>
<script type="text/x-handlebars-template" data-hbs-template-path="nav-desktop/tutorials-head" data-hbs-context="{&quot;tutorialsText&quot;:&quot;Tutorials&quot;}"></script>
<script type="text/x-handlebars-template" data-hbs-template-path="nav-desktop/blogs-head" data-hbs-context="{&quot;blogsText&quot;:&quot;Blogs&quot;}"></script>
<script type="text/x-handlebars-template" data-hbs-template-path="nav-desktop/see-all" data-hbs-context="{&quot;resultsText&quot;:&quot;See more results for&quot;}"></script>
</div>
<div id="m-nav-mobile" class="m-nav-mobile">
<div id="m-nav-mobile-header" class="m-nav-mobile-header m-nav-mobile-with-sub-row" data-menu-url="https://s0.awsstatic.com/en_US/nav/v3/panel-content/mobile/index.html">
<div class="lb-bg-logo aws-amazon_web_services_smile-header-mobile-en">
<a href="https://aws.amazon.com/?nc2=h_lg"><span>Click here to return to Amazon Web Services homepage</span></a>
</div>
<div class="m-nav-mobile-button-group">
<i class="m-nav-mobile-button icon-search" tabindex="0" role="button" aria-expanded="false" aria-label="Search"></i>
<i class="m-nav-mobile-button icon-reorder" tabindex="0" role="button" aria-expanded="false" aria-label="Menu"></i>
</div>
<div id="m-nav-mobile-sub-row" class="m-nav-mobile-sub-row">
<div class="lb-btn">
<a class="lb-btn-p-primary" href="https://portal.aws.amazon.com/gp/aws/developer/registration/index.html?nc2=h_mobile" role="button"> <span> Get Started for Free</span> </a>
</div>
<div class="lb-btn">
<a class="lb-btn-p" href="https://aws.amazon.com/contact-us/?nc2=h_mobile" role="button"> <span> Contact Us</span> </a>
</div>
</div>
</div>
<div id="m-nav-mobile-search" class="m-nav-mobile-search">
<form action="https://aws.amazon.com/search" role="search">
<div class="m-typeahead">
<input class="m-nav-search-field" placeholder="Search" autocomplete="off" spellcheck="false" dir="auto" type="text" name="searchQuery">
</div>
</form>
</div>
<nav id="m-nav-trimdown" role="navigation">
<ul class="m-nav-mobile-menu-group">
<li> <a href="/products/?nc2=h_mo">Products</a> </li>
<li> <a href="/solutions/?nc2=h_mo">Solutions</a> </li>
<li> <a href="/pricing/?nc2=h_mo">Pricing</a> </li>
<li> <a href="/what-is-aws/?nc2=h_mo">Introduction to AWS</a> </li>
<li> <a href="/getting-started/?nc2=h_mo">Getting Started</a> </li>
<li> <a href="/documentation/?nc2=h_mo">Documentation</a> </li>
<li> <a href="/training/?nc2=h_mo">Training and Certification</a> </li>
<li> <a href="/developer/?nc2=h_mo">Developer Center</a> </li>
<li> <a href="/solutions/case-studies/?nc2=h_mo">Customer Success</a> </li>
<li> <a href="/partners/?nc2=h_mo">Partner Network</a> </li>
<li> <a href="https://aws.amazon.com/marketplace/?nc2=h_mo">AWS Marketplace</a> </li>
<li> <a href="https://console.aws.amazon.com/support/home?nc2=h_ql_cu">Support</a> </li>
<li> <a href="https://repost.aws/">AWS re:Post</a> </li>
<li> <a href="https://console.aws.amazon.com/console/home">Log into Console</a> </li>
<li> <a href="/console/mobile/">Download the Mobile App</a> </li>
</ul>
</nav>
</div>
<div class="lb-sticky-subnav" data-lb-comp="sticky-subnav" data-lb-page-path="/s3/">
<div class="lb-row lb-row-max-large lb-snap">
<div class="lb-tiny-24 lb-sticky-subnav-content">
<div class="lb-sticky-subnav-title">
<a class="lb-txt lb-current-page-link" href="/s3/?nc=sn&amp;loc=0"> Amazon S3</a>
</div>
<div class="lb-sticky-subnav-links">
<a class="lb-txt-bold lb-txt lb-current-page-link" href="/s3/?nc=sn&amp;loc=1"> Overview</a>
<a class="lb-txt-bold lb-txt-none lb-txt lb-has-trigger-indicator" href="#" data-mbox-ignore="true" data-lb-popover-trigger="features" role="button" aria-expanded="false" aria-label="Explore features" id="popover-features-trigger" aria-controls="features" aria-haspopup="true" data-trk-params="{&quot;trkOverrideWithQs&quot;:true}"> Features&nbsp; <i class="icon-caret-down lb-trigger-mount"></i></a>
<a class="lb-txt-bold lb-txt-none lb-txt lb-has-trigger-indicator" href="#" data-mbox-ignore="true" data-lb-popover-trigger="classes" role="button" aria-expanded="false" aria-label="Explore storage classes" id="popover-classes-trigger" aria-controls="classes" aria-haspopup="true" data-trk-params="{&quot;trkOverrideWithQs&quot;:true}"> Storage classes&nbsp; <i class="icon-caret-down lb-trigger-mount"></i></a>
<a class="lb-txt-bold lb-txt-none lb-txt" href="/s3/pricing/?nc=sn&amp;loc=4"> Pricing</a>
<a class="lb-txt-none lb-txt" href="/s3/security/?nc=sn&amp;loc=5"> Security</a>
<a class="lb-txt-bold lb-txt-none lb-txt lb-has-trigger-indicator" href="#" data-mbox-ignore="true" data-lb-popover-trigger="resources" role="button" aria-expanded="false" aria-label="Explore resources" id="popover-resources-trigger" aria-controls="resources" aria-haspopup="true" data-trk-params="{&quot;trkOverrideWithQs&quot;:true}"> Resources&nbsp; <i class="icon-caret-down lb-trigger-mount"></i></a>
<a class="lb-txt-bold lb-txt-none lb-txt" href="/s3/faqs/?nc=sn&amp;loc=7"> FAQs</a>
</div>
</div>
</div>
</div>
<div class="lb-popover lb-popover-aui lb-popover-tiny" data-lb-comp="popover" data-id="features" aria-labelledby="popover-features-trigger" id="features" aria-modal="false" data-action="hover" data-position="top">
<a class="lb-popover-close" role="button" tabindex="0" aria-label="Close" title="Close"> <span class="lb-sr-only">Close</span> </a>
<a class="lb-txt-none lb-txt" href="/s3/features/access-points/?nc=sn&amp;loc=2&amp;dn=1"> Access Points</a>
<a class="lb-txt" href="/s3/features/batch-operations/?nc=sn&amp;loc=2&amp;dn=2"> Batch Operations</a>
<a class="lb-txt-none lb-txt" href="/s3/features/block-public-access/?nc=sn&amp;loc=2&amp;dn=3"> Block Public Access</a>
<a class="lb-txt-none lb-txt" href="/s3/cost-optimization/?nc=sn&amp;loc=2&amp;dn=4"> Cost Optimization</a>
<a class="lb-txt-none lb-txt" href="/s3/features/multi-region-access-points/?nc=sn&amp;loc=2&amp;dn=5"> Multi-Region Access Points</a>
<a class="lb-txt-none lb-txt" href="/s3/features/object-lambda/?nc=sn&amp;loc=2&amp;dn=5"> Object Lambda</a>
<a class="lb-txt-none lb-txt" href="/s3/features/replication/?nc=sn&amp;loc=2&amp;dn=5"> Replication</a>
<a class="lb-txt-none lb-txt" href="/s3/storage-analytics-insights/?nc=sn&amp;loc=2&amp;dn=6"> Storage Lens</a>
<a class="lb-txt-none lb-txt" href="/s3/outposts/?nc=sn&amp;loc=2&amp;dn=7"> S3 on Outposts</a>
<a class="lb-txt-none lb-txt" href="/s3/features/?nc=sn&amp;loc=2"> More features</a>
</div>
<div class="lb-popover lb-popover-aui lb-popover-tiny" data-lb-comp="popover" data-id="resources" aria-labelledby="popover-resources-trigger" id="resources" aria-modal="false" data-action="hover" data-position="top">
<a class="lb-popover-close" role="button" tabindex="0" aria-label="Close" title="Close"> <span class="lb-sr-only">Close</span> </a>
<a class="lb-txt-none lb-txt" href="/s3/getting-started/?nc=sn&amp;loc=6&amp;dn=1"> Getting started</a>
<a class="lb-txt" href="/s3/videos/?nc=sn&amp;loc=6&amp;dn=2"> Videos</a>
<a class="lb-txt-none lb-txt" href="/s3/customers/?nc=sn&amp;loc=6&amp;dn=3"> Customers</a>
<a class="lb-txt-none lb-txt" href="/s3/resources/?nc=sn&amp;loc=6"> More resources</a>
</div>
<div class="lb-popover lb-popover-aui lb-popover-tiny" data-lb-comp="popover" data-id="classes" aria-labelledby="popover-classes-trigger" id="classes" aria-modal="false" data-action="hover" data-position="top">
<a class="lb-popover-close" role="button" tabindex="0" aria-label="Close" title="Close"> <span class="lb-sr-only">Close</span> </a>
<a class="lb-txt-none lb-txt" href="/s3/storage-classes/intelligent-tiering/"> S3 Intelligent-Tiering</a>
<a class="lb-txt-none lb-txt" href="/s3/storage-classes/glacier/" data-trk-params="{&quot;trkOverrideWithQs&quot;:true}"> S3 Glacier</a>
<a class="lb-txt-none lb-txt" href="/s3/storage-classes/glacier/instant-retrieval/"> S3 Glacier Instant Retrieval</a>
<a class="lb-txt-none lb-txt" href="/s3/storage-classes/?nc=sn&amp;loc=3"> More storage classes</a>
</div>
</header>
<div id="aws-page-content" class="lb-page-content lb-page-with-sticky-subnav" style="padding-top:0px; padding-bottom:0px;" data-page-alert-target="true">
<main id="aws-page-content-main" role="main" tabindex="-1">
<div class="lb-mbox js-mbox" data-lb-comp="mbox" data-lb-comp-ignore="true" data-mbox="en_ribbon_above-hero">
</div>
<div class="lb-bg-center-bottom-cover data-attr-wrapper lb-tiny-pad lb-none-v-margin lb-grid" style="background-color:#FFFFFF; padding-bottom:0px; background-image:url('//d1.awsstatic.com/s3-pdp-redesign/ImgHead_S3_2021.0613d5edcb509e3d5be1278b7475a190c410984a.jpg');" data-da-type="so" data-da-so-category="monitoring" data-da-so-language="en" data-da-so-name="hero" data-da-so-type="viewport" data-da-so-version="1" data-da-so-url="/s3">
<div class="lb-row lb-row-max-large lb-snap">
<div class="lb-col lb-tiny-24 lb-mid-24">
<div class="lb-txt-white lb-rtxt">
<p><a href="/products/storage/">&nbsp;« Storage</a></p>
</div>
<div class="lb-none-pad lb-grid lb-row lb-row-max-large lb-snap" style="margin-top:0px; margin-bottom:0px;">
<div class="lb-col lb-tiny-24 lb-mid-15">
<h4 id="Amazon_S3" class="lb-txt-bold lb-txt-none lb-txt-white lb-txt-36 lb-none-v-margin lb-h4 lb-title" style="margin-top:10px; margin-bottom:10px;"> Amazon S3</h4>
<h1 id="Object_storage_built_to_retrieve_any_amount_of_data_from_anywhere" class="lb-txt-normal lb-txt-none lb-txt-white lb-txt-24 lb-none-v-margin lb-h1 lb-title"> Object storage built to retrieve any amount of data from anywhere</h1>
<div class="lb-none-pad lb-none-v-margin lb-xb-grid-wrap">
<div class="lb-xb-grid lb-row-max-large lb-xb-equal-height lb-snap lb-gutter-smallOutsideCollapse lb-tiny-xb-1 lb-small-xb-2">
<div>
<div class="lb-xbcol">
<div class="lb-data-attr-wrapper data-attr-wrapper" data-da-type="so" data-da-so-type="viewport" data-da-so-language="en" data-da-so-category="monitoring" data-da-so-name="hero-cta" data-da-so-url="/s3" data-da-so-version="get-started-with-s3">
<div class="lb-mbox js-mbox" data-lb-comp="mbox" data-lb-comp-ignore="true" data-mbox="en_pdp_hero_cta">
<div class="lb-small-show lb-mid-show lb-large-show lb-xlarge-show lb-btn" style="margin-bottom:0px;">
<a class="lb-btn-p-primary" href="https://s3.console.aws.amazon.com/s3/home" data-trk-params="{&quot;trkOverrideWithQs&quot;:true}" role="button"> <span> Get Started with Amazon S3 </span> </a>
</div>
</div>
</div>
</div>
<div class="lb-xbcol">
<div class="lb-data-attr-wrapper data-attr-wrapper" data-da-type="so" data-da-so-type="viewport" data-da-so-language="en" data-da-so-category="monitoring" data-da-so-name="hero-cta" data-da-so-url="/s3" data-da-so-version="contact-sales-specialist">
<div class="lb-mbox js-mbox" data-lb-comp="mbox" data-lb-comp-ignore="true" data-mbox="en_pdp_s3_contactus_cta">
<div class="lb-small-show lb-mid-show lb-large-show lb-xlarge-show lb-btn" style="margin-bottom:0px;">
<a class="lb-btn-p" href="/contact-us/sales-support-s3/" target="_blank" rel="noopener" data-trk-params="{&quot;trkOverrideWithQs&quot;:true}" role="button"> <span> Connect with an Amazon S3 specialist</span> </a>
</div>
</div>
</div>
</div>
</div>
</div>
</div>
</div>
<div class="lb-col lb-tiny-24 lb-mid-9">
<div class="lb-data-attr-wrapper data-attr-wrapper" data-da-type="so" data-da-so-type="viewport" data-da-so-language="en" data-da-so-category="monitoring" data-da-so-name="hero-cta" data-da-so-url="/s3" data-da-so-version="free-tier-callout">
<div class="lb-bg-left-top-cover lb-border-p lb-mid-small-pad lb-small-v-margin lb-box" style="border-width:2px; border-color:#527FFF; background-image:url('//d1.awsstatic.com/s3-pdp-redesign/Benefit-Card-Background.a108d24bf994da9387de3a211bf411597e1abd32.png');">
<div class="lb-txt-28 lb-none-v-margin lb-rtxt" style="color:#FFFFFF;">
<p><b>5 GB of S3 standard storage</b></p>
</div>
<div class="lb-txt-white lb-txt-20 lb-none-v-margin lb-rtxt" style="color:#FFFFFF;">
<p>for 12 months with the <a href="/s3/pricing/?loc=ft#AWS_Free_Tier"><u>AWS Free Tier</u></a><br> </p>
</div>
</div>
</div>
</div>
</div>
</div>
</div>
</div>
<div class="lb-bg-center-top-cover data-attr-wrapper lb-tiny-pad lb-none-v-margin lb-grid" style="padding-bottom:0px; background-image:url('//d1.awsstatic.com/s3-pdp-redesign/Benefits-Fragment-Background.6eca2e240018b6f8341862f5494f3e724a3c69e8.png');" data-da-type="so" data-da-so-category="monitoring" data-da-so-language="en" data-da-so-name="benefits" data-da-so-type="viewport" data-da-so-version="2" data-da-so-url="/s3">
<div class="lb-row lb-row-max-large lb-snap lb-collapse">
<div class="lb-col lb-tiny-24 lb-mid-24">
<div class="lb-none-v-margin lb-xb-grid-wrap" style="padding-left:0px; margin-bottom:20px; padding-right:0px;">
<div class="lb-xb-grid lb-row-max-large lb-xb-equal-height lb-snap lb-xb-justify-center lb-gutter-smallOutsideCollapse lb-tiny-xb-1 lb-small-xb-2 lb-mid-xb-4">
<div>
<div class="lb-xbcol">
<div class="lb-bg-center-center-cover lb-none-v-margin lb-box lb-has-link" style="background-image:url('//d1.awsstatic.com/s3-pdp-redesign/Benefit-Card-Background.a108d24bf994da9387de3a211bf411597e1abd32.png');">
<a href="/s3/features/?pg=ln&amp;sec=be">
<div class="lb-txt-white lb-txt-20 lb-none-v-margin lb-rtxt">
<p>Scale storage resources to meet fluctuating needs with 99.999999999% (11 9s) of data durability.<br> <br> </p>
</div>
<div class="lb-tiny-align-right lb-small-align-right lb-mid-align-right lb-large-align-right lb-xlarge-align-right lb-txt-none lb-txt-white lb-txt-16 lb-none-v-margin lb-txt">
<i class="icon-angle-right"></i>
</div> </a>
</div>
</div>
<div class="lb-xbcol">
<div class="lb-bg-center-center-cover lb-none-v-margin lb-box lb-has-link" style="background-image:url('//d1.awsstatic.com/s3-pdp-redesign/Benefit-Card-Background.a108d24bf994da9387de3a211bf411597e1abd32.png');">
<a href="/s3/storage-classes/?pg=ln&amp;sec=be">
<div class="lb-txt-white lb-txt-20 lb-none-v-margin lb-rtxt">
<p>Store data across Amazon S3 storage classes to reduce costs without upfront investment or hardware refresh cycles.<br> </p>
</div>
<div class="lb-tiny-align-right lb-small-align-right lb-mid-align-right lb-large-align-right lb-xlarge-align-right lb-txt-none lb-txt-white lb-txt-16 lb-none-v-margin lb-txt">
<i class="icon-angle-right"></i>
</div> </a>
</div>
</div>
<div class="lb-xbcol">
<div class="lb-bg-center-center-cover lb-none-v-margin lb-box lb-has-link" style="background-image:url('//d1.awsstatic.com/s3-pdp-redesign/Benefit-Card-Background.a108d24bf994da9387de3a211bf411597e1abd32.png');">
<a href="/s3/security/?pg=ln&amp;sec=be#Access_management_and_security">
<div class="lb-txt-white lb-txt-20 lb-none-v-margin lb-rtxt">
<p>Protect your data with unmatched security
compliance
and audit capabilities.<br> <br> </p>
</div>
<div class="lb-tiny-align-right lb-small-align-right lb-mid-align-right lb-large-align-right lb-xlarge-align-right lb-txt-none lb-txt-white lb-txt-16 lb-none-v-margin lb-txt">
<i class="icon-angle-right"></i>
</div> </a>
</div>
</div>
<div class="lb-xbcol">
<div class="lb-bg-center-center-cover lb-none-v-margin lb-box lb-has-link" style="background-image:url('//d1.awsstatic.com/s3-pdp-redesign/Benefit-Card-Background.a108d24bf994da9387de3a211bf411597e1abd32.png');">
<a href="/s3/features/?pg=ln&amp;sec=be#Storage_management_and_monitoring">
<div class="lb-txt-white lb-txt-20 lb-none-v-margin lb-rtxt">
<p>Easily manage data at any scale with robust access controls
flexible replication tools
and<br> organization-wide visibility.<br> </p>
</div>
<div class="lb-tiny-align-right lb-small-align-right lb-mid-align-right lb-large-align-right lb-xlarge-align-right lb-txt-none lb-txt-white lb-txt-16 lb-none-v-margin lb-txt">
<i class="icon-angle-right"></i>
</div> </a>
</div>
</div>
</div>
</div>
</div>
</div>
</div>
</div>
<div class="data-attr-wrapper lb-tiny-pad lb-none-v-margin lb-grid" style="background-color:#FFFFFF; padding-top:20px; padding-bottom:20px;" data-da-type="so" data-da-so-type="viewport" data-da-so-language="en" data-da-so-category="monitoring" data-da-so-name="how-it-works" data-da-so-version="4" data-da-so-url="/s3">
<div class="lb-row lb-row-max-large lb-snap">
<div class="lb-col lb-tiny-24 lb-mid-24">
<h2 id="How_it_works" class="lb-txt-bold lb-txt-none lb-txt-28 lb-none-v-margin lb-h2 lb-title" style="color:#232F3E; margin-bottom:20px;"> How it works</h2>
<div class="lb-txt-normal lb-txt-none lb-txt-16 lb-txt" style="margin-bottom:10px;">
Amazon Simple Storage Service (Amazon S3) is an object storage service offering industry-leading scalability
data availability
security
and performance. Customers of all sizes and industries can store and protect any amount of data for virtually any use case
such as data lakes
cloud-native applications
and mobile apps. With cost-effective storage classes and easy-to-use management features
you can optimize costs
organize data
and configure fine-tuned access controls to meet specific business
organizational
and compliance requirements.
</div>
<figure class="lb-none-v-margin lb-img">
<div>
<img src="//d1.awsstatic.com/s3-pdp-redesign/product-page-diagram_Amazon-S3_HIW.cf4c2bd7aa02f1fe77be8aa120393993e08ac86d.png" alt="Diagram that shows how to move
store
and analyze data with Amazon S3. Described at the link 'Enlarge and read image description.'" title="" class="cq-dd-image">
</div>
</figure>
<a class="lb-txt-none lb-txt-blue-link lb-none-v-margin lb-txt" style="padding-top:10px;" href="#" data-mbox-ignore="true" data-lb-modal-trigger="modal" role="button" aria-expanded="false" aria-label="Enlarge and read image description" id="modal-modal-trigger" aria-controls="modal" aria-haspopup="dialog" data-trk-params="{&quot;trkOverrideWithQs&quot;:true}"> <i class="icon-search-plus"></i>&nbsp;Enlarge and read image description.</a>
<div class="lb-skt-overlay lb-none-pad lb-modal lb-comp-content-container" id="modal" role="dialog" aria-modal="true" aria-labelledby="modal-modal-trigger" data-lb-comp="modal" data-lb-modal-id="modal">
<div class="lb-modal-content">
<div class="lb-modal-close-container">
<a class="lb-modal-close" role="button" aria-label="Close" title="Close" href="#"> <span class="lb-sr-only">Close</span> </a>
</div>
<figure class="lb-img">
<a href="//d1.awsstatic.com/s3-pdp-redesign/product-page-diagram_Amazon-S3_HIW.cf4c2bd7aa02f1fe77be8aa120393993e08ac86d.png" target="_blank" rel="noopener" data-trk-params="{&quot;trkOverrideWithQs&quot;:true}"> <img src="//d1.awsstatic.com/s3-pdp-redesign/product-page-diagram_Amazon-S3_HIW%402x.ee85671fe5c9ccc2ee5c5352a769d7b03d7c0f16.png" alt="Diagram that shows how to move
store
and analyze data with Amazon S3" title="Click on image to enlarge in a new browser window" class="cq-dd-image"></a>
</figure>
<div class="lb-rtxt">
<p>The diagram shows how to move data to Amazon S3
manage stored data in Amazon S3
and analyze data with other services. Three sections display from left to right.<br> <br> </p>
<p>The first section has an illustration of a database
a server
and a document. The first section is titled "Move data." The first section says
Move your data to Amazon S3 from wherever it lives – in the cloud, in applications, or on-premises. Nearby icons show different types of data: "analytics data
log files
application data
video and pictures
and backup and archival."<br> <br> </p>
<p>The second section has an illustration of an empty bucket. The second section is titled "Amazon S3." The second section says
Object storage built to store and retrieve any amount of data from anywhere.<br> <br> </p>
<p>The second section has more text under the heading "Store data." The text says
Create bucket, specify the Region, access controls, and management options. Upload any amount of data. A nearby illustration shows a bucket that contains a square
a circle
and a triangle.<br> The second section also has icons that show Amazon S3 features. The features are "Control access to data
Optimize cost with storage classes
Replicate data to any Region
Access from on-premises or VPC
Protect and secure your data
and Gain visibility into your storage." <br> <br> </p>
<p>The third section is titled "Analyze data." The third section says
Use AWS and third-party services to analyze your data to gain insights. Nearby icons show ways of analyzing data: "artificial intelligence (AI)
advanced analytics
and machine learning (ML)."</p>
</div>
</div>
</div>
</div>
</div>
</div>
<div class="lb-data-attr-wrapper data-attr-wrapper" data-da-type="so" data-da-so-category="monitoring" data-da-so-language="en" data-da-so-name="mid-page-merch-ribbon" data-da-so-type="viewport" data-da-so-version="5" data-da-so-url="/s3">
</div>
<div id="mid_page"></div>
<div class="lb-mbox js-mbox" data-lb-comp="mbox" data-lb-comp-ignore="true" data-mbox="en_banner_product-mid_page">
</div>
<div class="lb-mbox js-mbox" data-lb-comp="mbox" data-lb-comp-ignore="true" data-mbox="en_device_a_use_cases">
<div class="data-attr-wrapper lb-tiny-pad lb-none-v-margin lb-grid" style="background-color:#ffffff; padding-top:0px; margin-top:20px; margin-bottom:20px;" data-da-type="so" data-da-so-type="viewport" data-da-so-language="en" data-da-so-category="monitoring" data-da-so-name="use-case" data-da-so-version="6" data-da-so-url="/s3">
<div class="lb-row lb-row-max-large lb-snap lb-collapse">
<div class="lb-col lb-tiny-24 lb-mid-24">
<div class="lb-tiny-pad lb-none-v-margin lb-grid lb-row lb-row-max-large lb-snap" style="padding-bottom:20px;">
<div class="lb-col lb-tiny-24 lb-mid-24">
<h2 id="Use_cases" class="lb-txt-bold lb-txt-none lb-txt-28 lb-none-v-margin lb-h2 lb-title" style="color:#232F3E;"> Use cases</h2>
</div>
</div>
<div class="lb-none-pad lb-none-v-margin lb-xb-grid-wrap">
<div class="lb-xb-grid lb-row-max-large lb-xb-equal-height lb-snap lb-xb-justify-center lb-gutter-smallOutsideCollapse lb-tiny-xb-1 lb-small-xb-2 lb-mid-xb-4">
<div>
<div class="lb-xbcol">
<div class="lb-tiny-pad lb-box">
<h3 id="Build_a_data_lake" class="lb-txt-none lb-txt-24 lb-h3 lb-title" style="margin-top:0px;"> Build a data lake</h3>
<div class="lb-txt-16 lb-rtxt" style="margin-top:0px;">
<p><br> Run big data analytics
artificial intelligence (AI)
machine learning (ML)
and high performance computing (HPC) applications to unlock data insights.<br> <br> <a href="https://aws.amazon.com/products/storage/data-lake-storage/?pg=ln&amp;sec=uc">Learn more about building a data lake on Amazon S3 »</a><br> </p>
</div>
</div>
</div>
<div class="lb-xbcol">
<div class="lb-tiny-pad lb-box">
<h3 id="Back_up_and_restore_critical_data" class="lb-txt-none lb-txt-24 lb-h3 lb-title" style="margin-top:0px;"> Back up and restore critical data</h3>
<div class="lb-txt-16 lb-rtxt" style="margin-top:0px;">
<p>Meet Recovery Time Objectives (RTO)
Recovery Point Objectives (RPO)
and compliance requirements with S3's robust replication features.<br> <br> <a href="https://aws.amazon.com/backup-restore/">Learn more about backup and restore »</a><br> </p>
</div>
</div>
</div>
<div class="lb-xbcol">
<div class="lb-tiny-pad lb-box">
<h3 id="Archive_data_at_the_lowest_cost" class="lb-txt-none lb-txt-24 lb-h3 lb-title" style="margin-top:0px;"> Archive data at the lowest cost</h3>
<div class="lb-txt-16 lb-rtxt" style="margin-top:0px;">
<p>Move data archives to the Amazon S3 Glacier storage classes to lower costs
&nbsp;eliminate operational complexities
and gain new insights.<br> <br> <a href="/s3/storage-classes/glacier/">Learn more about archiving with the S3 Glacier storage classes »</a><br> <br> </p>
</div>
</div>
</div>
<div class="lb-xbcol">
<div class="lb-tiny-pad lb-box">
<h3 id="Run_cloud-native_applications" class="lb-txt-none lb-txt-24 lb-h3 lb-title" style="margin-top:0px;"> Run cloud-native applications</h3>
<div class="lb-txt-16 lb-rtxt" style="margin-top:0px;">
<p>Build fast
powerful mobile and web-based cloud-native apps that scale automatically in a highly available configuration.<br> <br> <br> <a href="https://aws.amazon.com/products/storage/object-storage-for-cloud-native-applications?pg=ln&amp;sec=uc">Learn more about cloud-native applications »</a><br> </p>
</div>
</div>
</div>
</div>
</div>
</div>
</div>
</div>
</div>
</div>
<div class="data-attr-wrapper lb-tiny-pad lb-none-v-margin lb-grid" style="background-color:#ffffff; padding-top:0px; margin-top:20px;" data-da-type="so" data-da-so-type="viewport" data-da-so-language="en" data-da-so-category="monitoring" data-da-so-name="customers" data-da-so-version="7" data-da-so-url="/s3">
<div class="lb-row lb-row-max-large lb-snap lb-collapse">
<div class="lb-col lb-tiny-24 lb-mid-24">
<div class="lb-tiny-pad lb-none-v-margin lb-grid lb-row lb-row-max-large lb-snap" style="padding-bottom:20px;">
<div class="lb-col lb-tiny-24 lb-mid-24">
<h2 id="Customers" class="lb-txt-bold lb-txt-none lb-txt-28 lb-none-v-margin lb-h2 lb-title" style="color:#232F3E;"> Customers</h2>
</div>
</div>
<div class="lb-none-pad lb-none-v-margin lb-xb-grid-wrap">
<div class="lb-xb-grid lb-row-max-large lb-xb-equal-height lb-snap lb-xb-justify-center lb-gutter-smallOutsideCollapse lb-tiny-xb-1 lb-small-xb-2 lb-mid-xb-4">
<div>
<div class="lb-xbcol">
<div class="lb-none-pad lb-none-v-margin lb-box" style="margin-bottom:0px;">
<figure class="lb-none-v-margin lb-img">
<div>
<img src="//d1.awsstatic.com/s3-pdp-redesign/GeorgiaPacific_logo.041e17c6cc395f01e2bf6d9e812aa5110d34c6f2.png" alt="Georgia-Pacific Customer Story" title="Georgia-Pacific Customer Story" class="cq-dd-image">
</div>
</figure>
<div class="lb-txt-bold lb-txt-16 lb-rtxt">
<p><a href="/solutions/case-studies/georgia-pacific/?pg=ln&amp;sec=c">Learn how Georgia-Pacific built a data lake »</a></p>
</div>
</div>
</div>
<div class="lb-xbcol">
<div class="lb-none-pad lb-none-v-margin lb-box">
<figure class="lb-none-v-margin lb-img">
<div>
<img src="//d1.awsstatic.com/s3-pdp-redesign/Nasdaq_logo.d19103870475b397bae619546c339df8962b5eb6.png" alt="Nasdaq Customer Story" title="Nasdaq Customer Story" class="cq-dd-image">
</div>
</figure>
<div class="lb-txt-bold lb-txt-16 lb-rtxt">
<p><a href="/solutions/case-studies/nasdaq-case-study/?pg=ln&amp;sec=c">Nasdaq scaled to 70 billion records a day »</a><br> </p>
</div>
</div>
</div>
<div class="lb-xbcol">
<div class="lb-none-pad lb-none-v-margin lb-box" style="margin-bottom:0px;">
<figure class="lb-none-v-margin lb-img">
<div>
<img src="//d1.awsstatic.com/s3-pdp-redesign/RyanAir_logo.41acfc15b705f220b86379da0ae55dfffb45010d.jpg" alt="Ryanair Customer Story" title="Ryanair Customer Story" class="cq-dd-image">
</div>
</figure>
<div class="lb-txt-bold lb-txt-16 lb-rtxt">
<p><a href="/solutions/case-studies/ryanair-video-case-study/?pg=ln&amp;sec=c">Ryanair saved 65% migrating backups to S3 »</a><br> </p>
</div>
</div>
</div>
<div class="lb-xbcol">
<div class="lb-none-pad lb-none-v-margin lb-box">
<figure class="lb-none-v-margin lb-img">
<div>
<img src="//d1.awsstatic.com/s3-pdp-redesign/Zalando_logo.296e782a54224ee72ef6d243517d5bed3a9c91d2.jpg" alt="Zalando Customer Story" title="Zalando Customer Story" class="cq-dd-image">
</div>
</figure>
<div class="lb-txt-bold lb-txt-16 lb-rtxt">
<p><a href="https://aws.amazon.com/blogs/storage/how-zalando-built-its-data-lake-on-amazon-s3/?pg=ln&amp;sec=c">Zalando used S3 intelligent tiering for 37% storage savings »</a><br> </p>
</div>
</div>
</div>
</div>
</div>
</div>
</div>
</div>
</div>
<div class="lb-bg-center-top-cover data-attr-wrapper lb-tiny-pad lb-none-v-margin lb-grid" style="background-image:url('//d1.awsstatic.com/s3-pdp-redesign/HowToGetStarted-Fragment-Background.fb6fe0a799d404590a847be388c61b645a26f4f6.png');" data-da-type="so" data-da-so-type="viewport" data-da-so-language="en" data-da-so-category="monitoring" data-da-so-name="how-to-get-started" data-da-so-version="8" data-da-so-url="/s3">
<div class="lb-row lb-row-max-large lb-snap lb-collapse">
<div class="lb-col lb-tiny-24 lb-mid-24">
<div class="lb-tiny-pad lb-none-v-margin lb-grid lb-row lb-row-max-large lb-snap" style="padding-bottom:20px;">
<div class="lb-col lb-tiny-24 lb-mid-24">
<h2 id="How_to_get_started" class="lb-txt-bold lb-txt-none lb-txt-28 lb-none-v-margin lb-h2 lb-title" style="color:#232F3E;"> How to get started</h2>
</div>
</div>
<div class="lb-none-pad lb-none-v-margin lb-xb-grid-wrap">
<div class="lb-xb-grid lb-row-max-large lb-xb-equal-height lb-snap lb-xb-justify-center lb-gutter-smallOutsideCollapse lb-tiny-xb-1 lb-mid-xb-3">
<div>
<div class="lb-xbcol">
<div class="lb-bg-center-center-cover lb-box" style="background-image:url('//d1.awsstatic.com/s3-pdp-redesign/Benefit-Card-Background.a108d24bf994da9387de3a211bf411597e1abd32.png');">
<h3 id="Find_out_how_Amazon_S3_works" class="lb-txt-normal lb-txt-none lb-txt-24 lb-h3 lb-title" style="color:#FFFFFF;"> Find out how Amazon S3 works</h3>
<div class="lb-txt-16 lb-rtxt" style="color:#FFFFFF;">
<p>Learn more about analytics
data management
query in place
storage classes
security
and more.<br> </p>
</div>
<a class="lb-txt-bold lb-txt-none lb-txt-16 lb-txt" style="color:#44b9d6;" href="/s3/features/"> Explore Amazon S3 features »</a>
</div>
</div>
<div class="lb-xbcol">
<div class="lb-bg-center-center-cover lb-box" style="background-image:url('//d1.awsstatic.com/s3-pdp-redesign/Benefit-Card-Background.a108d24bf994da9387de3a211bf411597e1abd32.png');">
<h3 id="Sign_up_for_a_free_account" class="lb-txt-normal lb-txt-none lb-txt-24 lb-h3 lb-title" style="color:#FFFFFF;"> Sign up for a free account</h3>
<div class="lb-txt-16 lb-rtxt" style="color:#FFFFFF;">
<p>Pay nothing or try for free while learning the fundamentals and building on AWS.<br> <br> </p>
</div>
<a class="lb-txt-bold lb-txt-none lb-txt-16 lb-txt" style="color:#44b9d6;" href="https://aws.amazon.com/free/"> Try the AWS Free Tier »</a>
</div>
</div>
<div class="lb-xbcol">
<div class="lb-bg-center-center-cover lb-box" style="background-image:url('//d1.awsstatic.com/s3-pdp-redesign/Benefit-Card-Background.a108d24bf994da9387de3a211bf411597e1abd32.png');">
<h3 id="Connect_with_an_expert" class="lb-txt-normal lb-txt-none lb-txt-24 lb-h3 lb-title" style="color:#FFFFFF;"> Connect with an expert</h3>
<div class="lb-txt-16 lb-rtxt" style="color:#FFFFFF;">
<p>From development to enterprise-level programs
get the right support at the right time.<br> </p>
</div>
<a class="lb-txt-bold lb-txt-none lb-txt-16 lb-txt" style="color:#44b9d6;" href="/contact-us/sales-support-s3/?pg=ln" target="_blank" rel="noopener"> Explore support options »</a>
</div>
</div>
</div>
</div>
</div>
</div>
</div>
</div>
<div class="lb-bg-center-top-cover lb-none-v-margin lb-grid" style="background-image:url('//d1.awsstatic.com/s3-pdp-redesign/SiteMerchFooter-Background.c0701e3f509526a17bf8dc74ff91f084a507392f.png');">
<div class="lb-row lb-row-max-large lb-snap">
<div class="lb-col lb-tiny-24 lb-mid-24">
<hr class="lb-divider">
<div class="lb-none-pad lb-none-v-margin lb-grid lb-row lb-row-max-large lb-snap" style="padding-bottom:20px;">
<div class="lb-col lb-tiny-24 lb-mid-24">
<h2 id="Explore_more_of_AWS" class="lb-txt-bold lb-txt-none lb-txt-white lb-txt-28 lb-none-v-margin lb-h2 lb-title" style="color:#FFFFFF;"> Explore more of AWS</h2>
</div>
</div>
<div class="lb-data-attr-wrapper data-attr-wrapper" data-da-type="so" data-da-so-category="monitoring" data-da-so-language="en" data-da-so-name="footer-merch-ribbon" data-da-so-type="viewport" data-da-so-version="9" data-da-so-url="/s3">
</div>
<div class="lb-none-v-margin lb-grid lb-row lb-row-max-large lb-snap" style="margin-bottom:0px;">
<div class="lb-col lb-tiny-24 lb-mid-24">
<div class="lb-none-pad lb-none-v-margin lb-grid lb-row lb-row-max-large lb-snap">
<div class="lb-col lb-tiny-24 lb-mid-12">
<div class="lb-mbox js-mbox" data-lb-comp="mbox" data-lb-comp-ignore="true" data-mbox="en_2up_product-left">
</div>
</div>
<div class="lb-col lb-tiny-24 lb-mid-12">
<div class="lb-mbox js-mbox" data-lb-comp="mbox" data-lb-comp-ignore="true" data-mbox="en_2up_product-right">
</div>
</div>
</div>
<div class="lb-mbox js-mbox" data-lb-comp="mbox" data-lb-comp-ignore="true" data-mbox="en_1up_product">
</div>
<div class="lb-mbox js-mbox" data-lb-comp="mbox" data-lb-comp-ignore="true" data-mbox="en_footer_general">
</div>
</div>
</div>
</div>
</div>
</div>
</main>
</div>
<footer id="aws-page-footer" class="m-page-footer" role="contentinfo">
<div data-url="https://dc.ads.linkedin.com/collect/?pid=3038&amp;fmt=gif" data-lb-comp="tracking-pixel"></div>
<div data-lb-comp="google-rlsa-pixel"></div>
<div class="data-attr-wrapper lb-none-v-margin lb-xb-grid-wrap" style="background-color:#242F3E;" data-da-type="so" data-da-so-type="viewport" data-da-so-language="en" data-da-so-category="monitoring" data-da-so-name="footer" data-da-so-version="a">
<div class="lb-xb-grid lb-row-max-large lb-snap lb-tiny-xb-1 lb-small-xb-3 lb-large-xb-5">
<div class="lb-xbcol">
<div class="data-attr-wrapper lb-small-hide lb-btn" data-da-type="so" data-da-so-type="viewport" data-da-so-language="en" data-da-so-category="monitoring" data-da-so-name="footer_buttons" data-da-so-url="all" data-da-so-version="footer_signin-mobile-default">
<a class="lb-btn-p-primary" href="https://console.aws.amazon.com/console/home?nc1=f_ct&amp;src=footer-signin-mobile" role="button"> <span> Sign In to the Console</span> </a>
</div>
<h3 id="Learn_About_AWS" class="lb-txt-none lb-txt-p-chromium lb-tiny-v-margin lb-h3 lb-title"> Learn About AWS</h3>
<ul class="lb-txt-p-chromium lb-ul lb-list-style-none lb-li-micro-v-margin lb-tiny-ul-block" style="margin-bottom:0px;">
<li><a href="/what-is-aws/?nc1=f_cc" target="_blank" rel="noopener">What Is AWS?</a></li>
<li><a href="/what-is-cloud-computing/?nc1=f_cc" target="_blank" rel="noopener">What Is Cloud Computing?</a></li>
<li><a href="/diversity-inclusion/?nc1=f_cc" target="_blank" rel="noopener">AWS Diversity
Equity &amp; Inclusion</a></li>
<li><a href="/devops/what-is-devops/?nc1=f_cc" target="_blank" rel="noopener">What Is DevOps?</a></li>
<li><a href="/containers/?nc1=f_cc" target="_blank" rel="noopener">What Is a Container?</a></li>
<li><a href="/big-data/datalakes-and-analytics/what-is-a-data-lake/?nc1=f_cc" target="_blank" rel="noopener">What Is a Data Lake?</a></li>
<li><a href="/security/?nc1=f_cc" target="_blank" rel="noopener">AWS Cloud Security</a></li>
<li><a href="/new/?nc1=f_cc" target="_blank" rel="noopener">What's New</a></li>
<li><a href="/blogs/?nc1=f_cc" target="_blank" rel="noopener">Blogs</a></li>
<li><a href="https://press.aboutamazon.com/press-releases/aws" target="_blank" rel="noopener" title="Press Releases">Press Releases</a></li>
</ul>
</div>
<div class="lb-xbcol">
<h3 id="Resources_for_AWS" class="lb-txt-none lb-txt-p-chromium lb-tiny-v-margin lb-h3 lb-title"> Resources for AWS</h3>
<ul class="lb-txt-p-chromium lb-ul lb-list-style-none lb-li-micro-v-margin lb-tiny-ul-block" style="margin-bottom:0px;">
<li><a href="/getting-started/?nc1=f_cc" target="_blank" rel="noopener">Getting Started</a></li>
<li><a href="/training/?nc1=f_cc" target="_blank" rel="noopener">Training and Certification</a></li>
<li><a href="/solutions/?nc1=f_cc" target="_blank" rel="noopener">AWS Solutions Portfolio</a></li>
<li><a href="/architecture/?nc1=f_cc" target="_blank" rel="noopener">Architecture Center</a></li>
<li><a href="/faqs/?nc1=f_dr" target="_blank" rel="noopener">Product and Technical FAQs</a></li>
<li><a href="/resources/analyst-reports/?nc1=f_cc" target="_blank" rel="noopener">Analyst Reports</a></li>
<li><a href="/partners/work-with-partners/?nc1=f_dr" target="_blank" rel="noopener">AWS Partners</a></li>
</ul>
</div>
<div class="lb-xbcol">
<h3 id="Developers_on_AWS" class="lb-txt-none lb-txt-p-chromium lb-tiny-v-margin lb-h3 lb-title"> Developers on AWS</h3>
<ul class="lb-txt-p-chromium lb-ul lb-list-style-none lb-li-micro-v-margin lb-tiny-ul-block" style="margin-bottom:0px;">
<li><a href="/developer/?nc1=f_dr" target="_blank" rel="noopener">Developer Center</a></li>
<li><a href="/tools/?nc1=f_dr" target="_blank" rel="noopener">SDKs &amp; Tools</a></li>
<li><a href="/developer/language/net/?nc1=f_dr" target="_blank" rel="noopener">.NET on AWS</a></li>
<li><a href="/developer/language/python/?nc1=f_dr" target="_blank" rel="noopener">Python on AWS</a></li>
<li><a href="/developer/language/java/?nc1=f_dr" target="_blank" rel="noopener">Java on AWS</a></li>
<li><a href="/developer/language/php/?nc1=f_cc" target="_blank" rel="noopener">PHP on AWS</a></li>
<li><a href="/developer/language/javascript/?nc1=f_dr" target="_blank" rel="noopener">JavaScript on AWS</a></li>
</ul>
</div>
<div class="lb-xbcol">
<h3 id="Help" class="lb-txt-none lb-txt-p-chromium lb-tiny-v-margin lb-h3 lb-title"> Help</h3>
<ul class="lb-txt-p-chromium lb-ul lb-list-style-none lb-li-micro-v-margin lb-tiny-ul-block" style="margin-bottom:0px;">
<li><a href="/contact-us/?nc1=f_m" target="_blank" rel="noopener">Contact Us</a></li>
<li><a href="https://console.aws.amazon.com/support/home/?nc1=f_dr" target="_blank" rel="noopener">File a Support Ticket</a></li>
<li><a href="/premiumsupport/knowledge-center/?nc1=f_dr" target="_blank" rel="noopener">Knowledge Center</a></li>
<li><a href="https://repost.aws/?nc1=f_dr" target="_blank" rel="noopener">AWS re:Post</a></li>
<li><a href="/premiumsupport/?nc1=f_dr" target="_blank" rel="noopener">AWS Support Overview</a></li>
<li><a href="/legal/?nc1=f_cc" target="_blank" rel="noopener">Legal</a></li>
<li><a href="https://www.amazon.jobs/aws" target="_blank" rel="noopener">AWS Careers</a></li>
</ul>
<div class="lb-mbox js-mbox" data-lb-comp="mbox" data-lb-comp-ignore="true" data-mbox="en_footer-v3_addl-help">
</div>
</div>
<div class="lb-xbcol">
<div class="lb-mbox js-mbox" data-lb-comp="mbox" data-lb-comp-ignore="true" data-mbox="en_footer-v3_cta">
<div class="data-attr-wrapper lb-tiny-hide lb-small-show lb-btn" data-da-type="so" data-da-so-type="viewport" data-da-so-language="en" data-da-so-category="monitoring" data-da-so-name="footer_buttons" data-da-so-url="all" data-da-so-version="footer_signup-default">
<a class="lb-btn-p-primary" href="https://portal.aws.amazon.com/gp/aws/developer/registration/index.html?nc1=f_ct&amp;src=default" role="button"> <span> Create an AWS Account</span> </a>
</div>
</div>
<div class="lb-xb-grid-wrap" style="padding-left:0px; margin-top:20px;">
<div class="lb-xb-grid lb-row-max-large lb-xb-equal-height lb-snap lb-gutter-collapse lb-vgutter-collapse lb-tiny-xb-auto">
<div class="lb-xbcol">
<a class="lb-txt-none lb-txt-p-chromium lb-none-pad lb-txt" style="padding-left:0px; padding-right:5px;" href="https://twitter.com/awscloud" target="_blank" rel="noopener" title="Twitter"> <i class="icon-twitter"></i></a>
</div>
<div class="lb-xbcol">
<a class="lb-txt-none lb-txt-p-chromium lb-none-pad lb-none-v-margin lb-txt" style="padding-right:5px;" href="https://www.facebook.com/amazonwebservices" target="_blank" rel="noopener" title="Facebook"> <i class="icon-facebook"></i></a>
</div>
<div class="lb-xbcol">
<a class="lb-txt-none lb-txt-p-chromium lb-none-pad lb-txt" style="padding-right:5px;" href="https://www.twitch.tv/aws" target="_blank" rel="noopener" title="Twitch"> <i class="icon-twitch"></i></a>
</div>
<div class="lb-xbcol">
<a class="lb-txt-none lb-txt-p-chromium lb-none-pad lb-txt" style="padding-right:5px;" href="https://www.youtube.com/user/AmazonWebServices/Cloud/" target="_blank" rel="noopener" title="YouTube"> <i class="icon-youtube"></i></a>
</div>
<div class="lb-xbcol">
<a class="lb-txt-none lb-txt-p-chromium lb-none-pad lb-txt" style="padding-right:5px;" href="/podcasts/" target="_blank" rel="noopener" title="Podcast"> <i class="icon-podcast"></i></a>
</div>
<div class="lb-xbcol">
<a class="lb-txt-none lb-txt-p-chromium lb-none-pad lb-txt" style="padding-right:5px;" href="https://pages.awscloud.com/communication-preferences?trk=homepage" target="_blank" rel="noopener" title="Email"> <i class="icon-envelope-o"></i></a>
</div>
</div>
</div>
<div class="lb-txt-normal lb-txt-white lb-txt-14 lb-rtxt" style="color:#eaeded; margin-top:0px;">
<div>
Amazon is an Equal Opportunity Employer:
<i> Minority / Women / Disability / Veteran / Gender Identity / Sexual Orientation / Age.</i>
</div>
</div>
</div>
</div>
</div>
<div class="lb-none-pad lb-none-v-margin lb-xb-grid-wrap" style="background-color:#242F3E;">
<div class="lb-xb-grid lb-row-max-large lb-snap lb-tiny-xb-1">
<div class="lb-xbcol">
<ul class="lb-txt-p-chromium lb-tiny-iblock lb-none-v-margin lb-ul lb-list-style-none lb-li-micro-v-margin lb-tiny-ul-iblock">
<li class="lb-txt-bold">Language</li>
<li data-language="ar" lang="ar-SA" translate="no"><a href="https://aws.amazon.com/ar/?nc1=h_ls">عربي</a></li>
<li data-language="id" lang="id-ID" translate="no"><a href="https://aws.amazon.com/id/?nc1=h_ls">Bahasa Indonesia</a></li>
<li data-language="de" lang="de-DE" translate="no"><a href="https://aws.amazon.com/de/?nc1=h_ls">Deutsch</a></li>
<li data-language="en" lang="en-US" translate="no"><a href="https://aws.amazon.com/?nc1=h_ls">English</a></li>
<li data-language="es" lang="es-ES" translate="no"><a href="https://aws.amazon.com/es/?nc1=h_ls">Español</a></li>
<li data-language="fr" lang="fr-FR" translate="no"><a href="https://aws.amazon.com/fr/?nc1=h_ls">Français</a></li>
<li data-language="it" lang="it-IT" translate="no"><a href="https://aws.amazon.com/it/?nc1=h_ls">Italiano</a></li>
<li data-language="pt" lang="pt-BR" translate="no"><a href="https://aws.amazon.com/pt/?nc1=h_ls">Português</a></li>
<li data-language="vi" lang="vi-VN" translate="no"><a href="https://aws.amazon.com/vi/?nc1=f_ls">Tiếng Việt</a></li>
<li data-language="tr" lang="tr-TR" translate="no"><a href="https://aws.amazon.com/tr/?nc1=h_ls">Türkçe</a></li>
<li data-language="ru" lang="ru-RU" translate="no"><a href="https://aws.amazon.com/ru/?nc1=h_ls">Ρусский</a></li>
<li data-language="th" lang="th-TH" translate="no"><a href="https://aws.amazon.com/th/?nc1=f_ls">ไทย</a></li>
<li data-language="jp" lang="ja-JP" translate="no"><a href="https://aws.amazon.com/jp/?nc1=h_ls">日本語</a></li>
<li data-language="ko" lang="ko-KR" translate="no"><a href="https://aws.amazon.com/ko/?nc1=h_ls">한국어</a></li>
<li data-language="cn" lang="zh-CN" translate="no"><a href="https://aws.amazon.com/cn/?nc1=h_ls">中文 (简体)</a></li>
<li data-language="tw" lang="zh-TW" translate="no"><a href="https://aws.amazon.com/tw/?nc1=h_ls">中文 (繁體)</a></li>
</ul>
</div>
</div>
</div>
<div class="lb-none-pad lb-none-v-margin lb-xb-grid-wrap" style="background-color:#EAEDED; padding-top:5px;">
<div class="lb-xb-grid lb-row-max-large lb-snap lb-tiny-xb-1">
<div class="lb-xbcol">
<ul class="lb-txt-p-squid-ink lb-none-v-margin lb-ul lb-list-style-none lb-li-none-v-margin lb-tiny-ul-iblock">
<li><a href="https://aws.amazon.com/privacy/?nc1=f_pr">Privacy</a></li>
<li>|</li>
<li><a href="https://aws.amazon.com/terms/?nc1=f_pr">Site Terms</a></li>
<li>|</li>
<li data-cookie-consent-modal="1"><a href="#"> Cookie Preferences </a></li>
<li>|</li>
<li>© 2022
Amazon Web Services
Inc. or its affiliates. All rights reserved.</li>
</ul>
</div>
</div>
</div>
</footer>
<div id="aws-page-end"></div>
<div id="lb-page-end"></div>
<script src="https://a0.awsstatic.com/da/js/1.0.49/aws-da.js"></script>
<!--[if lte IE 9]>
<p class="deprecated-browser-support-message">
You are using an outdated browser. Please upgrade to a modern browser to improve your experience.<img src="https://fls-na.amazon.com/1/action-impressions/1/OE/aws-mktg/action/awsm_:comp_DeprecatedBrowser@v=1:u=c?dataset=LIVE:PROD&instance=PUB&client=dsk&marketplaceId=A12QK8IU0H0XW5&requestId=ABCDEFGHIJKLMNOPQRST&session=123-1234567-1234567"
alt="deprecated-browser pixel tag" />
</p>
<![endif]-->
<div class="lb-skt-overlay lb-modal lb-comp-content-container" data-lb-comp="modal" data-lb-modal-id="ie-deprecation-msg" data-ie10-deprecation-msg="You are using an outdated browser. Please upgrade to a modern browser to improve your experience.">
<div class="lb-modal-dialog">
<div class="lb-modal-content">
<div class="lb-modal-header">
<h4 class="lb-h4"> Ending Support for Internet Explorer</h4>
<a class="lb-modal-close" role="button" href="#" title="Close"> <span class="lb-sr-only">Got it</span> </a>
</div>
<div class="lb-modal-body">
AWS support for Internet Explorer ends on 07/31/2022. Supported browsers are Chrome
Firefox
Edge
and Safari.
<a href="https://aws.amazon.com/blogs/aws/heads-up-aws-support-for-internet-explorer-11-is-ending/" rel="noopener">Learn more »</a>
</div>
<div class="lb-modal-footer">
<a class="lb-btn-p-primary lb-modal-close lb-modal-action" role="button">Got it</a>
</div>
</div>
</div>
</div>
<a data-lb-modal-trigger="ie-deprecation-msg" style="display: none;"></a>
<!-- cms_updated_at: 2022-09-21T21:37:48.576-0700 -->
</body>
</html>