Others titles
EMA API GMP Certificates of EEA Countries
API Sites Certificates of EEA Countries
Keywords
EEA Active Substance
Pharmaceutical Substance
Active Substance Inspection
European Medicines Agency Registration
European Medicines Agency API Certificates
EMA API Registration Certificates of EEA Sites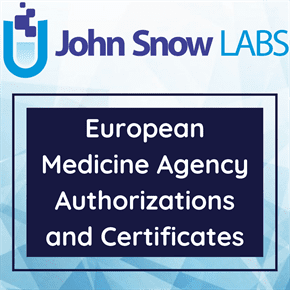 The European Medicines Agency (EMA) API Registration Certificates of EEA Sites dataset includes API sites registration certificates delivered by EMA or national competent authorities to European Economic Area countries API manufacturers.
Log in to download
Complexity
Get The Data
For getting access to data download links please read and accept the end-user license agreement.
Your Data License
Research

Non-Commercial, Share-Alike, Attribution

Free Forever

Commercial

Commercial Use, Remix & Adapt, White Label Log in to download
Description
Manufacturers of active substances intended for the manufacture of human medicines for the EU market must register with the national competent authority of the Member State where they are located.
Active substance manufacturers must comply with GMP. In addition, the manufacturer of the finished product is obliged to ensure that the active substances they use have been manufactured in compliance with GMP.
Member states should establish the legal and administrative framework within which inspections relating to Good Manufacturing Practice (GMP) inspections as applied to active substances operate.
Inspectors should be issued with an official means of identification, which includes reference to powers of entry, access to data and the collection of samples and documents for the purpose of inspection.
The primary goal for the inspector should be to determine whether the various elements within the quality assurance system are effective and suitable for achieving compliance with GMP principles and pharmacopeial requirements.
About this Dataset
Data Info
| | |
| --- | --- |
| Date Created | 2011 |
| Last Modified | 2020-11-13 |
| Version | 2020-11-13 |
| Update Frequency | Daily |
| Temporal Coverage | N/A |
| Spatial Coverage | European Economic Area Countries |
| Source | John Snow Labs; European Medicines Agency (EMA), EudraGMP; |
| Source License URL | |
| Source License Requirements | N/A |
| Source Citation | N/A |
| Keywords | EEA Active Substance, Pharmaceutical Substance, Active Substance Inspection, European Medicines Agency Registration, European Medicines Agency API Certificates |
| Other Titles | EMA API GMP Certificates of EEA Countries, API Sites Certificates of EEA Countries |
Data Fields
| Name | Description | Type | Constraints |
| --- | --- | --- | --- |
| Registration_Number | API site registration number | string | - |
| EudraGMDP_Document_Reference_Number | The EudraGMDP document reference number | integer | level : Nominalrequired : 1 |
| Registration_Holder | Registration holder name. | string | required : 1 |
| Site_Name | API site name. | string | - |
| Address_Line_1 | API site address | string | - |
| Address_Line_2 | API site address | string | - |
| Address_Line_3 | API site address | string | - |
| Address_Line_4 | API site address | string | - |
| City | API site city. | string | - |
| Postcode | API site Postcode. | string | - |
| Country | API site Country. | string | required : 1 |
| DUNS_Number | Data Universal Numbering System Number | integer | level : Nominal |
| Site_NCA_Reference | Site National Competent Authorities reference. | string | required : 1 |
| Last_Updated_Date | Last updated date | datetime | required : 1 |
| EudraGMDP_Site_Reference_Number | The EudraGMDP site reference number | integer | level : Nominal |
Data Preview
| | | | | | | | | | | | | | | |
| --- | --- | --- | --- | --- | --- | --- | --- | --- | --- | --- | --- | --- | --- | --- |
| Registration Number | EudraGMDP Document Reference Number | Registration Holder | Site Name | Address Line 1 | Address Line 2 | Address Line 3 | Address Line 4 | City | Postcode | Country | DUNS Number | Site NCA Reference | Last Updated Date | EudraGMDP Site Reference Number |
| ASR11434/00002 (2021 Annual Update: AUR21/034) | 31805 | Expeditors Ireland Limited | Expeditors Ireland Limited | c/o Cafferys International | Unit 3 Coolfore | Ashbourne | | Co. Meath | A84 YV79 | Ireland (IE) | | ASR11434/00002 | 2021-05-31T16:27:19.070000 | 16859 |
| ASR11434/00001 Annual Update 2021 (AUR21/033) | 31786 | Expeditors Ireland Limited | Expeditors Ireland Limited | Unit 6 Horizon Logistics Park | | | | Harristown | Dublin, K67 WE09 | Ireland (IE) | | ASR11434/00001 | 2021-05-31T16:09:28.758000 | 16843 |
| ASR12130/00001 (AUR21/038 - 2021 Annual Update) | 31785 | A.V. Pound & Co. Limited t/a Medex | A.V. Pound & Co. Limited t/a Medex | Goolds Hill House | Old Cork Road | Mallow | | Cork | P51 FK70 | Ireland (IE) | | ASR12130/00001 | 2021-05-31T15:43:23.533000 | 45864 |
| 6329 API | 2087 | Pluripharm B.V., ALKMAAR | Pluripharm B.V. | Phoenixstraat 21 | | | | ALKMAAR | 1812PP | Netherlands (NL) | | FUSY/32821 | 2021-05-31T15:22:04.200000 | 29849 |
| ASR11680/00001 (AUR21/036) Annual Update 2021 | 31765 | TopChem Pharmaceuticals Limited | TopChem Pharmaceuticals Limited | Ballymote Business Park | Carrownanty | | | Ballymote | F56 RX08 | Ireland (IE) | | ASR11680/00001 | 2021-05-31T15:15:02.483000 | 34400 |
| 5975 API | 1280 | Abbott Healthcare Products B.V., WEESP | Abbott Healthcare Products B.V. | C J van Houtenlaan 36 | | | | WEESP | 1381CP | Netherlands (NL) | | FUSY/29759 | 2021-05-31T13:32:09.247000 | 25452 |
| AMA - 56/2019 | 14555 | FARMAKA S.R.L. | FARMAKA S.R.L. | VVIA VILLAPIZZONE, 26 | | | | MILANO | 20156 | Italy (IT) | | 100275 | 2019-05-31T12:00:03.947000 | 54976 |
| API - 86/2016 | 9348 | OLON S.P.A. | OLON S.P.A. | VIA DELLA VITTORIA, 89 | | | | MULAZZANO | 26837 | Italy (IT) | | 100068 | 2017-05-31T09:40:04.583000 | 37136 |
| API - 123/2015 | 5827 | SANOFI S.R.L. | SANOFI S.R.L. | VIA ANGELO TITI, 22/26 | | | | BRINDISI | 72100 | Italy (IT) | | 100043 | 2016-05-31T15:10:04.326000 | 34053 |
| API - 66/2021 | 29945 | PATHEON ITALIA S.P.A. | PATHEON ITALIA S.P.A. | Viale G.B. Stucchi 110 | | | | MONZA | 20900 | Italy (IT) | | 100272 | 2021-03-31T20:48:06.574000 | 54733 |