Others titles
EMA GDP Certificates of EEA Countries
GDP Certificates of EEA Countries
EMA Centralized GDP
Keywords
EEA Good Distribution Practices
Good Distribution Practices Certificates
European GDP
Centralized GDP
EMA Good Distribution Practices Certificates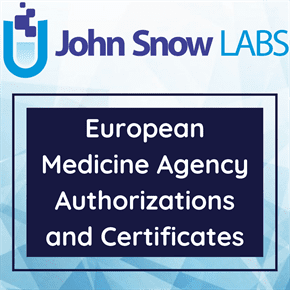 The European Medicines Agency (EMA) Good Distribution Practices Certificates (GDP) dataset lists GDP Certificates delivered by EMA or national competent authorities to European Economic Area countries Wholesale distributors of pharmaceutical products.
Log in to download
Complexity
Get The Data
For getting access to data download links please read and accept the end-user license agreement.
Your Data License
Research

Non-Commercial, Share-Alike, Attribution

Free Forever

Commercial

Commercial Use, Remix & Adapt, White Label Log in to download
Description
Active substances and medicinal products shall be distributed in accordance with good distribution practices. Member States shall enter the certificates of good distribution practices which they issue in the Union database (EudraGMDP) in accordance with Art. 111(6) of the Directive 2001/83/EC as amended.
Member States should appoint inspectors to inspect wholesale distributor sites concerned by Directive 2001/83/EC and 2001/82/EC. There should be sufficient resources at all levels to meet, effectively and efficiently, the EU requirements of verifying compliance with the legal requirements relating to the wholesale distribution of medicinal products.
The inspectors shall be officials of or appointed by the competent authorities of the Member States in accordance with national regulations and follow the provisions for the national competent authority.
GDP inspections may be performed before granting or modifying a wholesale distribution authorization. Routine GDP inspections cover the assessment of GDP compliance of a site.
Nonroutine inspection may be conducted to check specific aspects of GDP compliance, for example investigation of complaints, recalls, quality defects, previous non-compliance or suspected falsified products.
The wide diversity of facilities together with the variety of products supplied and handled by a site means that assessment by inspectors on site of the degree of compliance with GDP is essential. A consistent approach to the evaluation of the GDP standard is required.
About this Dataset
Data Info
| | |
| --- | --- |
| Date Created | 2011 |
| Last Modified | 2020-11-13 |
| Version | 2020-11-13 |
| Update Frequency | Daily |
| Temporal Coverage | N/A |
| Spatial Coverage | European Economic Area Countries |
| Source | John Snow Labs; European Medicines Agency (EMA), EudraGMP; |
| Source License URL | |
| Source License Requirements | N/A |
| Source Citation | N/A |
| Keywords | EEA Good Distribution Practices, Good Distribution Practices Certificates, European GDP, Centralized GDP |
| Other Titles | EMA GDP Certificates of EEA Countries, GDP Certificates of EEA Countries, EMA Centralized GDP |
Data Fields
| Name | Description | Type | Constraints |
| --- | --- | --- | --- |
| Certificate_Number | GDP compliance certificate number | string | required : 1 |
| EudraGMDP_Document_Reference_Number | The EudraGMDP document reference number | integer | level : Nominalrequired : 1 |
| Distribution_Operation | Distribution activity | string | enum : Array ( [0] => Wholesale [1] => API ) required : 1 |
| WDA_No_Or_API_Reg_No | EMA Wholesale Distributor or API site registration Number | string | - |
| Document_Type | Delivered document type | string | enum : Array ( [0] => GDPWDA [1] => GDPAPI ) required : 1 |
| Site_Name | Inspected site name. | string | required : 1 |
| Address_Line_1 | Inspected site address | string | - |
| Address_Line_2 | Inspected site address | string | - |
| Address_Line_3 | Inspected site address | string | - |
| Address_Line_4 | Inspected site address | string | - |
| City | Inspected site city. | string | - |
| Postcode | Inspected site Postcode. | string | - |
| Country | Inspected site Country. | string | required : 1 |
| DUNS_Number | Data Universal Numbering System Number | string | - |
| NCA_Ref | Site National Competent Authorities reference. | string | required : 1 |
| Issue_Date | Issue date | date | required : 1 |
| Inspection_End_Date | Inspection end date | date | required : 1 |
| Last_Updated_Date | Last updated date | datetime | required : 1 |
Data Preview
| | | | | | | | | | | | | | | | | | |
| --- | --- | --- | --- | --- | --- | --- | --- | --- | --- | --- | --- | --- | --- | --- | --- | --- | --- |
| Certificate Number | EudraGMDP Document Reference Number | Distribution Operation | WDA No Or API Reg No | Document Type | Site Name | Address Line 1 | Address Line 2 | Address Line 3 | Address Line 4 | City | Postcode | Country | DUNS Number | NCA Ref | Issue Date | Inspection End Date | Last Updated Date |
| 076/2017/RO | 10620 | Wholesale | 18D | GDPWDA | POLISANO S.R.L. | Şos. Alba Iulia nr.156 | | | | Sibiu | cod 550052 | Romania | | 18D1 | 2017-10-03 | 2016-07-15 | 2017-10-26T07:35:00+00:00 |
| GIF-IW-400/0031_03_03/04/168/16 | 6674 | API | 75/WTC0031/API/15 | GDPAPI | GEDEON RICHTER POLSKA Sp. z o.o. | ul. Graniczna 35 | | | | Grodzisk Mazowiecki | 05-825 | Poland | | WTN033 | 2016-07-06 | 2016-04-29 | 2016-07-13T05:39:00+00:00 |
| GIF-IW-400/0031_03_03/04/169/16 | 6672 | API | 75/WTC0031/API/15 | GDPAPI | GEDEON RICHTER POLSKA Sp. z o.o. | ul. Graniczna 35 | | | | Grodzisk Mazowiecki | 05-825 | Poland | | WTN033 | 2016-07-06 | 2016-04-29 | 2016-07-13T05:35:00+00:00 |
| GIF-IW-400/0033_04_02/04/114/17 | 8987 | API | 116/WTC0033/API/15 | GDPAPI | Wrocławskie Zakłady Zielarskie "HERBAPOL" S.A. | Zakład w Legnicy | ul. Hetmańska 1 | | | Legnica | 59-220 | Poland | | WTN187 | 2017-05-09 | 2017-02-16 | 2017-05-11T10:43:00+00:00 |
| GIF-IW-400/0033_02_02/04/212/16 | 7002 | API | 116/WTC0033/API/15 | GDPAPI | Wrocławskie Zakłady Zielarskie "HERBAPOL" S.A. | ul. Św. Mikołaja 65/68 | | | | Wrocław | 50-951 | Poland | | WTN037 | 2016-08-25 | 2016-06-03 | 2016-09-01T11:12:00+00:00 |
| IWSF.405.22.2021.IP.3.1 WTC/0037_01_01/85 | 21500 | API | 58/WTC0037/API/15 | GDPAPI | Zakłady Farmaceutyczne POLPHARMA S.A., Oddział Medana w Sieradzu | ul. Wojska Polskiego 73 | | | | Sieradz | 98-200 | Poland | | WTN044 | 2021-04-28 | 2021-04-09 | 2021-05-04T09:57:00+00:00 |
| IWSF.405.22.2021.IP.9.1 WTC/0037_03_01/91 | 21499 | API | 58/WTC0037/API/15 | GDPAPI | Zakłady Farmaceutyczne POLPHARMA S.A., Oddział Medana w Sieradzu | ul. Polskiej Organizacji Wojskowej 57 | | | | Sieradz | 98-200 | Poland | | WTN302 | 2021-04-28 | 2021-04-09 | 2021-05-04T09:49:00+00:00 |
| IWZJ.405.78.2018.ER.2 | 12790 | API | 18/WTC0038/API/15 | GDPAPI | OCEANIC Spółka Akcyjna | Trąbki Małe | ul. Gdańska 5 | | | Trąbki Wielkie | 83-034 | Poland | | WTN0038_1 | 2018-06-07 | 2018-03-07 | 2018-06-13T09:17:00+00:00 |
| sukls315867/2018 | 14786 | Wholesale | 14111/1/INS/99 | GDPWDA | Angelini Pharma Česká republika s.r.o. | Páteřní 1216/7 | | | | Brno | 635 00 | Czechia | | 18824706_1 | 2018-12-18 | 2018-10-26 | 2019-01-10T09:13:00+00:00 |
| sukls315867/2018 | 14785 | Wholesale | 14111/1/INS/99 | GDPWDA | Angelini Pharma Česká republika s.r.o. | Páteřní 1216/7 | | | | Brno | 635 00 | Czechia | | 18824706_1 | 2018-12-18 | 2018-10-26 | 2019-01-10T09:00:00+00:00 |