Others titles
EMA GMP Certificates of EEA Countries
GMP Certificates of EEA Countries
EMA GMP Good Manufacturing Practice of EEA Countries
Good Manufacturing Practices of EEA Countries
Keywords
European GMP
GMP Inspection
Pharmaceutical Inspection
European Medicines Agency Registration
European Medicines Agency API Certificates
EMA Good Manufacturing Practice Certificates of EEA Countries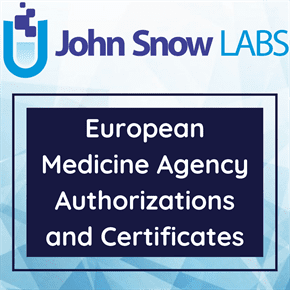 Good manufacturing practice (GMP) describes the minimum standard that a medicine manufacturer must meet in their production processes.
The European Medicines Agency (EMA) coordinates inspections to verify compliance with these standards and plays a key role in harmonizing GMP activities at European Union (EU) level.
Log in to download
Complexity
Get The Data
For getting access to data download links please read and accept the end-user license agreement.
Your Data License
Research

Non-Commercial, Share-Alike, Attribution

Free Forever

Commercial

Commercial Use, Remix & Adapt, White Label Log in to download
Description
The Agency has a coordinating role for GMP inspections of manufacturing sites for medicines whose marketing authorization in the EU is submitted through the centralized procedure or as part of a referral procedure.
A certificate of Good Manufacturing Practice (GMP) is issued to a manufacturer by the national competent authority that carried out the inspection if the outcome confirms that the manufacturer complied with the principles of Good Manufacturing Practice, as provided by European Union legislation. If the outcome of the inspection is that the manufacturer did not comply a statement of non-compliance may be entered into EudraGMDP.
GMP requires that medicines are of consistent high quality, appropriate for their intended use and meet the requirements of the marketing authorization or clinical trial authorization.
The Competent Authority should plan the succession of inspections in advance and elaborate a programme. This programme should ensure that the frequency of inspection of individual manufacturers can be adhered to as planned. Sufficient resources must be determined and made available to ensure that the designated programme of inspections can be carried out in an appropriate manner. The planning of inspections should be performed according to the Community Procedure " A model for risk based planning for inspections of pharmaceutical manufacturers".
About this Dataset
Data Info
| | |
| --- | --- |
| Date Created | 2011 |
| Last Modified | 2020-11-13 |
| Version | 2020-11-13 |
| Update Frequency | Daily |
| Temporal Coverage | N/A |
| Spatial Coverage | European Economic Area Countries |
| Source | John Snow Labs; European Medicines Agency (EMA), EudraGMP; |
| Source License URL | |
| Source License Requirements | N/A |
| Source Citation | N/A |
| Keywords | European GMP, GMP Inspection, Pharmaceutical Inspection, European Medicines Agency Registration, European Medicines Agency API Certificates |
| Other Titles | EMA GMP Certificates of EEA Countries, GMP Certificates of EEA Countries, EMA GMP Good Manufacturing Practice of EEA Countries, Good Manufacturing Practices of EEA Countries |
Data Fields
| Name | Description | Type | Constraints |
| --- | --- | --- | --- |
| Certificate_Number | Good Manufacturing Practice compliance or non-compliance certificate number | string | required : 1 |
| EudraGMDP_Document_Reference_Number | The EudraGMDP document reference number | integer | level : Nominalrequired : 1 |
| Document_Type | EMA delivered document type | string | enum : Array ( [0] => GMPC [1] => GMPNC [2] => GMPDA ) required : 1 |
| MIA_Number | Manufacturing and Importation Authorisation Number | string | - |
| Site_Name | Inspected site name. | string | required : 1 |
| Address_Line_1 | Inspected site address | string | - |
| Address_Line_2 | Inspected site address | string | - |
| Address_Line_3 | Inspected site address | string | - |
| Address_Line_4 | Inspected site address | string | - |
| City | Inspected site city. | string | - |
| Postcode | Inspected site Postcode. | string | - |
| Country | Inspected site Country. | string | required : 1 |
| DUNS_Number | Data Universal Numbering System Number | integer | level : Nominal |
| Site_NCA_Reference | Site National Competent Authorities reference. | string | required : 1 |
| Inspection_End_Date | Inspection end date | date | required : 1 |
| Issue_Date | Issue date | date | required : 1 |
| Last_Updated_Date | Last updated date | date | required : 1 |
Data Preview
| | | | | | | | | | | | | | | | | |
| --- | --- | --- | --- | --- | --- | --- | --- | --- | --- | --- | --- | --- | --- | --- | --- | --- |
| Certificate Number | EudraGMDP Document Reference Number | Document Type | MIA Number | Site Name | Address Line 1 | Address Line 2 | Address Line 3 | Address Line 4 | City | Postcode | Country | DUNS Number | Site NCA Reference | Inspection End Date | Issue Date | Last Updated Date |
| NL/H 21/2029397 | 124864 | GMPC | 6534 F | ProQR Therapeutics I B.V. | Zernikedreef 9 | | | | LEIDEN | 2333CK | Netherlands | | FUSY/35572 | 2021-04-01 | 2021-04-07 | 2021-04-07 |
| NL/H 21/2029294 | 124342 | GMPC | 6844 F | Medcor Specials B.V. | Artemisweg 105 F | | | | LELYSTAD | 8239DD | Netherlands | | FUSY/40018 | 2021-03-30 | 2021-03-31 | 2021-03-31 |
| 30477/QC12289(IMP) | 125103 | GMPDA | | Eurofins Biopharma Product Testing Ireland Limited | Clogherane | | | | Dungarvan | Co. Waterford | Ireland | | 91781275494523208 | 2021-03-26 | 2021-04-09 | 2021-04-09 |
| 30477/QC12289(H) | 125102 | GMPDA | | Eurofins Biopharma Product Testing Ireland Limited | Clogherane | | | | Dungarvan | Co. Waterford | Ireland | | 91781275494523208 | 2021-03-26 | 2021-04-09 | 2021-04-09 |
| 30477/QC12289(V) | 125122 | GMPDA | | Eurofins Biopharma Product Testing Ireland Limited | Clogherane | | | | Dungarvan | Co. Waterford | Ireland | | 91781275494523208 | 2021-03-26 | 2021-04-09 | 2021-04-09 |
| DE_HE_01_GMP_2021_0023 | 123767 | GMPC | DE_HE_01_MIA_2020_0108 | Hormosan Pharma GmbH | Hanauer Landstrasse 139 - 143 | | | | Frankfurt am Main | 60314 | Germany | | 00010044 | 2021-03-19 | 2021-03-24 | 2021-03-25 |
| sukls70907/2021 | 123282 | GMPC | sukls70907/2021 | Linde Gas a.s. | Areál zpracovatelské části SU a.s. | | | | Vřesová | 357 43 | Czechia | | 00011754_8 | 2021-03-16 | 2021-03-19 | 2021-03-19 |
| sukls64453/2021 | 123283 | GMPC | | Linde Gas a.s. | Areál zpracovatelské části SU a.s. | | | | Vřesová | 357 43 | Czechia | | 00011754_8 | 2021-03-16 | 2021-03-18 | 2021-03-19 |
| DE_BW_01_GMP_2021_0053 | 123510 | GMPC | DE_BW_01_MIA_2021_0027 | GBA Pharma GmbH | Ernst-Abbe-Str. 40 | | | | Ulm | 89079 | Germany | | 00026238 | 2021-03-15 | 2021-03-23 | 2021-03-24 |
| DE_BW_01_GMP_2021_0055 | 123502 | GMPC | DE_BW_01_MIA_2021_0027 | GBA Pharma GmbH | Ernst-Abbe-Str. 40 | | | | Ulm | 89079 | Germany | | 00026238 | 2021-03-15 | 2021-03-23 | 2021-03-24 |