Others titles
EMA GMP Certificates of Non-EEA Countries
GMP Certificates of Non-EEA Countries
EMA GMP Good Manufacturing Practice of Non-EEA Countries
Good Manufacturing Practices of Non-EEA Countries
Keywords
Non-EEA Good Manufacturing Practice
European GMP
3rd country Inspection
GMP Inspection
European Medicines Agency Registration
European Medicines Agency API Certificates
EMA Good Manufacturing Practice Certificates of Non-EEA Countries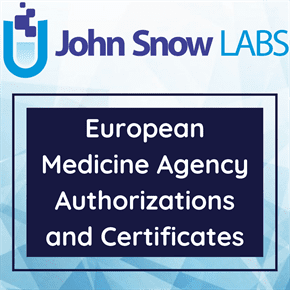 Good manufacturing practice (GMP) describes the minimum standard that a medicine manufacturer must meet in their production processes.
The European Medicines Agency (EMA) coordinates inspections to verify compliance with these standards and plays a key role in harmonizing GMP activities at European Union (EU) level including inspection of Non-EEA countries sites.
Log in to download
Complexity
Get The Data
For getting access to data download links please read and accept the end-user license agreement.
Your Data License
Research

Non-Commercial, Share-Alike, Attribution

Free Forever

Commercial

Commercial Use, Remix & Adapt, White Label Log in to download
Description
The Agency has a coordinating role for GMP inspections of manufacturing sites for medicines whose marketing authorization in the EU is submitted through the centralized procedure or as part of a referral procedure.
A certificate of Good Manufacturing Practice (GMP) is issued to a manufacturer by the national competent authority that carried out an inspection if the outcome of the inspection confirms that the manufacturer complies with the principles of Good Manufacturing Practice, as provided by European Union legislation. If the outcome of the inspection is that the manufacturer does not comply a statement of non-compliance may be entered into EudraGMDP.
GMP requires that medicines are of consistent high quality, appropriate for their intended use and meet the requirements of the marketing authorization or clinical trial authorization.
Importers are responsible to ensure that the third country manufacturer they are importing from comply with GMP.
About this Dataset
Data Info
| | |
| --- | --- |
| Date Created | 2011 |
| Last Modified | 2018-12-08 |
| Version | 2018-12-08 |
| Update Frequency | Daily |
| Temporal Coverage | N/A |
| Spatial Coverage | N/A |
| Source | John Snow Labs; European Medicines Agency (EMA), EudraGMP; |
| Source License URL | |
| Source License Requirements | N/A |
| Source Citation | N/A |
| Keywords | Non-EEA Good Manufacturing Practice, European GMP, 3rd country Inspection, GMP Inspection, European Medicines Agency Registration, European Medicines Agency API Certificates |
| Other Titles | EMA GMP Certificates of Non-EEA Countries, GMP Certificates of Non-EEA Countries, EMA GMP Good Manufacturing Practice of Non-EEA Countries, Good Manufacturing Practices of Non-EEA Countries |
Data Fields
| Name | Description | Type | Constraints |
| --- | --- | --- | --- |
| Certificate_Number | GMP compliance or non-complicance certificate number | string | - |
| EudraGMDP_Document_Reference_Number | The EudraGMDP document reference number | integer | level : Nominalrequired : 1 |
| Document_Type | EMA delivered document type | string | enum : Array ( [0] => GMPC [1] => GMPNC [2] => GMPDA ) required : 1 |
| MIA_Number | Manufacturing and Importation Authorisation Number | string | - |
| Site_Name | Inspected site name. | string | required : 1 |
| Address_Line_1 | Inspected site address | string | required : 1 |
| Address_Line_2 | Inspected site address | string | - |
| Address_Line_3 | Inspected site address | string | - |
| Address_Line_4 | Inspected site address | string | - |
| City | Inspected site city. | string | - |
| Postcode | Inspected site Postcode. | string | - |
| Country | Inspected site Country. | string | required : 1 |
| DUNS_Number | Data Universal Numbering System Number | integer | level : Nominal |
| Site_NCA_Reference | Site National Competent Authorities reference. | string | required : 1 |
| Inspection_End_Date | Inspection end date | date | required : 1 |
| Issue_Date | Issue date | date | required : 1 |
| Last_Updated_Date | Last updated date | date | required : 1 |
Data Preview
| | | | | | | | | | | | | | | | | |
| --- | --- | --- | --- | --- | --- | --- | --- | --- | --- | --- | --- | --- | --- | --- | --- | --- |
| Certificate Number | EudraGMDP Document Reference Number | Document Type | MIA Number | Site Name | Address Line 1 | Address Line 2 | Address Line 3 | Address Line 4 | City | Postcode | Country | DUNS Number | Site NCA Reference | Inspection End Date | Issue Date | Last Updated Date |
| DE_RP_01_GMP_2020_0029 | 94245 | GMPDA | | Boehringer Ingelheim do Brasil Quimica e Farmaceutica Ltda. | Rod. Regis Bittencourt (BR 116), km 286 | | | | Itapecerica da Serra - Sao Paulo, SP | 06888-700 | Brazil | | 13239 | 2020-06-22 | 2020-06-25 | 2020-06-26 |
| GMPEI-CH-1001202 | 95565 | GMPC | MIAE-CH-511866-102626158 | IBSA Institut Biochimique SA | Via al Ponte 13 | | | | Lugano | 6903 | Switzerland | | 1000382 | 2020-06-18 | 2020-07-08 | 2020-07-08 |
| GMPE-CH-1001201 | 95585 | GMPC | | IBSA Institut Biochimique SA | Via del Piano | | | | Pambio-Noranco | 6915 | Switzerland | | 1000019 | 2020-06-18 | 2020-07-08 | 2020-07-08 |
| GMPEHV-CH-1001202 | 95564 | GMPC | MIAE-CH-511866-102626158 | IBSA Institut Biochimique SA | Via al Ponte 13 | | | | Lugano | 6903 | Switzerland | | 1000382 | 2020-06-18 | 2020-07-08 | 2020-07-08 |
| DE_BY_04_GMP_2020_0095 | 96643 | GMPDA | | Symbiotec Pharmalab Pvt. Ltd. | 385/2 Pigdamber Off A. B. Road, Rau | | | | Indore (M. P.) | 453331 | India | | 23543 | 2020-06-15 | 2020-07-16 | 2020-07-17 |
| DE_BY_04_GMP_2020_0101 | 97643 | GMPDA | | Symbiotec Pharmalab Pvt. Ltd. | 385/2 Pigdamber Off A. B. Road, Rau | | | | Indore (M. P.) | 453331 | India | | 23543 | 2020-06-15 | 2020-07-24 | 2020-07-27 |
| VMDGMP/M095/2020 | 92102 | GMPC | | Precision Science Inc | 1517 West Knudsen Drive | | | | PHOENIX | 85027 | United States | | 901301591779920000 | 2020-06-01 | 2020-06-04 | 2020-06-10 |
| 6.2.1-2020-039897 | 96442 | GMPDA | | Thermo Fisher Scientific / Brammer Bio, LLC | 13702 Innovation Drive | | | | Alachua | FL 32615 | United States | | 938081594885277000 | 2020-05-28 | 2020-07-15 | 2020-07-16 |
| UK GMP 25252 Insp GMP 25252/10303054-0004 | 97022 | GMPC | | RA CHEM PHARMA LIMITED | PLOT NO A-19/C, ROAD 18 | IDA, NACHARAM | | | HYDERABAD | IN-500 076 | India | | 10303054-RA CHEM PHARMA LIMITED | 2020-05-20 | 2020-07-20 | 2020-07-22 |
| GMPEHV-CH-1001155 | 94362 | GMPC | MIAE-CH-511356-102608804 | Dipharma SA | Piazza Col C. Bernasconi 5 | | | | Chiasso | 6830 | Switzerland | | 1101163 | 2020-05-14 | 2020-06-22 | 2020-06-26 |