Others titles
EMA European Public Assessment Reports
European Medicines Agency EPARs
Keywords
European Medicines Agency
EMA Assessment Reports
Centralised Authorization Procedure
EMA Clinical DATA
European Public Assessment Reports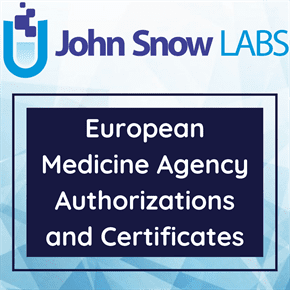 The European Medicines Agency (EMA) publishes a European Public Assessment Report (EPAR) for every medicine granted a central marketing authorisation by the European Commission following an assessment by the EMA's Committee for Medicinal Products for Human Use (CHMP).
EPARs are full scientific assessment reports of medicines authorized at a European Union level.
Log in to download
Complexity
Get The Data
For getting access to data download links please read and accept the end-user license agreement.
Your Data License
Research

Non-Commercial, Share-Alike, Attribution

Free Forever

Commercial

Commercial Use, Remix & Adapt, White Label Log in to download
Description
A European public assessment report (EPAR) is published for every human or veterinary medicine application that has been granted or refused a marketing authorization. This follows an assessment by the EMA of an application submitted by a pharmaceutical company in the framework of the Central authorization of medicines.
An EPAR provides public information on a medicine, including how it was assessed by the EMA.
The EPAR is referred to in Article 13(3) of Regulation (EC) No 726/2004, which requires the EMA to publish a public assessment report for each centrally authorized medicine together with a public-friendly summary.
The EMA has developed the EPAR concept over time to ensure that it delivers a usable, transparent and appropriately detailed body of information. The EPAR content and structure have therefore evolved over time and may be further developed in future.
An important role of the EPAR is to reflect the scientific conclusions of the relevant EMA committee at the end of the assessment process, providing the grounds for the committee opinion on whether or not to approve an application.
Under the centralized authorization procedure, pharmaceutical companies submit a single marketing-authorization application to EMA. This allows the marketing-authorization holder to market the medicine and make it available to patients and healthcare professionals throughout the EU on the basis of a single marketing authorization.
EMA's Committee for Medicinal products for Human Use (CHMP) or Committee for Medicinal products for Veterinary Use (CVMP) carry out a scientific assessment of the application and give a recommendation on whether the medicine should be marketed or no.
An orphan designation allows a pharmaceutical company to benefit from incentives from the European Union to develop a medicine for a rare disease, such as reduced fees and protection from competition once the medicine is placed on the market. Applications for orphan designation are examined by the COMP, which adopts an opinion that is forwarded to the European Commission. The European Commission then decides whether to grant an orphan designation for the medicine in question.
About this Dataset
Data Info
| | |
| --- | --- |
| Date Created | 2011 |
| Last Modified | 2020-07-20 |
| Version | 2020-07-20 |
| Update Frequency | Irregular |
| Temporal Coverage | N/A |
| Spatial Coverage | European Economic Area Countries |
| Source | John Snow Labs; European Medicines Agency (EMA); |
| Source License URL | |
| Source License Requirements | N/A |
| Source Citation | N/A |
| Keywords | European Medicines Agency, EMA Assessment Reports, Centralised Authorization Procedure, EMA Clinical DATA |
| Other Titles | EMA European Public Assessment Reports, European Medicines Agency EPARs |
Data Fields
| Name | Description | Type | Constraints |
| --- | --- | --- | --- |
| Category | Value: Human, Veterinary | string | required : 1 |
| Medicine_Name | Medicine Name | string | required : 1 |
| Therapeutic_Area | Product therapeutic area | string | - |
| Common_Name | Product common name | string | - |
| Active_Substance | Active substance name | string | required : 1 |
| Product_Number | The product number | string | required : 1 |
| Is_Patient_Safety | Indicate if the product is concerned by a patient safety information | boolean | required : 1 |
| Authorisation_Status | Current product status | string | enum : Array ( [0] => Authorised [1] => Refused [2] => Suspended [3] => Withdrawn ) required : 1 |
| ATC_Code | Anatomical Therapeutic Chemical (ATC) code | string | - |
| Is_Additional_Monitoring | Indicate if the product is under additional monitoring | boolean | required : 1 |
| Is_Generic | Indicate if the product is a generic | boolean | required : 1 |
| Is_Biosimilar | Indicate if the product is a biosimilar | boolean | required : 1 |
| Is_Condition_Approval | Indicate if the product is approved under specific conditions. Sometimes, the CHMP recommends that a medicine be given 'conditional approval'. This happens when the Committee has based its positive opinion on data which, while not yet comprehensive, indicate that the medicine's benefits outweigh its risks. | boolean | required : 1 |
| Is_Exceptional_Circumstance | Indicate if there were "exceptional circumstances" concerning the approval of this medicine. This happens when the applicant can show that they are unable to provide comprehensive data on the efficacy and safety of the medicine for which authorisation is being sought, due to the rarity of the condition it is intended for, limited scientific knowledge in the area concerned, or ethical considerations involved in the collection of such data. | boolean | required : 1 |
| Is_Accelerated_Assessment | Indicate this medicine had an accelerated assessment. This means that it is a medicine of major interest for public health, so its timeframe for review was 150 evaluation days rather than 210. | boolean | required : 1 |
| Is_Orphan | Indicate if the product has an "orphan designation" which means that it is used to treat life-threatening or chronically debilitating conditions that affect no more than five in 10,000 people in the European Union, or are medicines which, for economic reasons, would be unlikely to be developed without incentives. | boolean | required : 1 |
| Marketing_Authorization_Date | Authorization date | date | - |
| Refusal_Date | Date of refusal of marketing authorisation | date | - |
| Marketing_Authorization_Holder | Marketing authorization holder name | string | - |
| Human_Pharmacotherapeutic_Group | Human pharmacotherapeutic group name | string | - |
| Vet_Pharmacotherapeutic_Group | Veterinary pharmacotherapeutic group name | string | - |
| Date_of_Opinion | Opinion date | date | - |
| Decision_Date | Date of decision | date | - |
| Revision_Number | Revision number | integer | level : Ratio |
| Indication | Product indication | string | - |
| Species | Veterinary species | string | - |
| ATC_Vet_Code | Anatomical Therapeutic Chemical (ATC) veterinary code | string | - |
| First_Published | Date of first publication | date | - |
| Revision_Date | Date of revision | date | - |
| EMA_Link | URL of the product at EMA website | string | - |
Data Preview
| | | | | | | | | | | | | | | | | | | | | | | | | | | | | | |
| --- | --- | --- | --- | --- | --- | --- | --- | --- | --- | --- | --- | --- | --- | --- | --- | --- | --- | --- | --- | --- | --- | --- | --- | --- | --- | --- | --- | --- | --- |
| Category | Medicine Name | Therapeutic Area | Common Name | Active Substance | Product Number | Is Patient Safety | Authorisation Status | ATC Code | Is Additional Monitoring | Is Generic | Is Biosimilar | Is Condition Approval | Is Exceptional Circumstance | Is Accelerated Assessment | Is Orphan | Marketing Authorization Date | Refusal Date | Marketing Authorization Holder | Human Pharmacotherapeutic Group | Vet Pharmacotherapeutic Group | Date of Opinion | Decision Date | Revision Number | Indication | Species | ATC Vet Code | First Published | Revision Date | EMA Link |
| Human | Nepexto | Arthritis, Rheumatoid, Arthritis, Juvenile Rheumatoid, Arthritis, Psoriatic, Spondylarthropathies, Spondylitis, Ankylosing, Psoriasis | etanercept | etanercept | EMEA/H/C/004711 | False | Authorised | L04AB01 | True | False | True | False | False | False | False | 2020-05-20 | | Mylan IRE Healthcare Limited | Immunosuppressants | | 2020-03-26 | 2020-07-07 | 1 | Rheumatoid arthritisNepexto in combination with methotrexate is indicated for the treatment of moderate to severe active rheumatoid arthritis in adults when the response to disease-modifying antirheumatic drugs, including methotrexate (unless contraindicated), has been inadequate.Nepexto can be given as monotherapy in case of intolerance to methotrexate or when continued treatment with methotrexate is inappropriate. Nepexto is also indicated in the treatment of severe, active and progressive rheumatoid arthritis in adults not previously treated with methotrexate.Nepexto, alone or in combination with methotrexate, has been shown to reduce the rate of progression of joint damage as measured by X-ray and to improve physical function.Juvenile idiopathic arthritisTreatment of polyarthritis (rheumatoid factor positive or negative) and extended oligoarthritis in children and adolescents from the age of 2 years who have had an inadequate response to, or who have proved intolerant of, methotrexate.Treatment of psoriatic arthritis in adolescents from the age of 12 years who have had an inadequate response to, or who have proved intolerant of, methotrexate.Treatment of enthesitis-related arthritis in adolescents from the age of 12 years who have had an inadequate response to, or who have proved intolerant of, conventional therapy.Etanercept has not been studied in children aged less than 2 years.Psoriatic arthritisTreatment of active and progressive psoriatic arthritis in adults when the response to previous disease-modifying antirheumatic drug therapy has been inadequate. Etanercept has been shown to improve physical function in patients with psoriatic arthritis, and to reduce the rate of progression of peripheral joint damage as measured by X-ray in patients with polyarticular symmetrical subtypes of the disease.Axial spondyloarthritisAnkylosing spondylitis Treatment of adults with severe active ankylosing spondylitis who have had an inadequate response to conventional therapy.Non-radiographic axial spondyloarthritis Treatment of adults with severe non-radiographic axial spondyloarthritis with objective signs of inflammation as indicated by elevated C-reactive protein (CRP) and/or magnetic resonance imaging (MRI) evidence, who have had an inadequate response to nonsteroidal anti-inflammatory drugs (NSAIDs).Plaque psoriasisTreatment of adults with moderate to severe plaque psoriasis who failed to respond to, or who have a contraindication to, or are intolerant to other systemic therapy, including ciclosporin, methotrexate or psoralen and ultraviolet-A light (PUVA).Paediatric plaque psoriasisTreatment of chronic severe plaque psoriasis in children and adolescents from the age of 6 years who are inadequately controlled by, or are intolerant to, other systemic therapies or phototherapies. | | | 2020-06-04 | 2020-07-24 | https://www.ema.europa.eu/en/medicines/human/EPAR/nepexto |
| Human | Yentreve | Urinary Incontinence, Stress | duloxetine | duloxetine hydrochloride | EMEA/H/C/000545 | False | Authorised | N06AX21 | False | False | False | False | False | False | False | 2004-08-11 | | Eli Lilly Nederland B.V. | Psychoanaleptics, | | | 2020-06-11 | 26 | Yentreve is indicated for women for the treatment of moderate to severe stress urinary incontinence (SUI)., | | | 2016-12-19 | 2020-07-24 | https://www.ema.europa.eu/en/medicines/human/EPAR/yentreve |
| Human | Firmagon | Prostatic Neoplasms | degarelix | degarelix | EMEA/H/C/000986 | False | Authorised | L02BX02 | False | False | False | False | False | False | False | 2009-02-17 | | Ferring Pharmaceuticals A/S | Endocrine therapy | | | 2020-07-09 | 15 | Firmagon is a gonadotrophin-releasing-hormone (GnRH) antagonist indicated for treatment of adult male patients with advanced hormone-dependent prostate cancer. | | | 2018-07-25 | 2020-07-24 | https://www.ema.europa.eu/en/medicines/human/EPAR/firmagon |
| Human | Tygacil | Bacterial Infections, Skin Diseases, Bacterial, Soft Tissue Infections | tigecycline | Tigecycline | EMEA/H/C/000644 | False | Authorised | J01AA12 | False | False | False | False | False | False | False | 2006-04-24 | | Pfizer Europe MA EEIG | Antibacterials for systemic use, | | | 2020-05-14 | 31 | Tygacil is indicated in adults and in children from the age of eight years for the treatment of the following infections:, , Complicated skin and soft tissue infections (cSSTI), excluding diabetic foot infections, Complicated intra-abdominal infections (cIAI), Tygacil should be used only in situations where other alternative antibiotics are not suitable., , Consideration should be given to official guidance on the appropriate use of antibacterial agents. appropriate use of antibacterial agents., | | | 2018-07-30 | 2020-07-23 | https://www.ema.europa.eu/en/medicines/human/EPAR/tygacil |
| Human | Atripla | HIV Infections | efavirenz / emtricitabine / tenofovir disoproxil | efavirenz, emtricitabine, tenofovir disoproxil fumarate | EMEA/H/C/000797 | False | Authorised | J05AR06 | False | False | False | False | False | False | False | 2007-12-13 | | Gilead Sciences Ireland UC | Antivirals for systemic use, | | | 2020-06-11 | 34 | Atripla is a fixed-dose combination of efavirenz, emtricitabine and tenofovir disoproxil fumarate. It is indicated for the treatment of human-immunodeficiency-virus-1 (HIV-1) infection in adults with virologic suppression to HIV-1 RNA levels of < 50 copies/ml on their current combination antiretroviral therapy for more than three months. Patients must not have experienced virological failure on any prior antiretroviral therapy and must be known not to have harboured virus strains with mutations conferring significant resistance to any of the three components contained in Atripla prior to initiation of their first antiretroviral treatment regimen., , The demonstration of the benefit of Atripla is primarily based on 48-week data from a clinical study in which patients with stable virologic suppression on a combination antiretroviral therapy changed to Atripla., , No data are currently available from clinical studies with Atripla in treatment-naive or in heavily pretreated patients., , No data are available to support the combination of Atripla and other antiretroviral agents., | | | 2018-07-25 | 2020-07-23 | https://www.ema.europa.eu/en/medicines/human/EPAR/atripla |
| Human | Inhixa | Venous Thromboembolism | enoxaparin sodium | enoxaparin sodium | EMEA/H/C/004264 | False | Authorised | B01AB05 | True | False | True | False | False | False | False | 2016-09-15 | | Techdow Pharma Netherlands B.V.  | Antithrombotic agents, | | 2016-07-21 | 2020-06-25 | 16 | Inhixa is indicated for adults for:Prophylaxis of venous thromboembolism, particularly in patients undergoing orthopaedic, general or oncological surgery.Prophylaxis of venous thromboembolism in patients bedridden due to acute illnesses including acute heart failure, acute respiratory failure, severe infections, as well as exacerbation of rheumatic diseases causing immobilisation of the patient (applies to strengths of 40 mg/0.4 mL).Treatment of deep vein thrombosis (DVT), complicated or uncomplicated by pulmonary embolism.Treatment of unstable angina and non Q wave myocardial infarction, in combination with acetylsalicylic acid (ASA).Treatment of acute ST segment elevation myocardial infarction (STEMI) including patients who will be treated conservatively or who will later undergo percutaneous coronary angioplasty (applies to strengths of 60 mg/0.6 mL, 80 mg/0.8 mL, and 100 mg/1 mL).Blood clot prevention in the extracorporeal circulation during haemodialysis. | | | 2018-06-22 | 2020-07-23 | https://www.ema.europa.eu/en/medicines/human/EPAR/inhixa |
| Human | Sialanar | Sialorrhea | glycopyrronium | Glycopyrronium bromide | EMEA/H/C/003883 | False | Authorised | A03AB02 | False | False | False | False | False | False | False | 2016-09-15 | | Proveca Pharma Limited | Drugs for functional gastrointestinal disorders | | | 2020-04-30 | 5 | Symptomatic treatment of severe sialorrhoea (chronic pathological drooling) in children and adolescents aged 3 years and older with chronic neurological disorders., | | | 2017-05-11 | 2020-07-23 | https://www.ema.europa.eu/en/medicines/human/EPAR/sialanar |
| Human | Kivexa | HIV Infections | abacavir / lamivudine | abacavir, lamivudine | EMEA/H/C/000581 | False | Authorised | J05AR02 | False | False | False | False | False | False | False | 2004-12-16 | | ViiV Healthcare BV | Antivirals for treatment of HIV infections, combinations, Antivirals for systemic use, | | | 2020-06-11 | 32 | Kivexa is indicated in antiretroviral combination therapy for the treatment of Human Immunodeficiency Virus (HIV) infection in adults, adolescents and children weighing at least 25 kg., , Before initiating treatment with abacavir, screening for carriage of the HLA-B*5701 allele should be performed in any HIV-infected patient, irrespective of racial origin. Abacavir should not be used in patients known to carry the HLA-B*5701 allele., | | | 2018-01-25 | 2020-07-23 | https://www.ema.europa.eu/en/medicines/human/EPAR/kivexa |
| Human | Jakavi | Myeloproliferative Disorders | ruxolitinib | ruxolitinib (as phosphate) | EMEA/H/C/002464 | False | Authorised | L01XE18 | False | False | False | False | False | False | False | 2012-08-23 | | Novartis Europharm Limited | Antineoplastic agents, | | | 2020-06-11 | 20 | Myelofibrosis (MF)Jakavi is indicated for the treatment of disease-related splenomegaly or symptoms in adult patients with primary myelofibrosis (also known as chronic idiopathic myelofibrosis), post polycythaemia vera myelofibrosis or post essential thrombocythaemia myelofibrosis.Polycythaemia vera (PV)Jakavi is indicated for the treatment of adult patients with polycythaemia vera who are resistant to or intolerant of hydroxyurea. | | | 2018-05-22 | 2020-07-23 | https://www.ema.europa.eu/en/medicines/human/EPAR/jakavi |
| Human | Ibandronic acid Accord | Wounds and Injuries, Breast Diseases, Neoplastic Processes, Calcium Metabolism Disorders, Neoplasms by Site, Water-Electrolyte Imbalance | ibandronic acid | ibandronic acid | EMEA/H/C/002638 | False | Authorised | M05BA06 | False | True | False | False | False | False | False | 2012-11-18 | | Accord Healthcare S.L.U. | Drugs for treatment of bone diseases | | | 2020-07-08 | 10 | Ibandronic acid is indicated in adults for, , Prevention of skeletal events (pathological fractures, bone complications requiring radiotherapy or surgery) in patients with breast cancer and bone metastases., Treatment of tumour induced hypercalcaemia with or without metastases., Treatment of osteoporosis in postmenopausal women at increased risk of fracture (see section 5.1)., , A reduction in the risk of vertebral fractures has been demonstrated, efficacy on femoral neck fractures has not been established., | | | 2017-09-18 | 2020-07-23 | https://www.ema.europa.eu/en/medicines/human/EPAR/ibandronic-acid-accord |