Others titles
MD Premarket Approval in the United States
Medical Device Premarket Approval
Keywords
Premarket Approval
PMA Approvals
US Premarket
FDCA
FDA Device
CDRH and Applicants
CDRH's Post-Approval Studies
Post-Approval Studies
Meical Devices
Post-Approval Device
FDA Premarket Approval Database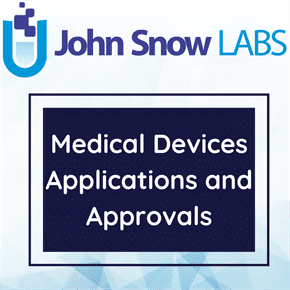 Premarket approval (PMA) is the FDA process of scientific and regulatory review to evaluate the safety and effectiveness of Class III medical devices. Class III devices are those that support or sustain human life, are of substantial importance in preventing impairment of human health, or which present a potential, unreasonable risk of illness or injury. Due to the level of risk associated with Class III devices, FDA has determined that general and special controls alone are insufficient to assure the safety and effectiveness of class III devices. Therefore, these devices require a premarket approval (PMA) application under section 515 of the FD&C Act in order to obtain marketing clearance.
Log in to download
Complexity
Get The Data
For getting access to data download links please read and accept the end-user license agreement.
Your Data License
Research

Non-Commercial, Share-Alike, Attribution

Free Forever

Commercial

Commercial Use, Remix & Adapt, White Label Log in to download
Description
PMA is the most stringent type of device marketing application required by FDA. The applicant must receive FDA approval of its PMA application prior to marketing the device. PMA approval is based on a determination by FDA that the PMA contains sufficient valid scientific evidence to assure that the device is safe and effective for its intended use(s). An approved PMA is, in effect, a private license granting the applicant (or owner) permission to market the device. The PMA owner, however, can authorize use of its data by another.
The PMA applicant is usually the person who owns the rights, or otherwise has authorized access, to the data and other information to be submitted in support of FDA approval. This person may be an individual, partnership, corporation, association, scientific or academic establishment, government agency or organizational unit, or other legal entity. The applicant is often the inventor/developer and ultimately the manufacturer.
FDA regulations provide 180 days to review the PMA and make a determination. In reality, the review time is normally longer. Before approving or denying a PMA, the appropriate FDA advisory committee may review the PMA at a public meeting and provide FDA with the committee's recommendation on whether FDA should approve the submission. After FDA notifies the applicant that the PMA has been approved or denied, a notice is published on the Internet (1) announcing the data on which the decision is based, and (2) providing interested persons an opportunity to petition FDA within 30 days for reconsideration of the decision.
About this Dataset
Data Info
| | |
| --- | --- |
| Date Created | 2013 |
| Last Modified | 2020-10-15 |
| Version | 2020-10-15 |
| Update Frequency | Monthly |
| Temporal Coverage | 1960 to 2020-10-15 |
| Spatial Coverage | United States |
| Source | John Snow Labs; Food and Drug Administration (FDA); |
| Source License URL | |
| Source License Requirements | N/A |
| Source Citation | N/A |
| Keywords | Premarket Approval, PMA Approvals, US Premarket, FDCA, FDA Device, CDRH and Applicants, CDRH's Post-Approval Studies, Post-Approval Studies, Meical Devices, Post-Approval Device |
| Other Titles | MD Premarket Approval in the United States, Medical Device Premarket Approval |
Data Fields
| Name | Description | Type | Constraints |
| --- | --- | --- | --- |
| PMA_Number | Premarket Approval Number | string | - |
| Supplement_Number | PMA Supplement Number | string | - |
| Applicant | The Name of the applicant | string | - |
| Address_Line_1 | The Address of the applicant | string | - |
| Address_Line_2 | Second part of the Address of the applicant | string | - |
| City | The City of the applicant | string | - |
| State_Abbreviation | The State of the applicant | string | - |
| Zip_Code | The Zip code of the applicant | string | - |
| Zip_Extension | The zip code extension of the applicant | string | - |
| Generic_Name | Generic Name of the product | string | - |
| Trade_Name | Trade Name of the product | string | - |
| Product_Code | Product Code Classification | string | - |
| Advisory_Committee | Advisory Committee | string | - |
| Supplement_Type | Type of Supplement | string | - |
| Supplement_Reason | Primary Reason for Supplement | string | - |
| Is_Review_Granted | Expedited Review Granted | string | - |
| Received_Date | Date Received | date | - |
| Decision_Date | PMA date decision | date | - |
| Docket_Number | Docket number | string | - |
| Fed_Reg_Notice_Date | Date of federal register notice | date | - |
| Decision_Code | FDA decision code | string | - |
| Approval_Order_Statement | FDA approval order statement | string | - |
Data Preview
| | | | | | | | | | | | | | | | | | | | | | |
| --- | --- | --- | --- | --- | --- | --- | --- | --- | --- | --- | --- | --- | --- | --- | --- | --- | --- | --- | --- | --- | --- |
| PMA Number | Supplement Number | Applicant | Address Line 1 | Address Line 2 | City | State Abbreviation | Zip Code | Zip Extension | Generic Name | Trade Name | Product Code | Advisory Committee | Supplement Type | Supplement Reason | Is Review Granted | Received Date | Decision Date | Docket Number | Fed Reg Notice Date | Decision Code | Approval Order Statement |
| P160006 | | VENTANA MEDICAL SYSTEMS, INC. | 1910 EAST INNOVATION PARK DR. | | TUCSON | AZ | 85755 | | Immunohistochemistry assay, antibody, programmed death-ligand 1 | VENTANA PD-L1 (SP142) Assay | PLS | PA | | | True | 2016-02-22 | 2016-10-18 | 16M-3431 | 2016-11-15 | APCB | Approval for the VENTANA PD-L1 (SP142) Assay. This device is indicated for the following: VENTANA PD-L1 (SP142) Assay is a qualitative immunohistochemical assay using rabbit monoclonal anti-PD-L1 clone SP142 intended for use in the assessment of the PD-L1 protein in formalin-fixed, paraffin-embedded (FFPE) urothelial carcinoma and non-small cell lung cancer (NSCLC) tissue stained with OptiView DAB IHC Detection Kit and OptiView Amplification Kit on a VENTANA BenchMark ULTRA instrument. Determination of PD-L1 status is indication-specific, and evaluation is based on either the proportion of tumor area occupied by PD-L1 expressing tumor-infiltrating immune cells (% IC) of any intensity or the percentage of PD-L1 expressing tumor cells (% TC) of any intensity.PD-L1 expression in 5% IC determined by VENTANA PD-L1 (SP142) Assay in urothelial carcinoma tissue is associated with increased objective response rate (ORR) in a non-randomized study of TECENTRIQ (atezolizumab).PD-L1 expression in 50% TC or 10% IC as detected by VENTANA PD-L1 (SP142) Assay in NSCLC may be associated with enhanced overall survival from TECENTRIQ (atezolizumab). |
| P150047 | | Roche Molecular Systems, Inc. | 4300 Hacienda Drive | | Pleasanton | CA | 94588 | 2722.0 | Somatic gene mutation detection system | cobas EGFR MUTATION TEST v2 | OWD | PA | | | True | 2015-12-09 | 2016-06-01 | 16M-1459 | 2016-06-06 | APCB | Approval for the cobas EGFR Mutation Test v2 is a real-time PCR test for the qualitative detection of defined mutations of the epidermal growth factor receptor (EGFR) gene in non-small cell lung cancer (NSCLC) patients. Defined EGFR mutations are detected using DNA isolated from formalin-fixed paraffin-embedded tumor tissue (FFPET) or circulating-free tumor DNA (cfDNA) from plasma derived from EDTA anti-coagulated peripheral whole blood.The test is indicated as a companion diagnostic to aid in selecting NSCLC patients for treatment with the targeted therapies listed in Table 1 below in accordance with the approved therapeutic product labeling.Table 1 Drug FFPET PlasmaTARCEVA (erlotinib) Exon 19 deletions and L858R Exon 19 deletions and L858RTAGRISSO (osimertinib) T790M Patients with positive cobas EGFR Mutation Test v2 test results using plasma specimens for the presence of EGFR exon 19 deletions or L858R mutations are eligible for treatment with TARCEVA (erlotinib). Patients who are negative for these mutations by this test should be reflexed to routine biopsy and testing for EGFR mutations with the FFPET sample type.Drug safety and efficacy have not been established for the EGFR mutations listed in Table 2 below that are also detected by the cobas EGFR Mutation Test v2. Table 2 Drug FFPET PlasmaTARCEVA (erlotinib) G719X, exon 20 insertions, T790M, S768I and L861Q G719X, exon 20 insertions, T790M, S768I and L861QTAGRISSO (osimertinib) G719X, exon 19 deletions, L858R, exon 20 insertions, S768I, and L861Q G719X, exon 19 deletions, L858R, exon 20 insertions, T790M, S768I, and L861QFor manual sample preparation, FFPET specimens are processed using the cobas DNA Sample Preparation Kit and plasma specimens are processed using the cobas cfDNA Sample Preparation Kit. The cobas z 480 analyzer is used for automated amplification and detection. |
| P150044 | | Roche Molecular Systems, Inc. | 4300 Hacienda Drive | | Pleasanton | CA | 94588 | 2722.0 | Somatic gene mutation detection system | cobas EGFR MUTATION TEST v2 | OWD | PA | | | True | 2015-11-23 | 2016-09-28 | 16M-2973 | 2016-10-10 | APCB | The cobas EGFR Mutation Test v2 is a real-time PCR test for the qualitative detection of defined mutations of the epidermal growth factor receptor (EGFR) gene in non-small cell lung cancer (NSCLC) patients. Defined EGFR mutations are detected using DNA isolated from formalin-fixed paraffin-embedded tumor tissue (FFPET) or circulating-free tumor DNA (cfDNA) from plasma derived from EDTA anti-coagulated peripheral whole blood.The test is indicated as a companion diagnostic to aid in selecting NSCLC patients for treatment with the targeted therapies listed in Table 1 below in accordance with the approved therapeutic product labeling:Table 1Drug FFPET PlasmaTARCEVA (erlotinib) Exon 19 deletions and L858R Exon 19 deletions and L858RTAGRISSO (osimertinib) 790M T790M*Patients with positive cobas EGFR Mutation Test v2 test results using plasma specimens for the presence of the EGFR mutations listed above are eligible for treatment with the corresponding drug as indicated in Table 1 (see Note* for T790M). Patients who are negative for these mutations by this test should be reflexed to routine biopsy and testing for EGFR mutations with the FFPET sample type. *The efficacy of TAGRISSO (osimertinib) has not been established in the EGFR T790M plasma-positive, tissue-negative or unknown population and clinical data for T790M plasma-positive patients are limited; therefore, testing using plasma specimens is most appropriate for consideration in patients from whom a tumor biopsy cannot be obtained.Drug safety and efficacy have not been established for the EGFR mutations listed in Table 2 below that are also detected by the cobas EGFR Mutation Test v2: Table 2Drug FFPET PlasmaTARCEVA (erlotinib) G719X, exon 20 insertions, T790M, S768I and L861Q G719X, exon 20 insertions, T790M, S768I and L861QTAGRISSO (osimertinib) G719X, exon 19 deletions, L858R, exon 20 insertions, S768I, and L861Q G719X, exon 19 deletions, L858R, exon 20 insertions, S768I, and L861QFor manual sample preparation, FFPET specimens are processed using the cobas DNA Sample Preparation Kit and plasma specimens are processed using the cobas cfDNA Sample Preparation Kit. The cobas z 480 analyzer is used for automated amplification and detection. |
| P150027 | | DAKO NORTH AMERICA, INC. | 6392 VIA REAL | | CARPINTERIA | CA | 93013 | | Immunohistochemistry assay, antibody, programmed death-ligand 1 | PD-L1 IHC 28-8 pharmDx | PLS | PA | | | False | 2015-08-04 | 2016-01-23 | 16M-0803 | 2016-03-03 | APCB | APPROVAL FOR THE PD-L1 IHC 28-8 PHARMDX. THIS DEVICE IS INDICATED FOR THE FOLLOWING:PD-L1 IHC 28-8 PHARMDX IS A QUALITATIVE IMMUNOHISTOCHEMICAL ASSAY USING MONOCLONAL RABBIT ANTI-PD-L1, CLONE 28-8 INTENDED FOR USE IN THE DETECTION OF PD-L1 PROTEIN IN FORMALIN-FIXED, PARAFFIN-EMBEDDED (FFPE) NON-SQUAMOUS NON SMALL CELL LUNG CANCER (NSCLC) AND MELANOMA TISSUE USING ENVISION FLEX VISUALIZATION SYSTEM ON AUTOSTAINER LINK 48. PD-L1 PROTEIN EXPRESSION IS DEFINED AS THE PERCENTAGE OF TUMOR CELLS EXHIBITING POSITIVE MEMBRANE STAINING AT ANY INTENSITY. PD-L1 EXPRESSION AS DETECTED BY PD-L1 IHC PHARMDX IN NONSQUAMOUS NSCLC MAY BE ASSOCIATED WITH ENHANCED SURVIVAL FROM OPDIVO (NIVOLUMAB).POSITIVE PD-L1 STATUS AS DETERMINED BY PD-L1 IHC 28-8 PHARMDX IN MELANOMA IS CORRELATED WITH THE MAGNITUDE OF THE TREATMENT EFFECT ON PROGRESSION-FREE SURVIVAL FROM OPDIVO. |
| P940022 | | ADVANCED BIONICS CORP. | 12740 SAN FERNANDO RD. | | SYLMAR | CA | 91342 | | Implant, cochlear | CLARION(TM) MULTI-STRATEGY COCHLEAR IMPLANT | MCM | EN | | | False | 1994-06-30 | 1996-03-22 | 96M-0490 | 1996-12-27 | APCB | APPROVAL FOR THE CLARION MULTI-STRATEGY COCHLEAR IMPLANT FOR USE IN AN ADULT POPLUATION |
| P810005 | | CIBA VISION CARE | 11460 JOHNS CREEK PKWY. | | DULUTH | GA | 30136 | 1518.0 | Lenses, soft contact, extended wear | WEICON (R) (TEFILICON) HYDROPHILIC CONTACT LENS | LPM | OP | | | False | 1981-02-20 | 1981-09-24 | 81M-0317 | 1981-11-03 | APCB | |
| P030012 | | HOLOGIC, INC. | 35 CROSBY DR. | | BEDFORD | MA | 1730 | | Lung computed tomography system, computer-aided diagnosis | IMAGECHECKER CT CAD SOFTWARE SYSTEM | NRR | RA | | | False | 2003-04-16 | 2004-07-08 | 04M-0323 | 2004-07-22 | APCB | APPROVAL FOR THE IMAGECHECKER CT CAD SOFTWARE SYSTEM - MODEL LN-1000. THIS SOFTWARE SYSTEM IS INDICATED TO ASSIST RADIOLOGISTS IN THE DETECTION OF SOLID PULMONARY NODULES DURING REVIEW OF MULTIDETECTOR CT (MDCT) SCANS OF THE CHEST. IT IS INTENDED TO BE USED AS AN ADJUNCT, ALERTING THE RADIOLOGIST - AFTER HIS OR HER INITIAL READING OF THE SCAN - TO REGIONS OF INTEREST (ROIS) THAT MAY HAVE BEEN INITIALLY OVERLOOKED. |
| P020002 | | HOLOGIC, INC. | 250 Campus Drive | | Marlborough | MA | 1752 | | READER, CERVICAL CYTOLOGY SLIDE, AUTOMATED | THINPREP (R) IMAGING SYSTEM | MNM | PA | | | False | 2002-01-07 | 2003-06-06 | 03M-0339 | 2003-07-30 | APCB | APPROVAL FOR THE THINPREP IMAGING SYSTEM. THE DEVICE IS INDICATED FOR ASSISTING IN PRIMARY CERVICAL CANCER SCREENING OF THINPREP PAP TEST SLIDES FOR THE PRESENCE OF ATYPICAL CELLS, CERVICAL NEOPLASIA, INCLUDING ITS PRECURSOR LESIONS (LOW GRADE SQUAMOUS INTRAEPITHELIAL LESIONS, HIGH GRADE SQUAMOUS INTRAEPITHELIAL LESIONS, AND CARCINOMA AS WELL AS ALL OTHER CYTOLOGICAL CRITERIA AS DEFINED BY THE 2001 BETHESDA SYSTEM: TERMINOLOGY FOR REPORTING RESULTS OF CERVICAL CYTOLOGY. |
| P160009 | | iCAD Inc | 98 Spitbrook Road, Suite 100 | | Nashua | NH | 3062 | | Analyzer, medical image | PowerLook Tomo Detection Software | MYN | RA | | | False | 2016-04-05 | 2017-03-24 | 17M-1950 | 2017-03-29 | APRL | Approval for the iCAD PowerLook Tomo Detection Software is a computer-assisted detection (CAD) software device intended to be used concurrently by radiologists while reading GE Senoclaire breast tomosynthesis exams. The system detects up to five soft tissue densities (masses, architectural distortions and asymmetries) in the 3D tomosynthesis images. The detections are blended with the standard 2D synthetic image and the CAD-enhanced 2D synthetic image is viewed on a mammography review workstation.The CAD-enhanced 2D synthetic image assists radiologists in identifying densities (masses, architectural distortions and asymmetries) that may be confirmed or dismissed by the radiologist in the digital breast tomosynthesis (DBT) images. |
| P010025 | | HOLOGIC, INC. | 36 Apple Ridge Road | | Danbury | CT | 6810 | | Full field digital, system, x-ray, mammographic | LORAD DIGITAL BREAST IMAGER | MUE | RA | | | False | 2001-04-30 | 2002-03-15 | 02M-0173 | 2002-04-25 | APRL | APPROVAL FOR THE LORAD DIGITAL BREAST IMAGER. THE DEVICE GENERATES DIGITAL MAMMOGRAPHIC IMAGES THAT CAN BE USED FOR SCREENING AND DIAGNOSIS OF BREAST CANCER. IT IS INTENDED FOR USE IN THE SAME CLINICAL APPLICATIONS AS TRADITIONAL SCREEN-FILM MAMMOGRAPHIC SYSTEMS. |