Others titles
Malaria Mortality Estimates by Country 1980-2010
Malaria Deaths by Country 1980-2010
Keywords
Malaria
Malaria Mortality
Malaria Deaths
Malaria Prevention and Control
Malaria Statistics
Malaria Information
Global Malaria Mortality 1980 to 2010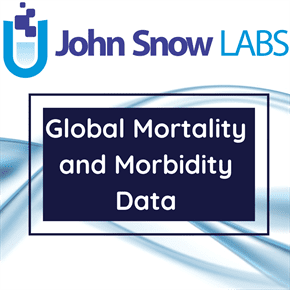 This dataset provides estimates of malaria mortality and cumulative probability of death from malaria for 105 countries with local malaria transmission.
Log in to download
Complexity
Get The Data
For getting access to data download links please read and accept the end-user license agreement.
Your Data License
Research

Non-Commercial, Share-Alike, Attribution

Free Forever

Commercial

Commercial Use, Remix & Adapt, White Label Log in to download
Description
This dataset shows the global malaria mortality between 1980 to 2010. The data is from the study, Global malaria mortality between 1980 and 2010: a systematic analysis, is part of the Global Burden of Diseases, Injuries, and Risk Factors 2010 Study published in The Lancet.
All available data for malaria mortality for the period 1980 to 2010 were systematically collected and corrected for misclassification bias. A range of predictive models, including ensemble models, to estimate malaria mortality with uncertainty by age, sex, country, and year were developed.
Results showed that malaria mortality burden is larger especially in adults. There has been a rapid decrease in malaria mortality in Africa but control activities need to be increased if malaria is to be fully eliminated and eradicated.
About this Dataset
Data Info
| | |
| --- | --- |
| Date Created | 2012-12-31 |
| Last Modified | 2017-09-06 |
| Version | 2017-09-06 |
| Update Frequency | Never |
| Temporal Coverage | 1980-01 to 2010-12 |
| Spatial Coverage | World |
| Source | John Snow Labs; Institute for Health Metrics and Evaluation (IHME), Global Health Data Exchange; |
| Source License URL | |
| Source License Requirements | N/A |
| Source Citation | N/A |
| Keywords | Malaria, Malaria Mortality, Malaria Deaths, Malaria Prevention and Control, Malaria Statistics, Malaria Information |
| Other Titles | Malaria Mortality Estimates by Country 1980-2010, Malaria Deaths by Country 1980-2010 |
Data Fields
| Name | Description | Type | Constraints |
| --- | --- | --- | --- |
| Country | Country where provides estimates of malaria mortality and cumulative probability of death from malaria for 105 countries with local malaria transmission were estimated from 1980 to 2010 | string | - |
| Country_Code | Country code or the current officially assigned ISO 3166-1 alpha-3 codes, using the English short country names where provides estimates of malaria mortality and cumulative probability of death from malaria for 105 countries with local malaria transmission were estimated from 1980 to 2010 | string | - |
| GBD_Region | Global Burden of Disease (GBD) regional classification system used for WHO-CHOICE Analyses | string | - |
| Year | Year where provides estimates of malaria mortality and cumulative probability of death from malaria for 105 countries with local malaria transmission were estimated from 1980 to 2010 | date | - |
| Malaria_Deaths_Age_0_to_4 | Number of malaria deaths for ages 0 to 4 for 105 countries estimated from 1980 to 2010 | integer | level : Ratio |
| Malaria_Deaths_Age_5_to_9 | Number of malaria deaths for ages 5 to 9 for 105 countries estimated from 1980 to 2010 | integer | level : Ratio |
| Malaria_Deaths_Age_10_to_14 | Number of malaria deaths for ages 10 to 14 for 105 countries estimated from 1980 to 2010 | integer | level : Ratio |
| Malaria_Deaths_Age_15_to_19 | Number of malaria deaths for ages 15 to 19 for 105 countries estimated from 1980 to 2010 | integer | level : Ratio |
| Malaria_Deaths_Age_20_to_24 | Number of malaria deaths for ages 20 to 24 for 105 countries estimated from 1980 to 2010 | integer | level : Ratio |
| Malaria_Deaths_Age_25_to_29 | Number of malaria deaths for ages 25 to 29 for 105 countries estimated from 1980 to 2010 | integer | level : Ratio |
| Malaria_Deaths_Age_30_to_34 | Number of malaria deaths for ages 30 to 34 for 105 countries estimated from 1980 to 2010 | integer | level : Ratio |
| Malaria_Deaths_Age_35_to_39 | Number of malaria deaths for ages 35 to 39 for 105 countries estimated from 1980 to 2010 | integer | level : Ratio |
| Malaria_Deaths_Age_40_to_44 | Number of malaria deaths for ages 40 to 44 for 105 countries estimated from 1980 to 2010 | integer | level : Ratio |
| Malaria_Deaths_Age_45_to_49 | Number of malaria deaths for ages 45 to 49 for 105 countries estimated from 1980 to 2010 | integer | level : Ratio |
| Malaria_Deaths_Age_50_to_54 | Number of malaria deaths for ages 50 to 54 for 105 countries estimated from 1980 to 2010 | integer | level : Ratio |
| Malaria_Deaths_Age_55_to_59 | Number of malaria deaths for ages 55 to 59 for 105 countries estimated from 1980 to 2010 | integer | level : Ratio |
| Malaria_Deaths_Age_60_to_64 | Number of malaria deaths for ages 60 to 64 for 105 countries estimated from 1980 to 2010 | integer | level : Ratio |
| Malaria_Deaths_Age_65_to_69 | Number of malaria deaths for ages 65 to 69 for 105 countries estimated from 1980 to 2010 | integer | level : Ratio |
| Malaria_Deaths_Age_70_to_74 | Number of malaria deaths for ages 70 to 74 for 105 countries estimated from 1980 to 2010 | integer | level : Ratio |
| Malaria_Deaths_Age_75_to_79 | Number of malaria deaths for ages 75 to 79 for 105 countries estimated from 1980 to 2010 | integer | level : Ratio |
| Malaria_Deaths_Age_80_and_Above | Number of malaria deaths for ages 80 and above for 105 countries estimated from 1980 to 2010 | integer | level : Ratio |
| Population_Age_0_to_4 | Population for ages 0 to 4 for 105 countries worldwide | integer | level : Ratio |
| Population_Age_5_to_9 | Population for ages 5 to 9 for 105 countries worldwide | integer | level : Ratio |
| Population_Age_10_to_14 | Population for ages 10 to 14 for 105 countries worldwide | integer | level : Ratio |
| Population_Age_15_to_19 | Population for ages 15 to 19 for 105 countries worldwide | integer | level : Ratio |
| Population_Age_20_to_24 | Population for ages 20 to 24 for 105 countries worldwide | integer | level : Ratio |
| Population_Age_25_to_29 | Population for ages 25 to 29 for 105 countries worldwide | integer | level : Ratio |
| Population_Age_30_to_34 | Population for ages 30 to 34 for 105 countries worldwide | integer | level : Ratio |
| Population_Age_35_to_39 | Population for ages 35 to 39 for 105 countries worldwide | integer | level : Ratio |
| Population_Age_40_to_44 | Population for ages 40 to 44 for 105 countries worldwide | integer | level : Ratio |
| Population_Age_45_to_49 | Population for ages 45 to 49 for 105 countries worldwide | integer | level : Ratio |
| Population_Age_50_to_54 | Population for ages 50 to 54 for 105 countries worldwide | integer | level : Ratio |
| Population_Age_55_to_59 | Population for ages 55 to 59 for 105 countries worldwide | integer | level : Ratio |
| Population_Age_60_to_64 | Population for ages 60 to 64 for 105 countries worldwide | integer | level : Ratio |
| Population_Age_65_to_69 | Population for ages 65 to 69 for 105 countries worldwide | integer | level : Ratio |
| Population_Age_70_to_74 | Population for ages 70 to 74 for 105 countries worldwide | integer | level : Ratio |
| Population_Age_75_to_79 | Population for ages 75 to 79 for 105 countries worldwide | integer | level : Ratio |
| Population_Age_80_and_Above | Population for ages 80 and above for 105 countries worldwide | integer | level : Ratio |
Data Preview
| | | | | | | | | | | | | | | | | | | | | | | | | | | | | | | | | | | | | | |
| --- | --- | --- | --- | --- | --- | --- | --- | --- | --- | --- | --- | --- | --- | --- | --- | --- | --- | --- | --- | --- | --- | --- | --- | --- | --- | --- | --- | --- | --- | --- | --- | --- | --- | --- | --- | --- | --- |
| Country | Country Code | GBD Region | Year | Malaria Deaths Age 0 to 4 | Malaria Deaths Age 5 to 9 | Malaria Deaths Age 10 to 14 | Malaria Deaths Age 15 to 19 | Malaria Deaths Age 20 to 24 | Malaria Deaths Age 25 to 29 | Malaria Deaths Age 30 to 34 | Malaria Deaths Age 35 to 39 | Malaria Deaths Age 40 to 44 | Malaria Deaths Age 45 to 49 | Malaria Deaths Age 50 to 54 | Malaria Deaths Age 55 to 59 | Malaria Deaths Age 60 to 64 | Malaria Deaths Age 65 to 69 | Malaria Deaths Age 70 to 74 | Malaria Deaths Age 75 to 79 | Malaria Deaths Age 80 and Above | Population Age 0 to 4 | Population Age 5 to 9 | Population Age 10 to 14 | Population Age 15 to 19 | Population Age 20 to 24 | Population Age 25 to 29 | Population Age 30 to 34 | Population Age 35 to 39 | Population Age 40 to 44 | Population Age 45 to 49 | Population Age 50 to 54 | Population Age 55 to 59 | Population Age 60 to 64 | Population Age 65 to 69 | Population Age 70 to 74 | Population Age 75 to 79 | Population Age 80 and Above |
| Korea, South | KOR | Asia Pacific, High Income | 1980 | 5.0 | 1.0 | 2.0 | 4.0 | 3.0 | 3.0 | 4 | 3.0 | 4.0 | 6 | 6 | 6 | 5 | 5 | 6 | 5 | 6 | 4217496 | 4430921 | 4441019 | 4239747 | 4053616 | 3082366 | 2519249 | 2223350 | 2131659 | 1781809 | 1325945 | 1125357 | 822061 | 620285 | 425098 | 229287 | 171605 |
| Korea, South | KOR | Asia Pacific, High Income | 1981 | 4.0 | 1.0 | 2.0 | 3.0 | 2.0 | 2.0 | 3 | 3.0 | 3.0 | 5 | 5 | 5 | 5 | 4 | 5 | 4 | 6 | 4120315 | 4354022 | 4453694 | 4241336 | 4148707 | 3274166 | 2607897 | 2264979 | 2154542 | 1858494 | 1383381 | 1152691 | 853524 | 636951 | 442815 | 242473 | 180207 |
| Korea, South | KOR | Asia Pacific, High Income | 1982 | 3.0 | 1.0 | 1.0 | 2.0 | 2.0 | 2.0 | 3 | 2.0 | 2.0 | 4 | 5 | 4 | 4 | 4 | 4 | 4 | 5 | 4037698 | 4245934 | 4481307 | 4248542 | 4200721 | 3491524 | 2704037 | 2326767 | 2160502 | 1931268 | 1453979 | 1174819 | 891197 | 654686 | 458470 | 259115 | 189117 |
| Korea, South | KOR | Asia Pacific, High Income | 1983 | 2.0 | 1.0 | 1.0 | 2.0 | 1.0 | 2.0 | 2 | 2.0 | 2.0 | 3 | 4 | 3 | 3 | 3 | 4 | 3 | 4 | 3962075 | 4124618 | 4508817 | 4263388 | 4222147 | 3713921 | 2814901 | 2404482 | 2159394 | 1996465 | 1533485 | 1196896 | 931990 | 674315 | 472712 | 277652 | 198401 |
| Korea, South | KOR | Asia Pacific, High Income | 1984 | 2.0 | | 1.0 | 1.0 | 1.0 | 2.0 | 2 | 2.0 | 1.0 | 3 | 4 | 3 | 3 | 3 | 3 | 3 | 4 | 3883526 | 4015528 | 4515100 | 4286499 | 4232195 | 3913525 | 2950399 | 2490946 | 2165042 | 2049893 | 1615595 | 1226216 | 971515 | 696825 | 486668 | 295841 | 208171 |
| Korea, South | KOR | Asia Pacific, High Income | 1985 | 1.0 | | 1.0 | 1.0 | 1.0 | 1.0 | 2 | 1.0 | 1.0 | 2 | 3 | 2 | 2 | 2 | 3 | 2 | 3 | 3794335 | 3935979 | 4485911 | 4317135 | 4245104 | 4070403 | 3115581 | 2581191 | 2187519 | 2089224 | 1695261 | 1267775 | 1006878 | 722822 | 501257 | 312092 | 218538 |
| Korea, South | KOR | Asia Pacific, High Income | 1986 | 1.0 | | | 1.0 | 1.0 | 1.0 | 1 | 1.0 | 1.0 | 2 | 3 | 2 | 2 | 2 | 2 | 2 | 3 | 3692827 | 3896686 | 4413808 | 4360530 | 4262921 | 4176933 | 3315210 | 2671396 | 2231180 | 2112176 | 1772483 | 1322860 | 1036369 | 753232 | 516374 | 325989 | 229411 |
| Korea, South | KOR | Asia Pacific, High Income | 1987 | 1.0 | | | 1.0 | | 1.0 | 1 | 1.0 | 1.0 | 2 | 2 | 2 | 2 | 2 | 2 | 2 | 3 | 3584716 | 3889998 | 4305770 | 4414858 | 4281584 | 4238756 | 3541275 | 2763781 | 2293715 | 2121129 | 1847462 | 1389011 | 1061623 | 787743 | 531961 | 338131 | 240846 |
| Korea, South | KOR | Asia Pacific, High Income | 1988 | 1.0 | | | | | 1.0 | 1 | 1.0 | 1.0 | 1 | 2 | 1 | 1 | 1 | 2 | 1 | 2 | 3481276 | 3892934 | 4179427 | 4463603 | 4301884 | 4265706 | 3770480 | 2866190 | 2370494 | 2124314 | 1915691 | 1462807 | 1087109 | 824241 | 549064 | 349184 | 253239 |
| Korea, South | KOR | Asia Pacific, High Income | 1989 | | | | | | | 1 | | | 1 | 1 | 1 | 1 | 1 | 1 | 1 | 2 | 3395458 | 3872423 | 4060148 | 4484261 | 4323448 | 4273696 | 3971312 | 2989685 | 2453900 | 2133123 | 1971728 | 1539154 | 1119161 | 859753 | 569010 | 360220 | 267132 |